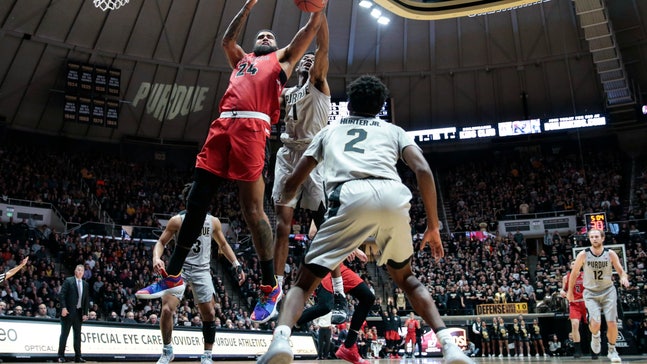 Edwards helps No. 24 Purdue hold off Ball State 84-75
Updated
Mar. 4, 2020 11:03 a.m. ET
WEST LAFAYETTE, Ind. (AP) — One big second-half push by Purdue was enough.
Carsen Edwards scored 23 points on 8-for-22 shooting, and the 24th-ranked Boilermakers pulled away from Ball State for an 84-75 victory on Saturday night.
Edwards struggled with his shooting stroke at times but managed to contribute in a variety of ways. The junior guard had five rebounds, five assists and blocked a shot.
Purdue trailed 48-45 after Kyle Mallers made a 3-pointer for Ball State with 18 minutes left. But the Boilermakers responded with a 24-4 run.
Nojel Eastern capped the decisive stretch with a pair of layups, making it 69-52 with 11:28 remaining.
"In the first half, in terms of 50-50 balls and that kinda stuff, they were coming at us," Purdue center Matt Haarms said. "In the second half, they weren't ready for us and we came at them right away. ... You've just got to hit 'em."
Haarms had 16 points for Purdue (2-0) despite batting foul trouble. Dartmouth transfer Evan Boudreaux added 14 points and seven rebounds, and Eastern finished with 12 points and nine boards.
Tayler Persons led Ball State with 19 points and eight rebounds. But he was shut down after Purdue coach Matt Painter put Eastern on him in the second half.
"He's 6-foot-6, an athlete and a really good defender," Persons said about Eastern. "It's tough. ... I've got to take advantage of when other people are on me."
The Cardinals (1-1) also got 13 points from K.J. Walton.
Eastern had six offensive rebounds, helping Purdue to a 40-29 edge on the boards. The Boilermakers shot 43.5 percent (30 for 69) from the field, compared to 48.1 percent (25 for 52) for the Cardinals.
"Even though you struggle shooting the basketball, you still give yourself a chance (with those extra possessions)," Painter said.
BIG PICTURE
Purdue showed its ability to weather a poor shooting half, including by its best scorer in Edwards, but it likely will see a step up in competition beginning as soon as next week.
Ball State got another solid performance from Persons, but the Cardinals are going to need more from him down the stretch to compete in Mid-American Conference play.
UP NEXT
Purdue heads down to South Carolina to participate the Charleston Classic. Its first game is against Appalachian State on Thursday.
Ball State also will be part of the Charleston Classic. Its first game is against Virginia Tech on Thursday.
---
---