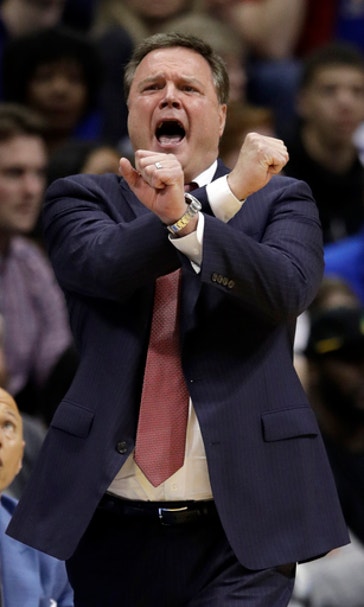 Azubuike leads No. 13 Kansas past No. 20 West Virginia 77-69
February 17, 2018
LAWRENCE, Kan. (AP) Bob Huggins didn't mince words in his postgame press conference after West Virginia lost to Kansas.
''They shot 29 free throws,'' Huggins said. ''We shot two. You don't think that had anything to do with it?''
Huggins' rising frustration finally boiled over with eight seconds left, when he was given a double-technical and was ejected for jawing at a ref. It was a moot argument by that point though, as Udoka Azubuike scored 21 points and Devonte' Graham added 15 to help No. 13 Kansas beat No. 20 West Virginia 77-69 on Saturday night.
The Jayhawks (20-7, 10-4 Big 12) actually finished with 35 free throw attempts, as 29 was the number when Huggins left the floor. Part of that was due to the Mountaineers (19-8, 8-6 Big 12) offense that settled for jumpers instead of attacking the rim often.
Daxter Miles Jr. led West Virginia with 22 points, and hit 6-of-9 shots from behind the arc. Jevon Carter added 15 points, seven assists and six rebounds.
Kansas trailed by as much as 12 with 10 minutes left in the game, when Miles hit a three to silence the crowd following an Azubuike dunk. They would rally, however, outscoring West Virginia 29-11 down the stretch and tightening down defensively, especially in the last few minutes.
''We did keep our composure, and we kept grinding,'' coach Bill Self said. ''Then we got key stops late, and rebounded the ball a little better late.''
It's the Jayhawks' third straight comeback victory over the Mountaineers, as they erased a 16-point deficit in Morgantown earlier this season and a separation of 14-points at home last year.
West Virginia has still yet to win in Allen Fieldhouse, falling to 0-6 in the building. It's won in every other Big 12 arena since joining the conference in 2012, but hasn't found the formula for doing so in Lawrence.
MORE FREE THROWS:
Aside from the discrepancy in total free throw count, the charity stripe still served as a key difference as seven of Azubuike's 21 came from the free throw line, on an efficient seven of 10.
Azubuike's struggles from the line were highly publicized earlier in the season, especially after going 1 of 8 in a five-point loss to Oklahoma in January. So, then, cue his teammates' delight when the work to improve from the line paid off.
''7 for 10?'' Graham interrupted Azubuike as he answered a question. ''Oh, he went crazy!''
LESS PRESS MESS:
Kansas has fallen victim to the high-tempo ''Press Virginia'' defense numerous times in the past, but won the turnover battle for the second time against West Virginia this season, 13-8. But while they may have kept the ball out of the Mountaineers' hands, the Jayhawks were still visibly disrupted.
''Their pressure totally took us out of running our stuff,'' Self said. ''So even though we didn't turn it over, their pressure was still effective.''
INTO THE RAFTERS:
Former Kansas big man Cole Aldrich had his jersey retired at halftime, making him the 32nd player to have his number hanging in Allen Fieldhouse.
Aldrich played three seasons for the Jayhawks, earning two All-America selections and two Big 12 defensive player of the year awards. He ranks in the program's top-10 all-time in career blocks (253), rebounds (860) and field goal percentage (57.4 percent), and was part of the 2007-08 national championship team that was also honored during the game.
BIG PICTURE:
Kansas earns a much-needed home win after struggling to do so at times throughout the season. The Jayhawks are still just one game back of Texas Tech, who they will face on the road a week from tonight.
West Virginia is in danger of falling out of the AP Top 25 for the first time in 50 weeks, dating back to 2015. The Mountaineers are now three games back of Texas Tech, and sit tied with Kansas State for third.
UP NEXT:
Kansas has a quick turnaround, playing host to Oklahoma and Trae Young Monday night.
West Virginia hits the road once again, traveling south to face Baylor on Tuesday.
---
---