Woody Hayes shouldn't be defined by infamous Clemson punch
Ohio State and Clemson play Friday night in the Orange Bowl. It's their second meeting ever, which automatically brings up the first, which automatically brings up one thing.
The Punch.
Woody Hayes took one at Charlie Bauman in the 1978 Gator Bowl. Clemson's nose guard had just intercepted a pass to clinch the Tigers' 17-15 win. It was truly the shot heard 'round the world.'
Well, it wasn't heard on ABC since Keith Jackson and Ara Parseghian didn't see what caused the melee on Ohio State's sideline. Millions of viewers did, though it was so surreal many could not believe their eyes.
"What happened?" asked Ohio State wide receiver Doug Donley when he got back to the bench.
"Woody hit a guy," he was told.
"Well," Donley said, "what else is new?"
Such was life in Woody's World. But even by Hayes' combative standards, slugging an opposing player was too far. The coach who won three consensus national championships was fired the next morning.
Hayes' final act sealed his image as a coaching madman. Nobody defends what he did that night, but anyone who knew Hayes will swear the perception is unfair.
"I don't have anything bad to say about coach Hayes," Bauman said. "He made a mistake. We all make mistakes. I mean, he didn't hurt me or anything."
Bauman said that to the Florida Times-Union in 2008, the 30th anniversary of The Punch. Since then he has declined interview requests.
"Why can't people just let it rest?" Bauman asked.
Because it stands out as one of the most shocking, consequential and downright bizarre moments in college football history. Even Ohio State fans that weren't alive in 1978 can't let it rest.
Some of them infiltrated Clemson's campus a couple of weeks ago. They climbed onto the statue of Thomas Green Clemson and propped a sign in its hands:
"CHARLIE BAUMAN HAD IT COMING."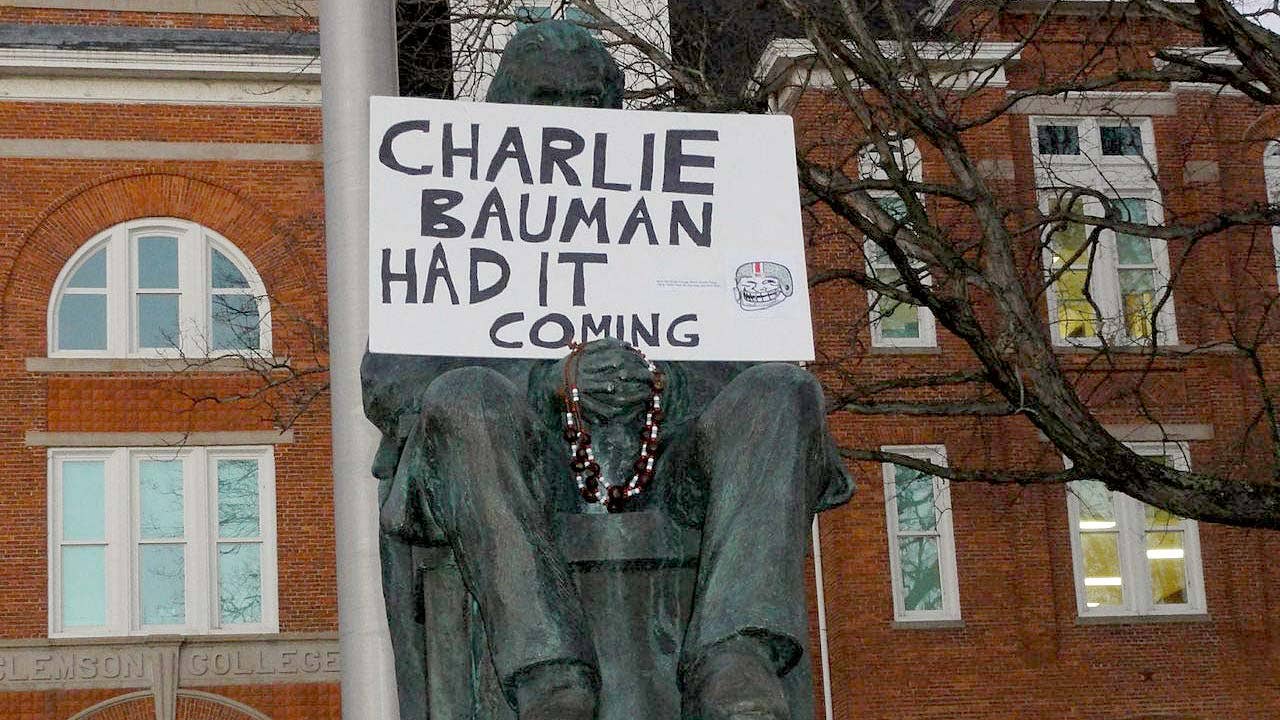 That has to make Bauman and Hayes' loyalists cringe. But Friday's rematch on Florida soil has an upside. It's reason to take another good look not only at The Punch, but at The Puncher. The more you learn about Hayes, the more you appreciate him.
For one thing, he was an unvarnished character. Coaches now are more like corporate CEOs. Hayes was a General, the sideline embodiment of George Patton.
"A lot of us got punched," Donley said. "They were affectionate punches. Woody could get away with that because the players knew he cared about them so much."
There are dozens of illustrative stories and probably scores more that were never told. Hayes visited hospitals regularly, but he'd bribe nurses with flowers so they wouldn't tell reporters. He'd hound players to get their degrees years after they left school.
Hayes was Ohio State. The thought of him quitting his job and then taking another two years later at, say, Florida, is unimaginable.
He passed up raises for years so his staff could get more money. Hayes made $43,000 in his final season, roughly 1/107th what current Buckeyes coach Urban Meyer makes.
One of Hayes' greatest admirers was President Richard Nixon. He called Hayes one Saturday to congratulate him on a big win. Hayes kept the president on hold until he had finished addressing his team. When Hayes visited the White House, everybody knew who was in charge.
"I wanted to talk football and Woody wanted to talk foreign policy," Nixon said. "You know Woody – we discussed foreign policy."
Do coaches like Nick Saban come up for air long enough to hear about Syria, much less break down Assad vs. the Rebels? They sure aren't official faculty members who teach English classes and consider Ralph Waldo Emerson one of their heroes.
"I never liked Thoreau," Hayes said. "I thought he was a cop-out."
Now there's a statement you don't hear much around film rooms these days. The Buckeyes played at Illinois one year and got to Champaign on Friday. Hayes asked his players what they'd be doing on a Friday in Columbus, and they said attending class.
He told them to find a lecture to sit in on. Hayes took a few players with him to a class. He didn't know the topic, but he took a seat near the front and apologized to the professor for the intrusion.
It was a chemistry class. The professor supposedly wrote a theorem on the blackboard, and Hayes raised his hand.
"Sorry to bother you," he said, "but I think your theorem is off a little."
The professor took a step back, studied the blackboard and grabbed an eraser.
"Thank you, coach Hayes," he said.
That's the character who landed in Jacksonville in 1978. At the introductory news conference Hayes held court on politics, current events and football. The Gator Bowl wasn't up to the usual Buckeye bowl standards. But then the Buckeyes hadn't been up to Buckeye standards.
They were 7-3-1 and had lost to Michigan two consecutive years. Hayes was 65 and a diabetic. There were whispers he was slipping physically and starting to forget details. If he was a ticking bomb, it officially detonated with 1:59 left.
Ohio State had a third-and-5 on Clemson's 24-yard line. Freshman quarterback Art Schlichter dropped back and threw a short pass across the middle. Bauman stepped in front of it for the first and last interception of his career.
He was run out on the Ohio State sideline. As excited teammates surrounded Bauman, a white-haired figure in a baseball cap came from behind and threw a wild right hand. It caught Bauman on the shoulder pads and grazed under his chin.
Bauman didn't know what hit him, but a melee erupted. Ohio State players pried Hayes away from the scrum as officials restored order. Hayes was given two unsportsmanlike conduct penalties. The real punishment wasn't long in coming. Athletic director Hugh Hindman asked Hayes to resign immediately.
"I'm not doing your damned job for you," Hayes reportedly said. "If you don't want me here, fire me."
Hindman did and announced it at a news conference the next morning. The team was flying back at the time. When the plane landed in Columbus, Hayes stood up and took the microphone.
"I'm sorry to announce I will no longer be the coach at Ohio State University," he said.
Hayes was given a police escort home. About 15 hours after his 277th game began, his career was over.
"We were all in shock," Donley said.
Hayes was embarrassed and ashamed, but he was still Hayes. He called Bauman and talked about the game and who knows what else. He never actually apologized.
"I don't apologize for anything," Hayes said. "When I make a mistake, I take the blame and go on from there. I don't like nice people. I like tough, honest people."
He was asked weeks later if he resented how Ohio State handled the situation.
"No, I only carry bitterness toward me," Hayes said. "I despise to lose, and that has taken a man of mediocre ability and made a pretty good coach out of him. I gave the university everything I've had. I'm only bitter about losing that game we had won.
"I'll never take it out on this university. It means too much to me."
The irony is they had the game won and lost it on a pass. That from the grind-it-out coach who invented the saying, "Only three things can happen to you when you pass, and two of them are bad."
In an interview a couple of years later, Hayes changed that.
"I found out four things can happen on a forward pass," he said. "The fourth is that you can get fired."
As far as scandals go, the only victim was Hayes. Ohio State's program recovered quickly under Earle Bruce. You could even argue that the 1978 Gator Bowl has led to the 2013 Orange Bowl.
If Hayes hadn't been fired, Bruce would not have been at Ohio State. He would not have hired a young graduate assistant named Urban Meyer in 1986. Meyer might not have forged the relationships that brought him back as head coach in 2012.
Note: Do not expect Meyer to slug Clemson lineman Grady Jarrett if he intercepts a late pass Friday night.
For better and worse, they don't make 'em like Woody Hayes any more.
He spent his final years becoming even more of a folk hero around Ohio State. Hayes gave speeches, hosted a TV show about World War II and raised money for charity. The school that fired him gave him an honorary doctorate degree in 1986.
Hayes died a year later. His old friend Nixon gave the eulogy.
"I was privileged to know the real Woody Hayes, the man behind the myth," President Nixson said. "Instead of a know-nothing Neanderthal, I found a renaissance man with a consuming interest in history and a profound understanding of the forces that move the world.
"Instead of a cold, ruthless tyrant on the football field, I found a warm-hearted softie."
It's probably a good thing Hayes wasn't around to hear that. He might have tried to punch somebody.