America loves college football, just not as much as NFL or MLB
There's a book you should read. It's called "How to Lie with Statistics" by Darrell Huff, originally published in 1954.
It will influence – for the better or for the worse, only you can know – how you consume sports in this analytical age.
There's a world of more current texts out there for the statistic wonks among us, but Huff's work is an elementary and easily understandable read even for those who don't like math. It illuminates the simple wonder of how numbers, deliberately or inadvertently, can be twisted to fit a preconceived point.
This, obviously, is vital knowledge and context for parsing through contemporary sports content, and I thought of that book as I read Harris Interactive's latest poll about America's most popular sports.
Harris' most recent data has the United States' three favorite sports in this order: 1) Pro football 2) Baseball 3) College football.
Over a week's time last December, Harris polled 2,311 adults online and asked them which sport was their favorite. The NFL earned 35 percent (no surprise – pro football has been No. 1 for 30 years in a row), while MLB earned 14 percent and college football received 11 percent.
There's nothing wrong with these numbers or the poll Harris conducted, but I thought of Huff's book only because it's impossible not to think of where the inherent biases and errors hide in any study that spits out blanket statements, or all of the underlying reasons for the results (Harris addresses the "multiple sources of errors" found in all polls in the 'Methodology' section at the bottom).
This is my favorite part of these things, actually, particularly the results sorted by demographics. Here's Harris' table for the highest and lowest demographic results for the four most-popular American sports: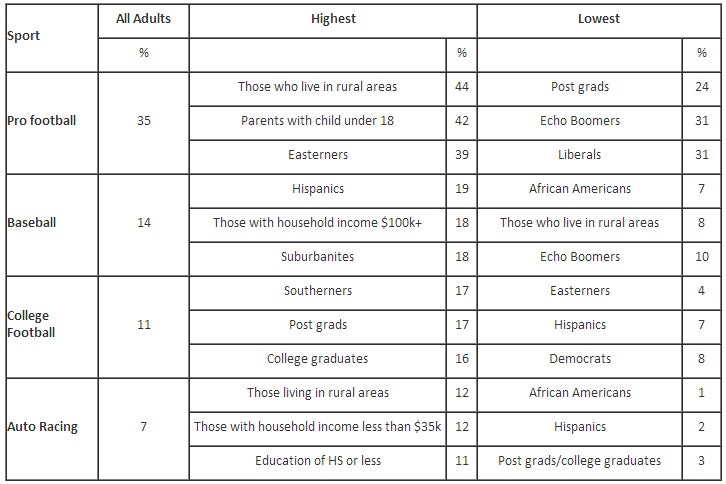 Fascinating — look at pro football.
The second-highest demographic among NFL fans is parents with a child under 18 years old (42 percent). Does that make any sense at all?
What about all of those stories about how football is dying and soon no parent anywhere (maybe some slight hyperbole there) will let their child play tackle? What about the latest gruesome CTE discoveries and how this research will inevitable eat into the youth football numbers as parents opt for safer sports? Of course, all of that can still happen, but it's an interesting parallel with this one study at least.
Baseball is littered with socioeconomic quandaries. It makes some sense that affluent families would rank among the highest baseball fans (it's not the cheapest sport for kids to get into, given the equipment involved) and yet that's also counter to some of the nostalgia surrounding the sport (a broom stick, wad of tape a back alley in a New York borough is all you need to be Joe D!).
Also, it's cool that Hispanics account for the highest percentage of those who chose baseball was their favorite sport (19 percent) – this is something MLB should proudly trumpet as the continued globalization of its game. It also chips away at the "America's pastime" moniker, which nobody doubts has long been turned over to pro football.
As for college football? It might make the most obvious sense of the bunch. Southerners, at 17 percent, are the highest demographic of people who claim college football as their favorite sport, followed by two academic-driven demos – people with post-graduate degrees (17 percent) and those with undergraduate degrees (16 percent).
CFB taps into a unique sports audience – the fan who doesn't generally like sports much at all but supports a football team out of school loyalty and alumni pride (if this describes you – welcome! We love you as well). I was surprised to see Easterners rank as the lowest demographic (4 percent) in the college football class, and this is a good time to point out how understanding the context of statistics and how they're presented is important.
At first glance of Harris' chart, most people probably thought, "Wow, surprising – Easterners don't like college football that much." That would be a normal reaction, only it would also probably be wrong. The study doesn't tell you which sports people like – it tells you which sports people like the most.
It's not a coincidence that Easterners also rank among the highest of pro football fans – they live in a part of the country dominated by the NFL. I would guess many Easterners do like college football, they just don't like it more than the NFL, which is still great for both.
So why's this important? Eh, it's not really, but it does help you sniff out some of the narratives that too easily float around the sports world.
(My favorite is the "baseball is dying" narrative, which is beyond silly. A study like this one – which points out baseball's "popularity" has decreased by 9 percentage points in the last three-plus decades – sounds ominous for MLB. Except for the small fact that, in 2013, baseball's revenues exceeded $8 billion for the first time in history. It's possible more fans are choosing other sports as their favorite while also continuing to like MLB. That's terrible news for baseball's perception in these studies and, well, still superb for business).
Teddy Mitrosilis writes and edits college football for FOXSports.com. Follow him on Twitter and email him at tmitrosilis@gmail.com.