WWE Raw Review: Results, Analysis, and Grades for September 19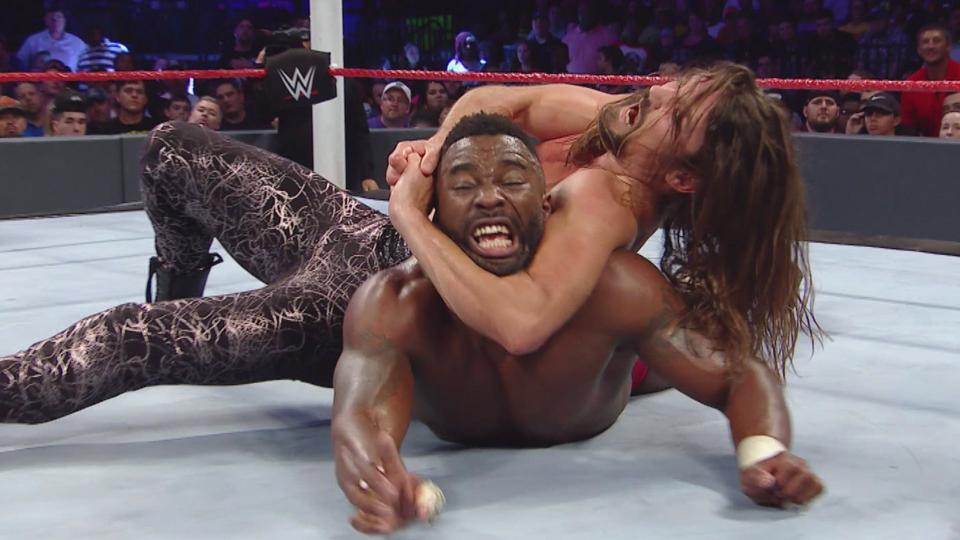 Follow along with our live review of Monday's episode of WWE Raw.
On Monday night, the latest episode of WWE Raw will take place. This is the go-home show for the upcoming WWE Clash of Champions pay-per-view, which occurs on Sunday, September 25.
Raw will be highlighted by Seth Rollins vs. Rusev, a matchup that hasn't been seen on main roster programming. This is Rollins' final match before he challenges Kevin Owens for the WWE Universal Championship at Clash of Champions. While not confirmed, The Bulgarian Brute may be headed toward a United States Championship bout with Roman Reigns. The Big Dog's attempt to get into the COC main event got thwarted by Rusev's interference.
It's possible we see more interruptions in this match, fueling feuds for Sunday's PPV. How could this end on Raw?
The last show of build toward Charlotte vs. Sasha Banks at Clash of Champions will take place. The story of this hasn't been these two former NXT Women's Champions, but Dana Brooke. She has had tension with The Nature Girl for the past few weeks, potentially leading to a split. With the live special days away, maybe we get them breaking up on Monday, or the big moment gets saved for Sunday.
Bayley may also be a factor. She lost the No. 1 Contender's match on Raw, so where does she fit into everything? 
New Day vs. Karl Anderson and Luke Gallows will wrap up as well. These teams are set to battle for the WWE Tag Team Championship at Clash of Champions. This feud has been marred by the "Old Day" segment from two Mondays ago, though. It may have been WWE's worst segment of the year, and somewhat got recognized for this last week. As long as they don't go near this, they should be fine for their upcoming match.
Potentially the most exciting part of Raw will be the cruiserweights debuting. WWE announced Cruiserweight Champion, TJ Perkins, Brian Kendrick, Cedric Alexander, Gran Metalik, Lince Dorado, Noam Dar, and Rich Swann will be the first ones joining the flagship show. What could be in store for them on their debut night? Will we see all of them in action in Memphis, TN?
Follow along with our live review of Raw beginning at 8:00 PM ET right here.
Roman Reigns Opens Raw
Roman Reigns is out first for Raw. He says two words, and Stephanie McMahon comes out. She speaks maybe one line, and Mick Foley enters the arena. Foley says he's putting Seth Rollins and Rusev into a match to solve problems from last week, but makes Rusev vs. Reigns for Clash of Champions. Foley says he wants to make things right as the Raw GM. He puts Reigns into a match against Kevin Owens, who enters the building. Owens is frustrated over the rematch, but Stephanie says what Mick says, goes. Foley makes Reigns vs. Owens in a steel cage for the main event.
The dynamic between Foley and McMahon is interesting, but it seems they're on the same page, for now. The face combo has worked and is a refreshing look for Raw's authority figures, especially with two of them in this role.
The main story is Reigns, though. He'll get his inevitable rematch against Rusev at WWE Clash of Champions. This will be for the United States Championship. The Bulgarian Brute is going on four months for his reign, so we'll see if it comes to a close at the pay-per-view. This on-and-off feud has entertained with its physicality, so the match on Sunday should be worth watching.
The Big Dog is also facing Owens in the main event, which will be a Steel Cage match. This may seem like an attempt to keep others out, but on the go-home episode of Raw before Clash? That's not happening. I wouldn't be surprised to see Triple H enter the match and help Owens win. However, that may make more sense to save for the Universal Championship match vs. Rollins.
Rusev vs. Rollins is next.
Mick Foley, Stephanie McMahon and Rusev Backstage
Stephanie confronts Foley about putting Owens into a Steel Cage match. Rusev comes up and argues with Foley. He questions making a match, and goes out for his with Seth Rollins.
Foley is being questioned by everyone, which seems like this could be planting the seeds for an eventually general manager change. It's very soon for this to happen, but these roles have been temporary in the past.
Seth Rollins vs. Rusev
Result: Seth Rollins vs. Rusev ends in a double count-out.
Rating: 2.5 out of 5 stars
This was a solid match, nothing that went out of the way to be phenomenal, but it started Raw well.
The result is intriguing. Rollins and Rusev going to a double count-out "saves" them for Clash of Champions. However, things still happened post-match, with Rollins taking out Rusev at ringside. Maybe this could have been a way of saving this for a later date, maybe for Hell in a Cell in October? That's if their respective feuds conclude on Sunday, which isn't a foregone conclusion.
Mick Foley, Charlotte, and Dana Brooke Backstage
The three review the ending from last Monday's No. 1 Contender's match. Brooke says something should happen because both Sasha and Bayley's shoulders were down for the pin. So, Foley puts Bayley into the title match at Clash of Champions. Charlotte then slaps Dana.
Tension brewing once again. It looks like Brooke could screw Charlotte out of the title, meaning we get a new champion on Sunday.
Braun Strowman vs. Sin Cara
Result: Braun Strowman defeats Sin Cara via pinfall.
Two weeks after Cara got protected against Strowman, he got destroyed by this massive man.
Strowman is going to eventually need a feud. What he does remains to be seen, but it may be a little while.
Bayley and Sasha Banks Backstage
Banks is unhappy with Bayley being added to the women's title match at Clash, but they somewhat reconcile.
A Bayley vs. Sasha feud is inevitable. Maybe WrestleMania?
Bayley and Sasha Banks vs. Charlotte and Dana Brooke
Result: Charlotte and Dana Brooke defeats Bayley and Sasha Banks via pinfall.
Rating: 2.0 out of 5 stars
This match is the final encounter before Clash, which will now see Charlotte defend against Bayley and Sasha.
The Nature Girl getting the win always helps, especially given that she's the champion and this seems to rarely happen before pay-per-views. The challenger(s) usually get the upper hand to give them momentum. This time, though, The Hugster took the pinfall after the Brooke distraction. It won't hurt her before the PPV, but certainly won't help.
Seth Rollins and Stephanie McMahon Backstage
Rollins questions why Kevin Owens is aligned with Stephanie and Triple H. She says maybe Hunter got tired of Rollins hurting his reputation for not winning back the world title. Rollins says he may be their worst nightmare. Stephanie says Owens has replaced Rollins.
Rollins and McMahon's relationship has gone down, with the former looking to take out Triple H and Owens. We'll see if this continues by the end of Raw.
Bo Dallas vs. Gary Graham
Result: Bo Dallas defeats Gary Graham via pinfall.
Where this is leading Dallas to is anyone's guess. He's not going to main event, and the U.S. Title is controlled by a heel.
Best-of-Seven Series (Sheamus Leads 3-2)
Cesaro vs. Sheamus
Result: Cesaro defeats Sheamus via pinfall to even the series at 3-3.
Rating: 2.75 out of 5 stars
Not surprising, right? Cesaro is being given the babyface comeback, with the seventh match likely headed for WWE Clash of Champions.
The end game for this series hasn't been determined. We don't know if the winner is definitely getting a championship match. Could that be made later on Raw?
It's difficult to get a read on who's going to win on Sunday, too. That may be for the best, as both could use the win to get momentum for a future program.
Mick Foley and Chris Jericho Backstage
Jericho complains about Foley as Raw GM, and starts making a list. They had an amusing back and forth exchange, highlighted by Jericho saying Foley uses "cheap babyface pops for catchphrases.
Chris Jericho Promo
Jericho comes out to voice his grievances about Mick Foley as general manager. He says Sami Zayn will be crossed off his list at Clash. This leads to Enzo Amore and Big Cass coming out. They go off on Kevin Owens not being out, and The Shining Stars come out. New Day follows them out and say they will win on Sunday. Gallows and Anderson enter the arena and say they'll win.
As Jericho starts going off, Zayn runs out and they start brawling.
This show has had plenty happen, so it seems this was to pack a lot of people onto one segment, setting up a multi-man match. Not much of significance happened, here, though, except for a few comedic things from Jericho.
New Day, Sami Zayn, Enzo Amore and Big Cass vs. Chris Jericho, Karl Anderson, Luke Gallows, and The Shining Stars
Result: New Day, Sami Zayn, Enzo Amore and Big Cass defeat Chris Jericho, Karl Anderson, Luke Gallows, and The Shining Stars via pinfall.
This 10-man tag match showcased everyone invovled before Clash of Champions, which was good enough. With only an hour left on Raw, plus the Cruiserweights and the main event still to come, doing this worked. The only thing is this effected no one heading into Sunday. That may not be the worst thing, though.
The Cruiserweights Debut
Mick Foley introduces Brian Kendrick, Cedric Alexander, Gran Metalik, and Rich Swann for an opening match,
No. 1 Contender's Match for the WWE Cruiserweight Championship
Brian Kendrick vs. Cedric Alexander vs. Gran Metalik vs. Rich Swann
Result: Brian Kendrick defeats Cedric Alexander, Gran Metalik, and Rich Swann via submission to become the new No. 1 Contender to the Cruiserweight Championship.
Rating: 4.0 out of 5 stars
The first four cruiserweights showed up and absolutely killed it on Raw.
The biggest takeaway from this is the ring time everyone received. This lasted about 20 minutes, which gave Alexander, Kendrick, Metalik, and Swann the chance to showcase their skills. There are three hours of Raw every Monday, so this will hopefully be the cast most of the time. It could take time away from some of the mediocre undercard feuds that have plagued the Flagship Show for years.
If wasn't difficult to hear the "this is awesome" chants, either. While this phrase gets thrown around often, it's a great sign that fans are taking to the early look of the cruiserweights. Let's jsut hope WWE keeps this up.
Kendrick will return to WWE PPV for the first time in seven years. It's a remarkable turnaround for the former Tag Team Champion. While he may not be the favorite (TJ Perkins hasn't even defended the title yet), it's still a great story to see someone who was down and out in the wrestling industry.
Steel Cage Match
Roman Reigns vs. Kevin Owens
Result: Roman Reigns defeats Kevin Owens after successfully climbing out of the cage.
Rating: 2.5 out of 5 stars
It's difficult to make Steel Cage matches "great". The use of the structure somewhat hinders the match, as the attempted escapes are usually anti-climatic, and the pace is a bit slow. While this was the case between Reigns and Owens, this main event did fine.
Reigns winning is okay. Owens isn't losing by pinfall or submission. He simply couldn't make it out of the cage fast enough. It shouldn't matter for the match on Sunday, which is a standard bout. This probably won't be remembered by the time Clash's main event happens, either.
What will be remembered is Seth Rollins' leap off the steel cage. He made the save for Reigns, who got attacked by Rusev and Owens. Fun moment. The overal picture makes little sense, though, as these two former Shield stars have feuded for most of the past two years. Why The Architect's feelings would suddenly change is anyone's guess. While WWE has showed Rollins has issues with Rusev and Owens, saving another one of his enemies is head-scratching. There could be a bigger picture, though.
So, what did you think of Raw?
This article originally appeared on