5 biggest surprises from 2016 WWE Survivor Series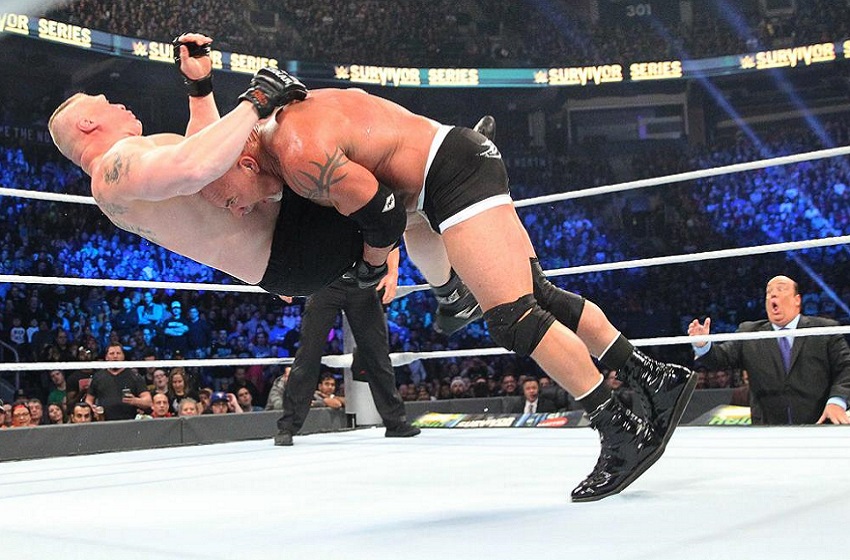 Here are the 5 biggest surprises from Sunday night's 30th annual WWE Survivor Series pay-per-view event.
Celebrating its 30th edition, the annual WWE Survivor Series pay-per-view event took place in Toronto, Ontario, Canada on Sunday night in front of a sold-out crowd at the Air Canada Centre. And I think it's safe to say that the wrestling world is in shock. One only has to check out the Twitter reactions to the Goldberg vs. Brock Lesnar match to see that. While we'll certainly be taking a look at that match as we move forward, there were some other moments from Survivor Series that surprised some people last night and we'll get into those as well. First, however, let's take a look at the full results from the 30th annual Survivor Series.
T.J. Perkins, Rich Swann & Noam Dar def. Drew Gulak, Tony Nese & Ariya Daivari (preshow)
Kane def. Luke Harper (preshow)
Women's 5-on-5 Elimination Match: Team RAW def. Team Smackdown Live-Bayley & Charlotte were the survivors
Intercontinental Championship Match: The Miz def. Sami Zayn
10-on-10 Tag Team Elimination Match: Team RAW def. Team Smackdown Live-Cesaro & Sheamus were the survivors
Cruiserweight Championship Match: Brian Kendrick def. Kalisto by DQ
Men's 5-on-5 Elimination Match: Team Smackdown Live def. Team RAW-Bray Wyatt & Randy Orton were the survivors
Goldberg def. Brock Lesnar
While we'll get to some of the surprising moments in just a minute, a lot of things at Survivor Series went down as I expected them to. Some people were shocked to see Sasha Banks out a little early during the women's match but I think this was the right call. Sasha will remain over with the fans and the feud between her and Charlotte is now truly over and the focus needed to shift to Bayley and Charlotte and it certainly did that as the two survivors from the winning side started their program following the conclusion of the match. Nia Jax was dominant as expected and while it was a little surprising to see her tap out, she's still very green and will get her big push down the line.
As far as the title matches are concerned, things went down as they should have. It's not surprising that The Miz retained the Intercontinental Championship with help from Maryse (certainly something original this time around) and as it needed to, the cruiserweight division will remain on RAW after Brian Kendrick bested Kalisto. It was a little disappointing to see a great match have that kind of ending with Baron Corbin getting involved but I think everybody wins here. The division stays on the three-hour show that actually has time for it to grow. Kalisto still looks very strong and Corbin keeps his "I'm only out for Baron Corbin" thing that works so well for him.
There were a couple of surprises in the men's match but Braun Strowman got exactly what he needed, which was a big spotlight to showcase his power and he did all of that without looking weak being eliminated via countout. The biggest shock of that deal is him not going back for those pizzas on one table after he hurled James Ellsworth through another off of the stage. And teasing a little more heat between Owens and Jericho (especially using Jericho's list) is something I thought needed to happen and the mini-reunion of The Shield, while done extremely well, is something that I think everybody saw coming, especially seeing how Survivor Series is where they debuted.
But enough of what we expected to happen. Let's get to five things at Survivor Series that took us a bit by surprise.
5. Nikki Bella taken out of women's match
As I said in the opener, there weren't a lot of things in the traditional 5-on-5 Survivor Series match involving the women, but taking team captain Nikki Bella out of the match before it even began was a bit shocking, especially given the buildup over the last few weeks.
Nikki Bella has been one of the biggest stars of the women's division for quite some time now, as evidenced by her being named the captain for Team Smackdown Live even though Becky Lynch is the women's champion of the blue brand. Nikki is a former record-setting Divas champion, a reality TV star and is dating the biggest star in the company in John Cena. She's got a lot of things going for her and her return feud with Carmella has been one of many highlights of the women's division on Smackdown Live, which while I'm on the topic has easily been the better show when it comes to the women as most of their roster has been featured in big matches as opposed to essentially just Sasha and Charlotte recently on RAW. So it was surprising to see her taken out of a high-profile match such as this one.
So what we have now is another "whodunnit" moment from Survivor Series, and while it's certainly not on the level of "who hit Stone Cold with a car", there are a few people who could be responsible. The recent brawl between Nikki and Charlotte would lead many to believe that the RAW women's champion is at fault, especially given the look on her face in the ring before the match last night. Then there's the obvious choice of Carmella but I'm thinking that team coach Natalya is at fault here. By taking out Nikki Bella, Natalya was able to insert herself into the match, which she's been wanting for weeks, and it only keeps her strong heel push going by taking out a fan favorite. This leads to a new feud on Tuesday nights for everyone and was a good call. Natalya should have been in this match anyway. While the reveal likely won't come as a huge shock, the fact that Nikki was left out of this big match was surprising and got Survivor Series off to a nice start.
4. The New Day is eliminated early in the tag team match
With so many guys involved in a 10-on-10 tag team elimination match, you had to figure that there would be a couple of quick eliminations in this one and I don't think the first one shocked anybody as Smackdown Live's Breezango (by the way, how good is this fashion police gimmick) was taken out just 45 seconds into the match. You had to figure a team from RAW would be taken out next and I'm betting most were thinking that it would be The Shining Stars. But just 25 seconds after Fandango was taken out, Kofi Kingston was rocked by a superkick from Jimmy Uso, and just like that, the two-time champs were gone.
I honestly can't believe that anybody saw that coming. The New Day have been champs for 455 days and are currently only 23 days away from breaking the all-time record set by Demolition in the late 1980s. Yes, they have lost a few matches cleanly but haven't dropped those belts yet, likely due to the powers that be wanting them to break that record, given that the former Ax and Smash are currently part of a class-action lawsuit against WWE. And they're still insanely over with the majority of the audience, which makes what happened on Sunday so shocking.
However, Survivor Series did have a bit of a theme to it in my opinion, that being getting people to take notice of superstars and/or teams that maybe haven't gotten their chance to shine. And as it was with eliminating Sasha Banks early to give the other women a chance in the spotlight, I think that was the case here as well. With New Day out of the match, the remaining eight teams were given almost the entire match to not have to deal with that distraction. This gave guys like The Hype Bros, American Alpha, The Shining Stars and the rest to show what they can do and they delivered. I thought the finish involving The Usos and Cesaro & Sheamus was done beautifully and furthered a few storylines in the process.
3. Dean Ambrose was the first man eliminated in the men's match
There was so much star power in the men's 5-on-5 traditional Survivor Series match that it really was a tossup on who would be eliminated first but I was truly surprised when that man was Dean Ambrose. But I've got to say that it was the right thing to do, and to let Braun Strowman to be the one to do it was even better.
There was only a couple of ways that the Ambrose/Styles partnership could go down at Survivor Series. One was to have them get along for the entire match and win it together, and then tear each other apart afterwards to help sell the upcoming TLC pay-per-view. But that's what we got in the women's match with Charlotte and Bayley. The other option was for them to further their program by essentially eliminating one another and that's exactly what happened.
Now, I knew Strowman wouldn't go out first as they wanted to showcase him and did it quite well. The one thing I thought might happen would be for Chris Jericho to somehow be responsible for Kevin Owens being eliminated by AJ Styles, making Owens the first one out and feeling as if he was the inferior champion. He would blame Jericho and further the inevitable split storyline that we all know is coming. But Dean Ambrose? Again, I was shocked, but it made perfect sense in the end, and as it's been with most things in this fantastic Styles/Ambrose feud, the timing was perfect as well. Ambrose was eliminated exactly 16 minutes into the match and obviously had to leave the ring area. In that time, a lot of things transpired that almost made you forget about him. It wasn't until more than 20 minutes later that he returned to help his Shield brethren powerbomb Styles through a table, thus eliminating the WWE World Champion after Seth Rollins got the 1-2-3 after throwing him back in the ring.
So while it was a shock to see the extremely popular Dean Ambrose out first, it worked out beautifully in the end. And without Styles to represent Smackdown Live, the brand you knew wouldn't get shut out, that opened the door for my favorite surprise of the night.
2. Bray Wyatt actually got a big win
This has been a long time coming and now it's up to WWE to actually do something with it, but it's official: Bray Wyatt actually got a big win.
How many times have we seen it? Bray Wyatt gets into a high-profile feud only to lose it in the long run. It happened with John Cena. It happened with Roman Reigns. Okay, he did get the best of Dean Ambrose a couple of years ago but that was really only to make him look strong so he could be fed to The Undertaker, whom we knew wasn't going to lose two WrestleMania matches in a row. Bray Wyatt is one of the most over wrestlers on the WWE roster and the big payoff has really never come. And let's get real — fans of Wyatt had that same feeling when the newest member of the Wyatt Family, Randy Orton. Bray and Orton were the two remaining members of Team Smackdown Live and they were facing off with once-again best buddies Seth Rollins and Roman Reigns, who had just given the audience everything they wanted with the aforementioned mini-reunion of The Shield.
Once again, we had the Wyatt Family facing off with The Shield. You even saw Bray saying that it was just like old times as the final four got going, and when Luke Harper joined the fray, it really did feel like Rollins and Reigns would buck the odds and pick up the victory, despite Reigns getting louder boos than John Cena ever has.
On that quick note, did anybody else think that Reigns was going to turn on Rollins and join the Wyatt Family for a split second while they were in the center of the ring? Maybe that's just me but I digress.
Seriously, though, it just seemed like another buildup for the Wyatts leading to yet another letdown. But this time was different and I really liked what they did here. First of all, that RKO on Rollins, although not quite as good that Orton put on him at WrestleMania 31, was amazing. Yet it was Bray who got the 1-2-3. And while it was Orton sacrificing himself for Bray, it was Bray who got the final pin on Reigns (anybody but you, Roman) following a Sister Abigail, securing the victory for Smackdown Live.
As soon as he picked up the victory, I thought about how commissioner Shane McMahon would be so happy that Bray Wyatt got the victory for his show that Bray could possibly be chosen as the one to get Shane's revenge on Brock Lesnar and get the rub of being the guy that took down Brock Lesnar.
Then the biggest surprise of the night happened …
1. Goldberg squashes Brock Lesnar
Sorry, Bray. While you finally got the big win that you deserved, people weren't leaving the building talking about you. They left the Air Canada Centre talking about how Bill Goldberg squashed Brock Lesnar in less than 90 seconds. That seems about right.
They called it a match 12 years in the making. They called it fantasy warfare. They called it the main event of Survivor Series. And now we'll call it one of the biggest surprises in Survivor Series history. Yes, Bill Goldberg defeated Brock Lesnar in a squash match. WHAT?
Maybe there's a bigger picture here that I don't see just yet but as I sat and watched this match last night on the WWE Network, I was in absolute shock. Where's that surprised guy from when Lesnar beat The Undertaker's streak when you need him, am I right? I've been trying to think of something all day that makes this okay but I just can't do it. Look, I knew the match wasn't going to be very good. The first one at WrestleMania XX wasn't good and that's when they were both much younger. Lesnar's matches haven't been enjoyable for quite some time anyway and putting him in there with a 49-year-old man, albeit the fact that Goldberg is in much better shape than most 49-year-old men, and I figured it would be very slow. I thought it might get a little physical given the types of athletes they are but Goldberg has never been able to really help carry a match, even in his prime.
This wasn't Goldberg vs Brock Lesnar. This was Goldberg vs any of the jobbers he beat in WCW during his initial streak on Monday Nitro. Sure, there was going to be some ring rust but give us something. With word getting around that Goldberg will be in the Royal Rumble, which will help sell tickets in the Alamodome, Lesnar will be looking for revenge and will either get it there or possibly at WrestleMania, which is maybe where they wanted this match to happen in the first place. Maybe that's the payoff. But last night was ridiculous. To have that kind of buildup for that kind of payoff was a travesty, especially since Goldberg doesn't need the rub of going over Lesnar that some other guys would benefit greatly from, much like Lesnar didn't need the rub of ending The Undertaker's streak. And this all happened in the final spot of the night. There was a 5-on-5 match, arguably the best in Survivor Series history, that went 52 minutes and 55 seconds right before this one that was the real main event of the night and yet the night will be remembered as the night that Goldberg squashed Brock Lesnar. And unfortunately, that's not a surprise.
And I didn't even mention Shane McMahon getting knocked out by Roman Reigns. And on a quick note, how cool was it when Randy Orton when over to his son to let him know that he was okay? One thing that Survivor Series showed was that WWE can still surprise us…whether we like it or not. What was your favorite moment from Sunday night?
This article originally appeared on