White: Lesnar has 'regrets'€™ about MMA career, return a '€˜definite possibility'
Just when you thought the Brock Lesnar UFC talk was dead and buried, it gains some steam.
UFC president Dana White said he talks with Lesnar regularly and Lesnar "regrets" the way he went out in MMA and there's a "definite possibility" he could come back.
The former UFC heavyweight champion wonders, White said, what would have been if he never had diverticulitis, the debilitating gastrointestinal disease that he dealt with for the duration of his MMA career.
"He has some regrets and would he like to fight again? I'm sure he would," White said Wednesday after UFC Fight Night: Rockhold vs. Philippou. "We'll see how this whole thing plays out."
Dana White: Brock Lesnar has "regrets" about his MMA career and thinks he could have done more if he was healthy. Could return.

— Marc Raimondi (@marc_raimondi) January 16, 2014
Rumors spread last month that Lesnar would show up at UFC 168 in Las Vegas and White didn't deny them. The big fella never came and two nights later, there he was on WWE RAW. There was rampant speculation that the UFC rumblings were just a publicity stunt, but it's unclear why White would further something that would assist the WWE.
In reality, White actually has spoken to Lesnar about coming back – and not just last year when he tried to make a Lesnar-Fedor Emelianenko fight.
"He became the heavyweight champion with diverticulitis," White said. "What would he have done without it? From the first day until the last fight he was suffering from it. He wasn't feeling right and didn't know why and then it really hit him."
Lesnar, White said, feels like he was only at 40 percent during his entire MMA run. The burly former NCAA wrestling champion retired from the UFC after a knockout loss to Alistair Overeem in December 2011. That followed a year layoff after losing his belt to Cain Velasquez by knockout. Before that, he was 5-1.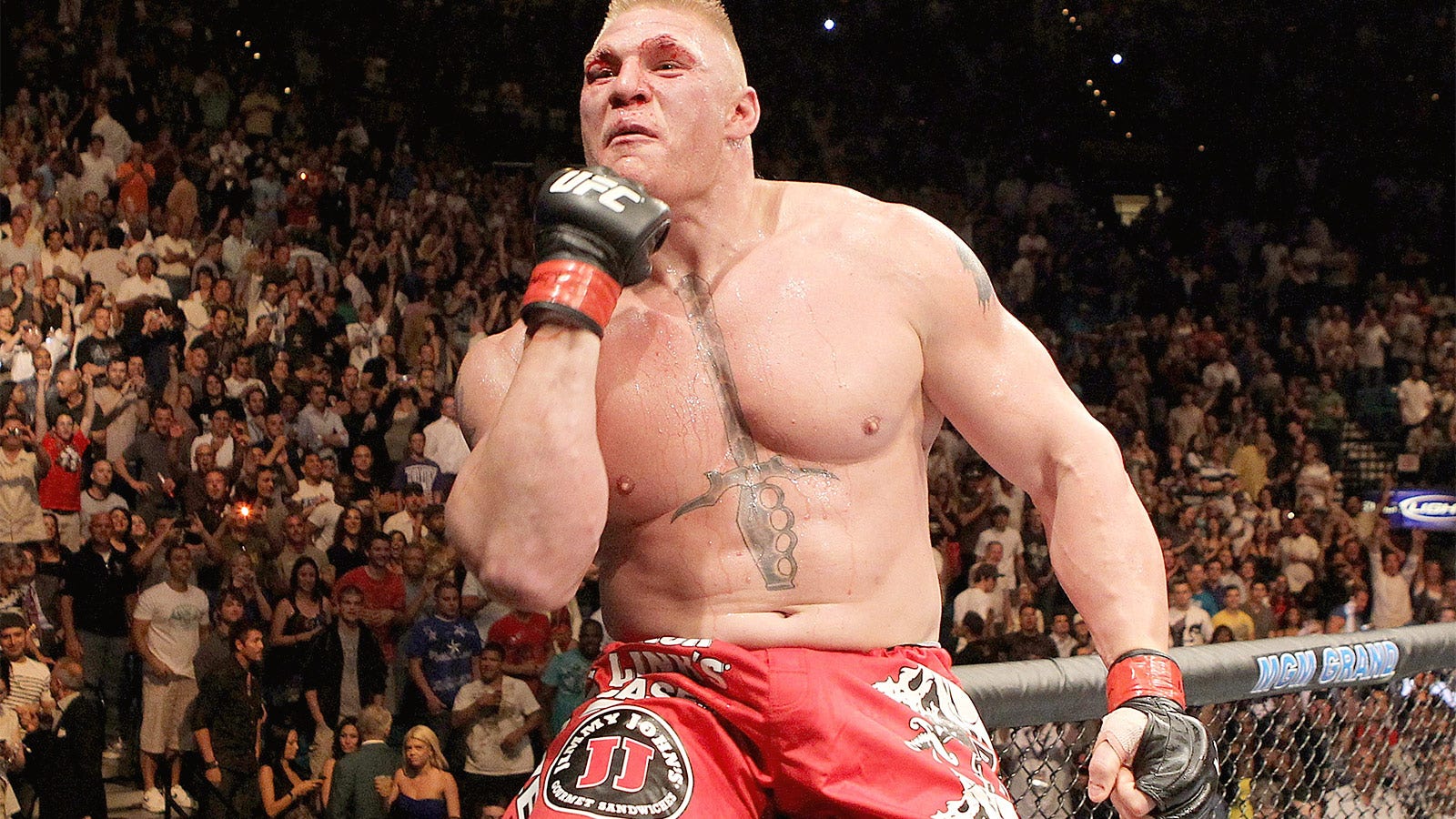 White said what Lesnar was able to do – become UFC heavyweight champion in his fourth pro fight – was incredible and he really has nothing else to prove.
"He feels like Brock Lesnar at 100 percent could have done better," White said. "I told him, 'You're out of your fucking mind.' He came in here with one fight and became the heavyweight champion. It was fun having Brock here."
It also made the UFC a ton of money. Except for the Overeem bout, having Lesnar as a headliner almost guaranteed the UFC 1 million pay-per-view buys. And in a world without Anderson Silva or Georges St-Pierre for the foreseeable future, having Lesnar around wouldn't hurt the bottom line.
Of course, Lesnar is still signed with the WWE. His cushy travel schedule and massive paydays make it a no-brainer that he continues on with that organization. But how about working for the WWE and fighting in the UFC at the same time? White got coy.
"You never know," he said.