Jordan Burroughs talks gold medals, 2016 Olympics and the UFC
The last time 2012 Olympic gold medalist Jordan Burroughs stepped onto a mat at the wrestling World Championships, he was hampered by a sprained MCL in his knee and for the first time ever he came up short in his bid to win a gold medal.
Burroughs has never been one to make excuses so following his loss to Denis Tsargush in the semifinals, he gathered up whatever strength he had left while wrestling at well less than full strength and pulled out a bronze-medal victory to finish the tournament.
But Burroughs isn't about winning third place in any tournament. He's not a fan of second place either.
Burroughs is a champion and that's his goal as he approaches the start of the World Championships in Las Vegas this week, where he's ranked No. 1 at 74 kilograms ahead of the freestyle tournament that will act as a staging ground for the 2016 Olympics in Rio de Janeiro, Brazil.
"I feel great. This is just a stepping stone for where I want to be in 2016 and I know everybody is prepping for Rio, but any time you get the chance to wrestle for a world championship is a huge event," Burroughs told FOX Sports. "It will be extremely enjoyable and I'm just worried about bringing a high performance this year, thinking less about the result and more about the performance.
"I know if I wrestle well and if I compete to the best of my ability, I'll be successful."
It's never been my passion to pursue the UFC or that I like to fight. I'm passionate about the sport of wrestling. I want to win another gold medal.
— Jordan Burroughs
Burroughs is no stranger to adversity when it comes to his athletic career. During his time at the University of Nebraska, Burroughs was forced to sit out an entire year due to injury after winning an NCAA championship at 157 pounds. Following rehabilitation and recovery, Burroughs returned at 165 pounds, where he repeated as an undefeated national champion.
Burroughs expects to do the same as he gets back on the international stage this week while pursuing his third gold medal at the World Championships.
"In order for you to grow and progress, you need that adversity, you need those struggles, you need tough times. It's been a very, very tough three years for me in terms of injuries and life changes," Burroughs said. "I'm a married man now, I've got a baby boy so the dynamics outside of my arena have changed. Inside the wrestling arena, I always want to be the best so that hasn't changed.
"I understand there are going to be tough times but that's what makes you tough. If it was a cake walk, everybody would be doing it."
Burroughs knows as he gets ready for his bracket to kick off Saturday that he's going to get the absolute best from every single competitor he faces. The gold medal freestyle wrestler already had to go through a snake pit in the United States while facing a laundry list of tough opponents like David Taylor and Kyle Dake just to earn his spot on the team for the World Championships.
The international competitors will certainly give it everything they've got to knock him off as well and that only motivates Burroughs to put on another signature performance.
"I'm not too worried about what other guys will be doing, I'm just worried about being the best possible wrestler myself," Burroughs said. "I'm not a big guy that watches technique from my opponents. I try to do what I do best and hope that my stuff is better than their best stuff.
"I embrace the pressure, I embrace the anxiety, and I enjoy knowing that everybody is going to give me their best shot."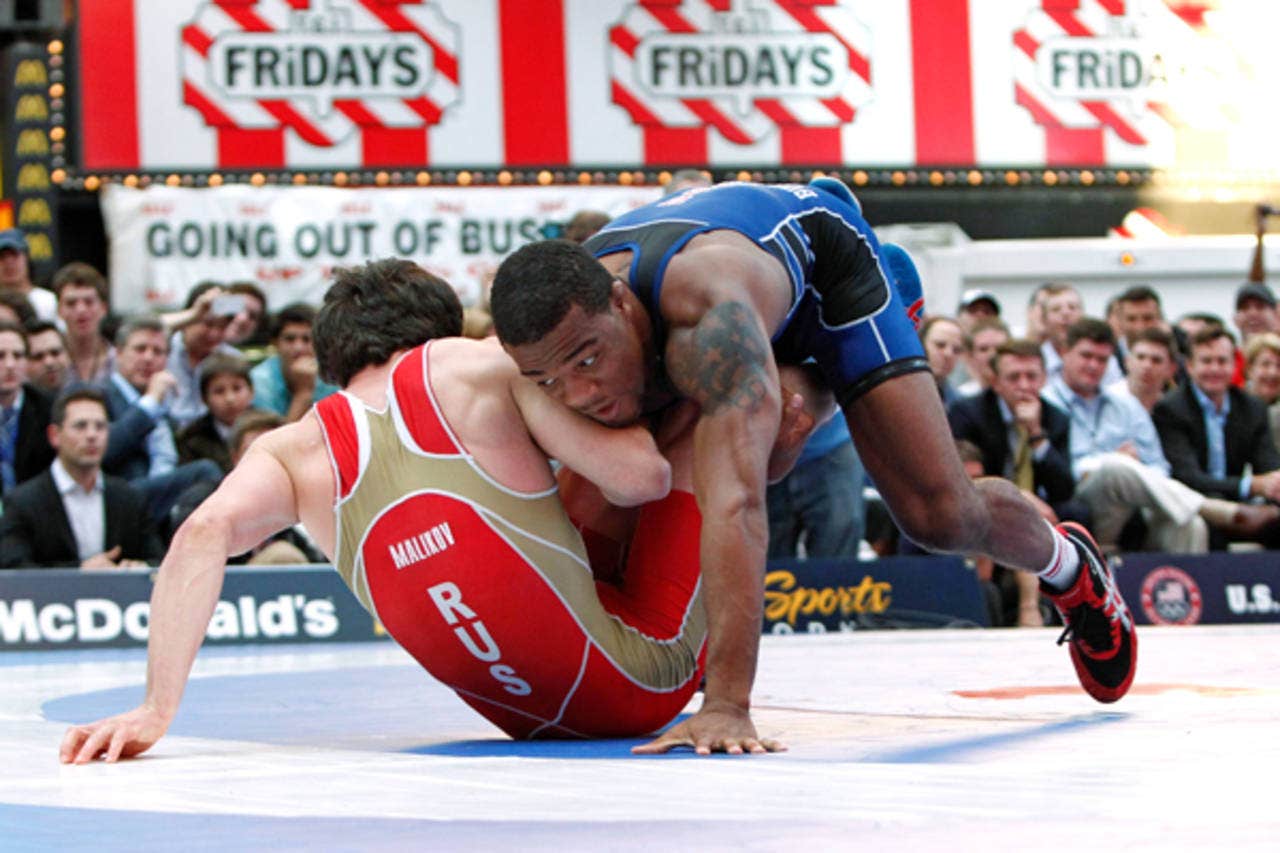 One of the main sponsors for the World Championships taking place this week is the Ultimate Fighting Championship, which has thrown support behind wrestling in a big way ever since the sport was nearly booted from the Olympics a few years ago. The UFC is filled to the brim with former wrestlers including two-time Olympian Daniel Cormier, who is the current light heavyweight champion, and gold medalist Henry Cejudo, who is currently competing in the flyweight division.
The cross pollination between wrestling and MMA has been around for decades, but as Burroughs prepares for the World Championships and then the 2016 Olympics, he says the support from UFC fans has been incredible and he remains an avid fan as well.
"A lot of the guys who have been extremely successful have been wrestlers. I think about some of the guys who are champions who were competing in wrestling the same time I was. I remember competing with some of these guys and against their teams. When you think about Chris Weidman and T.J. Dillashaw and Daniel Cormier, these are guys that I've either wrestled with or watched and they've done great things for our sport," Burroughs said.
"I love the sport. I love watching it, it's a lot of fun to watch. My wife and I have bought many pay-per-views to watch some of the big fights in the UFC. I'll continue to enjoy it, but I won't ever join."
A few years ago, Burroughs was actually committed to fighting MMA after he won two gold medals in the Olympics. He completed the first phase of that plan in 2012 and will be the odds-on favorite to repeat in 2016 as well, but Burroughs no longer plans to fight MMA because he's just not passionate about it.
Burroughs admits there's a lot of attraction for wrestlers to pursue a future in the UFC, but once he actually examined what he loves and why he loves to do it, he knew fighting wasn't part of his long term plan. Burroughs also knew for the United States to continue to compete on the world stage, the team needed the best athletes to stay committed to wrestling.
"You can't lose all your best athletes to the MMA world and still expect to be the best in the wrestling world. I think at this point in time, the best wrestlers stay in wrestling. It's never been my passion to pursue the UFC or that I like to fight," Burroughs said.
"I don't think many guys like to fight, but it's everything that surrounds success in the UFC. It's notoriety, it's the celebrities sitting ringside in Vegas, it's financial incentive, it's being labeled as the toughest guy in the world and being respected and heralded on such a high level, but for me I'm passionate about the sport of wrestling. I want to win another gold medal."
Burroughs says a big part of his decision to do MMA and then ultimately opt against it was financially motivated, but sponsors and endorsements have allowed him to stay on his path to win a second gold medal and that's really all he ever wanted to do.
"I'm doing well financially. I think a lot of guys get out of wrestling for financial incentive to go to the UFC, but I'm doing well. I've got a home, I've got a wife, I've got everything I need," Burroughs said. "So realistically, I don't need to join the UFC for anything other than I'm passionate about it, which I'm not.
"So I'll just sit back from afar and enjoying watching it but not participating."
Burroughs may not have a UFC title in his future, but gold is never far away from his fingertips. Winning the World Championships this weekend is the first step towards taking home another gold medal at the 2016 Games.
At that point, Burroughs might finally be ready to move onto the next stage of his life, but once wrestling is done so is his athletic career.
"There's a pride in representing your country on a stage like the sport of wrestling, which I've done since I was five years old. There's nothing that can deter me other than my own decision to leave the sport," Burroughs said.
"I enjoy it, I want to pursue it, but once I step away from the sport of wrestling, I'm stepping away from athletics completely."