Insider Trading: Guaranteed money-makers of UFC 169
UFC 169 – also known as Dana White's "Thank God the Super Bowl wasn't moved to Saturday" event – is around the corner and we're back to crunch the numbers for the main card bouts and give an upset alert for the prelims. We feel bad that Dominick Cruz didn't get to make his long awaited return, but getting two title fights and Urijah Faber as a replacement isn't too shabby.
In the co-main event, we've got reigning featherweight champion Jose Aldo taking on a major underdog in Ricardo Lamas.
Aldo has been on a tear as the UFC champ, defending the belt with ease and taking out the biggest and baddest challengers that his division has to offer.
1. Renan Barao vs. Urijah Faber
The last time Barao and Faber were in the octagon together Barao was bouncing around like a kid on Christmas, and he's since rubbed his belt-belly twice in title defenses. Faber's five-bout losing streak in title fights is well documented, but he's coming off an amazing 2013 with three submissions and a unanimous decision.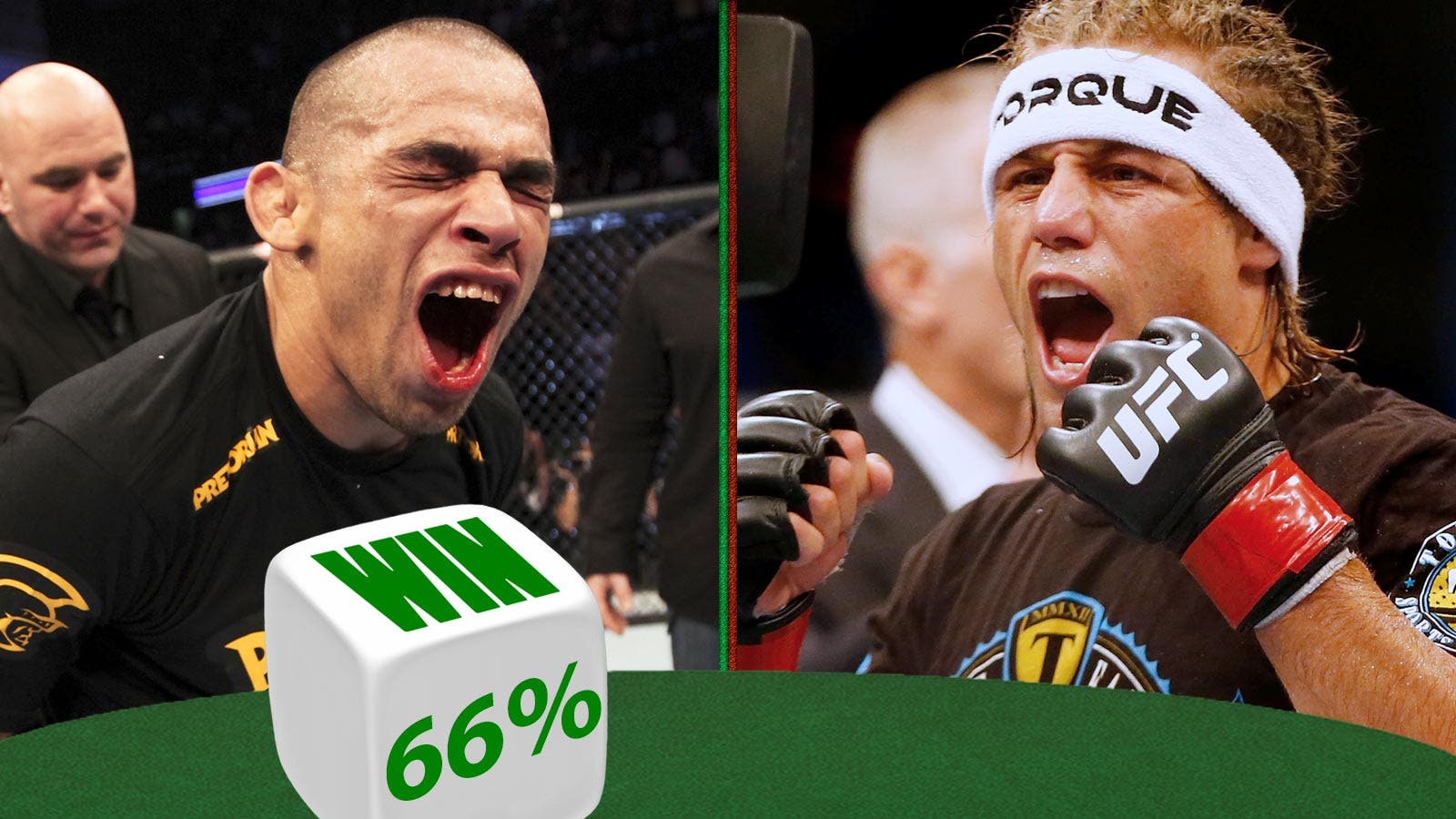 You know that Joe Rogan quote we hear over and over? "Renan Barao is a monster!" Well…Renan Barao IS a monster! He's ripped through opponents more dominantly than his training partner Jose Aldo. He's only been taken down once and his opponents haven't attempted a single submission. He's had 20 total minutes of ground control while his opponents have controlled him for a whopping 15 seconds.
In their first fight, Barao and Faber spent 24 ½ minutes fighting at distance, about 30 seconds in the clinch, and didn't go to the ground. Faber attempted six takedowns, landing none, while the fight stayed standing and Barao landed 52 power strikes to Faber's 26.
While at distance, Barao incorporates head jabs and power leg strikes. Faber's attempts are more power shots to the head, but he throws them 20% less often than an average bantamweight. Barao's takedown defense is amazing, stuffing 92% from distance and 100% from the clinch. On offense, he picks and chooses what he wants to do. He went for ten takedowns against Michael McDonald and seven against Cole Escovedo, but hasn't attempted more than one against anybody else.
Faber's big advantage is his motor. Barao's power strikes drop off more than average in rounds 3-5 whereas Faber's ramp up. In the first fight, two of his better rounds were the 3rd and the 5th. Faber also gets to work on the ground landing 17 power strikes P5M with above average accuracy and control 66% of the time. That would normally be a great stat line except that he's going against someone who has control on the ground 99% of the time.
Faber is similarly monstrous to Barao when he's not fighting for the title, but on Saturday night there's a good chance he'll be friends with the real monster.
Prediction: Barao at 66% to win.
2. Jose Aldo vs. Ricardo Lamas
After so many close calls, Ricardo Lamas finally gets his moment in the octagon with the champ. The timing may be right as Aldo's last two fights have been the closest of his career, by the numbers.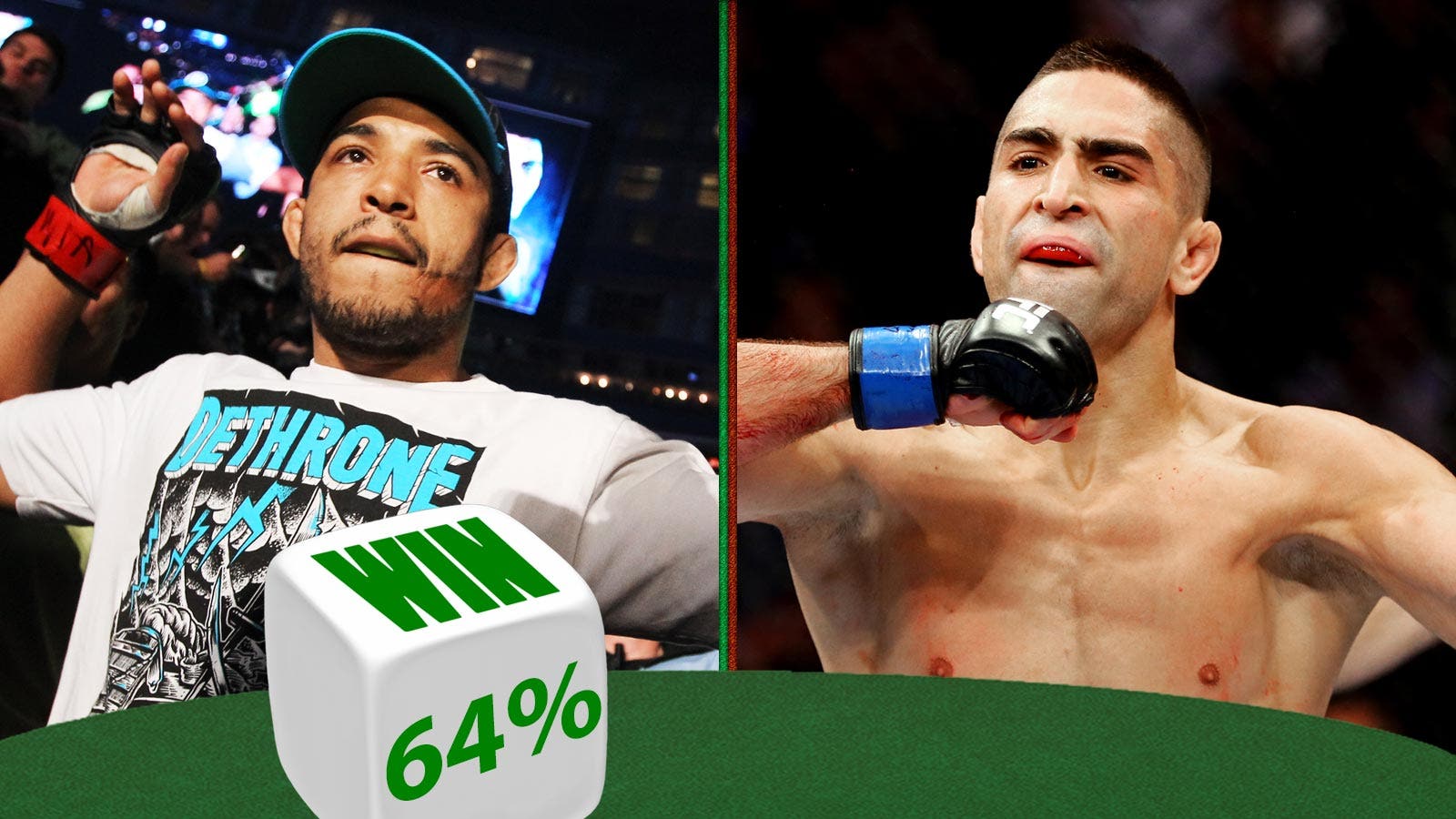 It's no secret that Aldo's a BJJ black belt who likes to stand and bang. He shoots 0.6 takedowns P5M at distance and 0.9 P5M in the clinch, well below average, although he completes over 65% of them. Lamas is an average to below average takedown artist. He's also bad at stuffing takedowns while Aldo is excellent – especially in the clinch (88% defense to Lamas' 36% and a 51% featherweight average). So Aldo's likely deciding where this fight takes place.
The majority of Aldo and Lamas' fight time is spent at distance. They both throw shots at a below average rate and both attack the leg with high frequency. Aldo's more active than Lamas with head jabs and power shots and he's generally more accurate. But defense isn't even close. Aldo absorbs almost a third fewer power strikes at distance, his opponents land at half the rate, and Aldo's never been knocked down while Lamas gets knocked down at an above average clip.
In the clinch, Lamas has control 55% of the time compared to Aldo's 22%, but he's not very active with striking. He goes for 6.6 takedowns P5M (5.0 featherweight average) and isn't great at landing them. Meanwhile, we've already mentioned Aldo's amazing clinch takedown defense credentials.
Aldo and Lamas both have above average endurance through the 3rd round. Lamas hasn't been tested in a five round fight while Aldo's endurance remains through the 4th but drops off substantially in the 5th.
Prediction: Aldo at 64% to win.
3. Alistair Overeem vs. Frank Mir
This fight is the battle of losing streaks with Overeem on a two-fight skid and Mir currently at three. Mir hasn't had an overall strong performance since smacking around Roy Nelson at UFC 130. On the other side, Overeem has had relatively strong performances since 2010, even including his last two fights up until the point he ate canvas.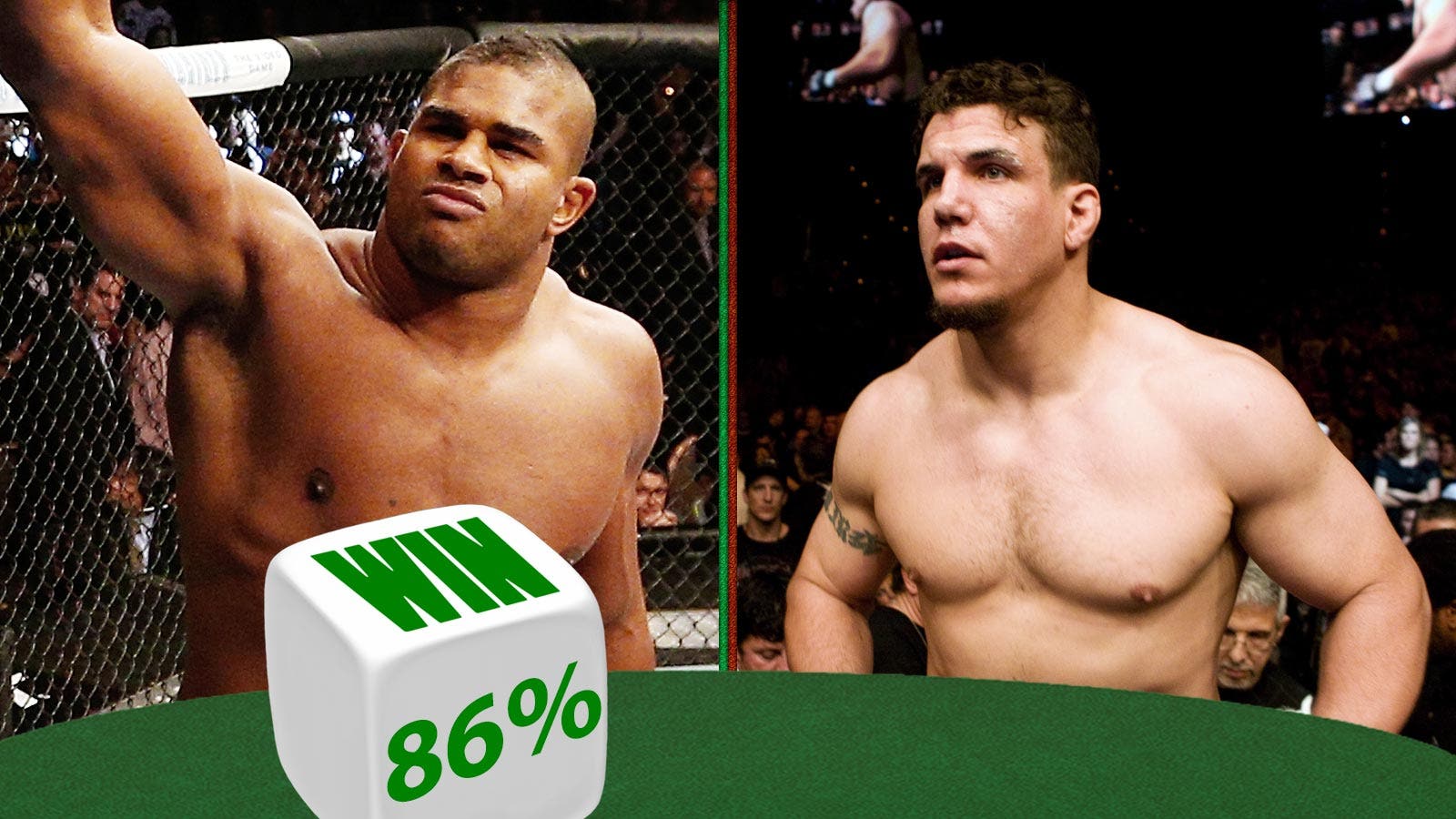 At distance, surprisingly both guys are above average landing power shots and getting knockdowns while being efficient. Mir attempts 1.7 takedowns P5M at distance and 3.9 P5M in the clinch, but Overeem has never been taken down at distance and has solid defense in the clinch.
While Overeem lands power slightly better than average at distance, he goes to town in the clinch and on the ground. He has control in the clinch 71% of the time and lands 55.8 power shots P5M, more than three times the heavyweight average. On the ground he has control 99% of the time and lands 23.4 power shots P5M, almost twice as many as Mir. The big question is if Mir will get a submission attempt locked in. He attempts almost four times as many as a typical heavyweight and completes 40% of them, but only one submission attempt has been made on Overeem in over 15 minutes of ground time – although Werdum and Arona both tapped him out in Pride.
Since it looks like the loser is getting cut, the odds say there's an excellent chance Frank Mir's UFC career will be over. He's got a submitter's chance in hell of winning, which evidently is 14% in this case. If you do go down, Frank, we'll always have the memories of your crazy Tim Sylvia arm bar and amazing Big Nog "Snap Heard 'Round the World."
Prediction: Overeem at 86% to win.
4. John Lineker vs. Ali Bagautinov
We know what you're wondering. Will Lineker make weight? He's missed it in three of his five UFC bouts, but after he steps off the scale we've got a fun fight going on here.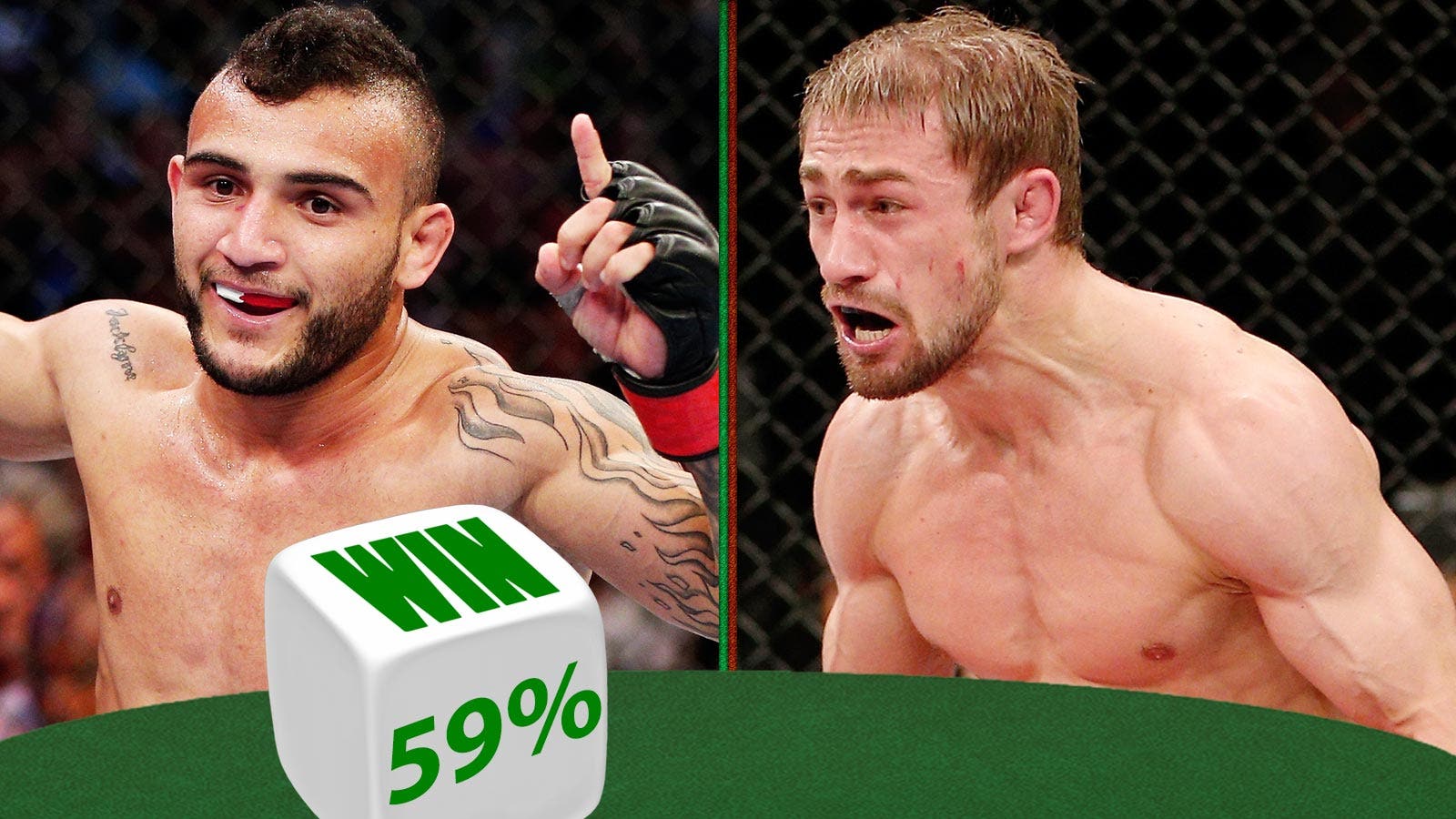 Bagautinov's striking credentials don't knock your socks off while Lineker's are impressive. At distance, he's a machine jabbing to the head (27.7 P5M), throwing power to the head and body (35.3 and 17.2 P5M), and knocking opponents down (1.0 P5M). He's above average in accuracy in all four areas with a big advantage in power to the head (36% to Bagautinov's 24% and a 26% flyweight average). Lineker's defense is almost equally as bad except he's never been knocked down. He eats shots at a high rate but keeps coming to bust up your face and put you to sleep.
Bagautinov's got better defense at distance, hasn't been knocked down, and shoots for 2.1 takedowns P5M while landing at a nice rate of 38%. Both fighters go to town when they have control on the ground but Lineker has been able to stand up 50% more often P5M.
Bagautinov's been involved in closer, grinding affairs but part of that might be due to one of his opponents being Tim Elliot. With only two prior UFC fights, remember the small sample warning from last week. Treat these predictions as fun and entertainment.
Prediction: Lineker at 59 percent to win.
5. Jamie Varner vs. Abel Trujillo
Varner revived his career with an unexpected knockout of Edson Barboza at UFC 146. Meanwhile, Trujillo helped make Khabib Nurmagomedov into the most feared fighter on planet – for those not trying to renegotiate their contract. Trujillo was taken down a UFC record 21 times by Nurmagomedov, but on the bright side, he stuffed six of them.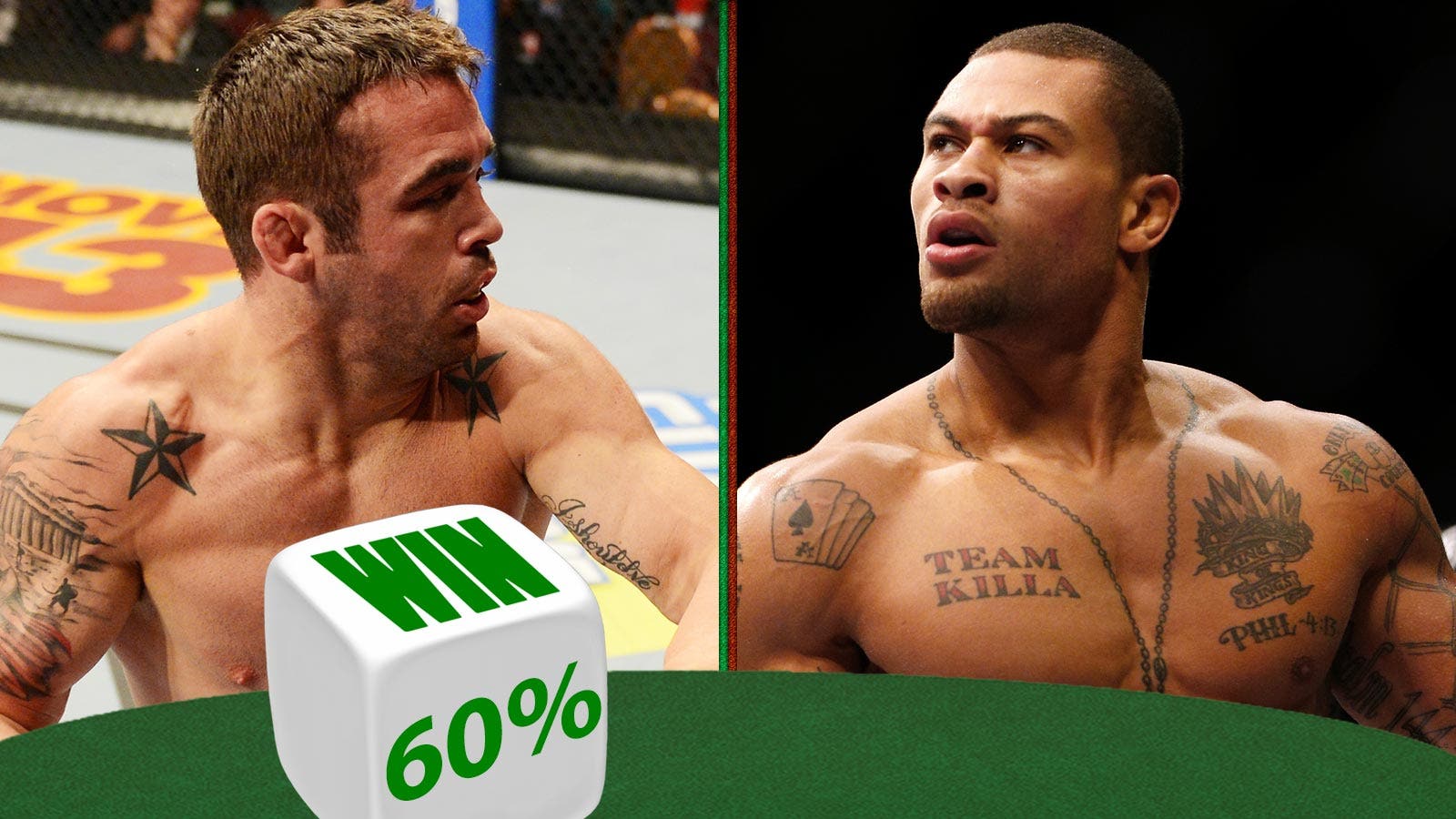 Trujillo is a head hunter who throws 43.3 power strikes to the head P5M compared to 0.4 to the body and legs at distance. He lands his head strikes efficiently whereas Varner is decidedly average. Both knock opponents down effectively while Trujillo dishes out damage at almost twice the normal rate.
We can't even look at Trujillo's takedown defense stats since they're so biased from Nurmagomedov's assault. Let's just say Trujillo can get taken down by someone with skill and Varner has skill in that department. He shoots 2.3 takedowns P5M at distance and lands 60% of them. If he gets to the clinch, he's going for your legs. He attempts 9.1 lower body takedowns P5M, twice the lightweight average, and lands 50% of them. On the ground, Varner has control 67% of the time while Trujillo gets controlled 55% of the time.
Prediction: Varner at 60% to win.
6. Upset Alert: Nick Catone vs. Tom Watson
Watson's three-fight UFC history is not great. He's pretty much had one dominant round out of eight. Catone's career hasn't been amazing either but two of his four losses have been by submission and Watson's never even attempted one.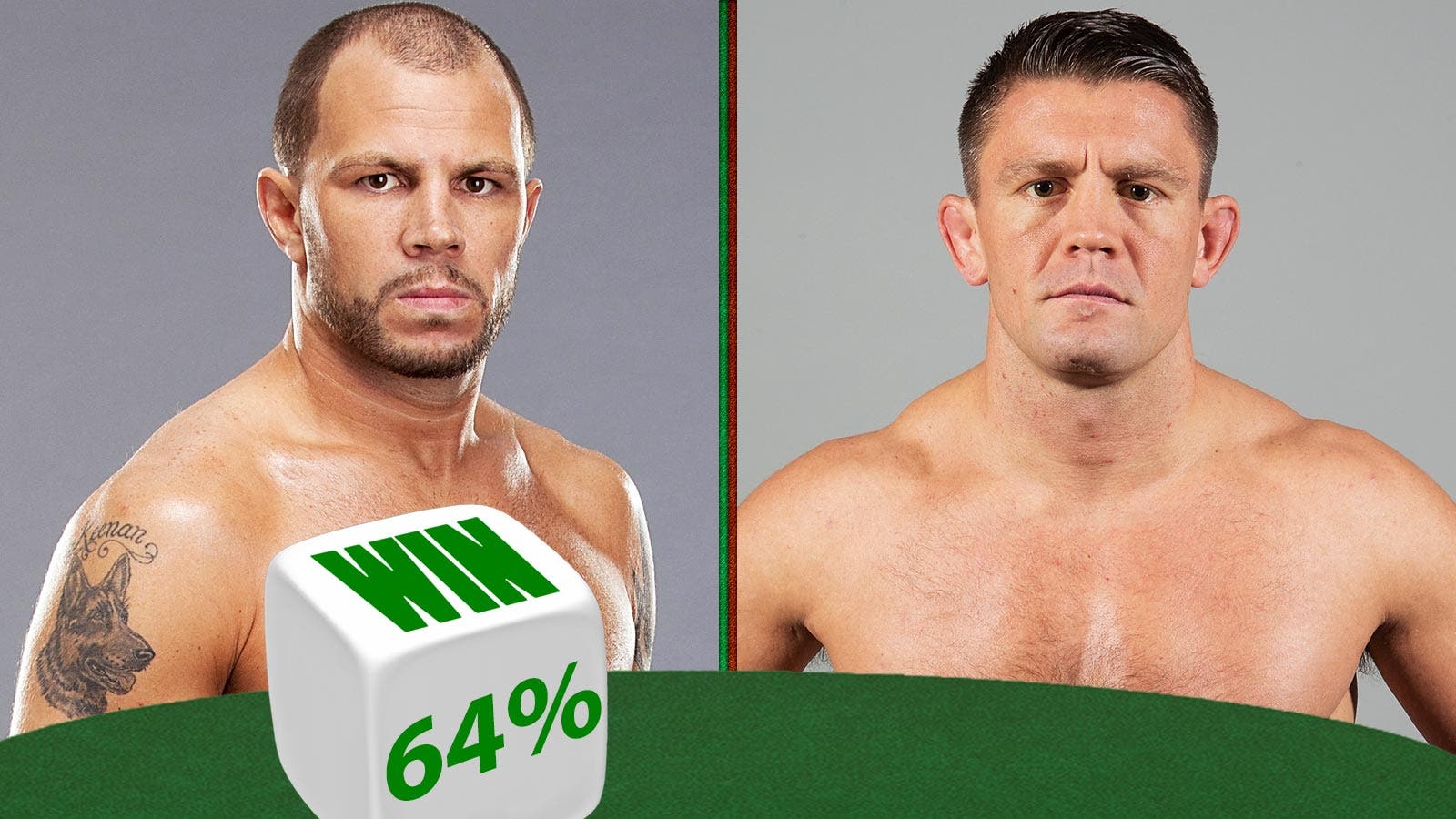 Neither guy is a stud in the striking department. Watson has a slightly above average knockdown rate but has never busted up a face. The story is likely takedowns and control. Catone attempts 4.1 takedowns P5M from distance, three times the average rate and with above average accuracy. Watson only defends 50%. In the clinch, Catone also attempts 4.1 takedowns P5M with a 69% success rate while Watson gets taken down twice as much as average and only defends 43%.
Once on the ground Watson is like Janet Jackson's evil twin, he doesn't have control. Catone is the controlling fighter 86% of the time while Watson gets controlled 89% of the time. If there were a song about having your guard passed, we'd reference it now – consider that a challenge, but it needs to be better than Prahlad Friedman's "Poker Is Fun" – because Watson's opponents have half guard or better 56% of the time he's on the ground.
The data puts an upset alert on Catone over Watson along with a nice edge on the money line. Catone's got some extra spaces covered in the fight game of roulette with a potential grappling and control edge.
Prediction: Catone at 64% to win.
If things don't turn out well with these predictions, Kenny Florian will shave his gorgeous locks.