Tanking legend Bernard Tomic 'tried' to return match point with his racquet handle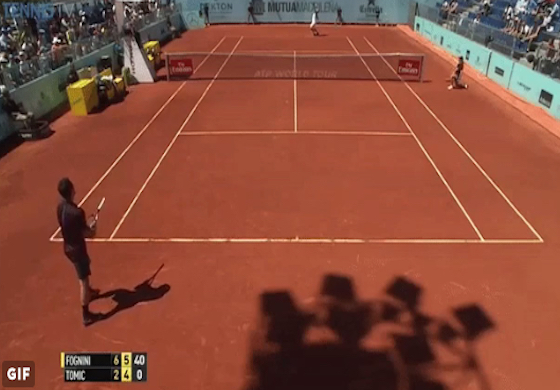 Two years ago, Bernard Tomic lost a match in 28 minutes, the fastest on record. The Aussie, derisively referred to as Tomic the Tank Engine, lost 6-0, 6-1 and somehow exerted less energy in that 28 minutes than you do watching a sitcom, because at least your fingers get a workout while fast-forwarding through commercials.
But that Tomic "performance" was nothing compared to what he did on match point on Tuesday in Madrid against Fabio Fognini (himself fond of the occasional tank). With Fognini serving at 6-2, 5-4, 40-0, Tomic opted to go with the low-percentage handle return and the even lower-percentage, failure to move return:
Bernard Tomic 'attempts' to return with his handle in an endless loop…

Just wow. pic.twitter.com/zFMTzguVfN

— Joe C (@ProdigyRep) May 3, 2016
Tremendous stuff, all around. The handle return, while lazy and hilarious, is the showstopper, but the beauty of the Tomic tank is that there's so much more to it to make it all the more special. Because it's one thing to dump a point when you're down 6-4, 5-1, 40-0 and you need two breaks to get back into the match. That match is basically done. (Not to good players who fight until the end, but to failed talents like Tomic, sure.) But Tomic was in this match as recently as 90 seconds before he chose to wave the white grip. All he had to do was win three points to get the 4-5 game to deuce and then break Fognini from there to win the second set and even the match. A lot of players have won a lot of matches from a lot worse positions.
Not Bernard. Twas a time when you could blame the childish, oft-hilarious, antics on the foolishness and stupidity of youth. Tomic is now 23 years old though, which makes it just stupid.