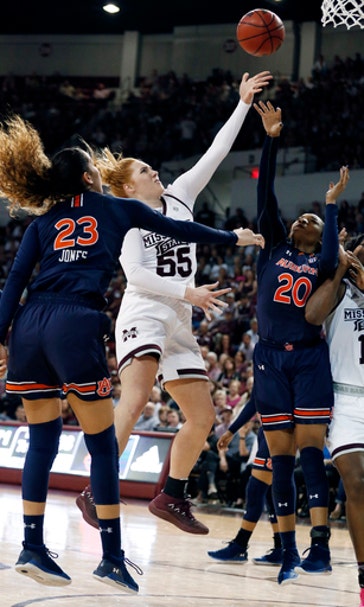 No. 2 Mississippi State women cruise by Auburn 82-61
February 23, 2018
STARKVILLE, Miss. (AP) Senior night was a ton of fun for No. 2 Mississippi State.
It has been that kind of season for the rolling Bulldogs.
Teaira McCowan had 16 points and 18 rebounds, powering No. 2 Mississippi State to an 82-61 victory over Auburn on Thursday in front of a crowd of 9,474.
''I don't know if anyone had a better day than me today,'' coach Vic Schaefer said. ''I'm so proud of my seniors. Senior nights are always bitter sweet, but (Thursday) night was purely a celebration. We had 9,400 there and they deserved everyone that was here.''
Mississippi State's four seniors all found a way to contribute. Victoria Vivians and Roshunda Johnson each scored 16 points for the Bulldogs (29-0, 15-0 Southeastern Conference). Morgan William had 13 points, and Blair Schaefer, Vic Schaefer's daughter, had six points in 34 minutes.
''I think we were all pretty excited and let the game come to us,'' Johnson said. ''Once we got the momentum going, everything else fell into place.''
Auburn (13-14, 4-11) wasted a terrific performance by Janiah McKay, who scored 25 points on 11-for-21 shooting. Daisa Alexander had 14 points, and Unique Thompson finished with 12 points and 10 boards.
Johnson helped Mississippi State get off to a fast start, going 3 for 3 from 3-point range to help the Bulldogs to a 28-15 lead after one.
Auburn trimmed Mississippi State's lead to nine in the third quarter, but the Bulldogs recovered and led 62-44 after three.
UP NEXT
Auburn: vs. Ole Miss on Sunday.
Mississippi State: at Kentucky on Sunday.
---
---