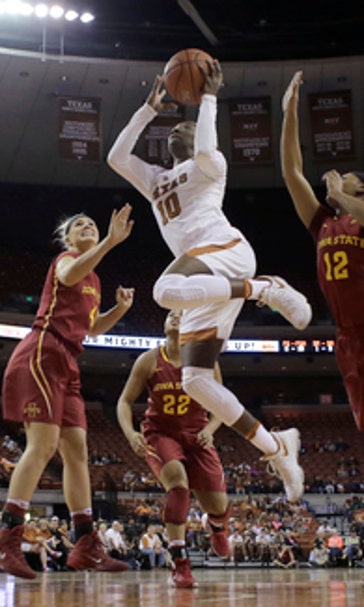 Johnson leads Iowa State women in upset of No. 6 Texas (Feb 24, 2017)
February 24, 2017

AUSTIN, Texas (AP) Iowa State missed the NCAA Tournament last season after a nine-year run. On Friday night, the Cyclones took a big step toward making a return.
Seanna Johnson scored 22 points, including 10 straight for the Cyclones in the third quarter, and they upset No. 6 Texas 70-66 Friday for their fourth straight victory.
Down two with seven minutes remaining, Iowa State (17-11, 8-9 Big 12) took control with a 9-0 run.
''That's one of the biggest wins we've had in a long time,'' coach Bill Fennelly said. ''Texas is a Final Four caliber team.''
Bridget Carleton scored 18 points for Iowa State, including a 3-pointer from well behind the line just before time ran out in the third quarter after making a steal. But Carleton committed two turnovers in the final minute to give Texas an opportunity. The Longhorns (21-7, 14-3) had a chance to tie it after the second turnover, but Carlton blocked Ariel Atkins' driving shot with nine seconds left and then made two free throws.
Jadda Buckley added 14 points for Iowa State.
Texas has lost three straight for the first time this season after a 19-game winning streak.
''I'm concerned,'' Texas coach Karen Aston said. ''I have to be. I'm the coach. It's my responsibility if we played like we did tonight. We didn't play with (consistent) urgency. They had some urgency. They're on the (NCAA) bubble.''
Brooke McCarty led the Longhorns with 12 points, Brianna Taylor added 11, and Joyner Holmes and Alecia Sutton had 10 apiece.
Iowa State is renowned for its 3-point shooting, and the Cyclones hit 8 of 20 against Texas. But they used that threat to set up drives to the basket and score 28 points in the paint.
''I made a couple of threes, that forced them to come out on me and gave me driving lanes,'' Johnson said.
''It surprised me that we never made any adjustments,'' Aston said. ''We talked repeatedly about trying to take better angles, helping each other a little bit more down the stretch.''
BIG PICTURE
Iowa State: The Cyclones have made more 3-point baskets during the past 20 seasons than any team in the country, all of that under Fennelly. They've been accurate as well, converting 35.7 percent, seventh best nationally during that span. Their mark this season is a bit lower, though, 34.6 before Friday.
Texas: Longhorns center Kelsey Lang returned to the starting lineup after leaving a game against Baylor on Monday during the third quarter with a scratch on her right eye. Lang played without protective goggles. She had six points and seven rebounds against Iowa State.
LETTING THEM SHOOT
Texas has several players who are not adept perimeter shooters, and Iowa State took advantage by leaving them open and daring them to shoot. Sutton and Higgs combined to convert 6 of 22 field goal attempts. Sutton hit just 2 of 8 3-pointers.
''I think when people leave you wide open, it kind of messes with your head,'' Lang said.
Indeed, with 1:38 left, Sutton, a freshman, passed up a wide-open 3-pointer and forced a pass inside that was stolen by Carleton, one of her four steals.
TOURNEY WATCH
Less than a week ago, Texas seemed like a lock to be one of top 16 schools to host the first two rounds of the NCAA Tournament. The Longhorns might still secure that status, but they can not allow the bottom to fall out with one regular season game remaining before the Big 12 tournament.
''We need to turn things around,'' Aston said. ''It's just some little things adding up.''
UP NEXT
Iowa State finishes the regular season at home against Oklahoma State on Monday. The Cyclones opened the Big 12 season with a 71-59 loss at Oklahoma State. The Cowgirls' Kaylee Jensen produced 28 points and 11 rebounds in 26 minutes.
Texas finishes the regular season at Kansas State, also on Monday. The Longhorns defeated Kansas State 63-58 on Feb. 4 in Austin behind 21 points, nine rebounds and three steals from freshman Joyner Holmes. The game was tied with less than three minutes remaining.
---
---