Ultimate Fighting Championship
Ultimate Fighting Championship
UFC Fight Night: Condit vs. Alves Crystal Ball Predictions
Published
May. 27, 2015 5:09 p.m. ET

No one wants to follow a great act and last Saturday's UFC 187 was certainly one of those. That said, this Saturday's FOX Sports 1 card from Brazil is an excellent event, that promises lots of well-matched fights with big stakes.
In the main event, former title challengers Carlos Condit and Thiago Alves meet to decide who can move back up in the welterweight ranks. Nick Lentz and Charles Oliveira will also face off to get ahead in the stacked featherweight division's top 10.
Read on for our analysis and picks for every single fight on this Saturday's big UFC card, and then let us know who you're picking on Twitter and Facebook!
Carlos Condit (29-8) vs. Thiago Alves (26-9)
Saturday's main event pits two of the UFC welterweight division's most exciting fighters against one another, though one of them hasn't fought in over a year. Former interim titleholder Carlos Condit tore his ACL during a fight with Tyron Woodley in March of 2014.
He's spent the ensuing year and change undergoing surgery, healing and getting back into training. He's got a tough first fight back against former world title challenger Thiago Alves.
Alves, in 2014, made his own return to action after a two-year absence and has rattled off two straight wins since then. The American Top Team kickboxer has won three out of his last four fights, overall.
After his last win, a KO over Jordan Mein, Alves put the rest of the division on notice that he was back. Condit himself believes that a win over "The Pitbull" will put him right back into title contention.
This fight could easily go all five rounds, as both men are evenly matched in the striking department and durable. Condit will likely have a conditioning advantage and is better off of his back than Alves.
Whether Alves will be able or interested in trying to take Condit down remains to be seen, however. Doing so against Martin Kampmann in 2012 cost him a submission loss, and Alves loves to bang on the feet anyhow.
Condit himself told our Damon Martin that he's been working on his wrestling a great deal during his time off. Perhaps he'll return with a whole new weapon in his arsenal.
We like Alves' power in this fight, but Condit's well-roundedness and conditioning. It could end in a flash, or be a war of attrition.
Prediction: Condit by close decision
Nick Lentz (25-6-2) vs. Charles Oliveira (19-4)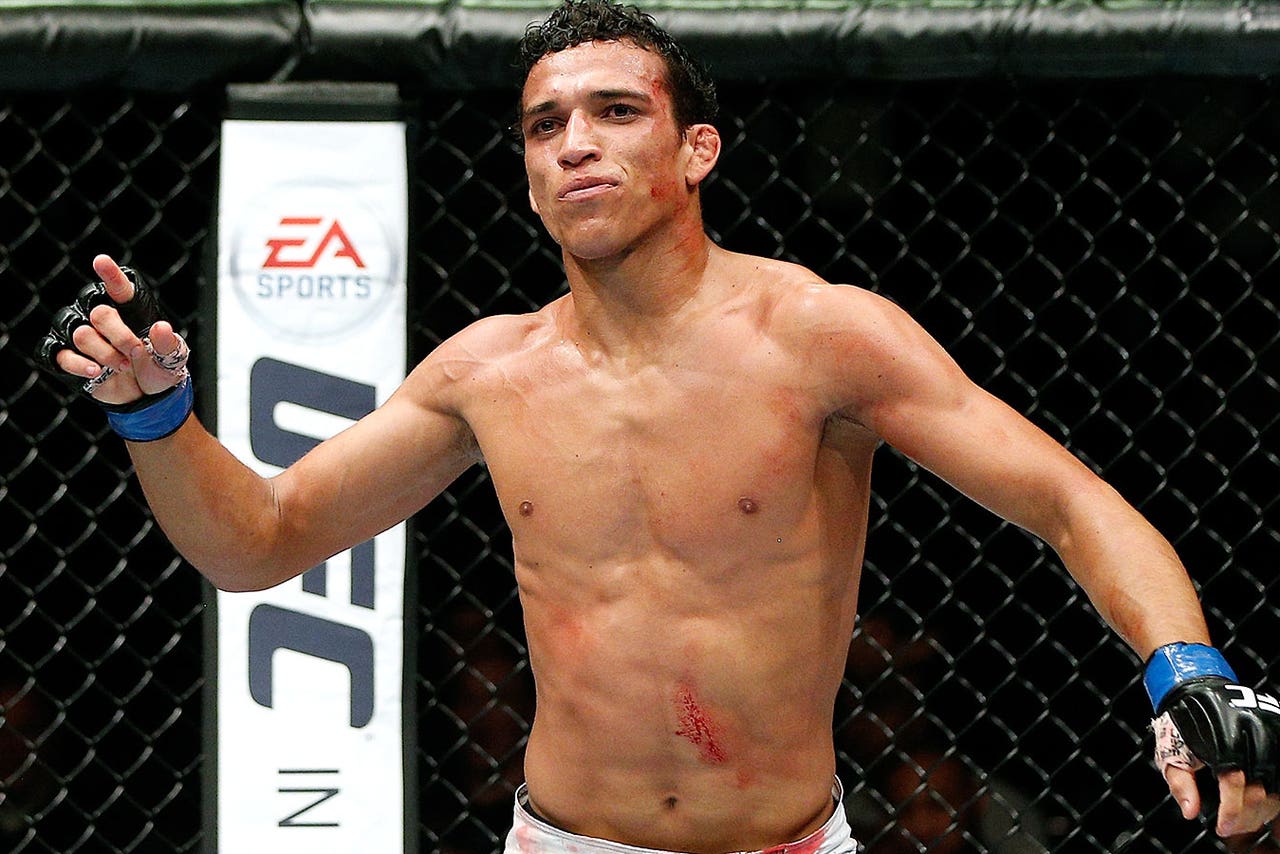 Can Charles Oliveira continue to climb the featherweight rankings?
The night's second to last fight between Lentz and Oliveira is an exciting one because of the stakes. Both men are top-10 featherweights, and hungry to show that they can break through to the top five, and title contention in the future.
Lentz has won four out of his last five fights, while the Brazilian has had his hand raised in three straight, including two by submission. Lentz stands a good chance at taking Oliveira to the ground and avoiding his rangy and powerful striking.
However, we think "Do Bronx" has what it takes to get back to his feet or submit the American. It's a tough fight to call because Lentz also has some serious submission ability, but we give Oliveira a slight edge.
Prediction: Oliveira by decision
KJ Noons (12-6) vs. Alex Oliveira (10-2-1)
The skilled striker Noons has not lost a fight since 2013, and Oliveira lost via submission in March. However, before that, Oliveira was undefeated over his previous eight fights.
There's a good chance that this fight stays on the feet for long stretches, as both men like to test their hands, legs, knees and elbows. Noons may be a tad slicker, but Oliveira could have a power advantage.
We like Oliveira's home-field advantage, here, and his activity level. But, Noons has the experience advantage in high-level fights.
This one will be a matter of who connects hardest, and first. That's an unpredictable type of fight to call.
Prediction: Noons by decision
Ryan Jimmo (19-4) vs. Francimar Barroso (16-4)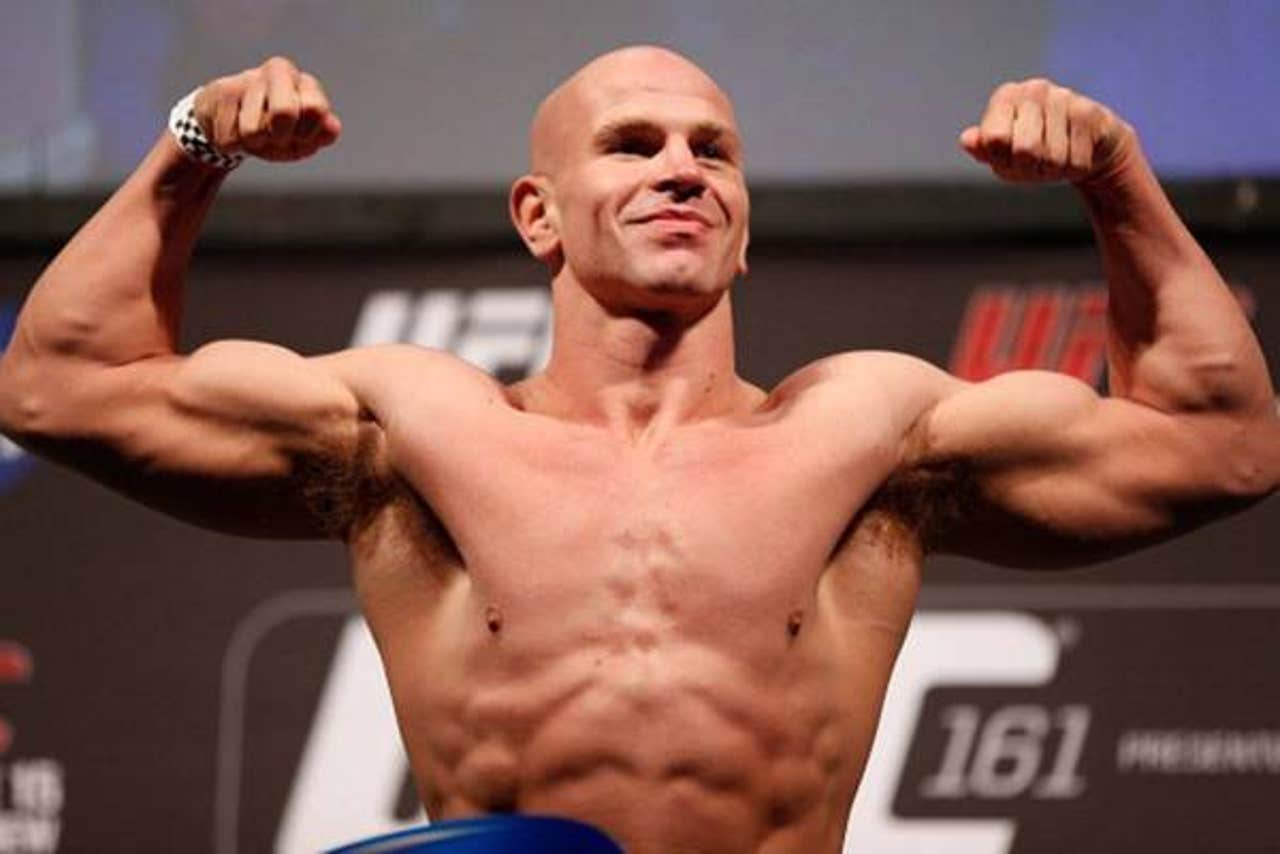 Ryan Jimmo will need his striking power to connect, to win on Saturday.
The hard-hitting and charismatic Jimmo has made headlines recently for speaking up against the UFC's new uniform deal with Reebok, but he also knows that he's got fistic business to handle this weekend. Barroso lost a split decision in his last outing, but before that, he hadn't lost since 2011.
Barroso is strongest where Jimmo is perhaps weakest --€" on the ground --€" and is especially dangerous with chokes. Jimmo, on the other hand, can knock anyone out on any given night.
Prediction: Jimmo by third-round TKO
Francisco Trinaldo (16-4) vs. Norman Parke (20-3-1)
Since 2012, Trinaldo has quietly made a solid career in the UFC. Parke has gotten much more attention for his time in the UFC, thus far.
Trinaldo has won two straight, however, while Parke has just one win in his last three outings. Make no mistake about it, though, Parke's hands are as educated as anyone in the UFC and he remains a real danger on the feet with his punching.
Trinaldo will need to play a patient, stifling game, similar to what Gleison Tibau did in January, in order to beat Parke, but he has the ability to do that. For his part, Park will need to move well side-to-side, connect with punches to the body and head as he is well able to, and get to the cage and wall-walk whenever he's taken down.
Prediction: Hard fight to call, but we'll go with Parke by TKO
Wendell de Oliveira Marques (24-8) vs. Darren Till (12-0)
In addition to having a fantastically elaborate name, the Brazilian, Marques, is a veteran with knockout ability who is likely thrilled to be fighting in the UFC at home. In his UFC debut, Marques was knocked out and in his second promotional fight, he'll get the very good Till.
The Englishman has yet to taste defeat as a professional. He's got size and youth on his side, but he'll also be in hostile territory fighting in Brazil.
That said, Till proved he can fight and win in Brazil just a few weeks ago, when he scored a fourth-round TKO in Parana. This could be a good fight, so don't miss it.
Prediction: Till by TKO
Rony "Jason" (14-5) vs. Damon Jackson (9-1)
Since winning his first three fights in the UFC, the fighter called "Jason" has lost two out of his last three. It's been over a year since he fought last, and about nine months since Jackson last competed.
Whoever shakes the rust off better, here, will likely be the sharper and more dangerous guy.
Official decision: Jason by decision
Jussier "Formiga" da Silva (17-3) vs. Wilson Reis (19-5)
This undercard bout is between two of the flyweight division's best. "Formiga" is riding a two-fight win streak against Zach Makovsky and Scott Jorgensen, and Reis has also won two straight, against Jorgensen and Joby Sanchez.
Both of these Brazilians are the same age, 30, and both specialize in submission work. The winner will may get Jiu Jitsu bragging rights in Brazil, that night.
Prediction: Fromiga by decision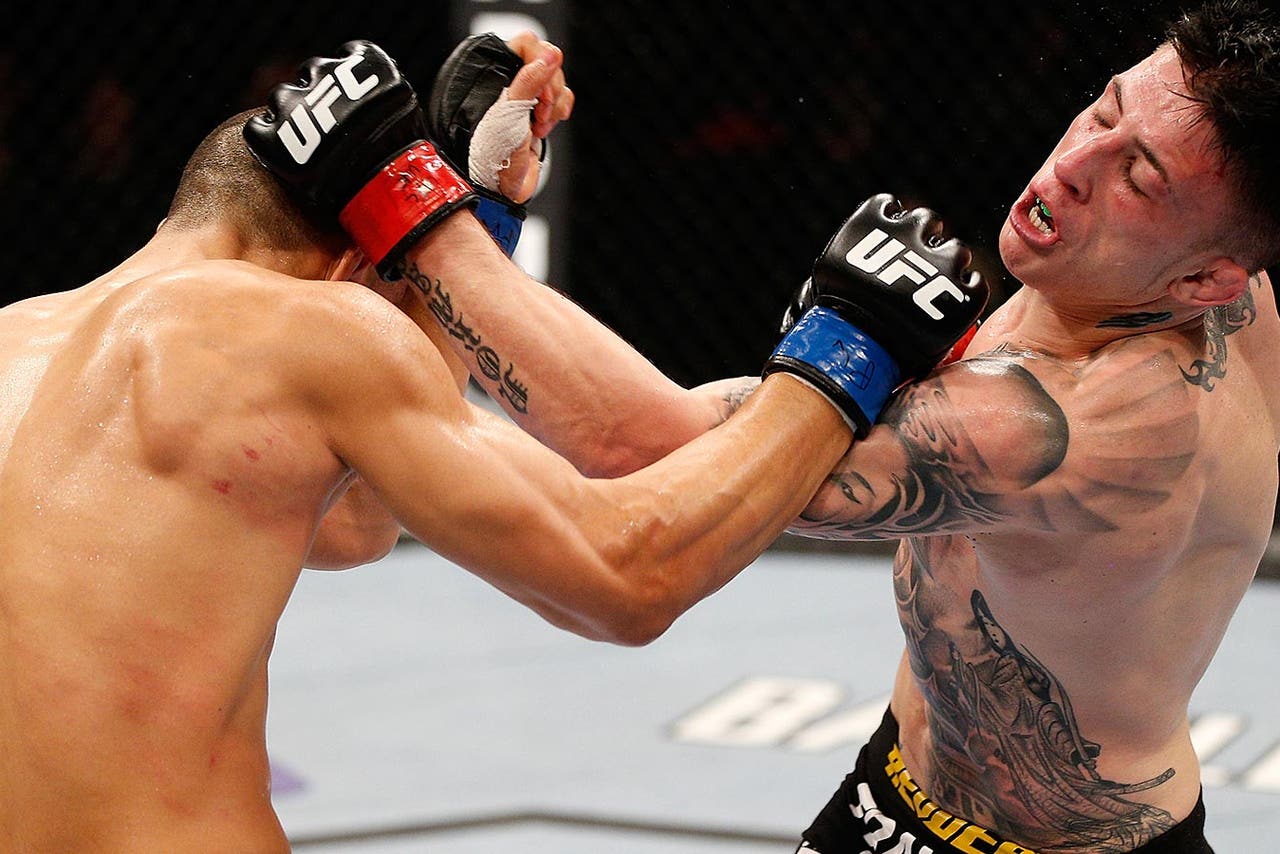 Norman Parke (R) will need to stay out of the clinch and land his excellent punches to walk away with a win in Brazil.
Elizeu Zaleski dos Santos (14-4) vs. Nicolas Dalby (13-0)
Dalby has come all the way from Denmark to Brazil to put his undefeated record on the line against a fellow UFC debutant dos Santos. This welterweight fight could be excellent, as both men are top international welterweight prospects on big rolls.
Prediction: dos Santos by decision
Lucas Martins (15-2) vs. Mirsad Bektic (9-0)
Both featherweights have found their UFC legs, already, and each want to move ahead in a talent-rich division. Bektic is a strong grappler and will have to close the distance and stick to the powerful striker, Martins, like glue.
Prediction: Martins by decision
Juliana Lima (7-2) vs. Ericka Almeida (7-0)
Almeida gets her chance to prove that she can hang with the best strawweights in the world when she takes on Lima. Lima won a decision over the very good Nina Ansaroff last November, and before that went the distance with current champ Joanna Jedrzejczyk.
Prediction: Lima by decision
Luiz Dutra (11-3-1) vs. Tom Breese (7-0)
Dutra was disqualified for elbowing his opponent in the back of the head in his UFC debut, but before that he'd won four straight and eight out of previous nine fights. Breese is an up-and-comer making his UFC debut after moving from his native England to Montreal to train at the famed TriStar gym.
Prediction: Breese by decision
---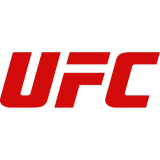 Get more from Ultimate Fighting Championship
Follow your favorites to get information about games, news and more
---