Stipe Miocic explains why he would be 'super confident' in a boxing match against Anthony Joshua
BY Damon Martin • June 6, 2017


With all the talk right now about a proposed super fight between UFC champion Conor McGregor and former boxing pound-for-pound king Floyd Mayweather, several other fighters have raised a hand about possible crossover matches as well.

Ahead of his last fight at UFC 211, heavyweight champion Stipe Miocic was asked about a possible showdown with Anthony Joshua, who just recently earned a knockout over Wladimir Klitschko in one of the best matches of the year.

Following his knockout over Junior dos Santos — his fifth finish in a row by KO or TKO in the UFC — Miocic says he's deadly serious about the prospects of facing off with Joshua in a boxing match.




"I think it would be a great fight," Miocic told the Fight Society podcast about the fight. "He's an amazing fighter. I think it would be great, something different. I'd love to show what I've got. I think he's an amazing fighter, nothing to take away from him honestly but I think it would be awesome.




"Conor's going to do it. It's great cross promotion, I'd love to be a part of that."




Now part of the criticism that McGregor has received for trying to make the fight with Mayweather is that he has no prior experience in boxing outside of his training for mixed martial arts.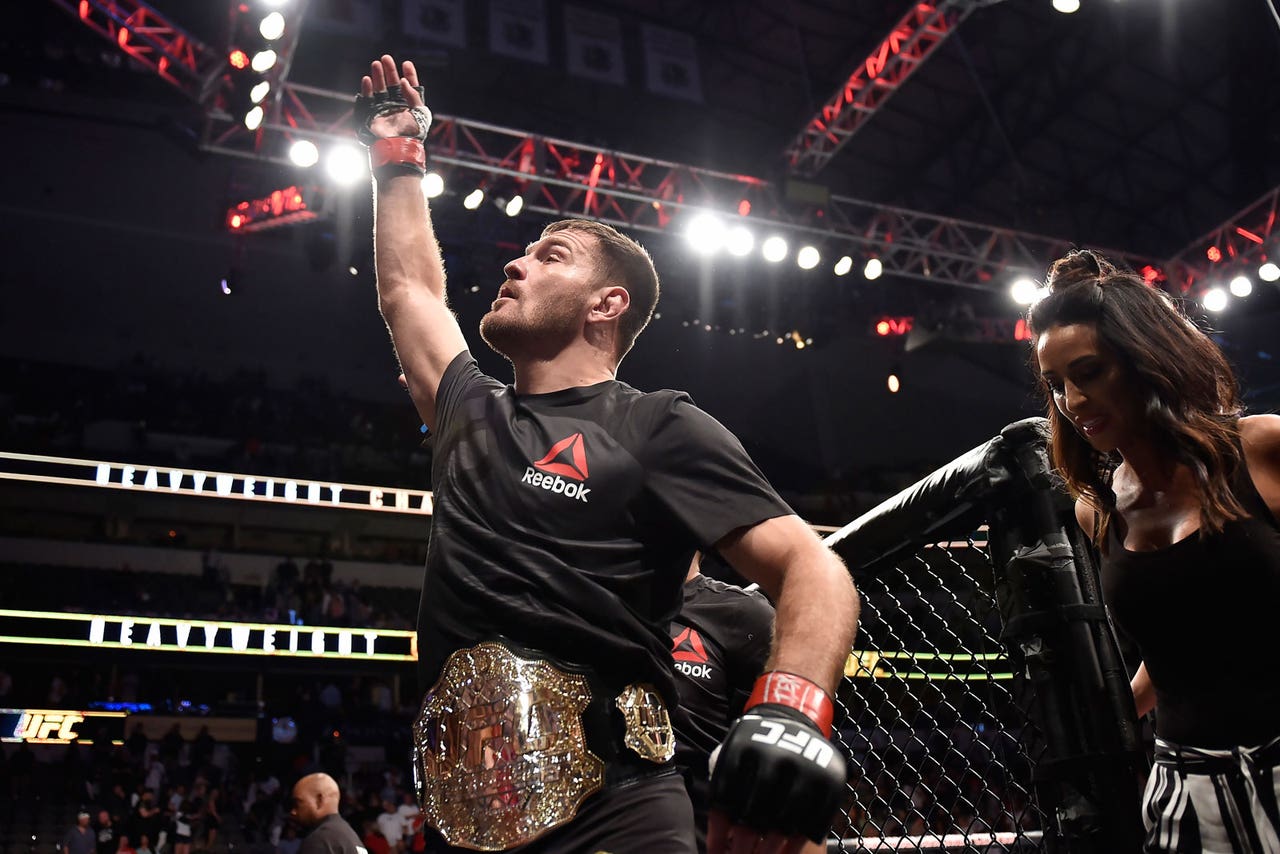 In Miocic's case, he never boxed professionally but he grew up as part of the Golden Gloves program and believes his past experience in the ring would serve him well preparing for a match against Joshua.

"I did Golden Gloves and all that good stuff. I just love the fight. I think it would be a great fight. I think people would love to see it," Miocic said.

Now there's no denying that a crossover fight between mixed martial arts and boxing would probably draw a bigger crowd, which would also mean more money for Miocic, but if he ever got the chance to face Joshua it wouldn't just be about the paycheck.

Miocic promises he wouldn't be stepping into the ring to become cannon fodder for Joshua, but instead he'd be going there to add another victory to his resume.




"Super confident," Miocic said when asked how he feel going into a fight with Joshua. "I'm going to go out there and give it all I got. Listen, I've got the best coaches in the world and I'd definitely be ready for that fight."




Of course, UFC president Dana White has said that he's not planning on signing off on any of his fighters crossing over into boxing outside of McGregor, but a year ago he also said there was no chance the fight with Mayweather would ever happen and now he's entrenched in negotiations to make it a reality.

So there's no telling if Miocic keeps winning and Joshua's star continues to rise that one day the two best heavyweight fighters on the planet could meet in the ring.

"He's a world champ for a reason. It would just be amazing," Miocic said. "It would be an amazing opportunity. I would just be so grateful."

Listen to Miocic and UFC Fight Night headliner Derrick Lewis on the latest installment of the Fight Society podcast via Soundcloud or download and subscribe to the show via Apple Podcasts.


---
---