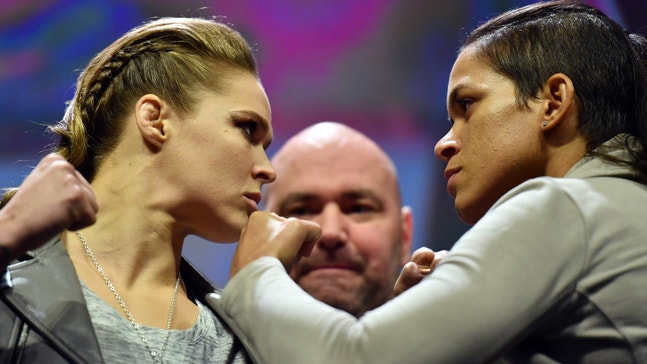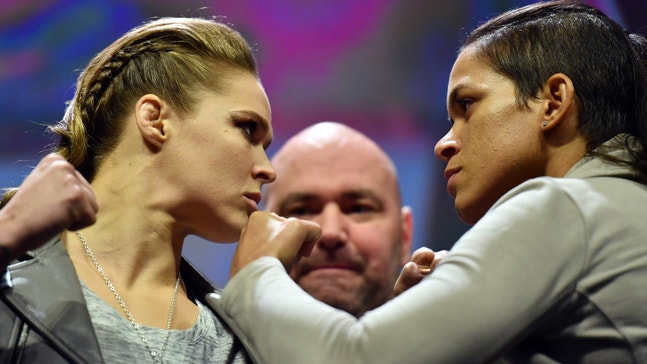 Ronda Rousey responds to Amanda Nunes saying she will finish her in the first round
Published
Dec. 14, 2016 8:44 a.m. ET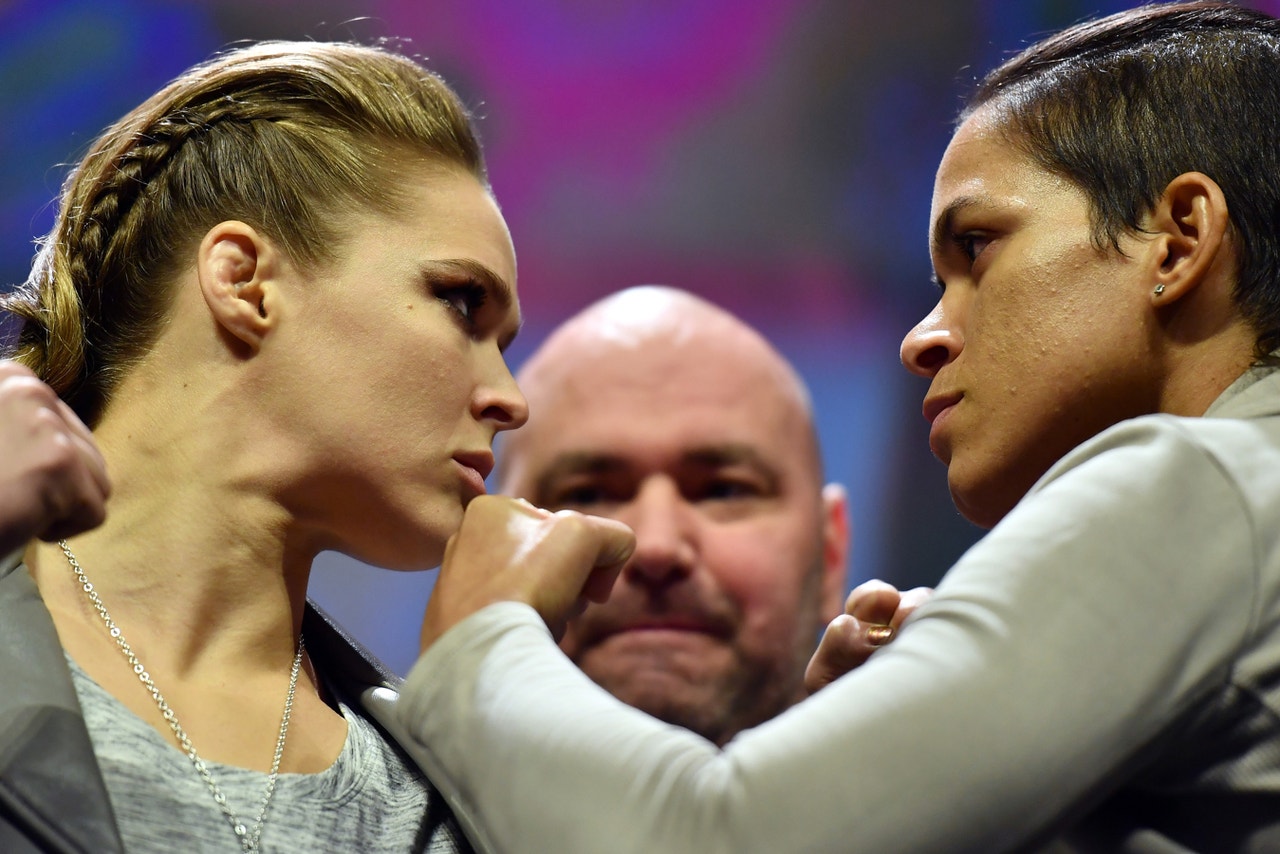 Ronda Rousey won't be talking much trash anymore about any of her opponents in the UFC but she still got in one jab against current champion Amanda Nunes.
Rousey appeared on the "Conan O'Brien Show" on Wednesday night, where she addressed her return to action for the first time in over year when she faces Nunes at UFC 207.
In an interview with FOX Sports during UFC 205 fight week, Nunes predicted that she would finish Rousey inside the first round when they finally met in the Octagon.
Rousey returned fire during her interview while taking a shot at Nunes' history of lackluster conditioning, which has cost her in past fights in the UFC.
"Well she kind of has to say that because everyone knows she gasses out in the second so she has to tell herself that," Rousey said. "What else is she going to tell herself? She has to sleep at night somehow."
While that comment was definitely a shot at Nunes that will certainly hype their upcoming fight, don't expect Rousey to say much more over the next few weeks before stepping back into the cage on Dec. 30.
Instead, Rousey says she's just going to stay focused on making herself happy, especially now that she knows the UFC women's divisions are thriving with or without her around.
"Well it's just that don't really have to. I mean I've done a lot of learning in this last year and I've learned that the views I get and the money I make really doesn't mean anything for me or my happiness" Rousey said. "Now that I know the women's division is secure, I don't have to do that anymore. I choose not to. It's not something I really get a kick off of like 'ooh I want to spend 12 hours at ESPN and talk (expletive) all day'. That's not really what I'd want to do.
"I want to go play World of Warcraft. So this time around I was like I'm not going to do that. I'm going to play World of Warcraft and then go train and then come back and chill out."
Rousey has now conducted two interviews since her fight with Nunes was announced — the spot with Conan O'Brien on Wednesday and a prior appearance with Ellen DeGeneres a few weeks ago.
As of yet, Rousey hasn't spoken to any dedicated media covering mixed martial arts and from the sound of things it looks like she's not eager to do anything except prepare for her showdown with Nunes at UFC 207.
As far as her future goes, Rousey did address her prior statement that retirement could be looming just around the corner.
Rousey said that she's not going to leave the sport after her fight with Nunes, but the end of her career inside the Octagon will be sooner rather than later.
"I don't think after this fight," Rousey said, "But definitely soon."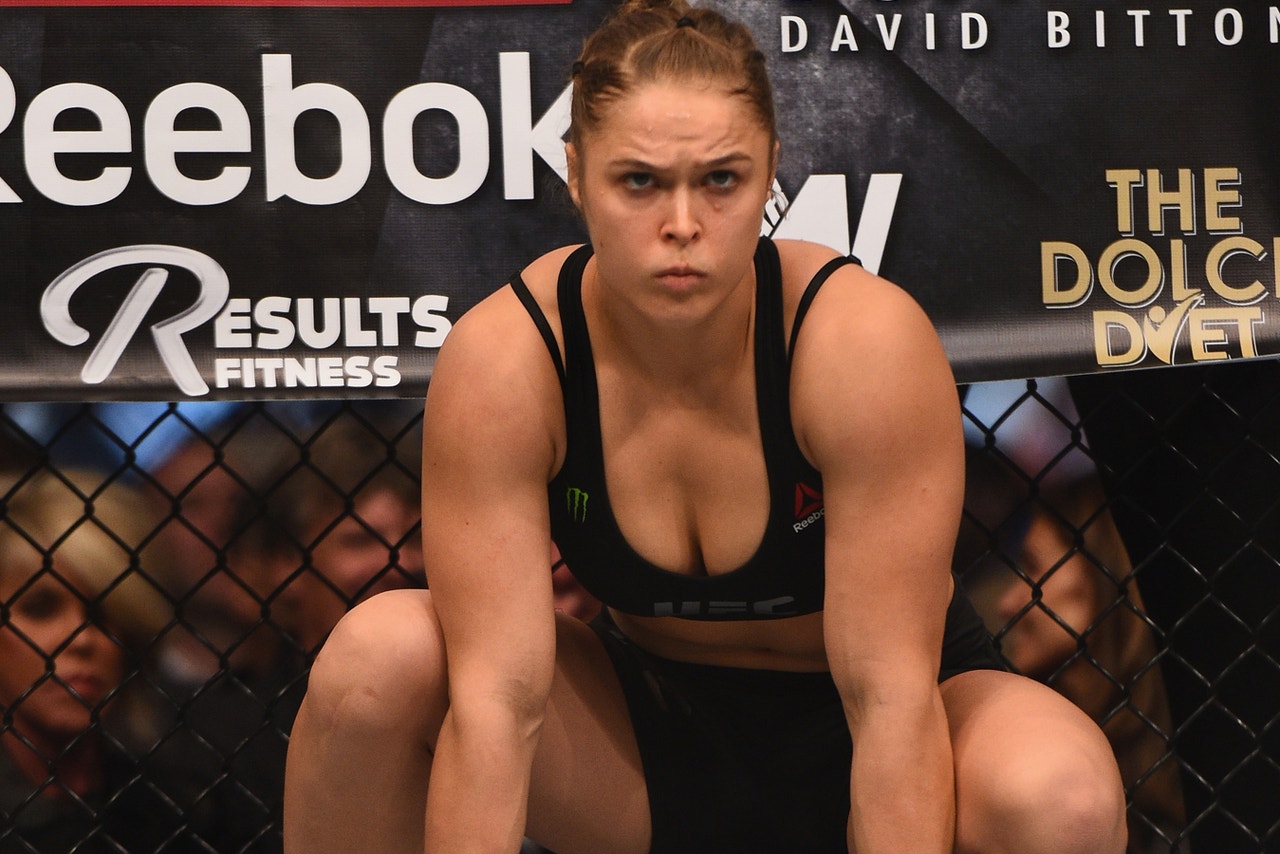 ---
---