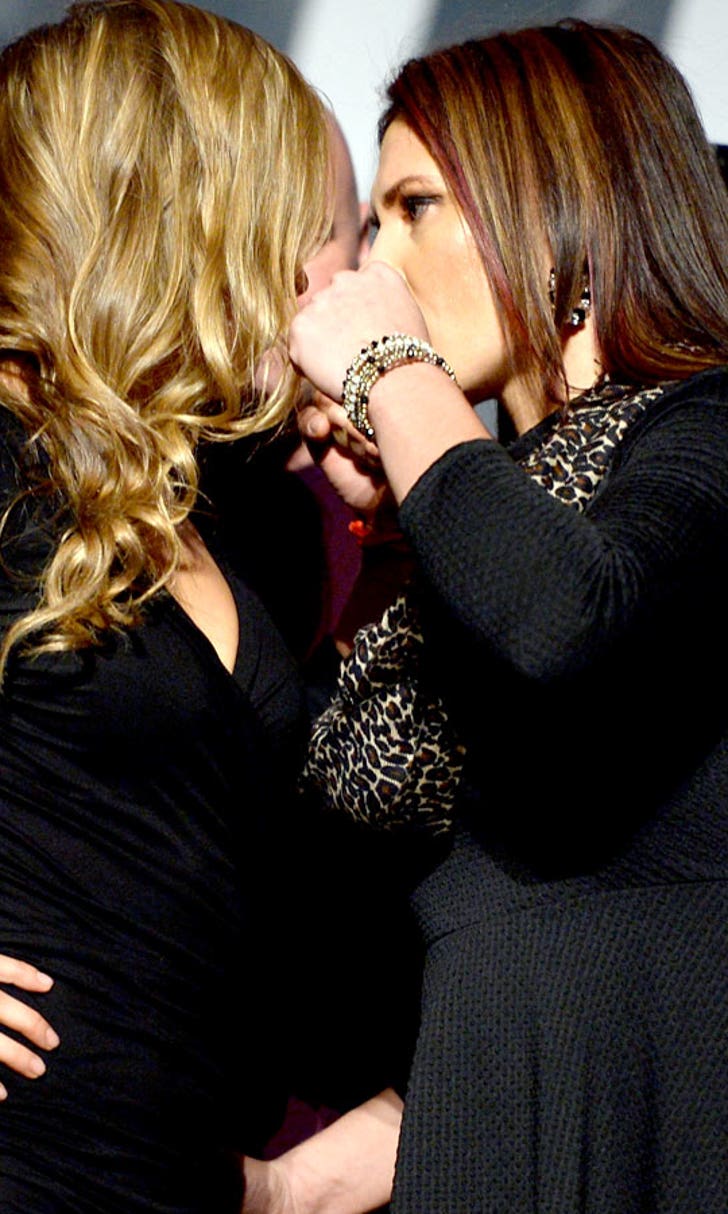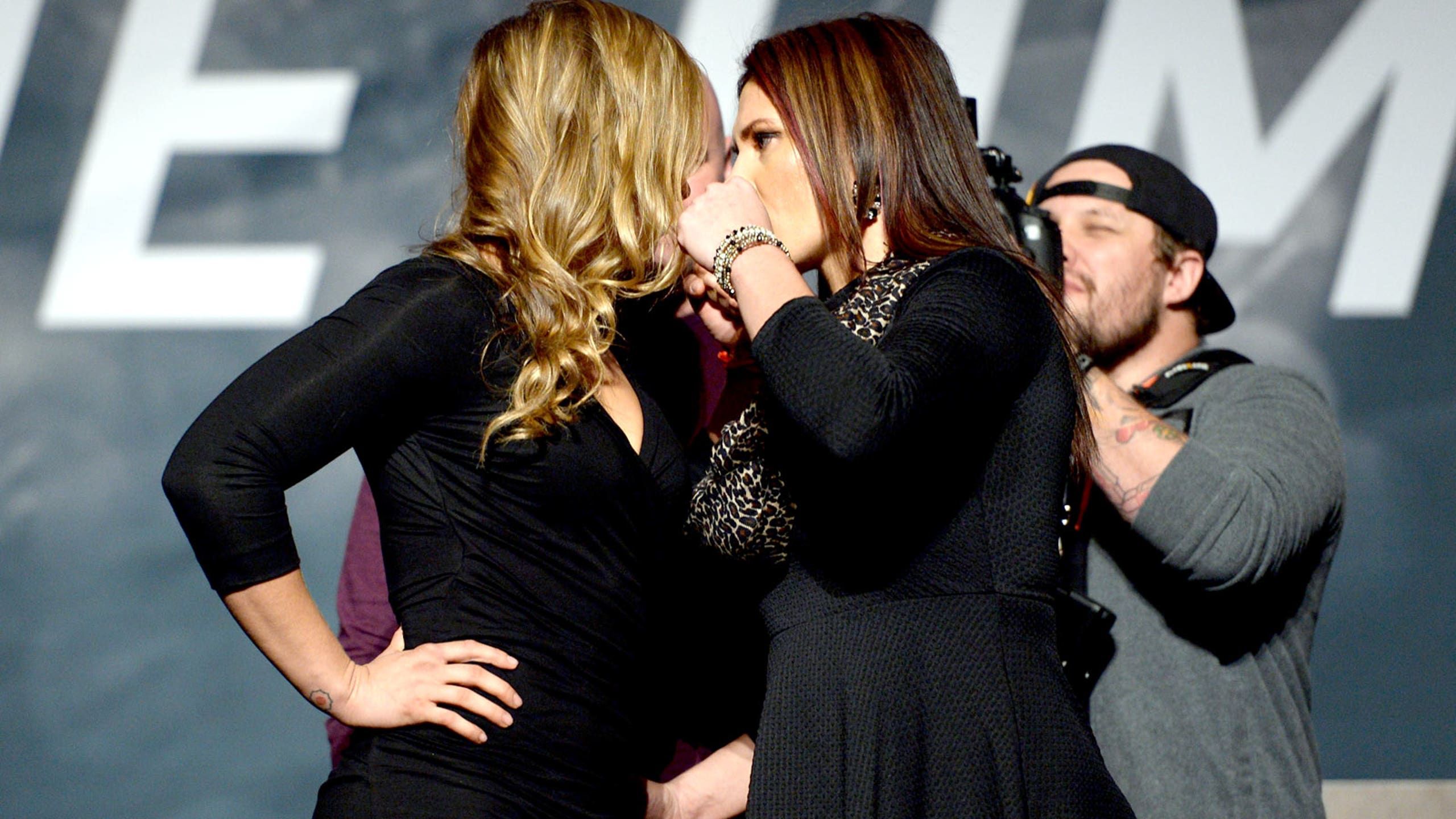 Ronda Rousey has her most unbreakable opponent in Cat Zingano
BY foxsports • November 21, 2014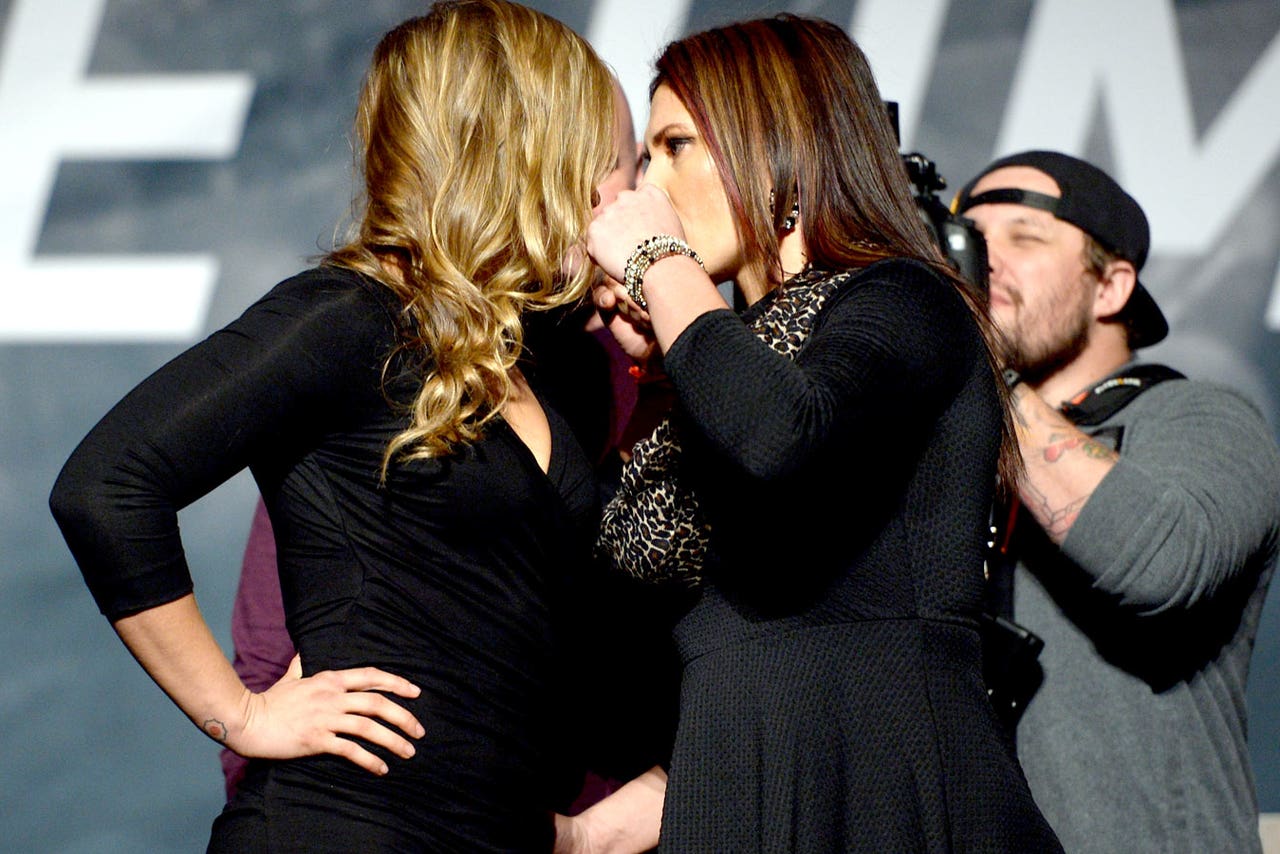 Cat Zingano wasn't trying to make any kind of statement. Maybe she did anyway.
It was a fairly light-hearted event Monday in Las Vegas when the UFC brought together its most influential champions to promote a loaded next three months of events. But when Zingano and Ronda Rousey faced off and Zingano closed the distance, getting right into the face of the UFC women's bantamweight champion, there was a palpable intensity at The Smith Center. Things got real very quickly.
"I'm not trying to play head games," Zingano said after the Time Is Now event. "If anything, people trying to play head games with me, it's bad on them. It's bad for them. That kind of thing, you'll get a bad reaction of me. You won't get the kind that makes you feel good."
Rousey, who will face Zingano on Feb. 28 at UFC 184, might have a smile the camera loves and movie-star good looks. But she also brings an intimidation factor to her fights. Part of it is that she's so skilled and athletic — Rousey is undefeated in 11 career MMA fights and only one opponent, Miesha Tate, has escaped the first round. The other reason is because she talks the talk, too. Rousey is ridiculously confident and no stranger to making outlandish promises. On Monday, she said she would attempt to kill rival Cris "Cyborg" Justino with her bare hands.
Zingano will not be shaken by that kind of thing. If she didn't convey that with her actions during the staredown, she did with her words to reporters afterward.
"Those moments, those kinds of things where people try to pick at your skin and all that, that's fuel for my fire," Zingano said. "I don't know why. I don't know how. But for me, that's almost like, 'Thank you for doing that. Because now you're going to get it.'"
Over the past 17 months or so, "Alpha" has gone through more than anyone should have to in an entire lifetime. Zingano's chance at the UFC women's bantamweight title and spot opposite Rousey on "The Ultimate Fighter" were lost to a torn ACL in the summer of 2013. She needed another procedure last fall.
In January, Zingano's husband Mauricio, who also was her coach, committed suicide. The 37-year-old left behind Zingano and their young son Brayden. As bad as things were, Zingano said she never considered stepping away from MMA.
"I needed to have this end on my terms and meet the goals that I have, especially because I need my kid to see that," she said. "I need to keep moving forward and just see the white dove at the end of all this. When life is going to present you with tons of problems — really hard ones, some less hard, some debilitating — it's what you do about them that matters. I really want him to see. I want to make a good example."
Zingano (9-0) returned in September, defeating Amanda Nunes by third-round TKO at UFC 178. She got roughed up early in that fight and took unanswered shots in the first round before putting forth a spirited rally, dominating Nunes thereafter. Some people want to criticize her slow starts, but how about her ability to come back?
"I have heart and you can't break heart," Zingano said. "You can sit there and punch me in the head for three minutes straight, but I'm gonna figure it out. I always do. I just know that about myself. … Part of me thinks that I almost need to feel everything that they have and once I've felt it all, once I'm like, 'All right you've given me everything, you have nothing left to give,' I'm like, all right, my turn."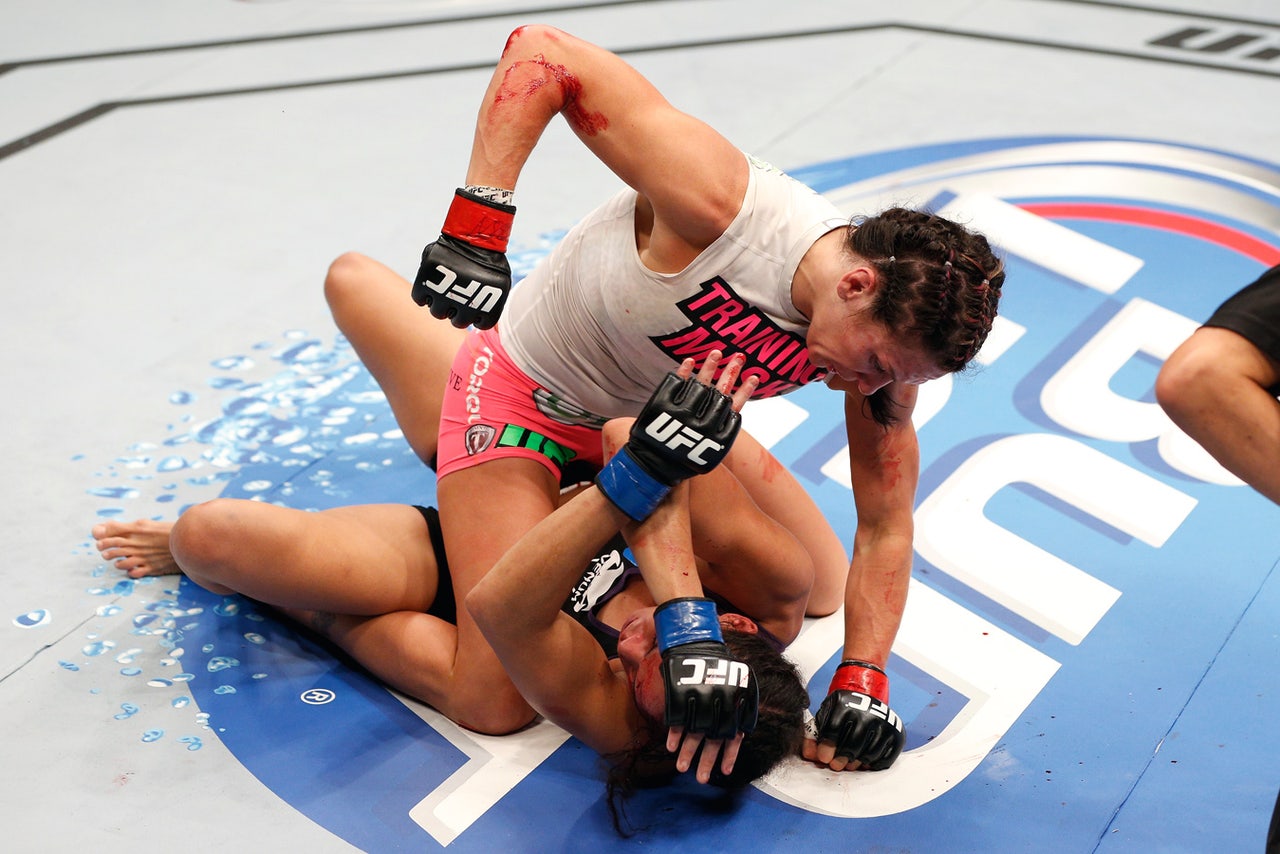 Cat Zingano put it on Amanda Nunes in the second round of their UFC 178 fight.
It's her turn to get a shot at Rousey and the title. Actually, it has been her turn for awhile. Zingano finally is able to take her rightful place in line in the co-main event of UFC 184 in Los Angeles. The vision of Rousey across from her with the belt on the line always was clear to her, even when she was in the darkest of places.
"I just knew it was a matter of action and a matter of time," Zingano said. "What's in me is un-nameable. I don't know how to describe it to you guys. But I am just confident and I know what I'm capable of and no one has still seen it. The potential that's there for me as an athlete and a fighter is still showing its face barely. Giving the time and obviously the right opportunity, this is right where I'm supposed to be."
Rousey and Zingano have quite a bit in common. Rousey's father committed suicide when she was young following a crippling back injury. Both take the same intense, mental approach to preparation. Both have been competing for a long time. And both never have lost a professional MMA fight.
"When I look at her, there's a big part of me that wants to say, 'What's up?,' but I also have this wall and none of that can happen until the fight's over," Zingano said. "I can't even think about that, I can't be on that level with her, because when the time comes I'm gonna try to kill her. I can't look at her as anything other than an opponent right now."
Rousey also understands that as far as the mental game goes, Zingano won't be broken.
"She's a tried and tested, hearty individual that has just been through hell and back and I really don't think I'm going to intimidate her at all," Rousey said. "But I don't need that. I'm athletically better than all of these girls."
Zingano disagrees. She sees them as equals, with her having the slight edge. In her mind, in her heart, this is the best fight the UFC women's bantamweight division can produce, and Rousey is in for some trouble.
"That's what makes it such a dangerous fight," Zingano said, "for each of us."
---
---