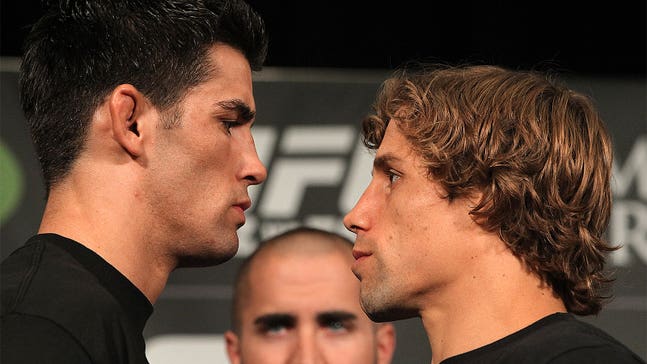 Ranking every fight at UFC 199
Published
May. 18, 2016 3:06 p.m. ET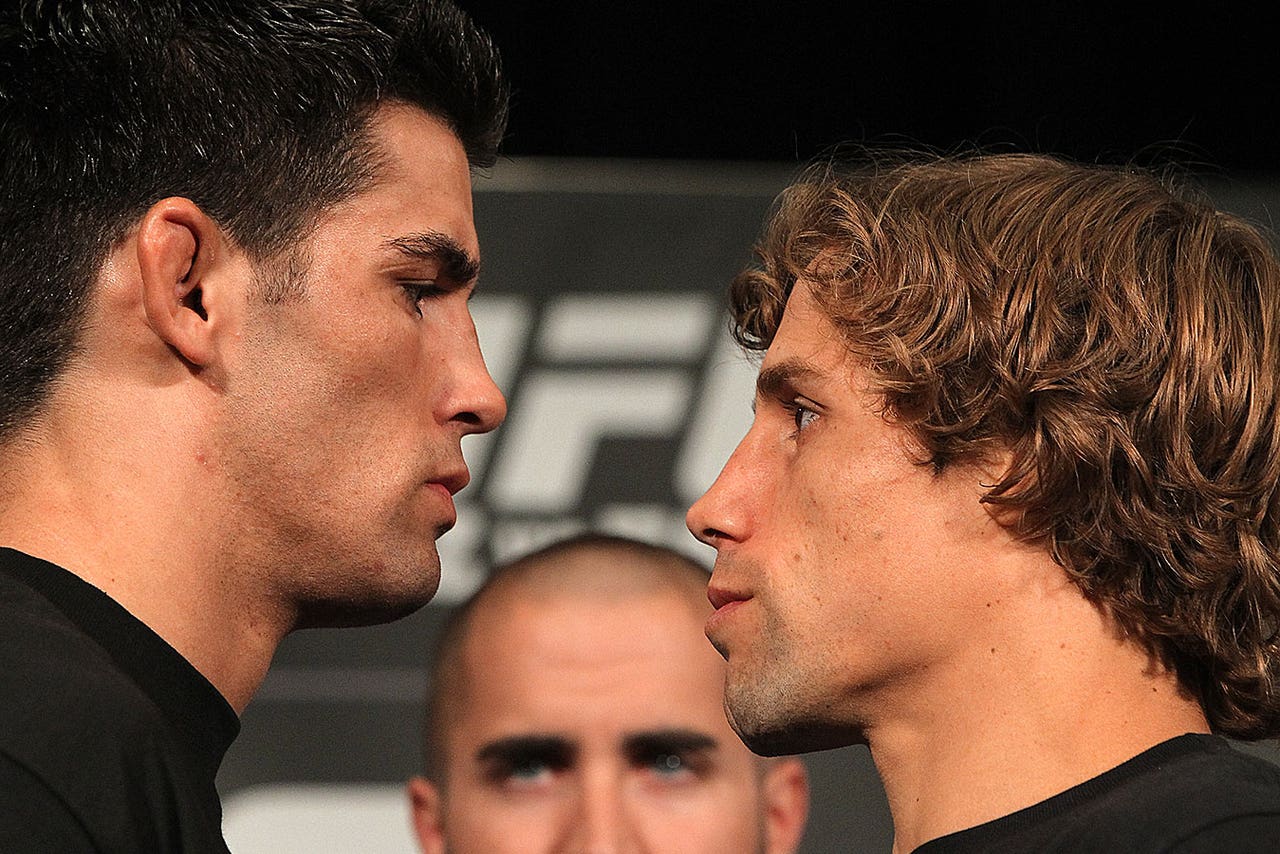 UFC 199 took a hit Tuesday, when former middleweight champion Chris Weidman was forced to withdraw from his rematch against Luke Rockhold after suffering a herniated disc that doctors are saying will need surgery.
Now that longtime contender Michael Bisping has been subbed in to face Rockhold in a rematch of their 2014 fight, the event regained a bit of luster and will still feature two title fights. But it's still not Rockhold vs. Weidman.
Check out how the fights on UFC 199 rank with the new main event.
Dominick Cruz vs Urijah Faber
The rivalry between Cruz and Faber is probably the only feud that tops the grudge between Jon Jones and Daniel Cormier. They've already fought twice, with Faber winning the first bout under the WEC banner and Cruz taking the second at UFC 132. The guys flat out don't like each other and will finally settle the near 10-year score with the grudge match of all grudge matches.
Max Holloway vs Ricardo Lamas
Holloway and Lamas are two of the best featherweights in the world and will go toe-to-toe in a matchup that could propel the winner to a title shot. Holloway is riding a ridiculous eight-fight win streak while Lamas' only losses since 2011 have been to Jose Aldo and Chad Mendes.
Dustin Poirier vs. Bobby Green
Talk about a striker's delight! Both Poirier and Green are willing to stand and trade with anyone and do so on an elite level. Green, who hasn't fought since 2014, is one of the more accurate lightweight strikers, while both fighters are ranked in the division's top 10 for strikes landed per minute. This has fight of the night written all over it.
Luke Rockhold vs. Michael Bisping
I know it's a title fight, and I know it's the main event, but it's hard to rank this fight above any of the three previously mentioned after what happened in the original matchup. Rockhold and Bisping met in 2014 in Sydney in a fight that lasted just six minutes and saw Rockhold walk away with a submission win. Since then, however, Bisping has won three straight and Rockhold has become champion. We'll see if things are any different this time around.
Sean Strickland vs. Tom Breese
Neither Strickland nor Breese is ranked in the welterweight top 15, but they both will be ... and soon. Strickland has won four of his first five UFC fights, including a beatdown of Alex Garcia in February. Breese has blown through all three of his UFC opponents, finishing two with first-round knockouts. This has the makings of a stand-up war between two of the best 170-pound prospects in the world.  
B.J. Penn vs Cole Miller
Penn is making his return to the Octagon, and I'm not sure how excited I should be. On one hand, it's freakin' B.J. Penn, a former two-division champion and UFC legend. On the other hand, did you see his last seven fights? Because he only won one of them. And he got demolished in consecutive bouts against Frankie Edgar, Rory MacDonald and Nick Diaz. As much as I'd like to see him go out on top, Miller is no easy fight.
Dan Henderson vs. Hector Lombard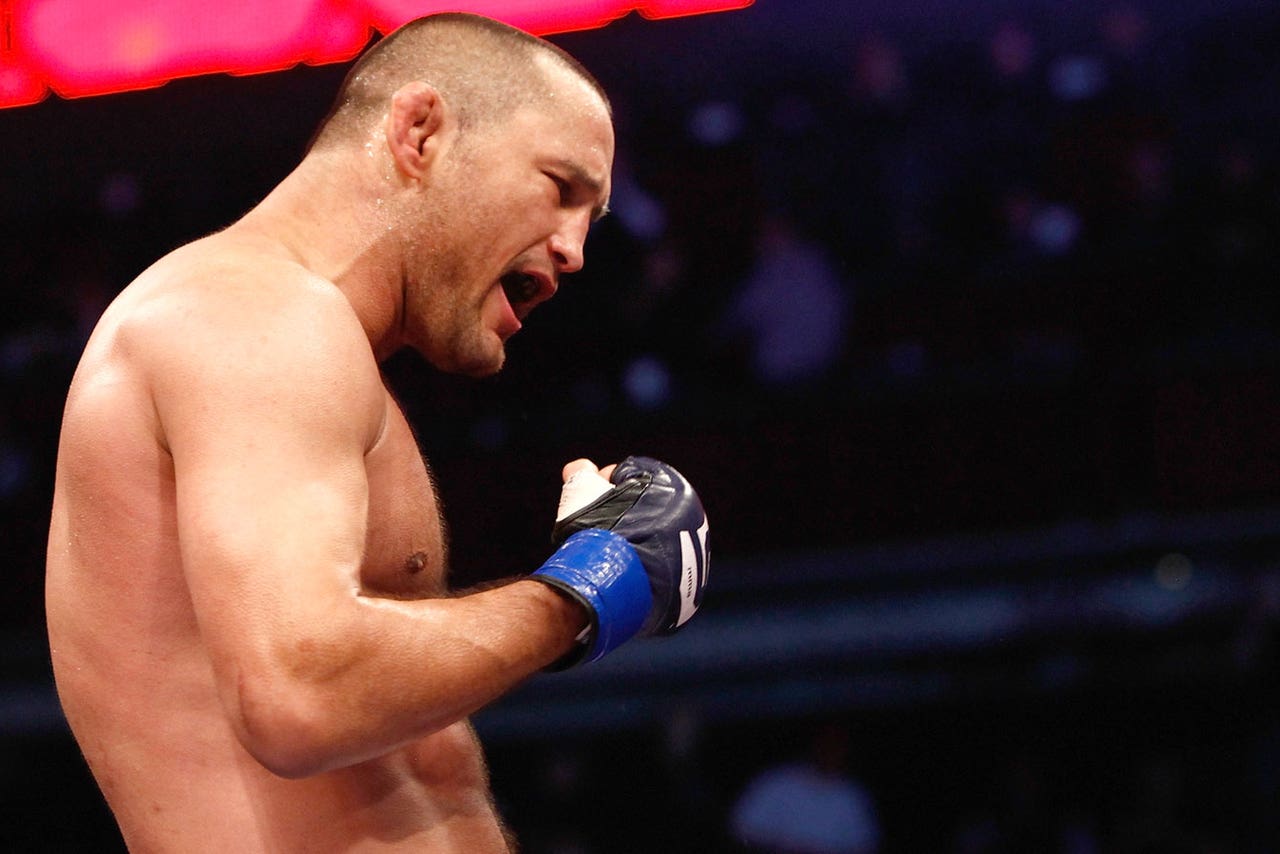 Copy and paste what I said about B.J. Penn here. Hendo is 2-6 over his last eight fights and has been finished in four of those losses. On the bright side, his opponent Lombard didn't look all that good in his last outing, where he allowed Neil Magny to land 148 significant strikes and got controlled on the canvas.
Brian Ortega vs. Clay Guida
Fans will get their grappling fix in this outstanding matchup between Ortega and 45-fight veteran Guida. Both fighters have finished more than half their fights by submission, and Ortega will be looking to extend his 11-fight unbeaten streak against Guida, who always comes to scrap. Neither of these guys will wow you on their feet, but an elite grappling match is nothing to complain about.
James Vick vs. Beneil Dariush
Vick will make his second appearance in under two months when he takes on Dariush after fighting only once in 2015. It's an exciting time for Vick, who has won all five of his fights outside of "The Ultimate Fighter" and is coming off his strongest performance to date at UFC 197. Dariush, winner of five of his last six, will be looking to hold on to his recently earned spot in the lightweight top 15.
Jessica Penne vs Jessica Andrade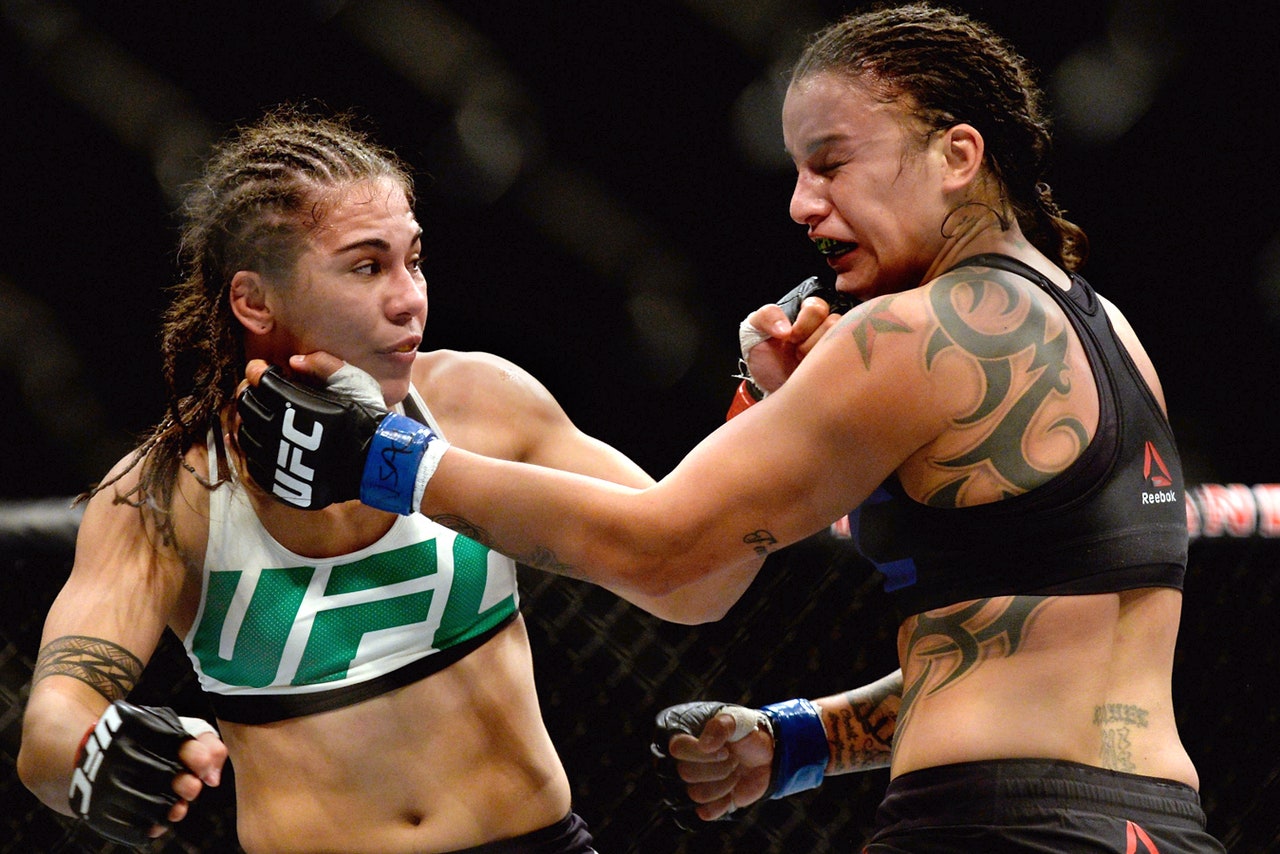 Andrade makes her UFC strawweight debut, which is exciting because she was always the smaller fighter at bantamweight. She'll still be at a height and reach disadvantage against sixth-ranked Penne but is in a position to make a statement to the entire division with a strong performance.
Polo Reyes vs. Dong Hyun Kim
I was stupid excited to hear Dong Hyun Kim was fighting at UFC 199, only to find out they meant lightweight Dong Hyun Kim, not welterweight Dong Hyun "Stun Gun" Kim. While it's disappointing at first glance, Kim's opponent, Reyes, is coming off a Performance of the Night KO of Cesar Arzamendia and has finished all of his wins.
Jonathan Wilson vs. Luis Henrique da Silva
Wilson scored an impressive first-round knockout in his UFC debut, but his matchup against newcomer de Silva makes this fight hard to call and easy UFC Fight Pass fodder.
Kevin Casey vs. Elvis Mutapcic
Casey and Mutapcic have combined for one win inside the Octagon. 
Bottom line
UFC 199 is an awesome card, even without the rematch between Rockhold and Weidman. There are two title fights, future hall of famers (despite my reluctance to watch them fight again) and rising stars coming together for a night of fights deserving of its positioning between UFC 198 and the star-studded affair at UFC 200.  
---
---