Out of GSP's shadow, Rory MacDonald is ready for his own spotlight
BY Damon Martin • October 5, 2014
When Rory MacDonald arrived in the UFC, he already was recognized as a real prodigy of mixed martial arts, making it to the highest level of the sport at just 20 years of age. He made waves even in defeat when he nearly pulled off a massive upset against Carlos Condit in his second UFC fight.
From there MacDonald started to pull away from the competition, winning his next five fights but despite his climb up the welterweight rankings, there was one inescapable question he couldn't avoid and it haunted him like a bad dream.
Early in his UFC career, MacDonald chose to move his training camp from western Canada and join the team led by coach Firas Zahabi at Tristar in Montreal. Considering the list of top fighters who trained at the camp, it made perfect sense, but whether he knew it or not at the time, MacDonald was about to spend the next few years of his life being compared to UFC welterweight legend Georges St-Pierre.
MacDonald couldn't win a fight without St-Pierre's name coming up, either as a potential opponent or in reference to MacDonald sitting in the champion's shadow, destined to be No. 2 while his teammate reigned supreme. Through it all, UFC president Dana White claimed he knew for a fact that if push came to shove, MacDonald would fight St-Pierre with the title on the line.
To his credit, MacDonald stayed the course, never turned his back on St-Pierre, and eventually his teammate retired while surrendering the UFC welterweight gold. Now following his win on Saturday night over Tarec Saffiedine in the main event of UFC Fight Night in Halifax, MacDonald finally is standing under his own spotlight, ready to take his charge at the welterweight title.
MacDonald has long been called the future of the division, although he never really embraced the notion and instead decided to just put his head down and fight forward against whomever the UFC put in the Octagon against him.  When you really break down his record, MacDonald has been an incredible success story throughout his UFC career.
He lost only one round to Condit, but unfortunately it was the one that counted as he got TKO'd just seconds before the final bell. MacDonald was up on the scorecards against Robbie Lawler early before fading late and giving up a split decision.  Sure, MacDonald had an ugly fight against Jake Ellenberger, but he still got the win. 
He rag-dolled Nate Diaz, TKO'd Mike Pyle and pummeled a legend in B.J. Penn.  MacDonald survived a round on the mat against Demian Maia before mauling the Brazilian in the final two rounds of their fight. He battered Tyron Woodley for 15 minutes and now he has a TKO win over a former Strikeforce champion.
And the best part about MacDonald's win? In both his post-fight interview with commentator Jon Anik and at the press conference he didn't answer one single question about St-Pierre.
It's finally MacDonald's chance to prove all the hype, all the attention and all the accolades about him were true. He never asked for any of it, but it's been heaped on him with every fight he's had in the Octagon and now he's about to prove if everything everyone has said about him is justified.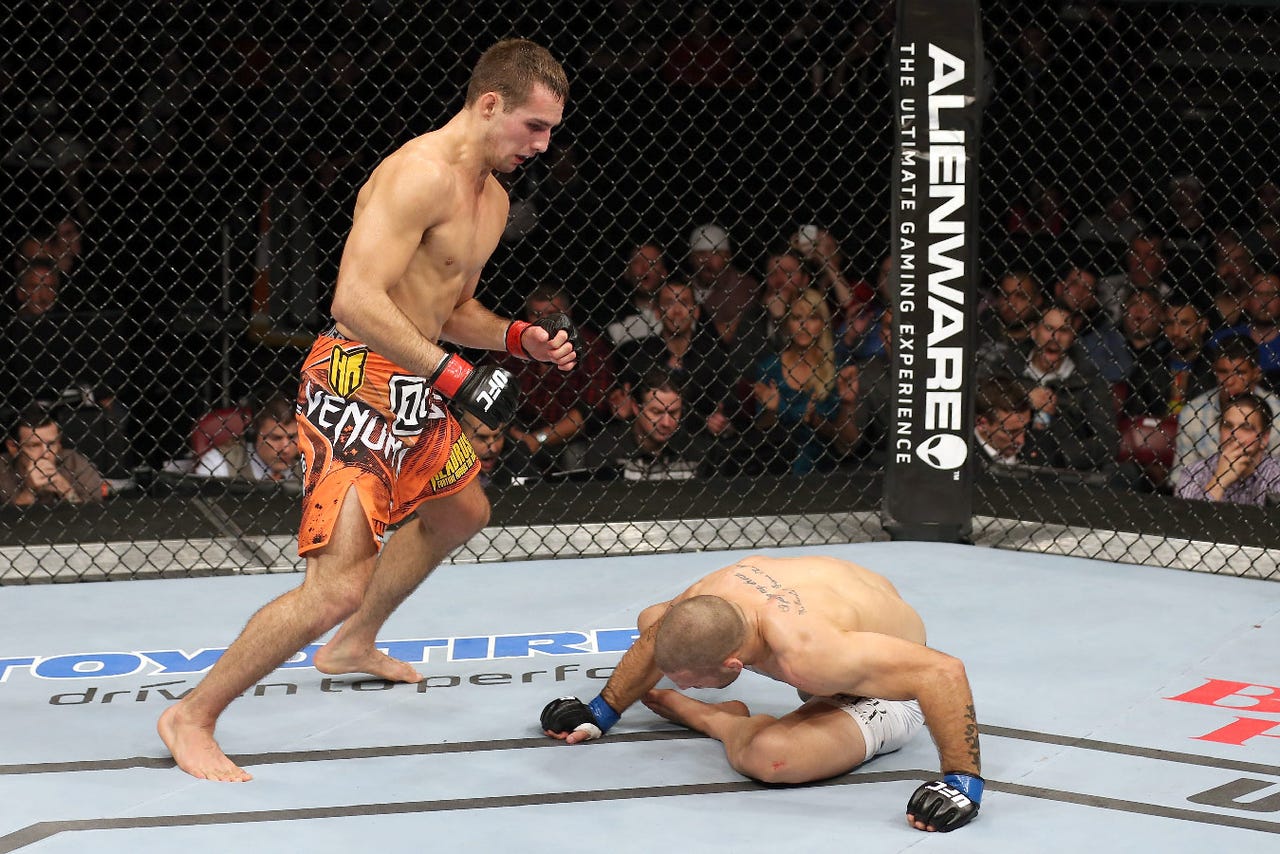 "I really don't see anyone else," MacDonald said about his standing in the division. "I've beat some really good guys this year and I think beating a guy like Tarec (Saffiedine), I said it in many interviews, he's one of the best in the world in the welterweight division. I feel like I had a good fight against him tonight and hopefully the UFC takes notice and puts me in that title shot so I can bring it back here to Canada."
At just 25 years of age, MacDonald finally has hit his groove and put together the right kind of game plan, training and execution to truly be ready for his shot at the gold. He's learned a lot from his two losses in the Octagon and there's no denying he's the top contender at 170 pounds following Lawler, who already is getting the next shot at the champion.
Ironically enough, MacDonald's age coincides with that of St-Pierre, who won his first UFC belt at 25. His hiccup came one fight after winning the belt when he was humbled by Matt Serra in one of the biggest upsets in UFC history. St-Pierre learned, came back from the loss and never tasted defeat again.
MacDonald might be able to walk the same path following his loss to Lawler in 2013 because he's looked better than ever in his past three wins, and now he's got the best possible chance to win his first UFC welterweight title.
Just like NFL greats such as Steve Young, who sat behind Joe Montana before winning the Super Bowl on his own, or Green Bay Packers quarterback Aaron Rodgers, who had to bring home a championship to finally escape the legend of Brett Favre, MacDonald is ready to seize his opportunity. 
He's beaten three top-10 opponents in a row. He just had his first UFC main event. And the best part of it all: He's just getting better and better.
Now is the time for MacDonald to prove the student eventually surpasses the teacher. He's a deadly combination of striking acumen, wrestling and underrated submission skills. He's everything the modern mixed martial artist should be.  
All he needs to do to complete the picture is a shiny gold belt that says UFC wrapped around his waist, and MacDonald truly will be his own man. 
---
---