Ultimate Fighting Championship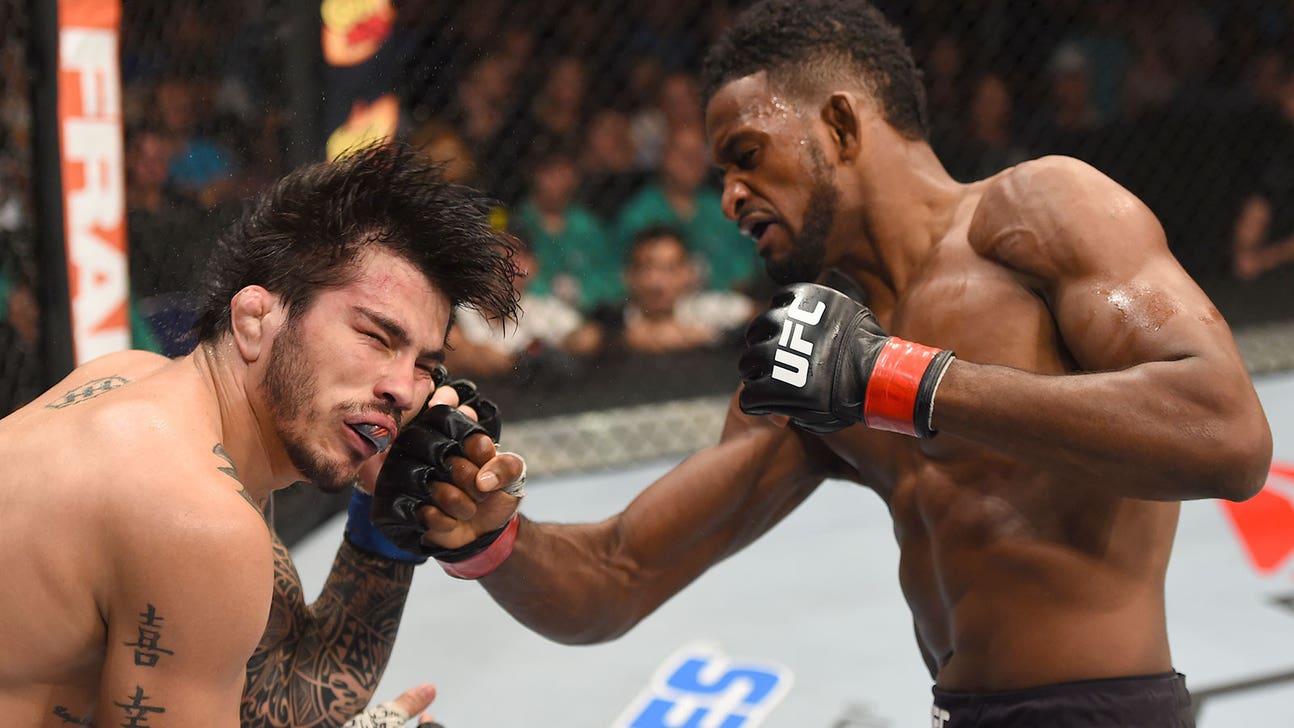 Ultimate Fighting Championship
Neil Magny plans on using a 'relentless pace' to break Kelvin Gastelum
Published
Nov. 19, 2015 11:42 p.m. ET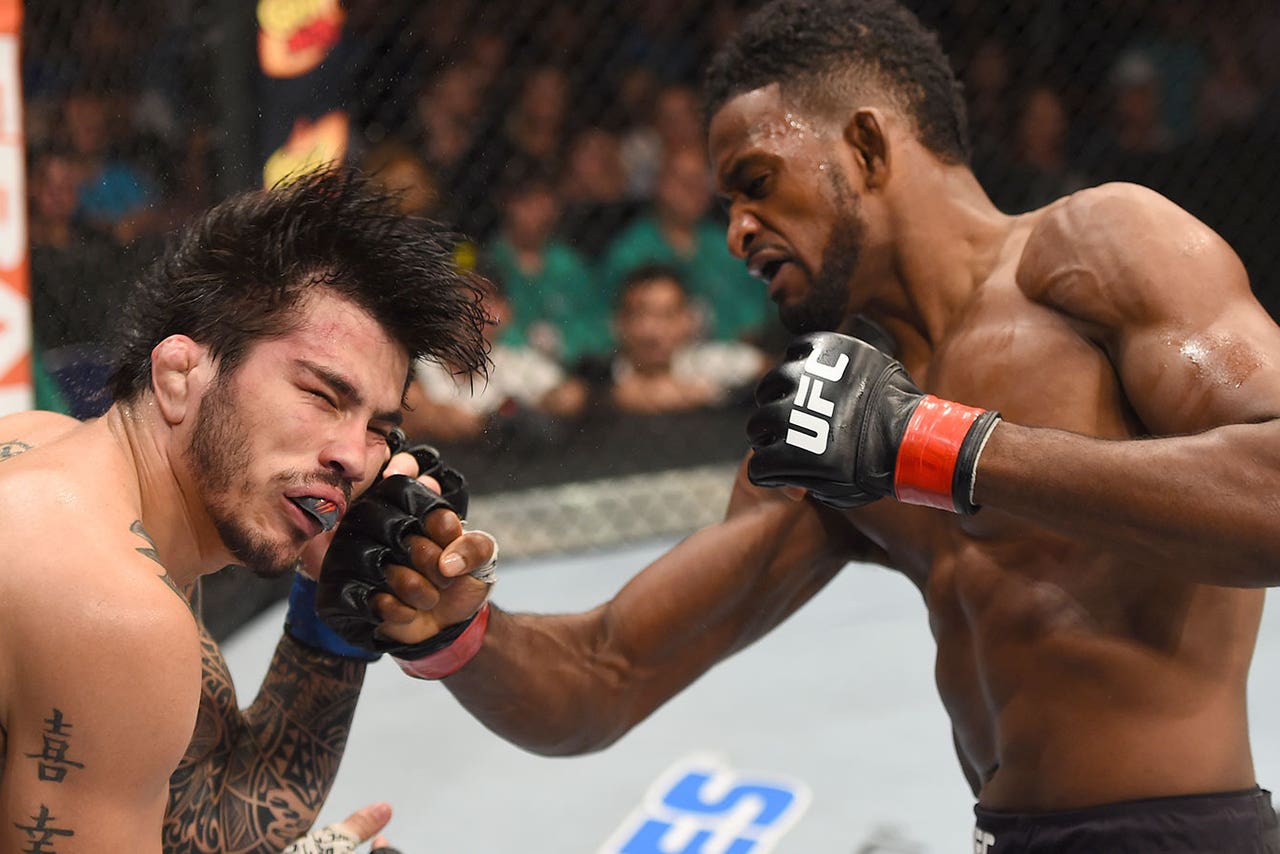 Over the past two years, Neil Magny has been one of the most active fighters on the entire UFC roster, racking up nine total fights with an 8-1 record overall.
His last fight took place in August when he defeated Erick Silva in Canada, but when his phone didn't start ringing right away with a call from matchmaker Joe Silva, Magny got a little concerned.
Magny's fast paced fight schedule has not only kept him in peak physical condition year round, but he's consistently gotten better with each passing performance. Finally, Magny had to call Silva just to make sure everything was OK when he still hadn't been booked for a fight.
"Initially, a few weeks after my fight with Erick Silva I texted Joe Silva and I was like 'hey is your phone broken? I haven't heard from you in a while and I usually have a fight lined up by now'," Magny told FOX Sports. "He said 'no, I'm just waiting to see how things play out right now' so no problem. So at that time I just put it upon myself to stay in shape just in case a short notice fight came up."
Silva eventually came through with a fight offer for UFC 195 on Jan. 2 pitting Magny against noted striker Stephen 'Wonderboy' Thompson. While it was a great fight with a chance to move up the divisional rankings, it also meant Magny would have to sit out until 2016 to fight again.
But when Magny's teammate Matt Brown suffered an ankle injury in preparation for his fight this weekend against Kelvin Gastelum in Mexico, the UFC matchmaker had only one welterweight on his mind to fill the spot.
"It was unfortunate, but it was Matt (Brown) who got injured so that's how this fight came about," Magny said.
As much as Magny is being touted as a late notice replacement, that's not exactly telling the full story behind his placement in this fight. One of the reasons why Magny has been on-call so often is because he stays in training camp almost year round, plus he was mimicking Gastelum at different points just recently as he was helping Brown prepare for the same fight.
So even though Magny technically only had a matter of weeks to prepare for Gastelum, in many ways he's been getting ready for him ever since Brown relocated to Denver to start his training camp with the same team. Add to that, Magny also helped his other teammate Nate Marquardt prepare for Gastelum earlier this year and at this point he's virtually an expert on the opponent he's facing this Saturday night.
"He's always been a good wrestler, he's always had a good heart," Magny said about Gastelum. "What he shows in his fights is he always goes forward and he's always looking for a way to win. He's beat a lot of good guys. He was a tough opponent for Matt and he was a tough opponent for Nate (Marquardt) when Nate fought him.
"Now that I'm fighting him, he's a tough opponent as well but I have some tools that he doesn't deal with on a daily basis and I'm just going to make it as difficult fight for him as I can."
One of the biggest advantages that Magny hopes to use against Gastelum is relentless pressure and superior conditioning.
It can't be ignored as the two welterweights approach a five round fight that Gastelum has struggled in the past to get down to 170-pounds and for his last fight in the division he actually camp in a whopping nine-pounds over the limit. Gastelum has been working with a nutritionist for this fight, but Magny would be lying if he said he wasn't at least slightly concerned about that.
"For me, I kind of find it disrespectful if he doesn't make weight," Magny said. "I mean I would think it's almost like cheating. If you don't have to cut as much as the guy you're going against and if he takes the fight, you kind of get the edge on him, he doesn't have to rehydrate as much as the guy that you're fighting.
"In my opinion if he shows up overweight, I don't necessarily think it's because he was lazy or didn't want to do it, I think it's just basically he didn't want to cut that much weight so he could have an advantage going into a fight."
Either way, Magny is prepared for the best or the worst and either way he plans on pushing Gastelum to the breaking point to find out if he's truly ready for 25-minutes of hell.
"That's the way it is with every opponent -- the longer the fight goes, the better it is for me," Magny said. "This is the pace that I put on guys and not many can match that pace and keep up. I train at elevation and that's something I take into my fights right away. I put a relentless pace on guys.
"I think bringing that to the table will just frustrate him and overwhelm him and just show that a lot of guys aren't willing to go at that pace or aren't ready to go at that pace as long as I am."
---
---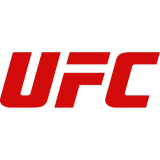 Get more from Ultimate Fighting Championship
Follow your favorites to get information about games, news and more
---