Max Holloway fires back at 'alternative facts' regarding Jose Aldo and Conor McGregor
BY Damon Martin • March 27, 2017
UFC interim featherweight champion Max Holloway wants to set the record straight.

In the lead up to his fight with Jose Aldo at UFC 212 in June, Holloway has heard all sorts of rumors regarding the delay that forced the fight to get pushed to the summer after they were originally expected to meet as early as February.

Following a TKO win over Anthony Pettis in December, Holloway was quickly asked about a fight with Aldo at UFC 208, which was scheduled to take place barely eight weeks later but he was on board while fueled with the adrenaline from his title fight victory.

Unfortunately, Holloway's body had other ideas when his ankle swelled up after the fight ended and his doctors told him to stay on the sidelines for the next month, which essentially eliminated any chance he could face Aldo in February.

As much flack as Holloway has taken for not fighting in February, he's quick to remind everybody that he was originally supposed to face Aldo last year but the current featherweight champion declined to face him.

"The fight is happening June 3 cause Mr. Aldo didn't want to show up at [UFC] 205 because he was kicking and crying and complaining to the UFC that he wanted to fight the one guy that everybody is trying to chase and everybody knows who that guy is," Holloway said referencing Conor McGregor. "He was trying to chase that fight and he already had a fight.

"The fight could have happened way before now. He had the opportunity to fight me at [UFC] 206 but do a little research before coming at me. This is what Jose Aldo said and I quote 'I don't want to fight no one except for Conor and if I was to fight someone, I would fight Anthony Pettis because I believe Anthony Pettis is an easier fight and he's a bigger draw than Max Holloway'. That's what your champion has been saying. I thought your champion was willing to fight whoever, whenever and go out there and put on a show. Old boy didn't show."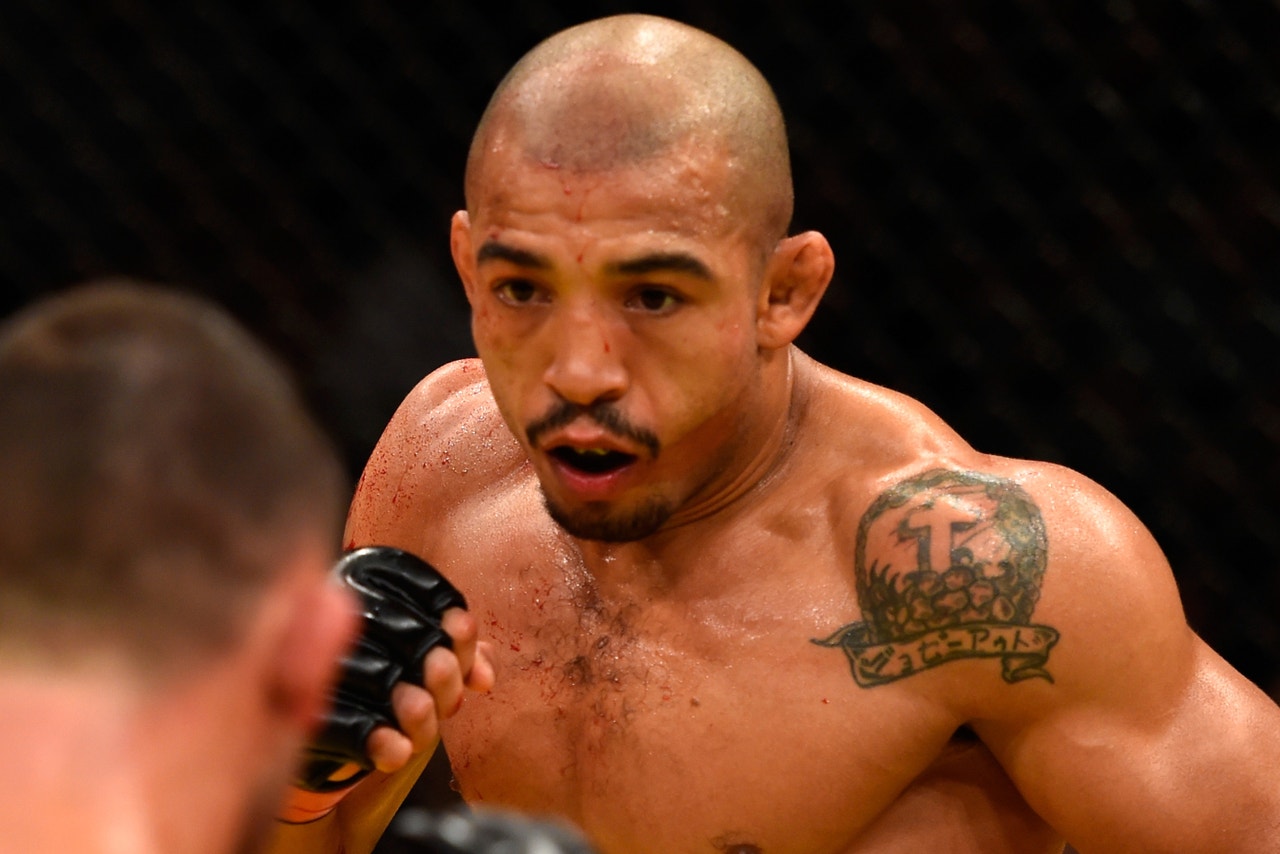 Once the ankle injury flared up after his win against Pettis in December, Holloway was then offered the opportunity to star in a new film called "Den of Thieves", which came directly from UFC president Dana White.

"I went to the doctor later that week and they said I needed to stay off the ankle for four to six weeks. I called the UFC they said no problem and the day after Dana White calls my phone and offers me this movie I'm in now called "Den of Thieves" with Gerard Butler and 50 Cent and O'Shea Jackson, they offered me the movie," Holloway said. "Then he goes around saying I'm the one whose fault why this fight is taking so long.

"It's tripping me out. He offered me a movie role. It doesn't make no sense."

Holloway takes it one step further by explaining that the main reason he accepted the movie role came after Aldo started talking about moving to lightweight for a potential matchup with undefeated Russian contender Khabib Nurmagomedov.

"I only took the movie because Aldo came out and said he was going to fight for an interim 155-pound title. I'm like I'm not going to wait around for this guy," Holloway said. "They weren't going to give me another fight so they gave me a movie role. I took the movie.

"[Aldo] and his alternative facts, they need to get that straight and we'll see June 3. We'll see what happens."

Holloway also responded to his detractors that can't help but bring up his last loss in the UFC to Conor McGregor from their fight in 2013.

On that night, Holloway suffered an ankle injury about 30 seconds into the opening round that severely affected his movement for the remainder of the fight. McGregor also suffered a torn ACL in his knee during the bout, which is the only thing Holloway hears about whenever the Irishman's name comes up when discussion his interim featherweight title.

That's why Holloway would be more than happy to meet McGregor for a second time if he ever decides to return to 145-pounds one day.

"The thing I always get hit with. Talking about this being a fake belt and the real champion beat both of these guys," Holloway said about McGregor. "I always say forget past tense, ask your boy how we match up now. His coaches believe I'm at the best at 145. His team believes I'm the best at 145. His fans know I'm the biggest threat to him at 145 or even in the whole UFC. So at the end of the day, I made no excuses. I'm not proud of the loss but get your facts your straight. Somebody got hurt in the first 30 seconds and somebody else got hurt in the last 30 seconds of the second round.

"I'm not trying to defend a loss. A loss is a loss but if you're going to come and attack me, get your facts straight. Don't show up to a gun fight with a knife."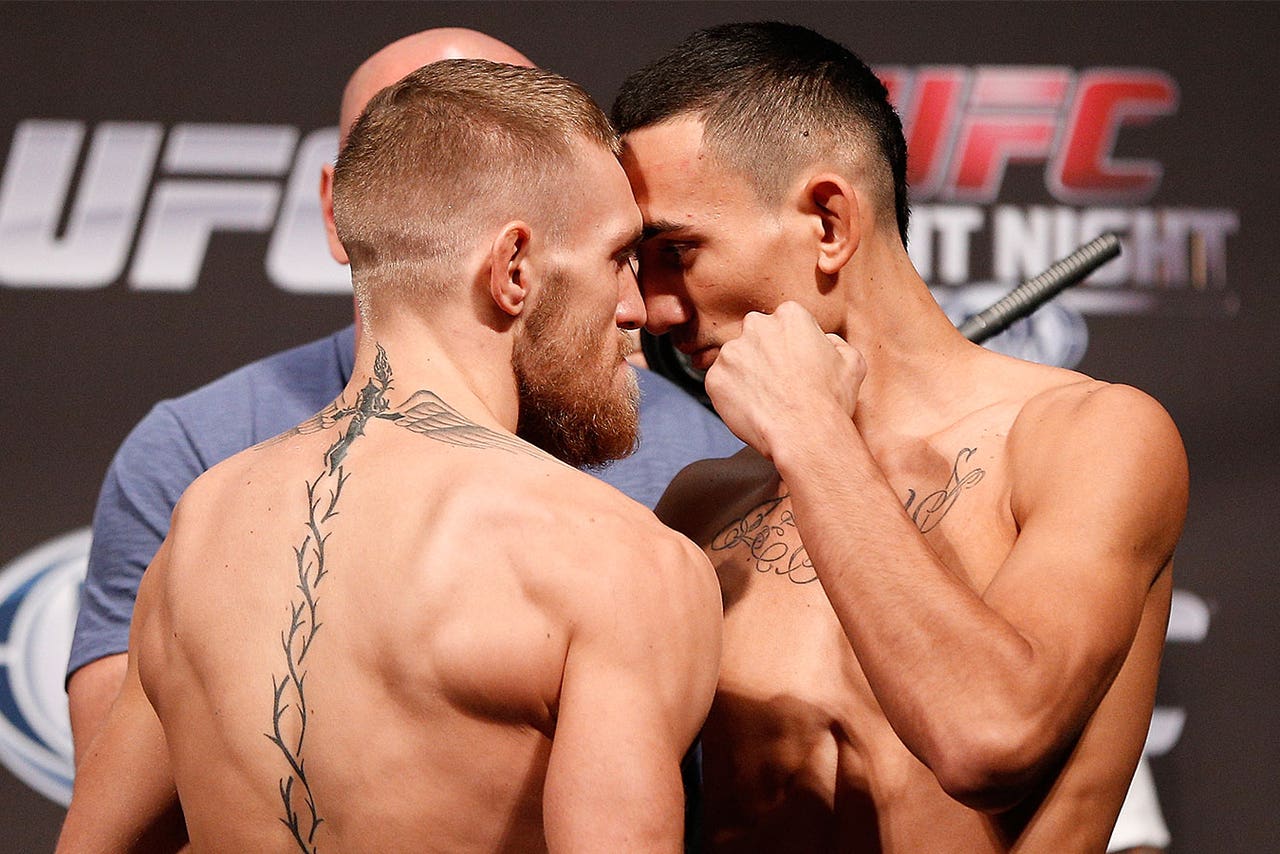 Whether or not he ever gets the chance to avenge his loss to McGregor remains to be seen, but Holloway knows he earned the title that's around his waist right now.

Holloway had to put together a nine-fight win streak before finally being granted an interim title bout and then he became the first person in history to hand Anthony Pettis a loss by TKO during his career to win the belt.

Now Holloway has a chance to put a stamp on his title reign with a win over Aldo on June 3 in Brazil and he can't wait for the opportunity to silence all the doubters once and for all.

"At the end of the day, people are going to believe what they're going to believe. All I can do is keep taking one fight at a time. I did it my way. I did it the way that I think people would respect," Holloway said. "I was ranked No. 15 at one time and I was fighting guys in front of me. I always asked for people in front of me. Every fight we'd try to get No. 11 and No. 8 and then No. 6, I walked my way through the division. This isn't by accident. I'm showing why I'm one of the best of all time.

"My career speaks for itself. I never ever turned down a fight or backed out of a fight so why would I start now? This is the most important fight of my life. They're going to find out soon enough. June 3 is coming up. At UFC 212, the star is going to get brighter and you guys are all going to see. Those lights turn out and that's when I get to show the world what I've been doing."


---
---