Kevin Lee explains why there was no controversy in the end of his fight with Michael Chiesa
BY Damon Martin • June 26, 2017
Kevin Lee doesn't subscribe to the idea that the end of his fight with Michael Chiesa had any controversy whatsoever.

Lee got the win with a first round rear naked choke after referee Mario Yamasaki stopped the fight as Chiesa's arms appeared to go limp following his attempt to break free of the submission.

Almost instantaneously after the fight was stopped, Chiesa bounced up off the mat in protest because he never actually went to sleep from the choke much less had the opportunity to tap out due to the submission.

Lee doesn't seem to agree with that assessment as he told FOX Sports on the post fight show where he argued that Chiesa was already finished from the choke and things would have only gotten worse if the bout was allowed to continue.




"The only thing I'm disappointed is that I just didn't get to show more. I was expecting a little bit more fight out of the boy. It would have been just another four more rounds of that so I was kind of looking forward to the four more rounds so that's what I'm most disappointed about. Going back and watching the film, he definitely went limp," Lee explained on FS1.




"You can see he was fighting the choke, I switched, I stayed choking him with one arm, switched palm-to-palm and as soon as I did, his arms stopped fighting the choke, he goes limp. I let go when Mario [Yamasaki] told me to stop, I'm not a dirty fighter. I'm very smart, I'm very aware. I saw Mario stop me, I let go, he woke back up. I don't even know if he knew he went limp but if he didn't, it would have been another 45-seconds of me choking him even more and it would have led to brain damage so I'm glad that Mario stopped it."




While Yamasaki has been hammered with criticism about the stoppage including Chiesa saying that he should "never officiate ever again", Lee doesn't see a problem with how the fight ended.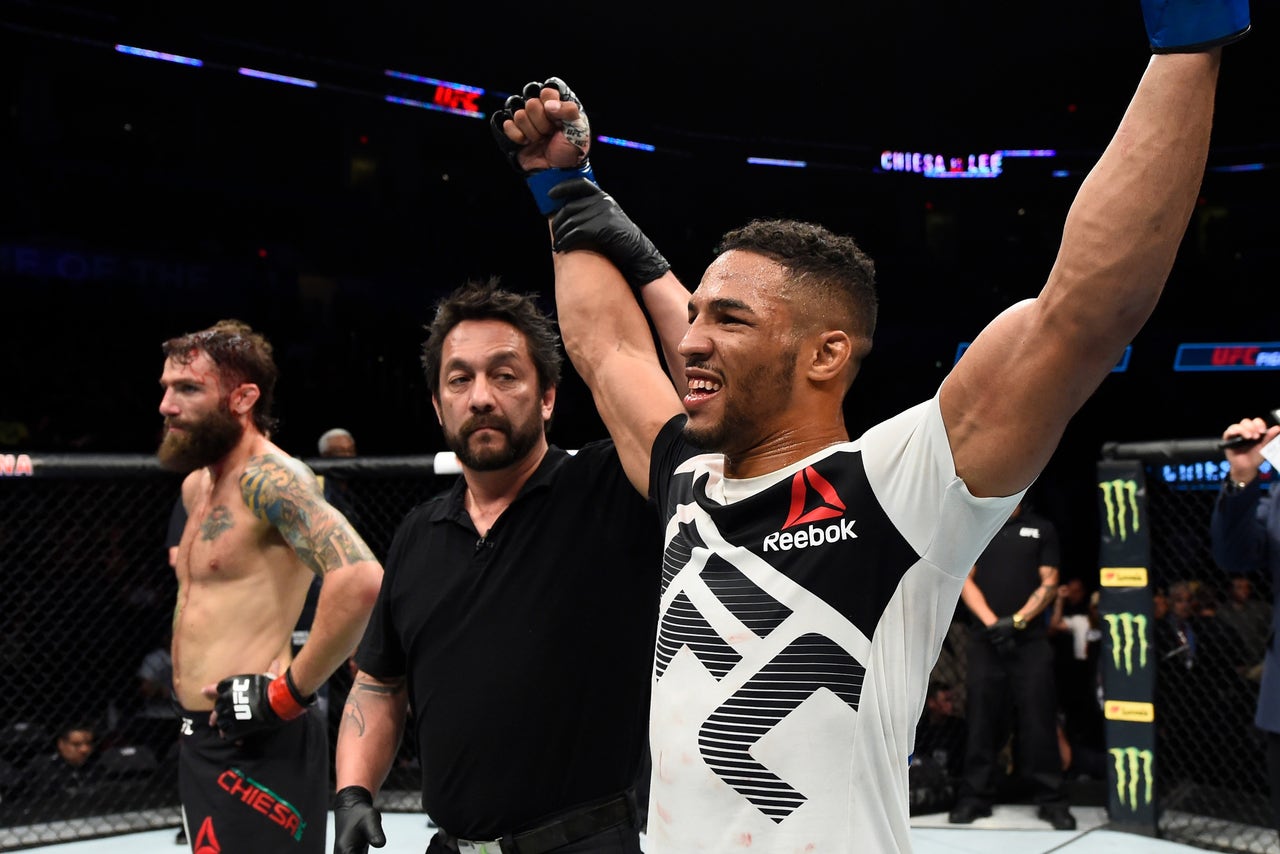 In fact, Lee's only anger about the way the matchup played out was that Chiesa didn't put up a better fight before being submitted in the first round.




"I was robbed by Mike," Lee proclaimed. "I thought Mike was going to put up a better fight. I trained hard for this fight, I trained like a championship fight. I thought it was going to go all five rounds. I was prepared for it. I had my mind mentally set for it. I was looking forward to that. I was looking forward to showing some new wrinkles in my game.




"It was game over. Once I was on top, he didn't know what to do. It would have been four more rounds of that."




Following the fight, Chiesa immediately made his intentions known that he intends on filing an appeal with the Oklahoma state commission over the stoppage while also requesting a rematch with Lee to settle the score once and for all.

Lee says he's open to a second fight with Chiesa only because it would be another paycheck in his bank account but otherwise he's moving onto another top ranked lightweight instead.

"The only reason I'll entertain a rematch is cause it's easy money," Lee said about Chiesa. "I gave him a little bit too much respect so I'll entertain a rematch just for the easy money but otherwise I'm moving onto Khabib [Nurmagomedov]. I already got my mind set on that one. That's the one I'm looking for.

"These dudes, they underestimate my strength, my wrestling and my movement. They think that I'm a stupid fighter out there. I think he thought I was just going to come out and bulldoze and push forward, but you see I was on my toes, moving, set the distance real well. He was a lot slower than I thought he was. But I'm going to be a smart fighter, I'm going to keep pushing, keep moving and I'm chasing after championships so I'm moving forward."


---
---