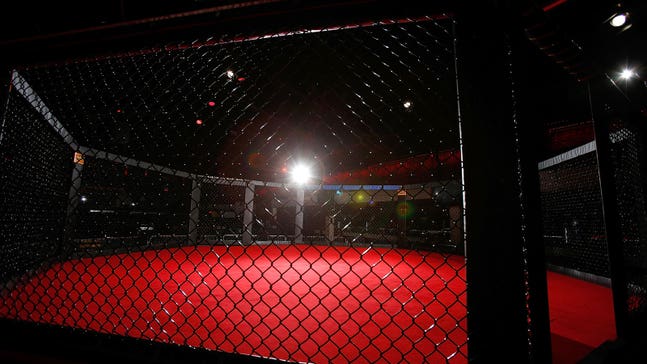 Is the UFC ready for an openly gay male fighter?
Published
May. 14, 2014 7:00 a.m. ET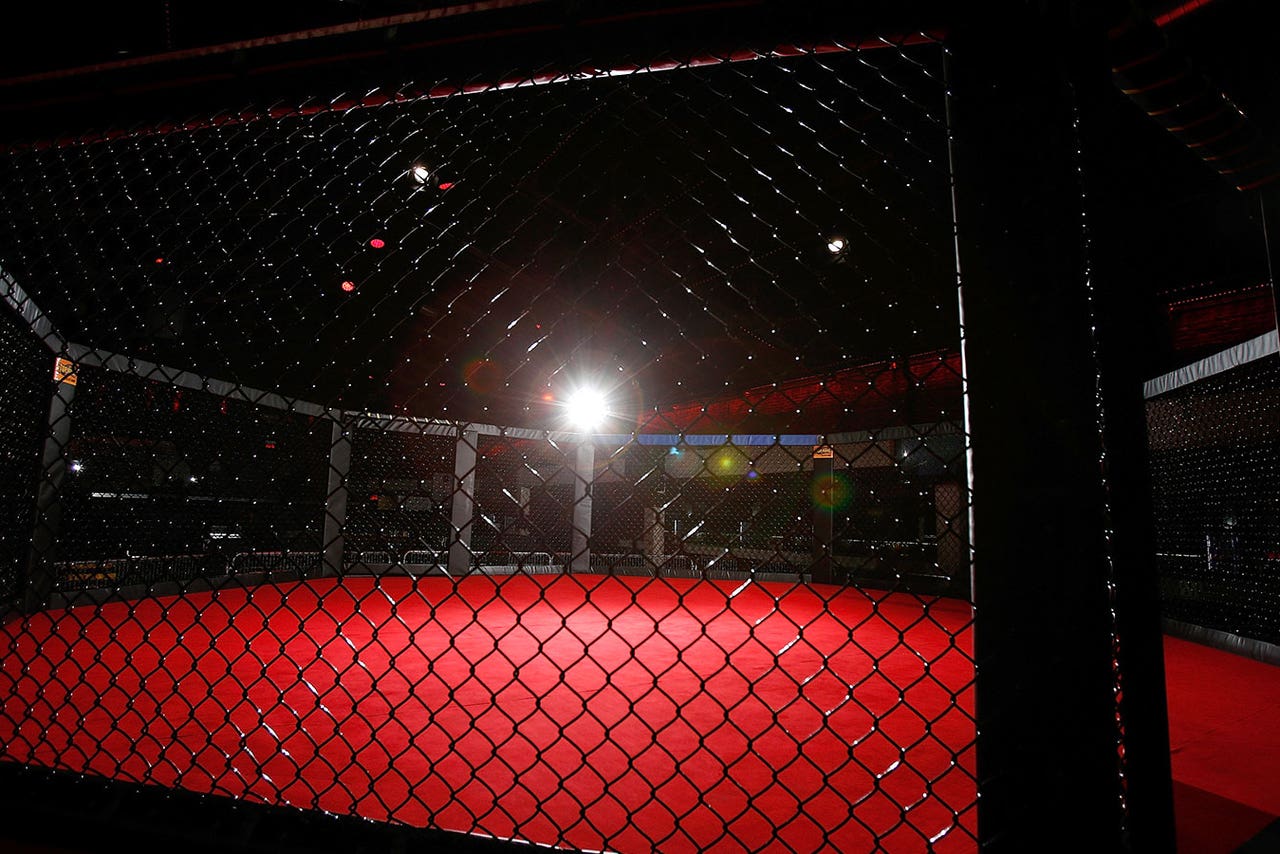 Joseph Benavidez leaned back in his chair, his eyes squinting. He interlocked his hands, then put them on top of his head. The question seemed to perplex him.
Is the UFC ready for an openly gay male fighter?
"Why not?" Benavidez answered.
There is an openly gay player in the NBA, the same for NCAA Division I men's college basketball. Michael Sam became the first openly gay player in the NFL on Saturday when he was drafted by the St. Louis Rams and former boxing champion Orlando Cruz came out in 2012.
Benavidez, one of the best 125-pound MMA fighters on the planet, doesn't think the UFC should be any different.
"It would be cool to see a gay guy just beat the s*** out of somebody," he told FOX Sports. "I think that would be that much cooler. Busting a stereotype."
It's funny Benavidez used that word, because you already know the stereotype about UFC fighters. They're supposed to be meatheads and uneducated. How could you expect men and women who punch and choke people for a living to be tolerant or enlightened?
They're trained to exploit the weaknesses of their opponents in the Octagon. But it seems clear they don't view homosexuality as any such weakness.
When FOX Sports asked more than a dozen current and former UFC athletes if the league is ready to welcome and accept an openly gay male competitor, it was a nearly unanimous "yes." UFC president Dana White has said for years that an openly homosexual male fighter would not be treated differently. And in 2013, women's bantamweight Liz Carmouche became the first lesbian fighter in the UFC.
"People shouldn't be afraid to be who they are -- period," said Miesha Tate, who fought Carmouche last month at FOX UFC Saturday. "Whatever makes you, you at the end of the day, that's unique to you. I think that's what America stands for."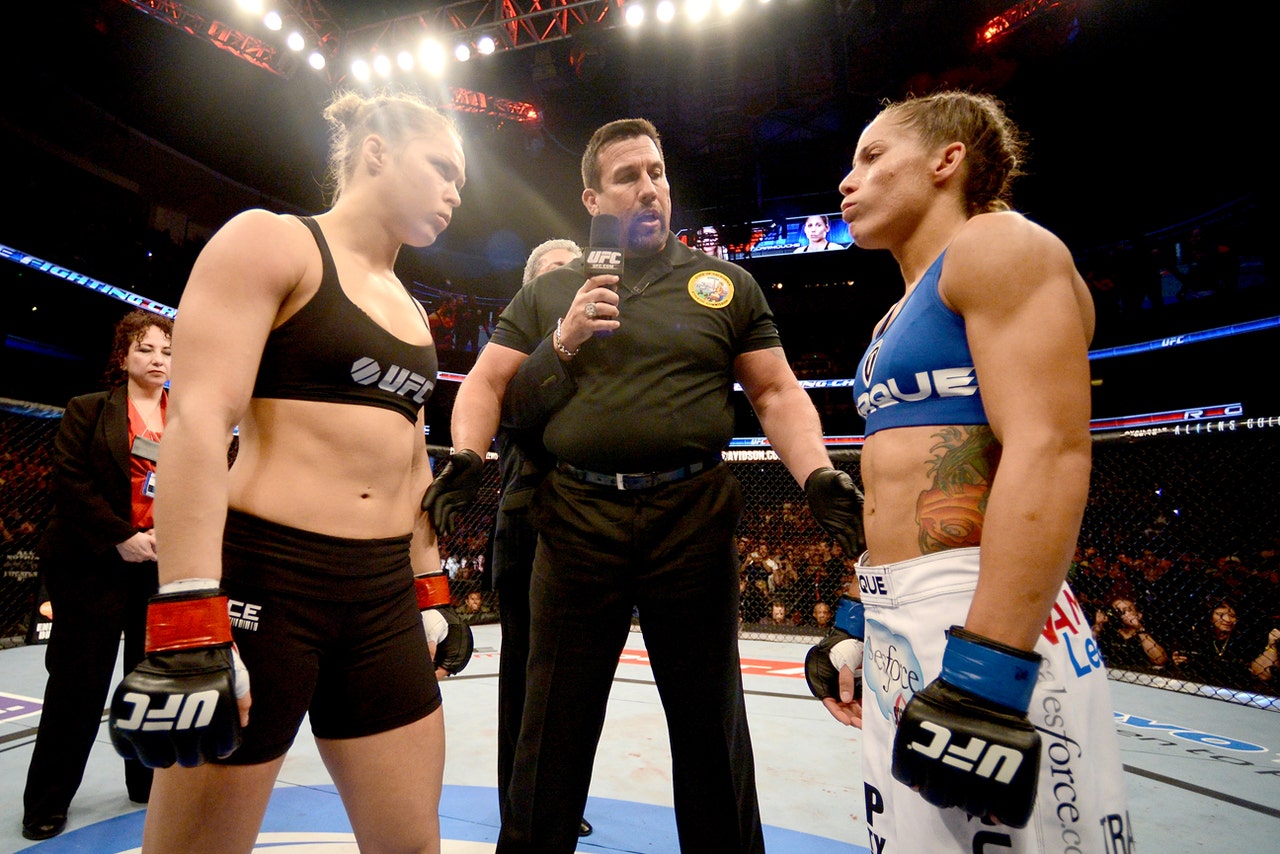 Liz Carmouche (right) became the first openly gay fighter in the UFC last year when she fought Ronda Rousey.
The UFC as an organization has made its opinion clear on this issue, walking unapologetically into the world of HIV/AIDS awareness that is still associated with homosexuality. Last week, it teamed up with four prominent New York organizations -- Latino Commission on AIDS; Gay Men's Health Crisis; the Lesbian, Gay, Bisexual & Transgender Community Center; and the National Black Leadership Commission on AIDS of New York City -- to launch a new public awareness campaign aimed at spreading the word on the importance of HIV testing and safe sex, particularly for those under 30 years old. Tate and featherweight Dennis Bermudez were chosen as spokespeople.
The UFC has been pigeonholed in the past as a barbaric spectacle, rife with misogyny and homophobia. Those labels have been used against the company in MMA's battle to be legalized in New York State. But they have worked hard to wipe clean the negative stereotypes with campaigns like this one, called "Protect Yourself."
So what would be the reaction to an out gay male UFC fighter? Sam has gotten mostly support from the NFL and his peers. His jersey sales are second most among this year's draftees so far, behind Johnny Manziel. Jason Collins of the NBA's Brooklyn Nets has been largely embraced. University of Massachusetts basketball player Derrick Gordon also came out earlier this year. There actually is an out male MMA fighter, but Shad Smith has never competed for the UFC.
There are fans who have been unaccepting of gay players in other sports, but Benavidez says, "fans are going to give you crap no matter what sexual orientation you are."
"It's the same as any sport," UFC light heavyweight Phil Davis said of a male fighter coming out. "I don't see why not. I would not think any less of anyone that did so. It has nothing to do with their capabilities inside the cage."
UFC Hall of Famer Chuck Liddell, one of the most popular and beloved MMA fighters of all time, said it's irrelevant if a fighter is gay.
"If he's tough, who cares?" Liddell said. "If he's a fighter, he's a fighter. As long as he wins fights, it doesn't matter."
Not everyone is going to share those sentiments. UFC heavyweight Antonio Rodrigo Nogueira said in 2011 that he would not train with a homosexual fighter, because of the close contact.
"I have no prejudice against the gays, but I wouldn't train with someone who's gay," Nogueira told UOL Esporte (translated by Bloody Elbow). "I have no malice, I don't take our physical contact as (something) sexual. But what if the gay person has that malice of having physical contact with me, of staying there grappling? I would have no problems having a gay student in my academy, but I would rather not train with him."
None of the fighters interviewed by FOX Sports said they did not want to see a gay fighter in the UFC. But both UFC light heavyweight champion Jon Jones and middleweight contender Luke Rockhold declined to talk about the subject.
"I don't really know what I think about homosexuality and MMA," Jones said. "I've never really put much thought into it. It's a very sensitive topic. I'd rather not even comment on it."
It's almost statistically certain that there are several gay male fighters in the UFC, the same way Sam and Collins aren't the only ones in their respective leagues. They're just the only ones to have gone public. It isn't easy to be a trailblazer by any means.
"I'll tell you right now, if there was a gay fighter in UFC, I wish he would come out," White said in 2011. "I could care less if there's a gay fighter in the UFC."
Added bantamweight contender T.J. Dillashaw: "It's the real world. People just need to accept it. … There probably are [gay fighters in the UFC], they just haven't admitted it [publicly] yet."
Tate finds Nogueira's feelings about close quarters ill-founded. There's really nothing intimate about grappling when the result can be choking someone unconscious or snapping their arm. It's not quite pillow talk.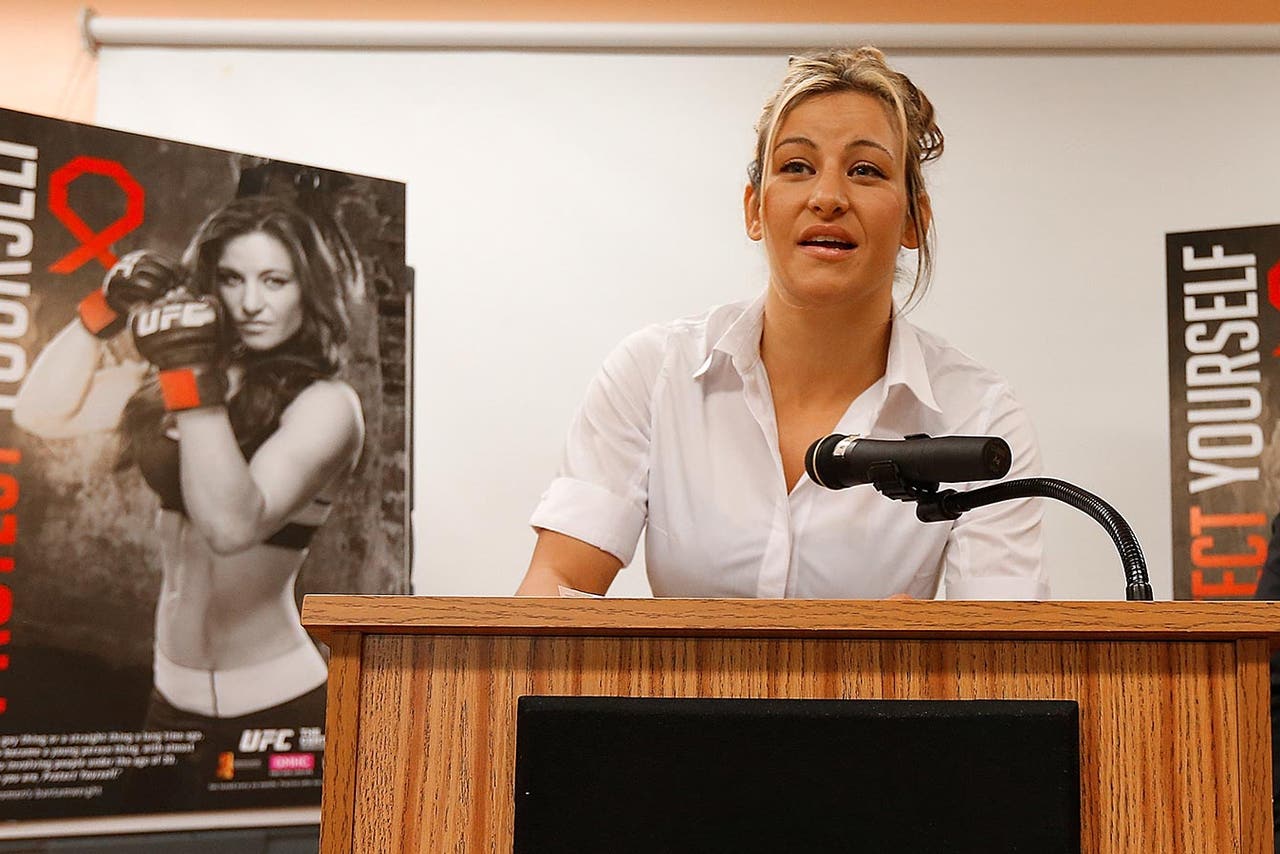 Miesha Tate speaking at the press conference announcing the UFC's partnership with four prominent HIV/AIDS awareness organizations in New York.
"If you're not comfortable with who you are and yourself, that kind of close contact, it doesn't make any sense to me," she said. "Someone's sexual preference has nothing to do with it anyway. … If you're busy thinking about that when you're fighting somebody, your mind frame is in the wrong place anyway."
Mike Brown agreed. The current UFC fighter, former WEC featherweight champion and coach at American Top Team in Florida said a gay male fighter should not be a problem in 2014. Brown believes the majority of fighters would be "fine with it."
"When you're a fighter, you have plenty to worry about already," Brown said. "You're in the cage with someone trying to take your head off. We don't really sweat the small stuff."
---
---