Ultimate Fighting Championship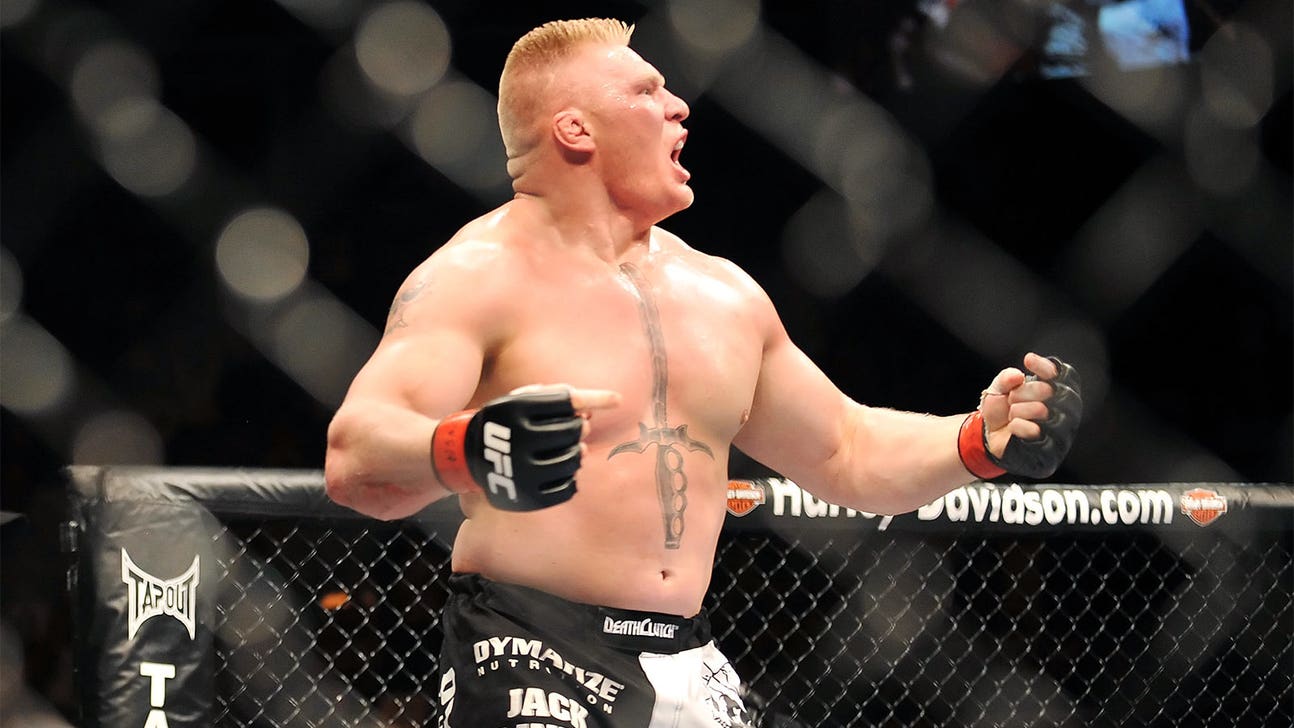 Ultimate Fighting Championship
Heyman: At 100% health, no fighter could have touched Brock Lesnar
Published
Aug. 14, 2014 10:00 a.m. ET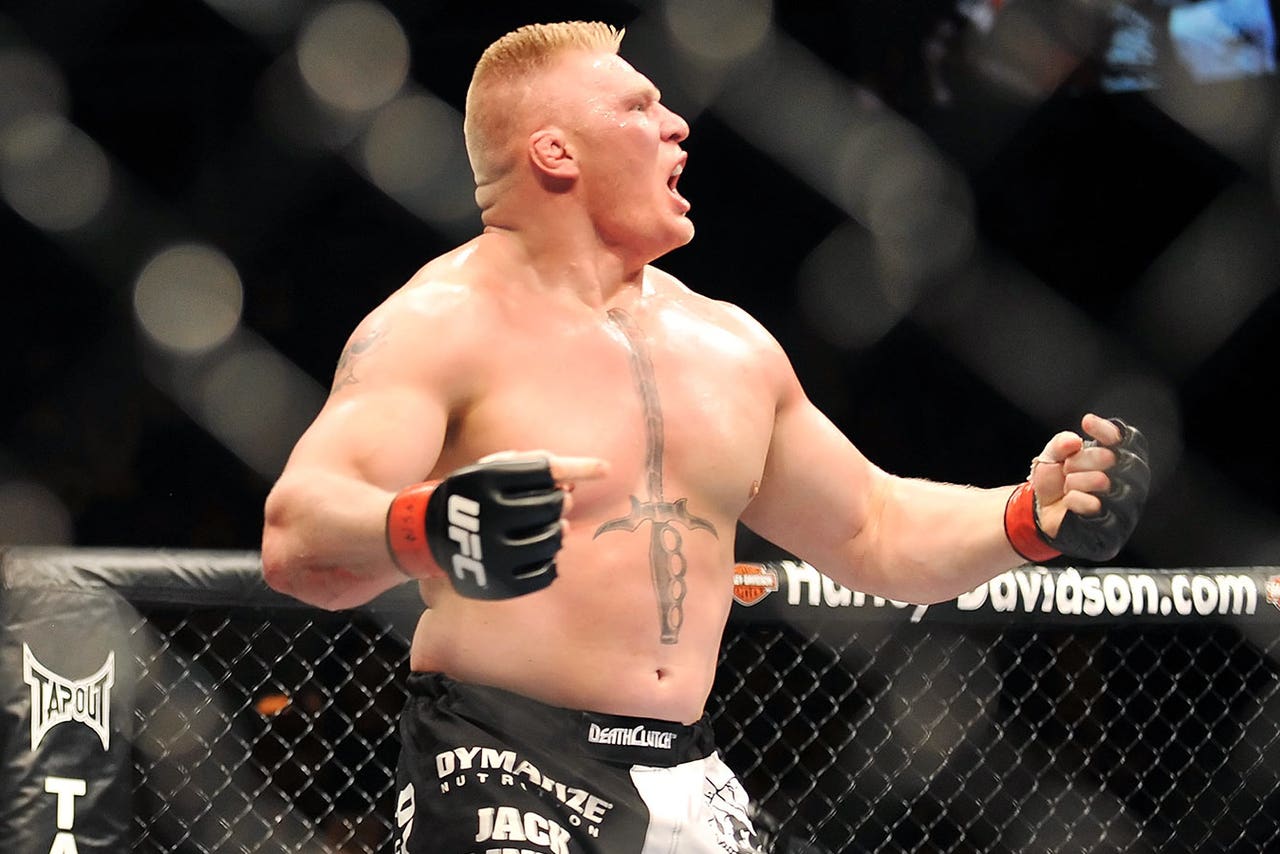 It's hard to imagine a single fighter with only eight professional fights having the kind of impact that Brock Lesnar did in his short stint with the UFC, but even now -- nearly three years after his retirement -- his name alone still attracts attention.
Lesnar came in like a hurricane and, following a tough loss in his UFC debut, he bounced back to win his next four fights in a row and as unbelievable as it may sound now, also became the UFC heavyweight champion. He defended the belt on two occasions, but despite his massive 6-foot-3 frame and muscles cascading down his body like it was chiseled out of stone, inside Lesnar was falling apart.
Diverticulitis was eroding Lesnar's intestines and it cost him over two years of his UFC career, but it really took even more away from the former champion considering all the times he fought when he wasn't aware the disease was already working against him. Following his first battle with the intestinal ailment, Lesnar fell to current UFC heavyweight champion Cain Velasquez, but truth be told that wasn't the same fighter who took out Frank Mir and Randy Couture in the span of eight months. 
Actually, even the version of Lesnar that took out those two UFC legends wasn't the best he could have been at the time.
"I think with all due respect to the rest of the division, I think Cain Velasquez is by far the most dominant heavyweight in UFC today," Paul Heyman, Lesnar's longtime friend and on-air WWE advocate, told FOX Sports recently. "As a champion, I think he's a noteworthy champion because I think he's going to clean out the entire division.  That being said, Cain Velasquez stepped in the cage with Junior Dos Santos when Cain wasn't at 100 percent and he got knocked out in under 90 seconds. If that's not a demonstration of what happens when you enter the Octagon at less than 100 percent, I don't know what is. Brock Lesnar entered the Octagon against these people, Shane Carwin, even against Randy Couture, against Frank Mir, against Alistair Overeem, against Cain Velasquez at far less than 100 percent.
"Anything you saw him do, he did as an unhealthy man competing at the very top level on the face of the planet. Imagine what he could have done if he was 100-percent healthy."
Heyman has been working with Lesnar for more than a decade and was beside him when he first debuted in the WWE, which is also discussed in the wrestling veteran's new video biography titled "Ladies and Gentlemen, My Name is Paul Heyman." Very few people know Lesnar as well as Heyman does, which is why he knows for a fact what the former UFC champion was dealing with during his entire career with the promotion. 
The fact is, according to Heyman, Lesnar never stepped foot in the UFC Octagon as a fully healthy athlete. While it was the diagnosis of diverticulitis that ultimately brought his career to an end, the disease was eating away at him long before his body collapsed under the weight of it all years later.
If Lesnar had been healthy for his entire UFC career, he might still be standing as the heavyweight champion and potentially the greatest heavyweight to ever walk the Earth.
"If Brock Lesnar ever fought healthy in the UFC, I don't see any fighter that could have touched him," Heyman said.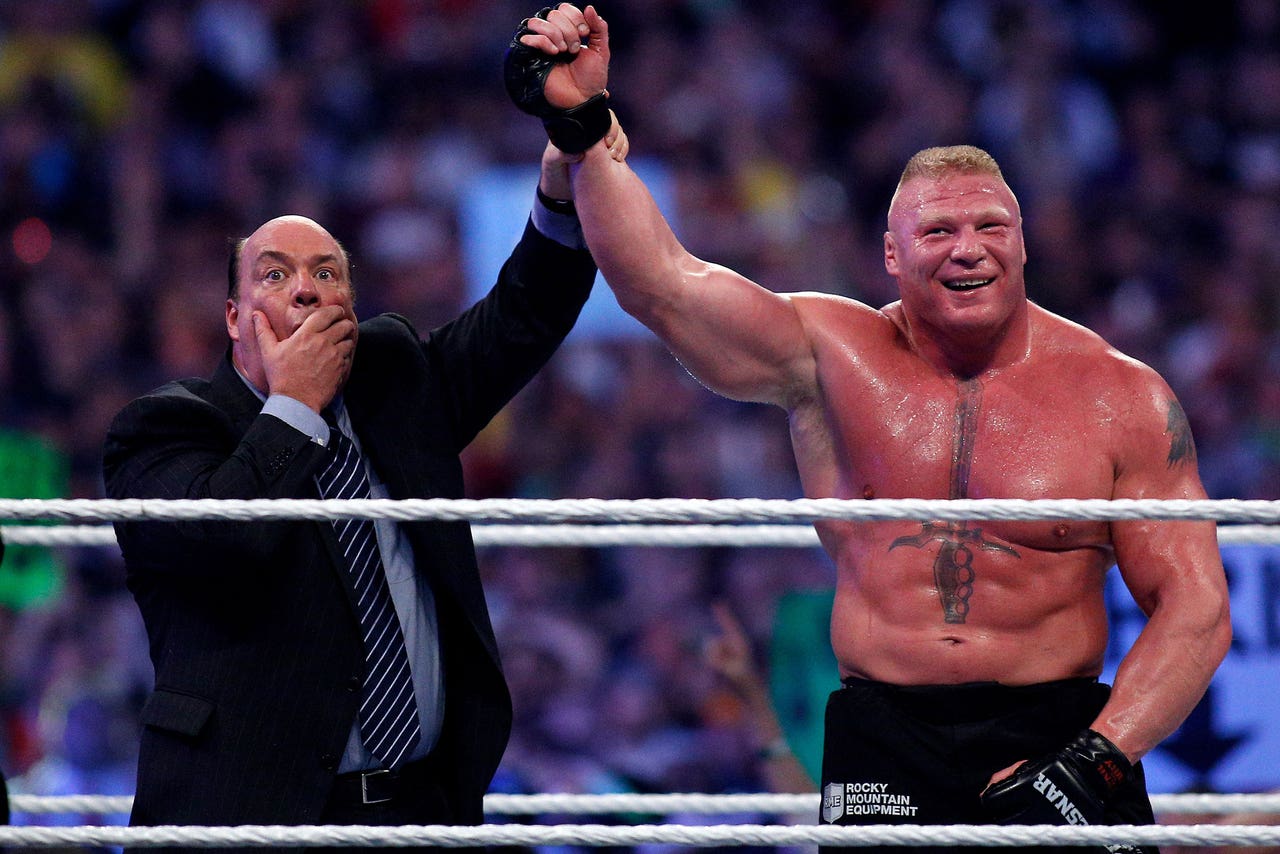 Brock Lesnar with Paul Heyman
The good news is since leaving the UFC and returning to his roots in professional wrestling as one of the biggest stars on the WWE roster, Lesnar has been free of any side effects of the diverticulitis that crippled him for more than two years while competing in the UFC.
He's working on his farm in his free time and this Sunday, Lesnar will face John Cena for the WWE heavyweight title at Summerslam airing on pay-per-view and the WWE Network.
"He feels great," Heyman said. "He's healthy. His body is not spending so much energy fighting off diverticulitis. He's healthy for the first time in years and I think his potential is limitless. He's a once-in-a-lifetime athlete. This is Jim Thorpe, Michael Jordan, Wilt Chamberlain, Gordie Howe, Wayne Gretzky, this is a once-in-a-lifetime athlete."
With his health restored, Lesnar is also becoming even better in his work as a pro wrestler. He originally transitioned to the WWE after winning the NCAA championship in wrestling as a member of the Minnesota Golden Gophers.  Eventually, Lesnar's athletic pursuits took him to professional football and then the UFC before he returned home to the WWE.
Now as he stands on the cusp of facing one of the biggest icons in WWE history this weekend, Lesnar is finally poised to reclaim the glory time and disease nearly took from him.
And the scary thing is he's only getting better.
"I think the true, dominant nature of Brock Lesnar is just starting to emerge in WWE," Heyman said. "When Brock and I were first presented on television together in 2002, he was the hottest rookie WWE had ever seen. Five months into his rookie year, he beats The Rock for the WWE title.  He went through the entire roster, but still he was someone new.
"Now he brings outside sports entertainment credibility with him. I think if you look back at his body of work in the past 15 years, in 15 years he's won the NCAA Division I heavyweight wrestling championship, he's won the WWE title, he won the UFC title from the greatest heavyweight the UFC ever had in Randy Couture, and now he comes back to WWE and he gets the victory that no other man could possibly have. Titles are transitory, an era will begin and end at Wrestlemania, but only one man beat the streak. That was the biggest victory anybody could attain in WWE. To beat the streak, to beat the Undertaker, it was a quarter century in the making."
Now, Lesnar is the biggest star in WWE once again just like he was the biggest star in the UFC for the few years he was fighting. It's clear this is just a special kind of athlete and a special kind of superstar, often imitated, but never duplicated and maybe there will never be another like him again.
"Brock Lesnar is the single biggest attraction WWE has and rightfully so -- because he can carry it," Heyman said. "This is not someone who comes along except once in a generation."
---
---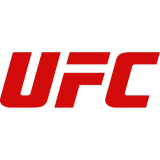 Get more from Ultimate Fighting Championship
Follow your favorites to get information about games, news and more
---