Here's the UFC event we'd put together if we won the Powerball
BY foxsports • January 9, 2016
The Powerball lottery hit a record $1.5 Billion Wednesday and has a lot of people thinking, "What would I do if I won?"
There's so much you can do with that kind of money. Buy yachts, houses, islands even. But, no, we are thinking much bigger.
If we won the billion-dollar Powerball we'd know exactly what we'd do. We would take the cash and put on the biggest, most amazing UFC fight card the world has seen.
And not just with fighters of today. With $1.5 Billion, we imagine we could commission "Doc" Brown to build another time machine, so we could go travel through time and space and bring some of our favorite fighters in their primes back with us.
Get ready, because this card puts anything the UFC has planned for UFC 200 to shame. Oh and did we mention this card will be free on FS1? We've got millions in the bank, already --€" this is for the people.
There will be holograms ...
FS1 Prelims -- start the DeLorean
Rickson Gracie (circ. 1985) vs. Kazushi Sakuraba (circ. 2000)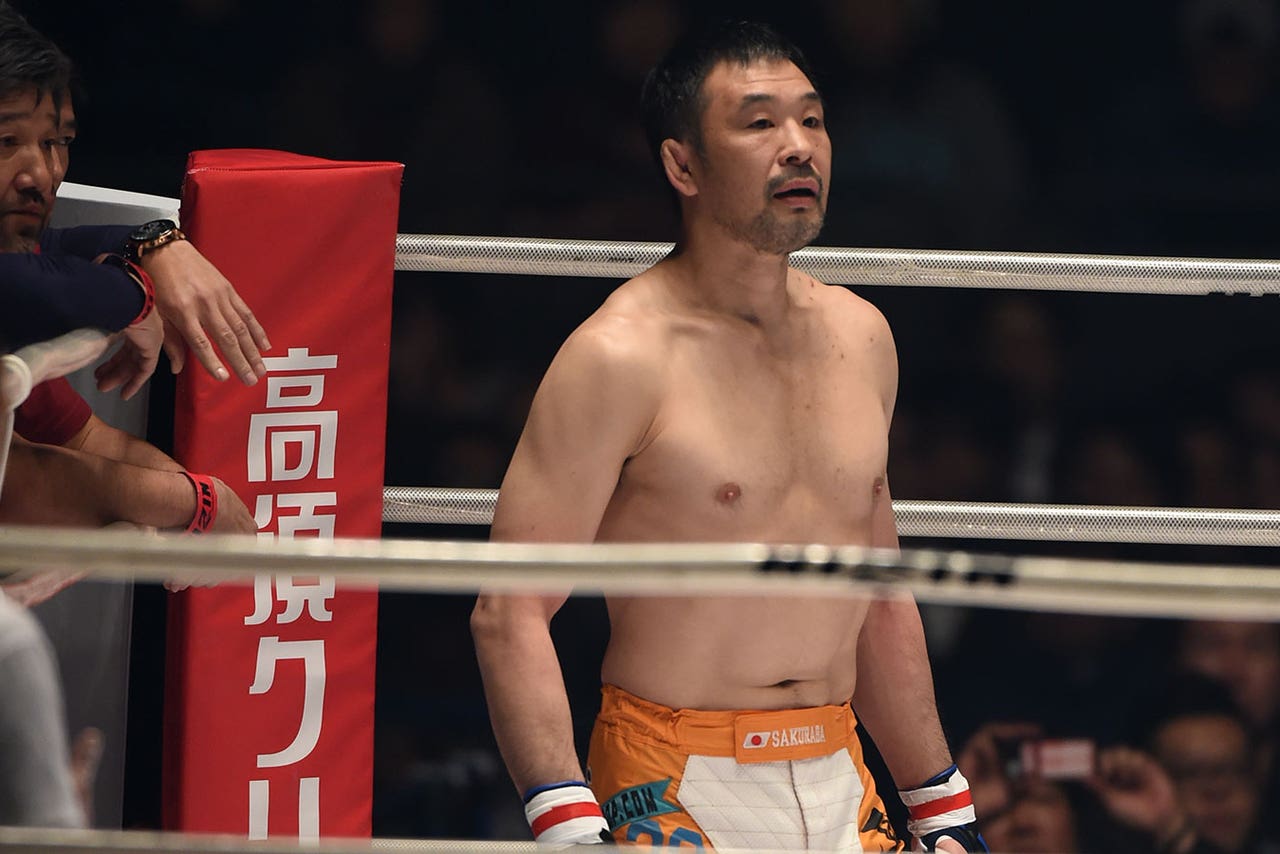 Sakuraba is simply one of the best MMA fighters in history, and he also happened to fight and beat several members of the sport's founding family, the Gracies. 
Sakuraba never fought the best member of that clan, however -- Rickson. They got close before the death of Rickson's oldest son, Rockson. 
After that, Rickson retired. But that fight at that point would have come years and years after Rickson's prime.
I'd want to see a young Rickson a bit after his second fight with Zulu take on Sakuraba right after he'd beaten Royce Gracie, but before Igor Vovchanchyn and Wanderlei Silva got their hands and knees on him.
Alexander Karelin (circ. 1992) vs. Fedor Emelianenko (circ. 2004)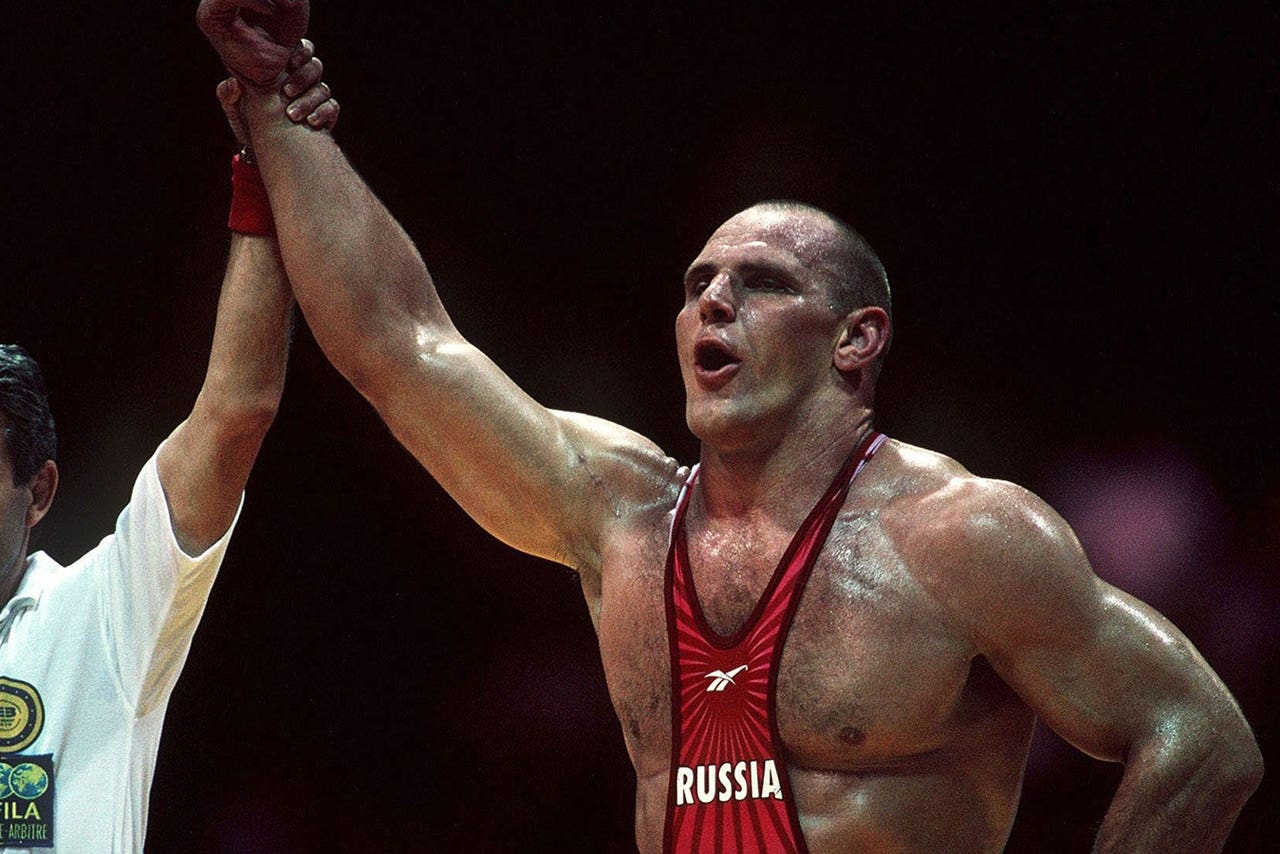 I'm torn between giving Karelin, one of the best amateur wrestlers of all time, a few years to train for MMA in this scenario and just throwing him as a pure wrestler into an MMA fight with his countryman and all-time great fighter Emelianenko.
Either case would be fascinating. Emelianenko would have the overall skills advantage, but Karelin would have considerable size on him, as well as a wrestling advantage, whereas many of Fedor's wins were predicated on his having the takedown ability edge.
The winner of this gets an all-expense paid trip through a historical and political re-education program of my curation to finally realize the error in their Vladimir Putin-supporting ways.
Helio Gracie (circ. 1935) vs. Bruce Lee (circ. 1965)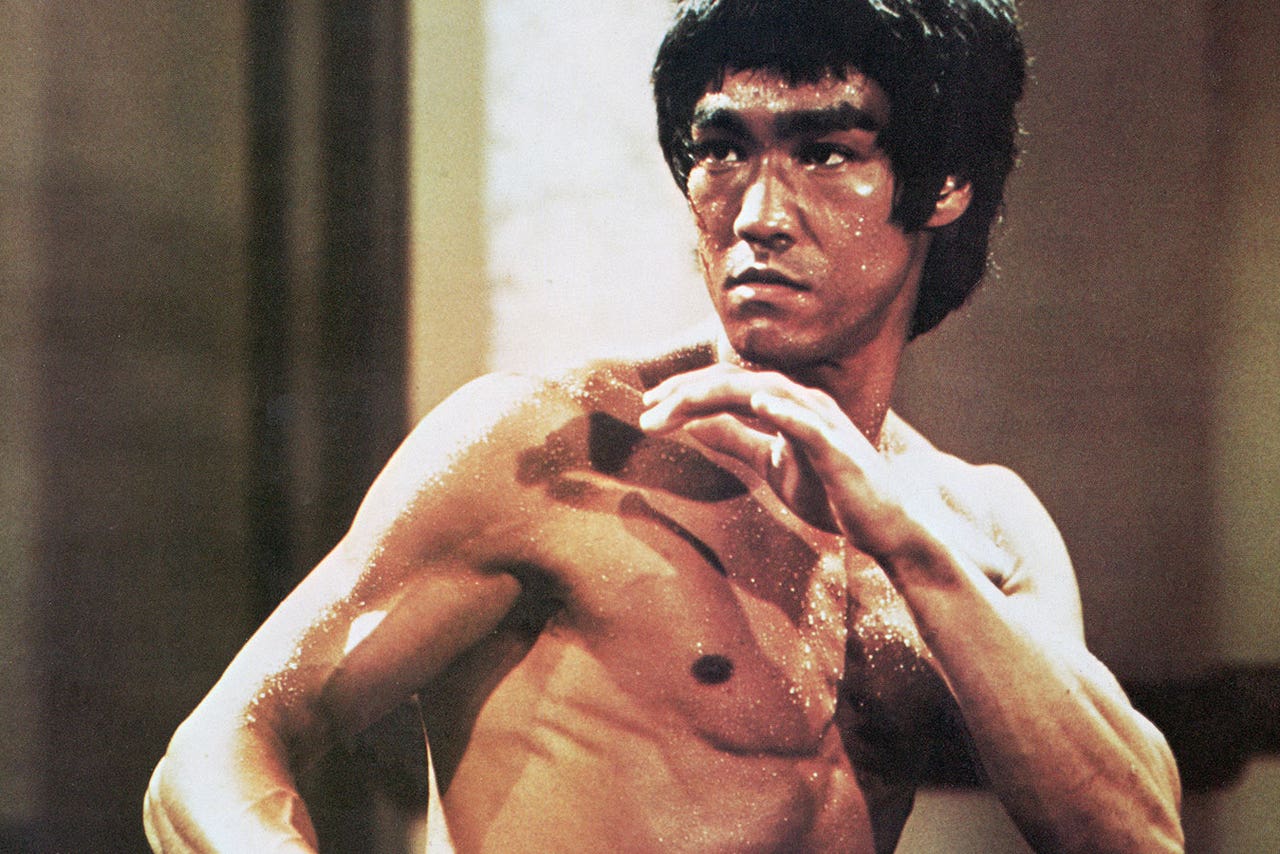 Gracie developed what he know as Brazilian jiu-jitsu and did so in the purifying heat of real fights, with limited rules, for decades. He was often undersized but used a willingness to learn and apply whatever worked in real situations to survive and win more than his share.
Lee's life was also dedicated to evolving himself and martial arts to make them applicable to real self-defense. When he realized his kung fu style was lacking, he decided to do away with styles altogether.
He studied wrestling, judo, boxing and anything else that he saw working. These two open minds of similar size meeting one another in their prime would be fascinating to watch.
And we bet a huge part of the fun would be simply seeing them learn from one another and making themselves, and all of martial arts, better in the process.
Randy Couture (circ. 2003) vs. Wanderlei Silva (circ. 2003-2004) at 205 lbs. under IVC rules (head butts, elbows, knees and kicks allowed everywhere), in a cage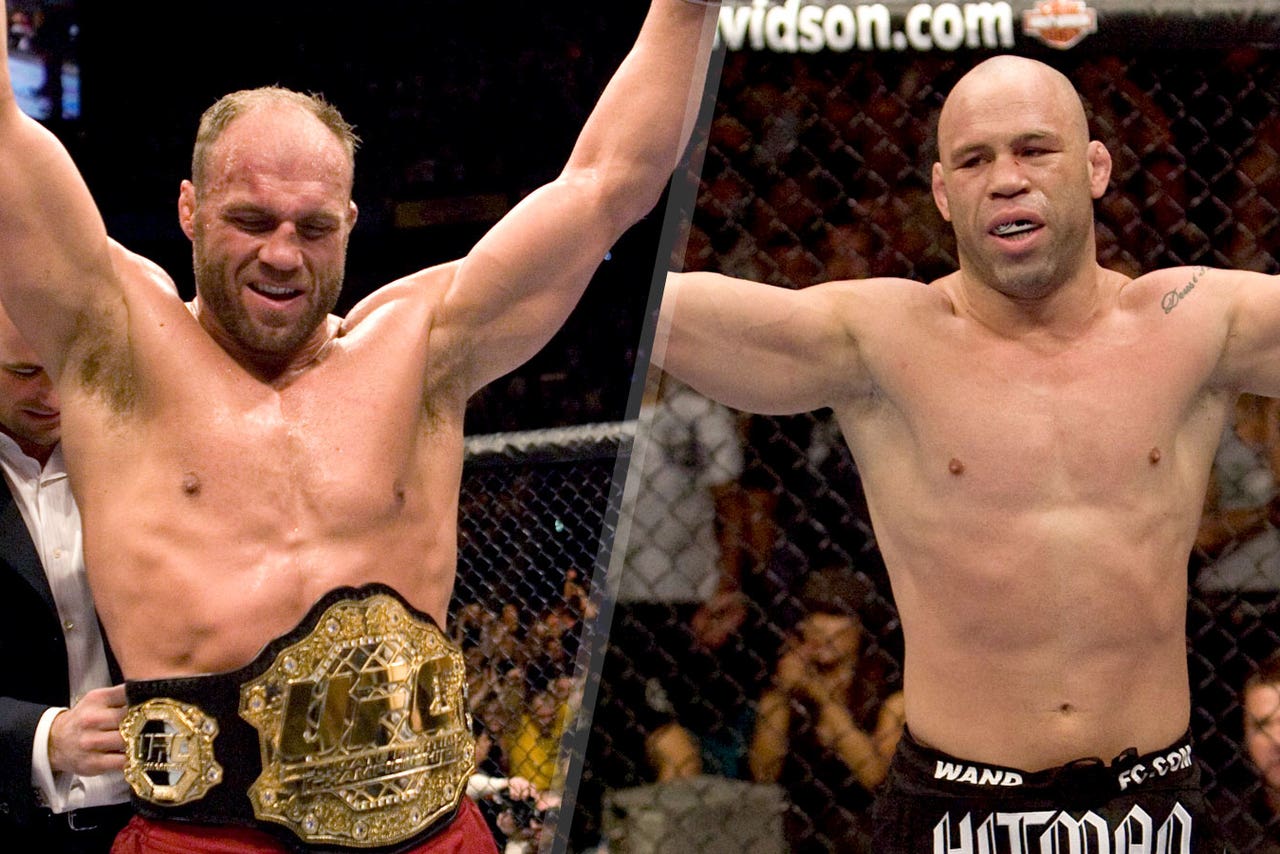 These two men were tearing apart the 203-205 pounds divisions in Pride (Silva) and the UFC (Couture) at the same time, but we never got to see them face one another to decide the undisputed champion. Silva would be undersized, but with his aggressive and powerful striking, and the help of rules allowing full use of his weapons (knees, elbows, everywhere), he'd always be a threat.
Couture would be able to ragdoll Silva if he safely made it to the clinch and would likely use the cage wall to his advantage, but he'd have to deal with the unpredictability of the more realistic rules and a rabid opponent with the striking power advantage.
BJ Penn (circ. 2003) vs. Conor McGregor (circ. 2016)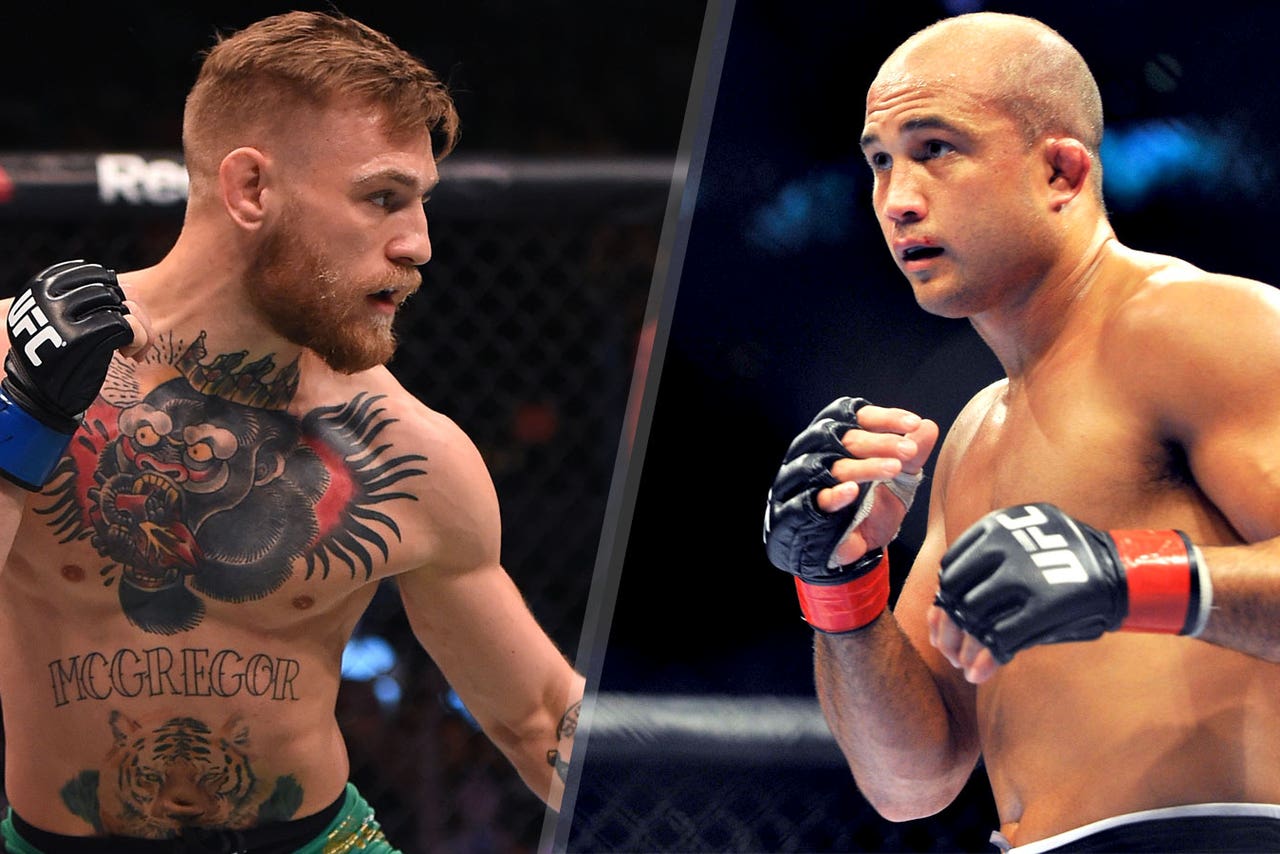 Penn should have always fought at 145 pounds. It is the weight range where he became the first American black belt Brazilian jiu-jitsu world champion, and if the opportunities for that class had existed in his prime, perhaps he would have been motivated to keep fit and battle there in MMA.
At his best, Penn was a counter-striking, bomb-throwing, physical marvel. His hands were as good as we've ever seen, his takedowns world class and his ground positioning game superb.
I'd love to see the Penn that faced and dominated Takanori Gomi for the real lightweight world title in 2003 take on today's best featherweight -- Conor McGregor. 
They'd have speed and power in common. The rest would be up for grabs, and it would be fun as heck to watch.
FS1 Main Card --€" Dreams do come true
Joe Rogan vs. CM Punk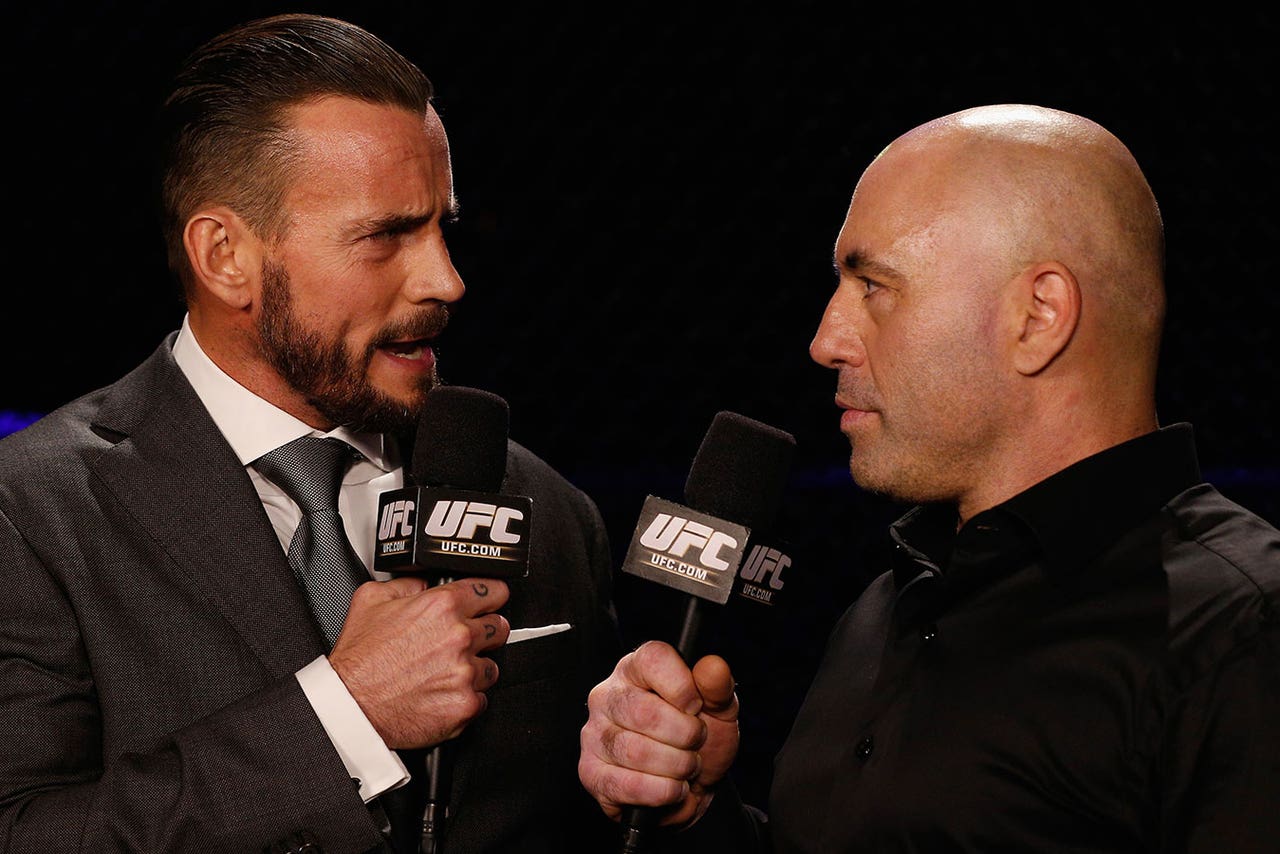 OK, first off, this isn't exactly a "legendary" fight, but a few years ago there was a rumor that floated around that Rogan was going to fight martial arts actor Wesley Snipes in the UFC. It seemed crazy and illogical and downright insane, but people talked about it nonstop for a few months, so why not make something similar happen now?
Rogan is an experienced martial artist, a high-level Brazilian jiu-jitsu practitioner who spends a lot of time in the gym even well into his 40s. Punk is a 37-year-old novice with no professional fights who wants to be a fighter. Neither one of these guys is going into the Hall of Fame for what they've done inside the cage, so why not match them up together and just start munching popcorn as we watch something truly spectacular and absolutely absurd all at the same time?
Anthony Pettis vs. Jose Aldo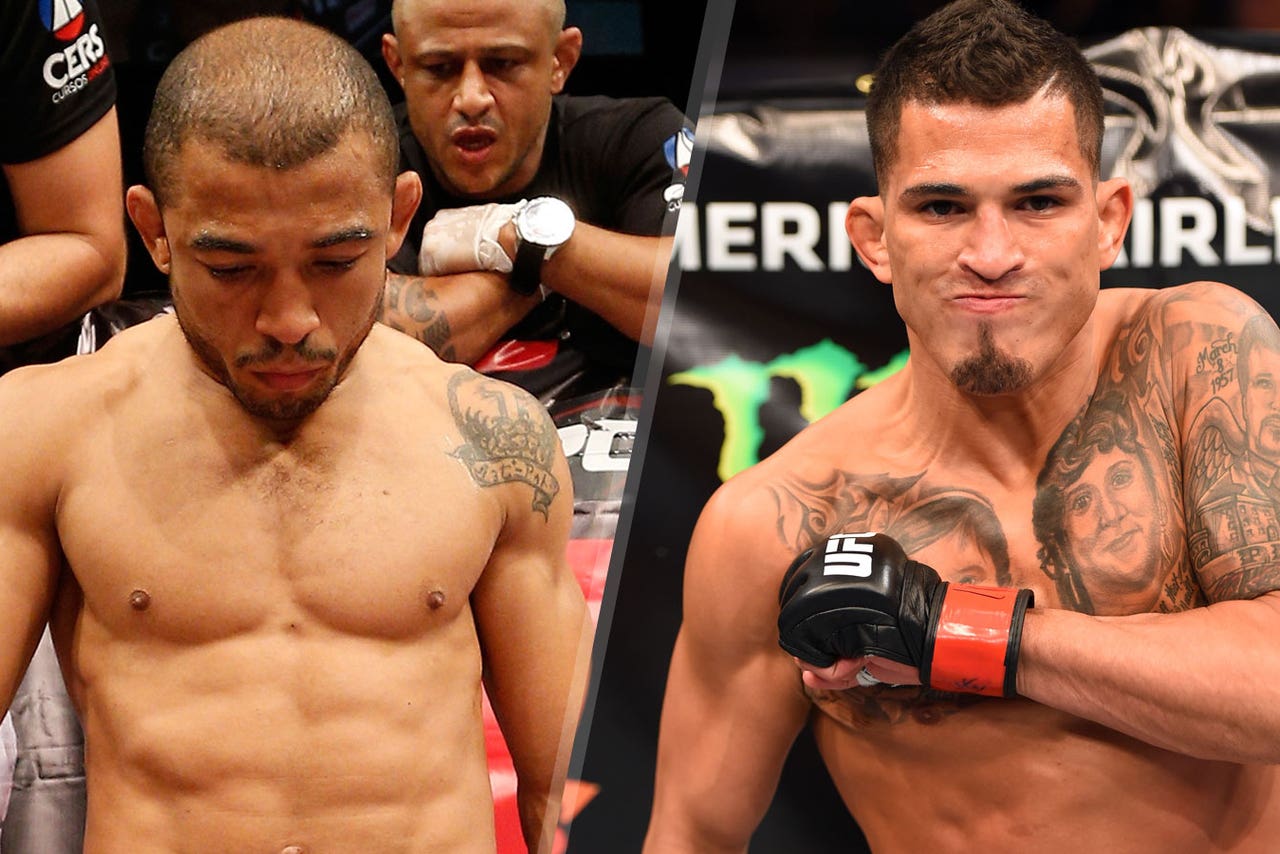 These two strikers were expected to meet a few years ago after the UFC dropped a surprise announcement that Pettis was dropping down from the lightweight division to challenge Aldo for the featherweight title. Unfortunately, injuries prevented the fight from ever happening, and since then both Pettis and Aldo have suffered rather crushing defeats.
It still doesn't mean this fight couldn't go down as one of the best striking exchanges in history with Pettis' signature flash and flair on display while Aldo could be the best Muay Thai striker this side of Anderson Silva to ever compete in MMA.
The fight could easily be a first-round knockout or a five-round war, but either way, witnessing these two exchange punches and kicks -- even for a matter of seconds -- would be a jaw-dropping affair indeed.
Ronda Rousey vs. Cris "Cyborg" Justino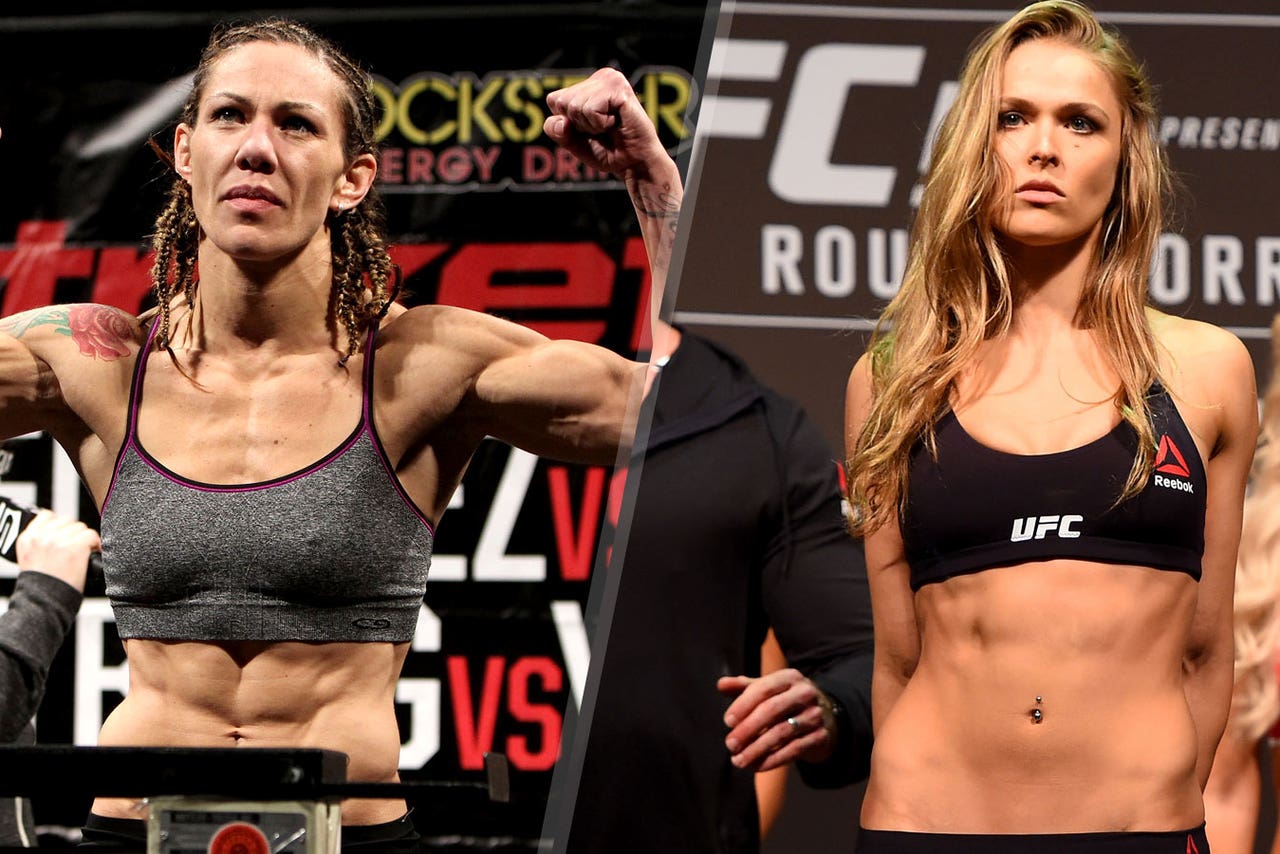 This fight largely falls into a similar category of one that we've talked about for years but never came to fruition. Sure, Rousey's had some of the luster knocked off her immaculate career -- getting knocked out with a vicious head kick tends to do that to you. But Rousey is still one of the most talked about and popular fighters on the planet, and her talent is undeniable.
As for "Cyborg," she's arguably still the best women's fighter of all time and a monster inside the cage against anyone she faces. The problem Cyborg has faced in recent years is that she can't find anyone halfway decent to compete against. She's beating up bloated bantamweights and fighters clearly out of her league.
Rousey could still get a career-defining win, Cyborg could do the same and the staredown at the weigh-ins in this fight would be worth the price of admission alone.
Anderson Silva vs. Georges St-Pierre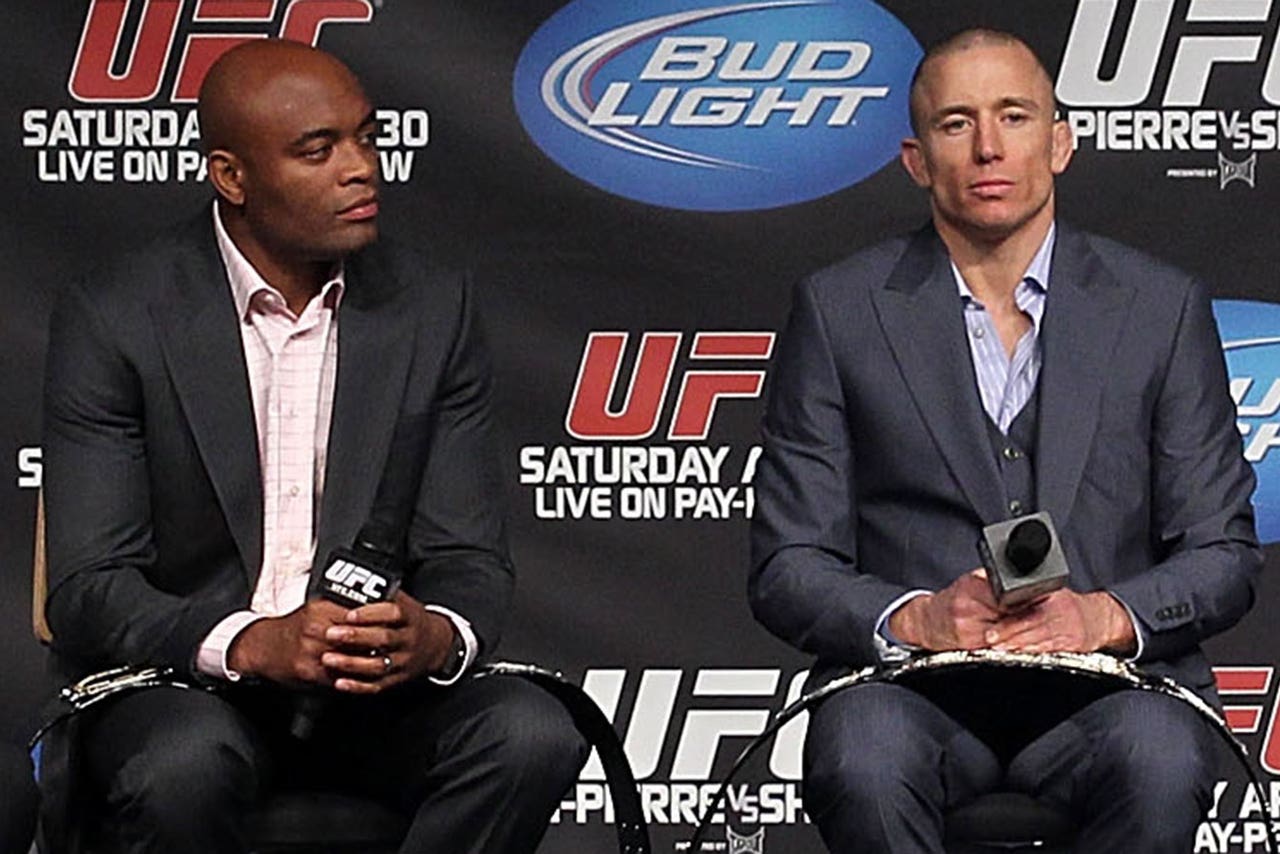 When it comes to "super fights," there has never been one talked about more than this one between Anderson Silva and Georges St-Pierre. Unfortunately, it never came together, but it's still a matchup that anybody in their right mind would want to see.
Silva is widely considered the greatest mixed martial artist of all time, but if he's not in the top spot chances are Georges St-Pierre might be the one claiming that honor. This fight also represents the classic stylistic matchup that pits striker -- perhaps the best there's ever been -- against grappler.
This is a fight that is more than a decade in the making, and it's something everybody who has ever watched MMA would appreciate.
Fatal 4-Way: Robbie Lawler vs. Carlos Condit vs. Nick Diaz vs. Matt Brown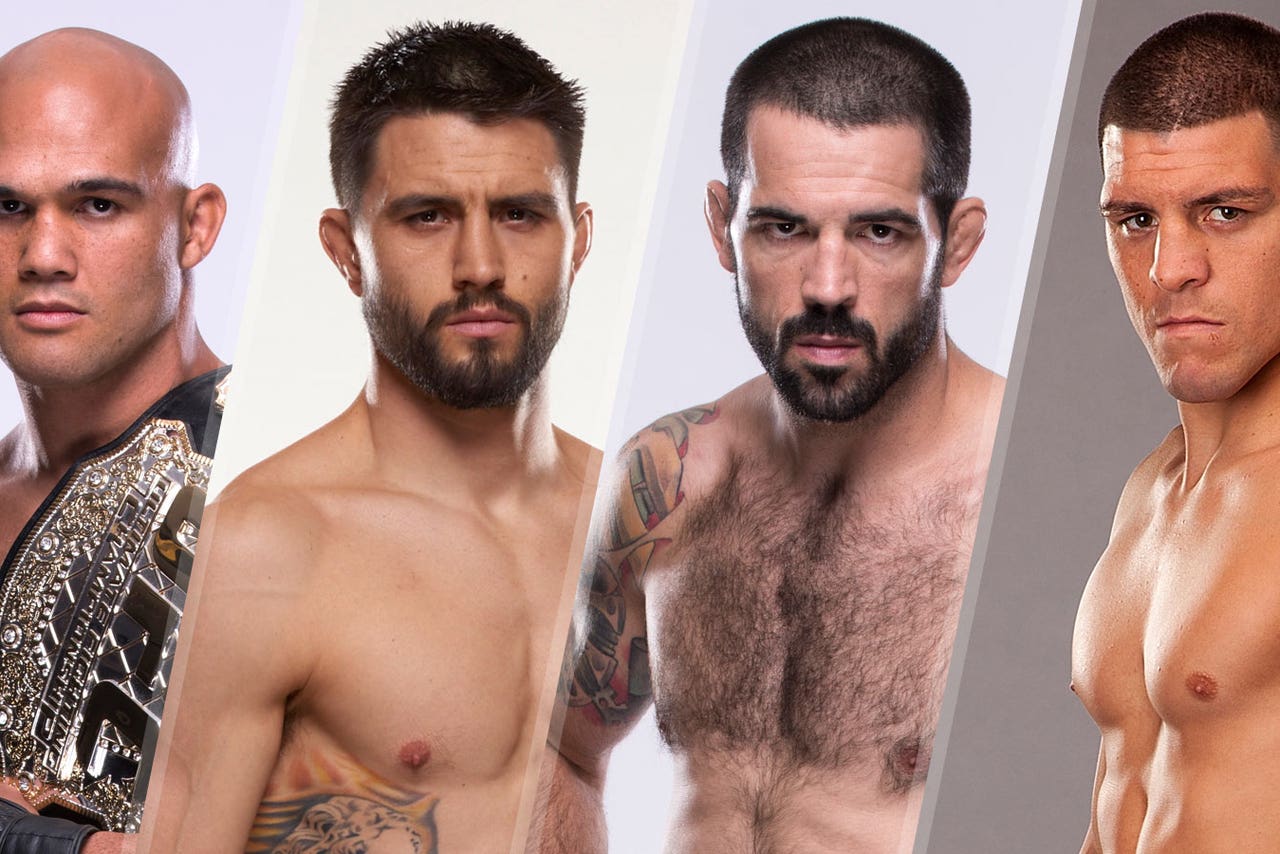 Listen, if we're going to go out on a limb for a matchup, why not pit four of the most vicious, violent fighters in the world against each other in a WWE-style throwdown with real punches, real kicks and a whole lot of knockout power.
Lawler might be the most prolific knockout puncher the welterweight division has ever seen. Condit is explosive, dangerous and extremely creative. Diaz is tough as nails and perhaps the best boxer in the history of the welterweight division. Brown is nasty, in your face and a brutal Muay Thai stylist with the ability to pour on punishment like perhaps no one before.
Now put all four combustible parts together inside the Octagon, lock the door, throw away the key, no rounds, no time limits -- and just watch what happens.
Chances are it would be one of the most insane and visceral displays that we've ever seen and let's be honest -- there's not a person in the world who wouldn't pay a lot of money to see this fight actually happen.
So that's what we'd do if we won the record $900 million Powerball. A baller affair with some of the best fights we could think of. Let us know in the comments what dream fights you'd want to see if you had unlimited resources.
---
---