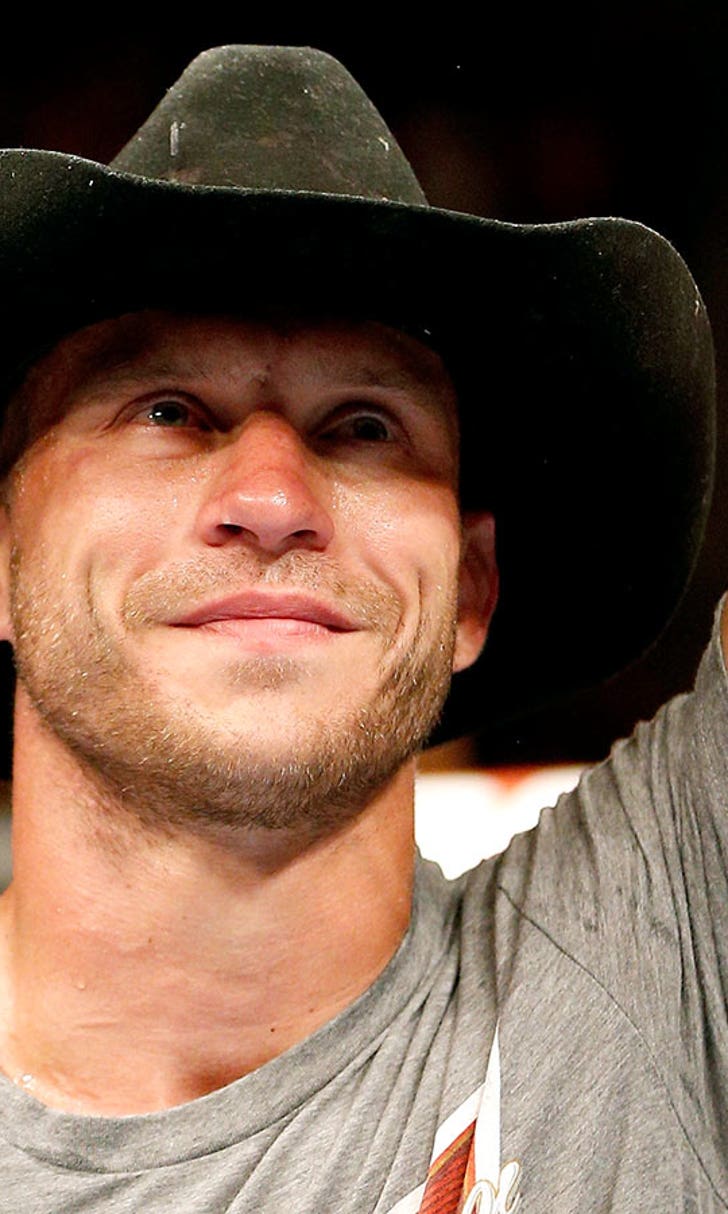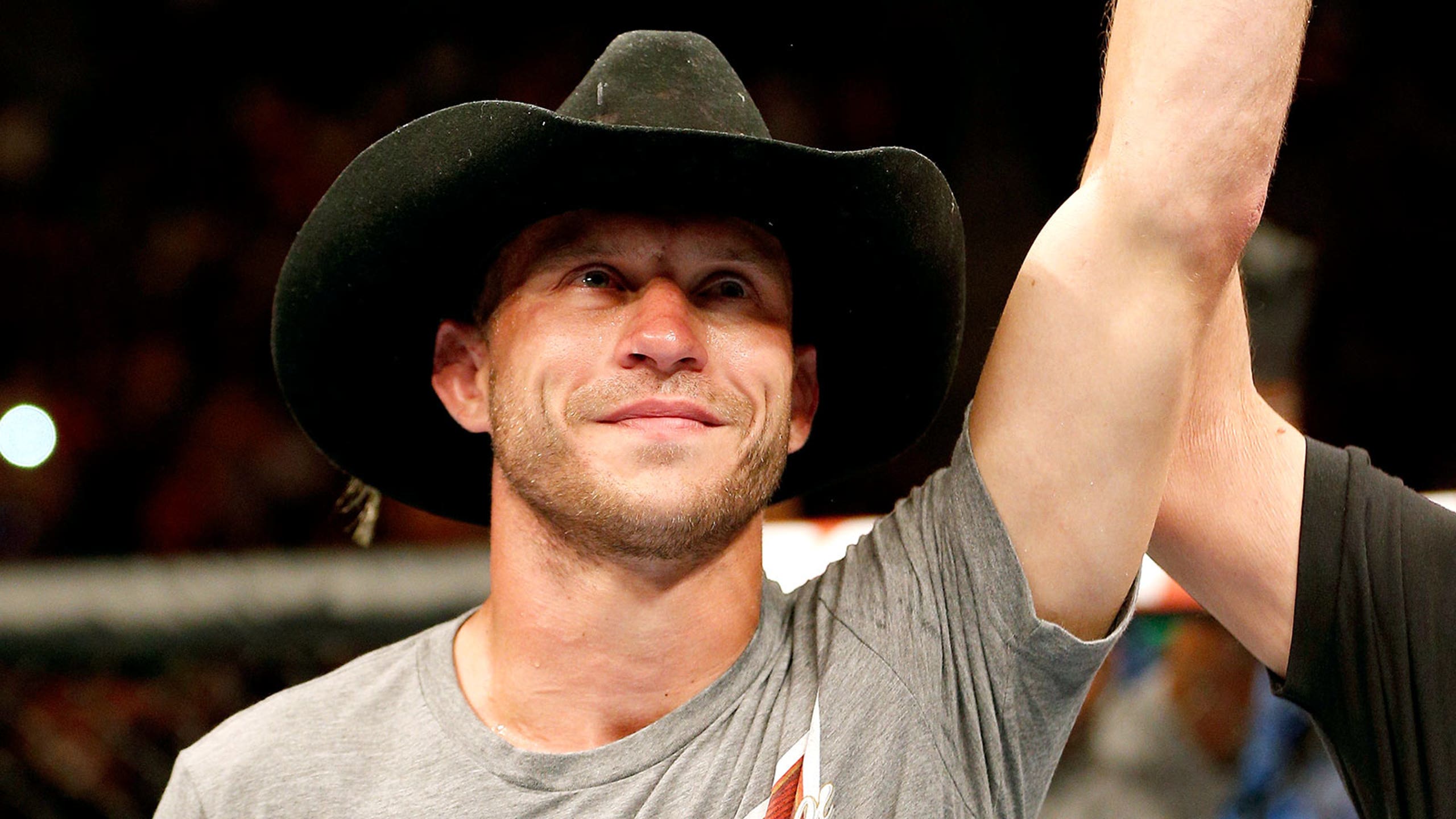 'Cowboy' Cerrone didn't flinch when asked to face Benson Henderson in 2nd fight in 2 weeks
BY Damon Martin • January 12, 2015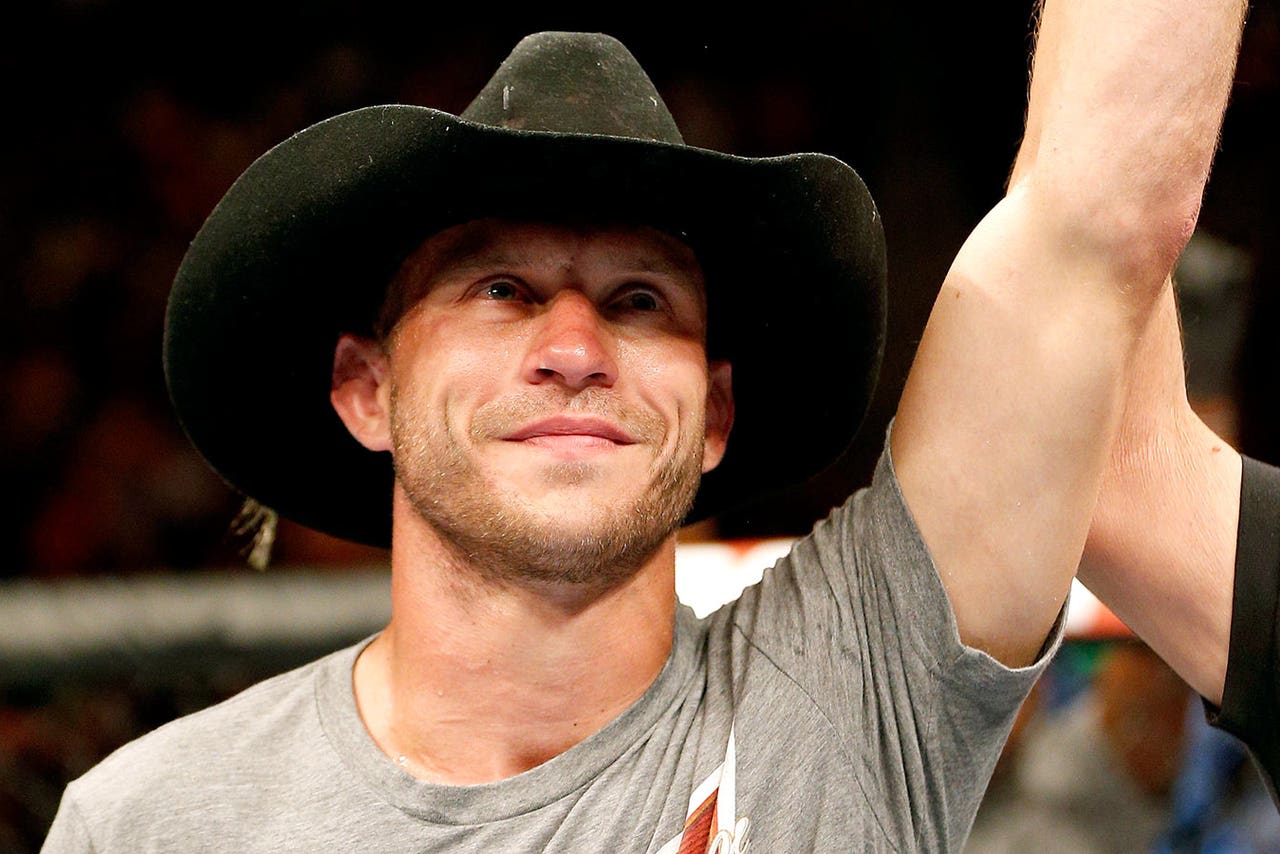 When Donald 'Cowboy' Cerrone steps into the Octagon on Sunday night to face former UFC lightweight champion Benson Henderson it will be his sixth fight in the last 12 months.
By comparison to Cerrone's pattern of activity, UFC heavyweight champion Cain Velasquez has also fought six times -- in the last five years.  Lightweight champion Anthony Pettis just eclipsed his sixth fight in the UFC after debuting in 2011.
While most fighters on the UFC roster banter about staying active year in and year out, Cerrone absolutely demands it.  He's so intent on fighting that when his last bout is finished, Cerrone refuses to leave the arena until he's at least discussing the possibility of his next fight. 
When his last bout against Myles Jury at UFC 182 ended with more than a few jeers from the Las Vegas faithful, Cerrone was even more intent on landing his next fight before leaving town because there was something wholly unsatisfying about a 15-minute bout where the crowd just wasn't satisfied with his performance.
It didn't take long for UFC president Dana White to find a fight for Cerrone although even he was hesitant for the Colorado native to accept it.
"Dana was at home ill so I wasn't actually able to talk to Dana so I went and got steak and eggs for breakfast by his executive chefs, talked to Lorenzo (Fertitta) a little bit and really it was going to be 'we'll let you know in a couple of days' kind of answer.  I had no idea (Eddie) Alvarez was even injured or (Benson) Henderson was even an option," Cerrone said about accepting a fight this weekend at UFC Fight Night in Boston.  "I was about midway home in the RV when Dana called me like 'hey man, I don't really want you to take this fight, but I've got an opportunity for you, here you go.
"Dana's like 'I think you should take some time off but I'm not telling you to take time off, I'm just talking to you as a friend' so I was like alright, I'll take the fight."
Cerrone knows what he wants and what's in his best interest don't always coincide.  The smart choice would be to rest and relax for a few weeks after participating in his fifth fight in 12 months, which is already an insane schedule by most standards of a top ranked UFC competitor.
The problem is Cerrone tried to live on the straight and narrow once upon a time and it nearly resulted in his retirement from the sport. 
Outside of fighting, Cerrone is well known for being a daredevil in every manner of extreme sport. From rock climbing to water skiing, Cerrone loves taking a walk on the wild side even if he is risking injury and potentially losing hundreds of thousands of dollars of fight purses in the process.  He also loves drinking beer and eating things that most pro fighters avoid in weeks leading up to a contest.
But there was a brief period of his career where Cerrone buckled down, kept training in the gym, went on a diet and tried to live the life he was supposed to have as a professional fighter.  The result was a 3-3 stretch in the UFC that had Cerrone contemplating an exit from the sport all together.
To remedy this situation, Cerrone went back to what got him to the front of the race in the first place.  He started going boating on the week of his fights and tearing through Fruit Roll-Ups in the days leading up to weigh-ins and a strange thing happened -- he started winning again.
The story comes full circle on Sunday night as Cerrone faces Henderson in the co-main event of UFC Fight Night in Boston in a bout no one would probably say is a good idea except for the man who never says no when the UFC comes calling. Cerrone tried being tactical and strategic with his career and that was the worst period of time he's ever had since turning pro in 2006.
This plan won't work for many fighters. Maybe it won't work for any other fighter.  But it works for Cerrone and that's all that matters to him.
"I guess I could sit back like every other fighter and sit and wait, but I'm not every other fighter.  I'm my own guy," Cerrone said.  "I don't give a s--t. Bring the fights on.  If I'm going to be the champ, I've to fight everyone anyway so what does sitting and waiting and holding my position do?"
The championship is the one subject that still comes up with Cerrone that usually results in a mixed bag of answers.  In theory, Cerrone could have waited after the fight with Jury and likely landed a bout with undefeated Russian prospect Khabib Nurmagomedov later this year with the winner punching a ticket to a title fight against champion Anthony Pettis.
Cerrone doesn't shy away from talking about the belt, but then again it's not always the object of obsession that it might be for many fighters in the UFC.  He spent months answering questions about the title prior to his bout with Nate Diaz in 2011 and ended up losing in a fairly one-sided fight that still accounts for one of his worst performances since joining the UFC.
Now he talks about the lightweight belt like a cherry on the top of an incredible sundae.  It's still something he craves, but not something he has to have to feel complete as a fighter.
"I don't have the formula for the title shot.  If I beat Ben, who's left?  No idea. Don't care," Cerrone said.  "I'll get that belt.  This is the year."
When anybody else on the roster says 'I don't care' when discussing a title there's probably always some reservation in whether or not to believe it or chalk it up to promotional hyperbole to avoid drawing attention away from the task at hand.
When Cerrone says it there's absolute sincerity in his voice.
He's living the dream right now by just fighting, cashing checks and moving on to the next one.  Oh yeah and the way he moves there is probably another thing the UFC would have a problem with if they actually thought they could dissuade Cerrone from doing it.
To get to Boston this weekend, Cerrone will load up his RV and drive from Denver -- where he just attended the Broncos playoff game on Sunday -- all the way cross country through winter storms and blistering cold because that's just how 'Cowboy' likes to travel.
"Yes we will be driving the RV to Boston," Cerrone said.  "One day, nine hours so 32 hours (to get there)."
---
---