5 Reasons to Watch: UFC 189: Mendes vs. McGregor and the TUF 21 Finale
Published
Jul. 7, 2015 12:30 p.m. EDT

UFC 189 has been touted as the biggest card of the year, although the loss of featherweight champion Jose Aldo did manage to take away at least a layer or two of the intrigue surrounding the main event.
Thankfully, Irish madman Conor McGregor is still around to shout, scream and demand pay-per-view buyers invest in this show to see how he stacks up against possibly the best wrestler at 145 pounds in Chad Mendes.
In many ways, this might be a better fight because Mendes has the style that is supposed to spoil McGregor's coronation. But what happens if the most talkative fighter this side of Chael Sonnen actually wins?
Also on the card, Robbie Lawler puts his welterweight title up for grabs against Rory MacDonald, who finally gets his shot to bring the belt back to Canada after his friend and training partner Georges St-Pierre left the belt behind to take an extended, perhaps permanent, leave of absence.
Those two fights alone are reason enough to tune into UFC 189, but we're going to give you five good reasons to watch the upcoming card on Saturday night, plus a few bonus reasons to make sure you watch "The Ultimate Fighter" finale 24 hours later as well (Sunday, FOX Sports 1, 6 p.m. ET).
THE REAL DEAL, OR JUST PLAYING PRETEND?
Since his arrival in the UFC, McGregor has become one of the most talked-about athletes on the roster and no matter how much you like or dislike the outspoken Irish featherweight, everything he's predicted has come true. He earned a bonus in his first fight in the Octagon, he rocketed to the top of the division while breaking ratings records along the way and now he's primed to become the interim featherweight champion.
But the one question that has continued to haunt McGregor is: How will he match up against the elite featherweights in the division? And more specifically, how will he fare against a world-class wrestler?
For all the accolades McGregor has racked up in his short time with the UFC, he's yet to face a fighter deemed a title contender or former title contender. He hasn't faced anyone who comes from a strong wrestling background. And he hasn't been the main event in a pay-per-view.
Until now.
All of those questions will be answered at UFC 189, and we'll find out if McGregor is a prophet who calls his shots and really is destined to rule this division -- or if he's been hand-fed tomato cans en route to finally facing a real challenge who will smash him into the dirt and leave a trail of shamrock leaves behind him.
McGregor appears to be everything he's predicted and more, but there will be no doubts left if he can tear through Chad Mendes the same way he has his last few opponents. 
IT'S ALL ABOUT THE MONEY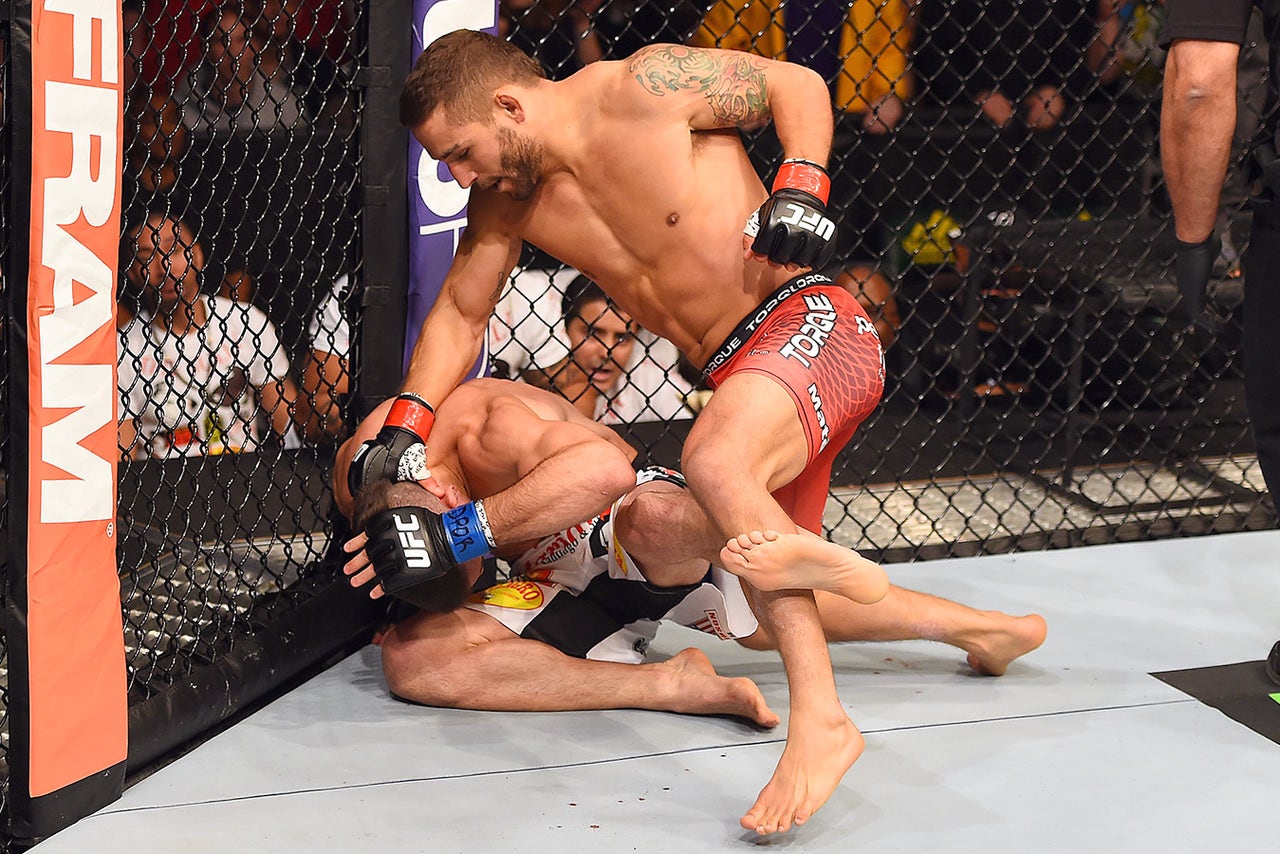 Chad Mendes may be a sub, but he'll provide a stiff challenge for Conor McGregor.
Losing Jose Aldo on this card left a sour taste for anybody who was prepared to see a good old-fashioned slugfest between two fighters who really, really didn't seem to like each other. Aldo vs. McGregor was months in the making with a slew of commercials, advertisements and even a worldwide press tour to promote the bout that came along with nasty staredowns, volatile crowds and one stolen championship belt.
Nobody is going to really replace Aldo, but if there's a solid alternative, Chad Mendes might be the best name on the roster to fill his spot.
Mendes is not only the No. 1-ranked featherweight in the world, but also a fighter who could potentially tear through McGregor. Mendes is everything McGregor is supposed to fear -- a physically imposing power puncher with enough wrestling experience to make the Irish fighter cry for his mother after being put on his back for the better part of 25 minutes.
As unproven as everyone makes McGregor out to be, Mendes is the exact opposite.
We know what we're getting with Mendes, even if it is on shorter notice than usual. He's the best of the best when it comes to featherweights in the UFC and he has the kind of stopping power where he might not just beat McGregor -- he could pulverize him into the mat.
Mendes is no mere replacement. He's one of the best featherweights in the world who happened to be available when McGregor needed an opponent, and now Mendes will get his chance to send the outlandish trash-talker's hype machine crashing to the ground with an emphatic thud.
THE CO-MAIN EVENT
If the showdown between Mendes and McGregor wasn't already enough, there's a second title fight as the co-main event.
Robbie Lawler will defend his welterweight title for the first time against the longtime heir apparent to the division, Rory MacDonald.
Ever since his first few fights in the UFC, MacDonald has been touted as the prince of the welterweights who would one day be king. He first had to wait for his good friend and mentor St-Pierre to step aside, but once that happened the path was clear for him to finally ascend to the throne.
As much as MacDonald wants to wear the crown, Lawler might just send him back to the jester's court without so much as a consolation prize for playing.
Lawler is one of the fiercest strikers in the world, and he already holds a win over MacDonald so he knows exactly what he's getting into this weekend. The reigning champion at welterweight also holds a ridiculous 80-percent finishing rate throughout his career, so there's a really good chance this fight doesn't even make it to the judges.
MacDonald has put everything into this fight and this moment and he needs to make the most of it. Not only is MacDonald finally getting his shot at the belt, but he's also getting a second shot at Lawler. Another loss to him would likely signify MacDonald going to the back of the line permanently so long as Lawler holds the belt.
These two fighters respect each other, but once that Octagon door closes and the referee says go, Lawler and MacDonald are going to go head-hunting for the better part of 25 minutes until one of them is stopped and the other is holding the championship belt high in the sky. This fight may not be the main event, but it could very well be the fight everyone is talking about after UFC 189 is over.
WELCOME TO FIGHT CLUB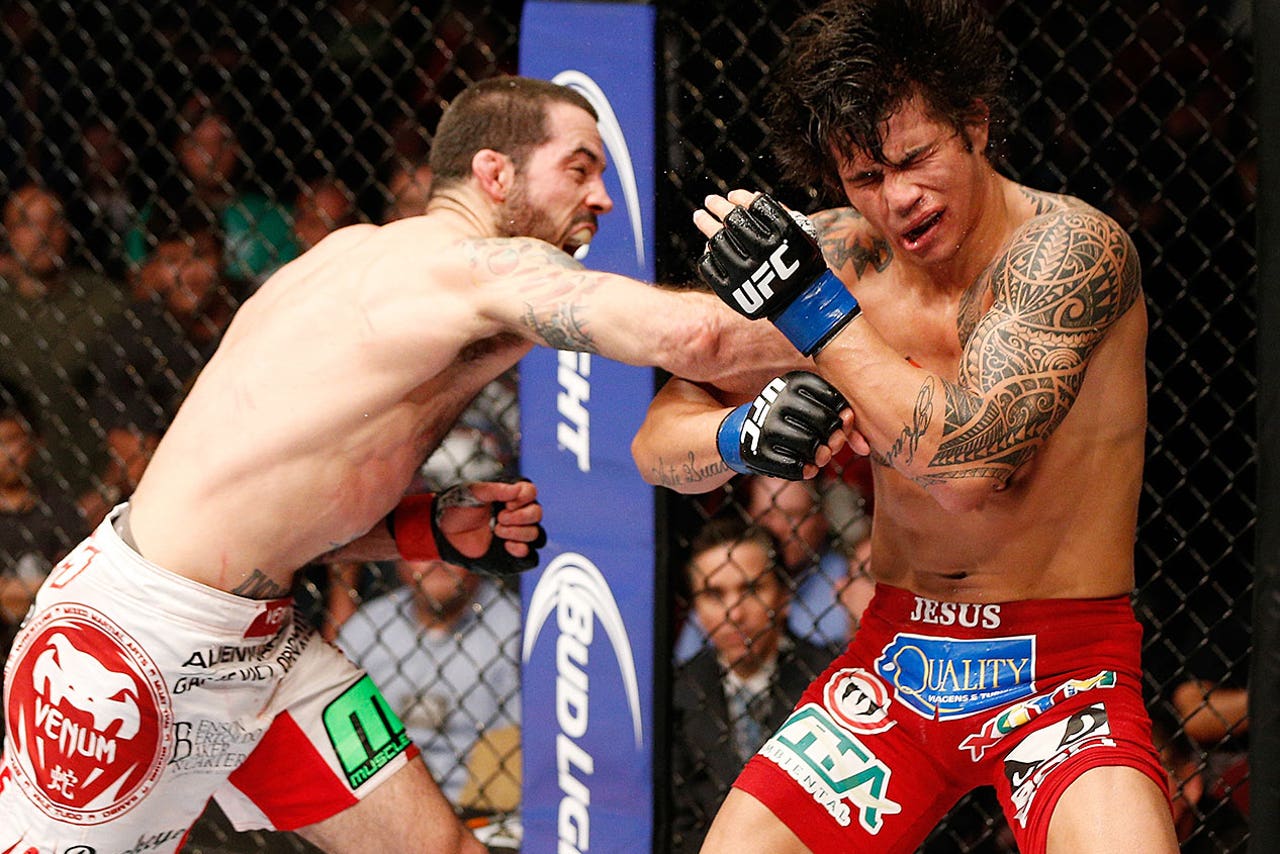 Matt Brown (left) vs. Tim Means should make for an entertaining and violent fight.
The prelim main event for UFC 189 features two of the nastiest strikers in the welterweight division as Matt Brown faces Tim Means in a fight that has violence written all over it.
Brown and Means don't dislike each other, but punching each other repeatedly for a possible 15 minutes will be like therapy for these two knockout-seeking warriors.
Brown and Means both average just under four significant strikes per minute, and they are both deadly accurate from the distance and in the clinch. Brown has a 91-percent finishing rate during his career while Means comes in with an 84-percent rate himself.
Expect these two to meet in the center of the Octagon as they both start launching bombs at each other. Brown and Means both have concrete chins so it's going to take more than one or two shots to put either them down.
It's hard to believe this matchup won't steal the show for Fight of the Night when it's all said and done, and no matter what you do, don't blink because Brown and Means will keep a frenetic pace for all three rounds or until one of them is lying in a heap on the ground.
RETURN OF "THE ULTIMATE FIGHTER"
For 21 seasons, "The Ultimate Fighter" has been a proving ground for the next wave of athletes trying to get into the UFC, but no matter how many years the show is produced, nothing will ever duplicate the first year and the first cast.
This year marks a decade since those 16 fighters stepped inside a house in Las Vegas to film the UFC reality show for the first time, but as time has passed, most of those competitors have gone onto other careers. Retirement eventually calls every athlete away from their chosen sport and the guys from the first season of "The Ultimate Fighter" are no different, but one of the original 16 will make a welcome return this weekend at UFC 189.
Mike Swick has dealt with esophageal spasms ever since he joined the UFC that have hampered him from not only fighting at his best, but really fighting at all. He's missed out on nearly five years of action, and following his last fight in 2012, he thought his career was at an end.
Swick found new life living in Thailand and letting nature take its course to eradicate the illness from his body, and now he's returning to the Octagon to reclaim part of the career he left behind.
Swick is one of only two fighters from the original season of the show still active in the UFC (the other is Diego Sanchez). No matter how many more times he fights, there's always going to be something special about watching the guys from the debut run of "The Ultimate Fighter" get into the Octagon and compete.
Swick knows he probably has far fewer years in front of him than behind, but he's going to make the most out of this comeback and it will be good just to see him in the Octagon throwing fists at least one more time.
WONDERFUL MAIN EVENT AT "TUF" FINALE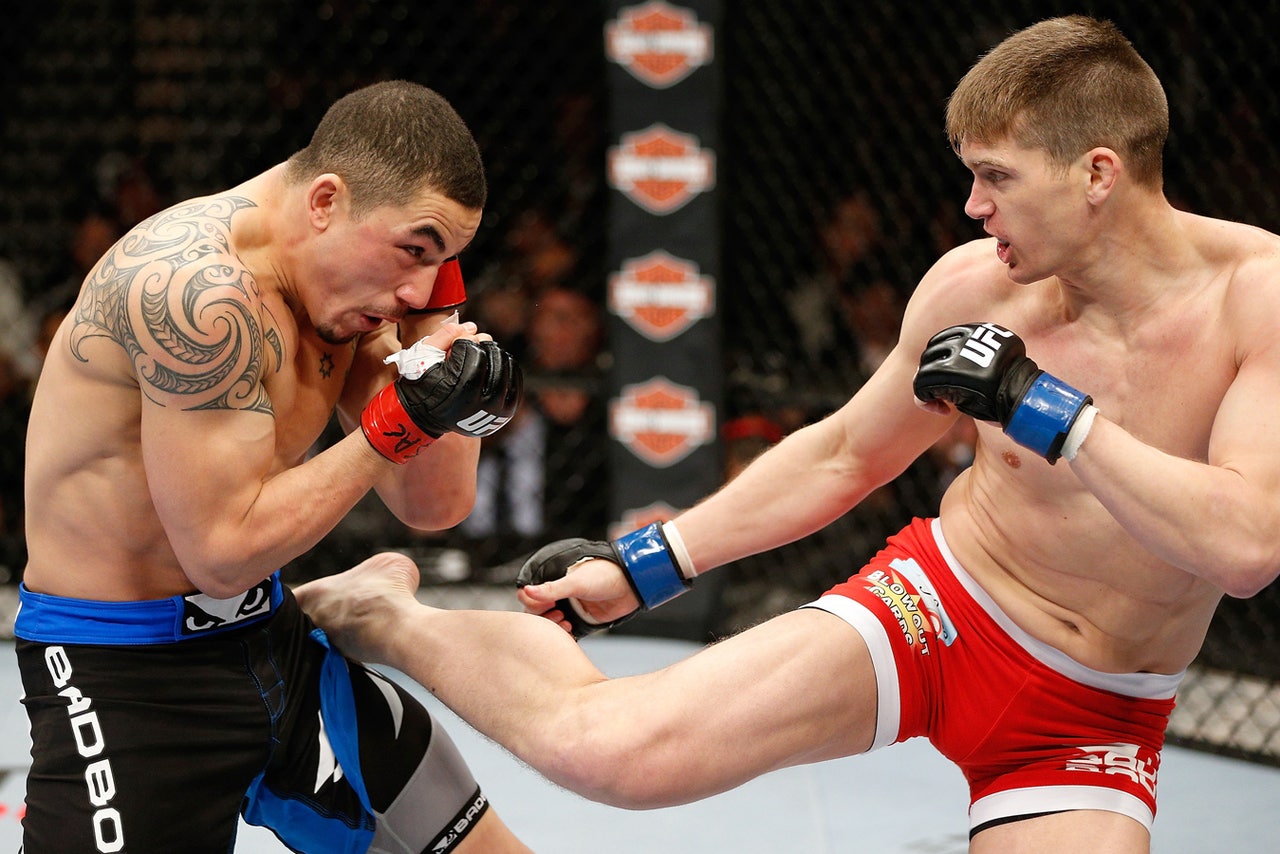 Stephen 'Wonderboy' Thompson (right) vs. Jake Ellenberger makes for a great main event for the TUF 21 finale.
As an added bonus to International Fight Week 2015, the UFC will present "The Ultimate Fighter" Finale just 24 hours after UFC 189 comes to an end.
The main event this year will feature a welterweight showdown between perennial contender Jake Ellenberger and Stephen "Wonderboy" Thompson, who is quickly becoming one of the most lethal strikers in the entire division.
Ellenberger is a gamer with a background in wrestling who could give Thompson fits if he can't stay off the mat. Ellenberger is also very proficient with his hands and more than capable of trapping "Wonderboy" against the cage and unleashing hell on him from the inside.
That said, Thompson has a chance to make a serious impact in the division with a win over Ellenberger on Sunday night. "Wonderboy" is well known for his flashy kicks and karate stance that all meshes together into a deadly style adapted for mixed martial arts. Thompson is lightning quick and has an arsenal that rivals anybody in the welterweight division when it comes to striking.
If "Wonderboy" plans on knocking on the door of the welterweight top 10, this is the fight to get him an invite to the party. He's got all the tools, but now he has to prove he's ready to hang with the best of the best and a victory over Ellenberger makes "Wonderboy" the next big thing at 170 pounds.
IT ALL COMES DOWN TO THIS
The entire season of "The Ultimate Fighter" this year was predicated on a rivalry between two huge gyms based out of South Florida and their unapologetic disdain for each other.
American Top Team has produced a laundry list of UFC fighters over the last 20 years, but the upstart Blackzilians moved into town and immediately made waves with an all-star roster and a growing list of prospects.
To add fuel to the fire, American Top Team owner Dan Lambert would rather step on Blackzilian owner Glenn Robinson's face as opposed to looking at him after these two businessmen had a volatile falling out that permeated the entire season of the reality show.
While Lambert and Robinson will have to stay on the sidelines for this one, American Top Team and the Blackzilians will both send a representative into the Octagon on Sunday night with $300,000, a brand new Harley Davidson motorcycle and the trophy for becoming "The Ultimate Fighter" champion up for grabs.
Only one team can have bragging rights after Sunday night is finished, and it will all come down to this one fight.
Don't miss a minute of the action with our viewing and schedule guide for both UFC 189 and  "The Ultimate Fighter" finale airing this weekend. 
---
---