Time for the world to recognize Carli Lloyd's greatness
BY Laura Vecsey • January 8, 2016
Carli Lloyd has developed a cool but fierce underdog mentality. She has used it to fuel her rise as the greatest clutch player in the history of women's soccer and her private coach, James Galanis, thinks Lloyd has a right to maintain this mindset. His star pupil has not convinced everyone that she is the best in the game. It's an issue for Team Lloyd, but they'll use it to their advantage, no doubt.
"U.S. Soccer likes to promote the most marketable players and not the most impactful players," Galanis said this week, ahead of Lloyd's trip to Switzerland where many figure she's the favorite for the 2015 FIFA's Women's World Player of the Year award, handed out along side the Ballon d'Or.
"When Michelle Akers played, her name wasn't the one up in lights," Galanis said, adding: "Same thing with Carli, but that's their loss to put other players up in lights. They want to market soccer by selling the Anna Kournikova [of soccer]. But U.S. Soccer has missed out by not using Carli to market to kids by saying you don't need to be a pin-up girl to promote the game."
Oddly enough, Lloyd needed to call on that underdog mindset again. The 33-year-old New Jersey native was given another reason to second-guess her dominating performance at the 2015 Women's World Cup.
This time around, her star status wasn't questioned by a former United States women's national team coach like Pia Sundhage, who this summer called Lloyd "a challenge" to manage. Instead, rumors circled that soccer's governing body had accidentally leaked the Ballon d'Or and player of the year awards, naming now-retired German striker Celia Sasic as the winner along with Lionel Messi. 
Was it a hoax, as FIFA claims? Or was it an egregious website gaffe that foretells a future in which Sasic, not Lloyd, will wear the crown as the best player in the world last year?
It's an interesting proposition, since it was Sasic -- nominated along with Japan midfielder Aya Miyama and Lloyd for soccer's top honor -- who dramatically missed that penalty shot in the semifinal against the U.S., opening the door for the USWNT's 2-0 victory and a chance for redemption in the final against Japan. A final which featured Lloyd's epic performance and historic hat trick that led the first U.S. Women's World Cup title in 16 years. Questions that will be answered on Jan 11. when the winners are announced in Zurich.
However, in the lead-up to the annual FIFA award festivities, it seemed fitting that, once again, Lloyd's claim as best player in the world last year would be usurped. It fits into the fight Lloyd has taken up to try and stake herself as one of the best, if not the best, to play the game. On that score, Lloyd, who has 80 goals in 207 international caps for the U.S. women's national team, is not yet a lock.
"Carli's a tough one. When she's not on, she's still going to take her shot, so she's a stubborn player. When she's on, she's one of the best in the world. Other than Megan Rapinoe, Carli carried the U.S. in the World Cup. In 2008 and the 2012 Olympics as a clutch player and big-game player, I don't know anyone who's been better," said former U.S. women's national team coach Tony DiCicco.
But before Lloyd can be ranked with Mia Hamm, Abby Wambach and Michelle Akers as one of the best players for the U.S., DiCicco said it will take more time.
"She's building a crescendo of epic performances in the biggest games, so she's a unique player. That's what you'd want, to be among the best that played: Mia, Abby and Michelle. Carli's not there yet, but, she's not done yet. No one has had the big-game performances as Carli Lloyd has had. No one in the history of the women's game has had those kinds of clutch performances."
Fitness and mental toughness account for a big part of Lloyd's success. No one knows this better than Galanis, her coach of 13 years. The pair have collaborated on a plan that they say will take Lloyd through the 2019 Women's World Cup in France and the 2020 Olympics. Galanis is determined that Lloyd should stop being discounted for turning in "memorable" performances when, he contends, Lloyd is en route to securing a career that rivals Akers, considered by most to be the greatest female soccer player of all time.
"The people that know the game, know. She is the most complete player on the planet. She can defend. She can create. She can score goals. She can win headers and score. She is big in the biggest moments. And she's maturing as she gets older. She's more of a thinker instead of just relying on running and shutting her opponent down," Galanis said.
Reaching the pinnacle of the sport in the U.S. is a tall order, DiCicco says -- with good reason. Akers had a skillset unrivaled by any of the other great U.S. players, including Kristine Lilly, Hamm, Wambach and Lloyd.
"No one had her skills on the ball, inside right foot, outside, inside left foot, outside. Michelle had all the tools and she was a leader, she was fast, she was strong, she was one of the greatest headers. She was just an impossible matchup for anyone," DiCicco said.
Galanis says his player is still getting better, and may benefit from a U.S. national team now poised to remake its offense with Lloyd as a focal point, along with Alex Morgan up top and newcomer Lindsey Horan in the midfield.
With Abby Wambach gone, and with her the direct style of play that has characterized the U.S. team, Lloyd has benefited from the addition of Morgan Brian playing in the midfield. Whereas Lloyd and Lauren Holiday did not provide the best link between the front line and the back lines during much of 2015, Lloyd has now been released from heavy defensive duty. It's what allowed her to scorch Japan's shape-oriented defense in the 5-2 U.S. win fueled by a hat trick in the first 16 minutes of the game.
In the minutes after the World Cup final victory was in hand, Lloyd -- who had forbidden all her friends and family from going Canada -- called Galanis. She thanked him, then said she wanted to know when training started again. "I'm not stopping," Lloyd said. Galanis continues to plot the course of action for Lloyd.
"Her mindset is to continue working," he said, adding: "I told her 'You're amongst the greats now and you have five years to become the greatest.'"
So while winning the FIFA Women's World Player of the Year would be nice, it would be one more step in Lloyd's quest for a legendary legacy.
---
---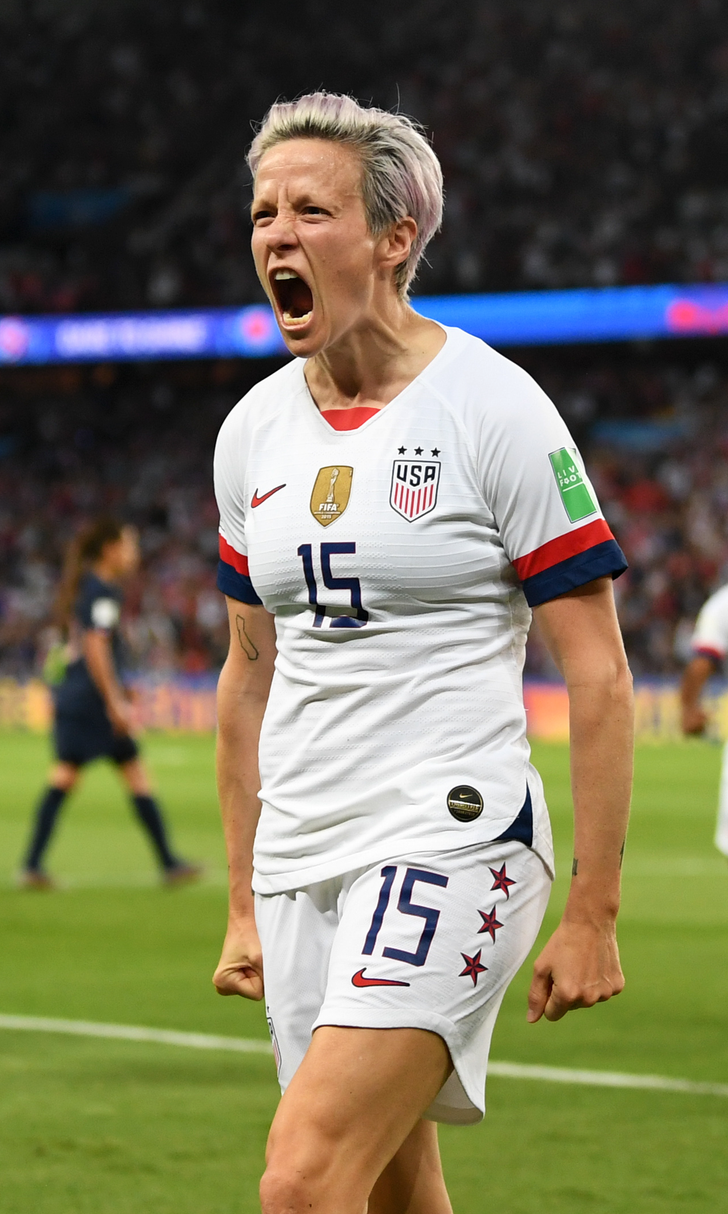 French Fracas
French Fracas
Behind two goals from Megan Rapinoe, the USA defeated host France in the quarterfinals of the 2019 Women's World Cup.