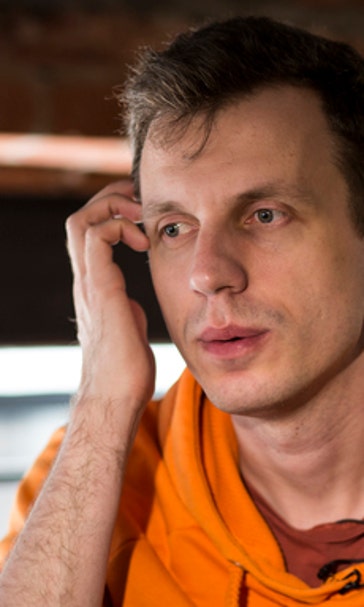 Russia talks LGBT tolerance for WCup but locals have doubts
June 1, 2018
MOSCOW (AP) Tolerated during the World Cup, Russia's LGBT communities face a return to widespread discrimination when the FIFA circus packs up and leaves the country in mid-July.
As head of Russia's LGBT Sports Federation, Alexander Agapov says he can't advertise sports events without hiring security and he's been attacked on public transport. Still, he predicts foreigners arriving for the World Cup won't notice a thing.
''In the stadium and around it will be quite safe, I believe,'' to display symbols of gay activism like the rainbow flag, he told The Associated Press.
That echoes the tolerant line from Russia's government-run World Cup organizing committee.
''All visitors to Russia in 2018 - regardless of race, gender, religion, ability or sexual orientation - can expect a warm welcome,'' it said in a statement. ''Persons will not be fined for expressing their feelings. The display of rainbow flags in the stands or at public celebrations will be allowed.''
Rainbow flags are generally seen by Russian authorities as banned ''gay propaganda''. Under Russian law, anyone who displays a rainbow flag in a public setting where children are present - such as a stadium - could be fined.
Jonny Dzhibladze of the ''Coming Out'' organization in St. Petersburg suggested foreign LGBT fans will be treated better than locals.
During the tournament, ''if there's some kind of attack or abuse, then maybe the authorities will even start to investigate it or publicly condemn it as a demonstration case,'' he said.
''But, knowing Russian media and the homophobic rhetoric that they use, it will probably be framed as: `These crazy rainbow people have come from Europe. Let's forgive them and put up with them while they're here. They're guests. But as soon as they leave, we return to our Russian traditional values.'''
A 2013 law bans so-called ''propaganda'' of homosexuality to under-18s. In practice, it's been used to stifle debate in any public context or to prevent protests in any public context where a child could conceivably see or hear.
Russian anti-gay rights groups have used social media to out LGBT teachers and have them fired. Some criminals, Dzhibladze says, use gay dating apps to find targets to rob, assuming their victims won't trust the police.
The law puts a financial burden on Agapov's sports federation. A football competition might only require two fields in a sports complex, he says, but the organization has to hire a third nearby, just to block it from being rented for a children's event. If that happened and children could see the LGBT competition, it could be breaking the law.
Vitaly Milonov, a lawmaker who played a key role in passing the ''gay propaganda'' law, has called for a harder line on World Cup fans.
Comparing gay people to chimpanzees, he said ''sodomites'' flying the rainbow flag had no place at the tournament.
''I want to remind them that, no matter how much they try lobbying, their hideous way of life is condemned all over the world,'' he told the AP. ''They do not have the right to propagandize their hideousness.''
Last year, reports emerged from the predominantly Muslim region of Chechnya in southern Russia that men were tortured and killed on suspicion of being gay. Chechnya will be home to the Egyptian team during the World Cup.
Dozens spoke about torture at secret prison facilities overseen by allies of Chechen leader Ramzan Kadyrov, who has claimed there are no gays in Chechnya. A Russian government investigation said there was no proof.
Russia's World Cup is also a test for FIFA's image ahead of the 2022 tournament in Qatar and a possible 2026 World Cup in Morocco, both countries where gay sex is illegal.
FIFA says it has a ''zero-tolerance approach to discrimination'' and has discussed gay rights issues with Russia. ''We are absolutely aware of discriminatory concerns and have always addressed them in close collaboration with the (local organizing committee), the Russian Football Union and the Russian authorities,'' FIFA's head of sustainability and diversity, Federico Addiechi, told the AP by e-mail.
Russia has no openly gay professional athletes. However, Agapov says he's had messages of support from closeted athletes and knows of one well-known male footballer who dates men.
''We will be happy if one day a gay footballer will come out in Russian football because we know that there are gay footballers,'' he said, recounting how he found the player using a gay dating app in a World Cup host city. ''It works in Russian football like `Don't Ask, Don't Tell'. He's open to date with guys, but he's not open to speak about his sexuality in public.''
The World Cup is unlikely to change much, Agapov predicts. ''The World Cup is over, we are still here, and the persecution of LGBT people in Chechnya and other regions is still going on.''
---
Subbotovska reported from St. Petersburg, Russia.
---
---