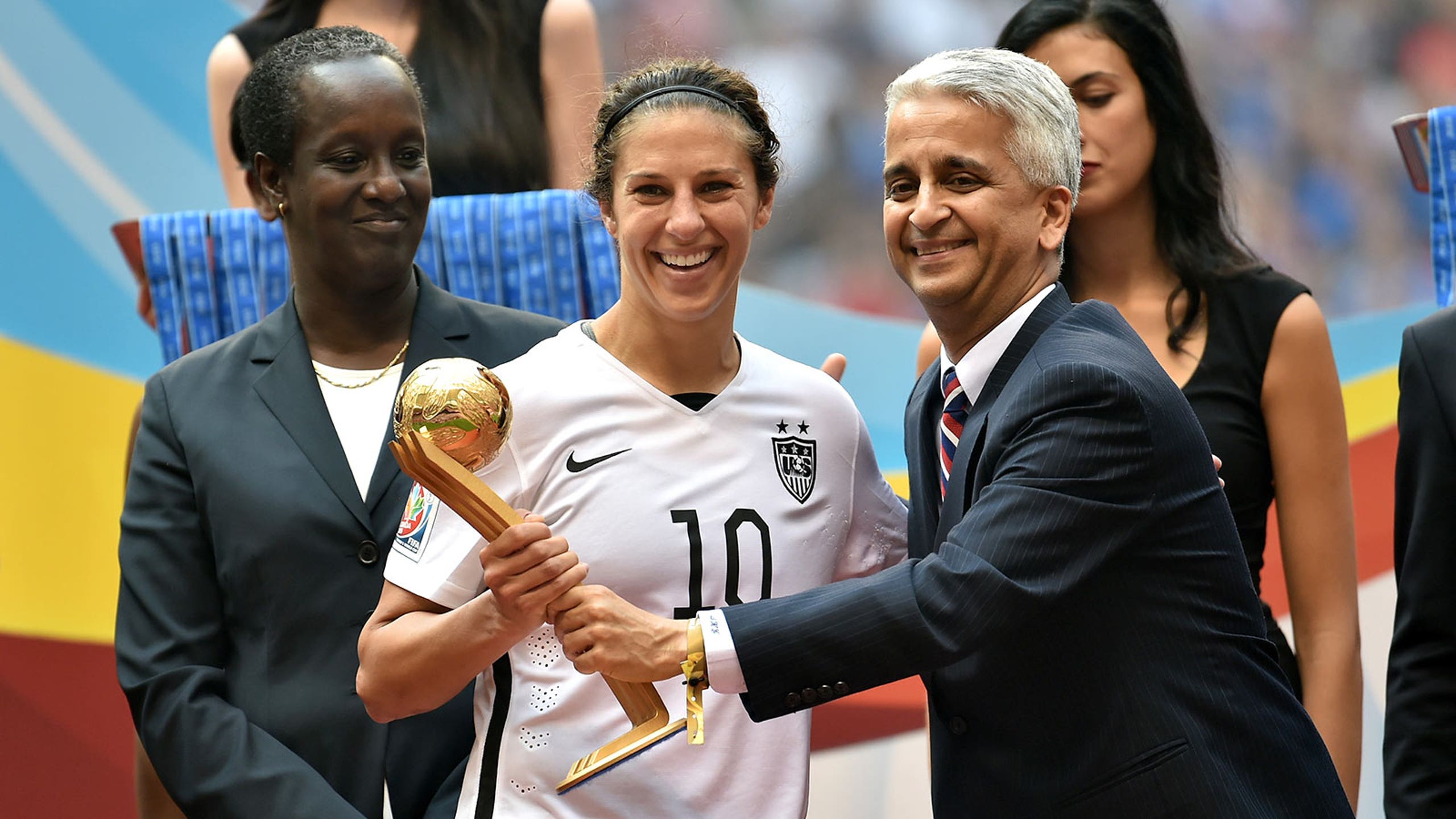 Players remain united after U.S. Soccer's blindside lawsuit
BY Laura Vecsey • February 5, 2016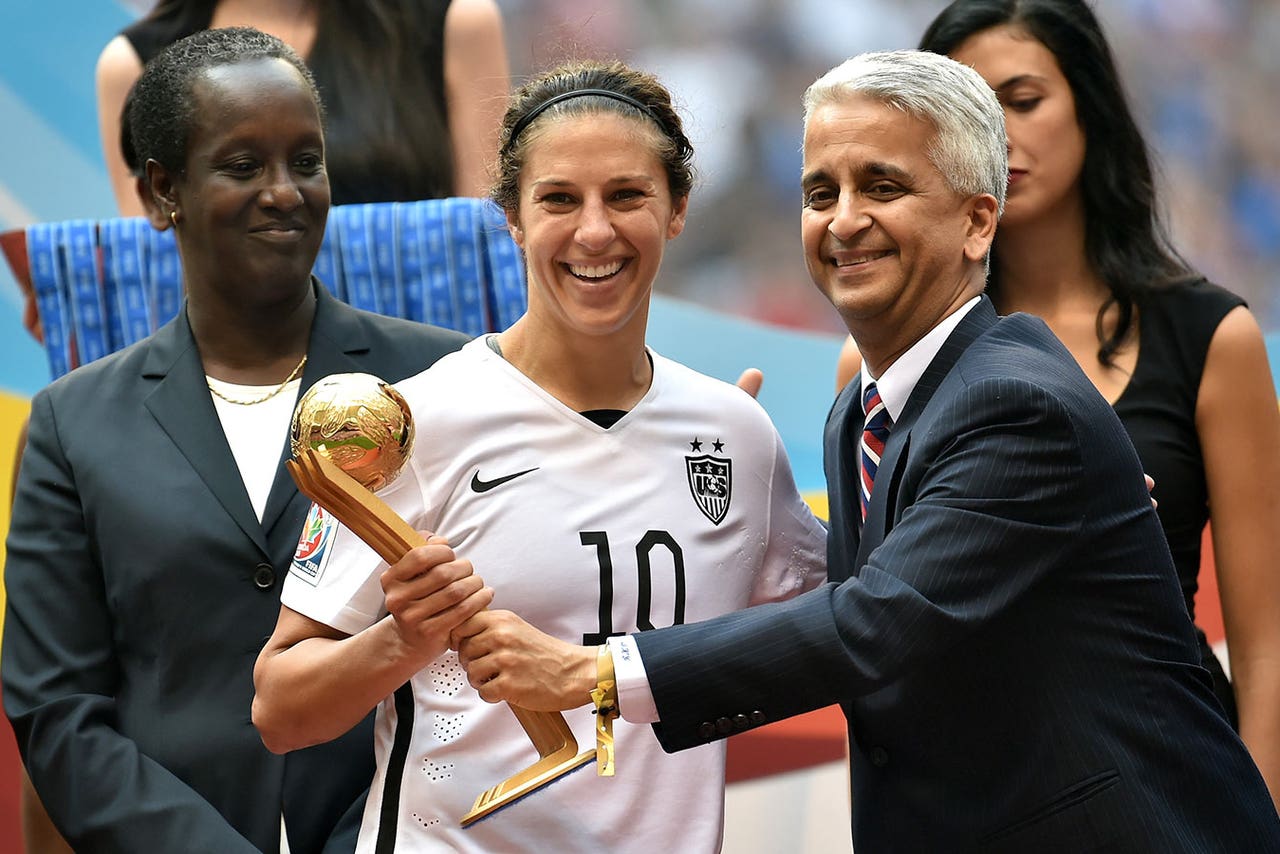 If players on the United States women's national soccer team are eager for a new contract that would alleviate their concern and, in some instances, anger over working conditions and compensation, they got a shock this week. The lawyer they hired to work on their behalf, Richard Nichols, took such bold action that U.S. Soccer has filed a federal lawsuit, leaving the players nervous. Talk about the blindside -- from their own guy!
Still, as they seek to qualify for the 2016 Rio Olympics in the CONCACAF Qualifying Tournament that starts next week in Dallas, the players say they are united and they stand behind Nichols, who they hired to replace John Langel, the previous executive director of the Women's National Team Players Association. No one is talking, or breaking rank -- yet. But this is definitely a white-knuckle moment for players.
U.S. Soccer is asking the federal courts to rule on whether a 2013 memorandum of understanding constitutes a new collective bargaining agreement. Any deposition of Langel would say it is -- and in effect until Dec. 2016.
Meanwhile, Nichols notified U.S. Soccer in December 2015 that the union would walk away from the agreement on Feb. 24. That sent off a flurry of emails between the parties. Then, in the meeting this week in New York, Nichols did not assure U.S. Soccer that players would not strike ahead of the 2016 Summer Games in Rio.
A strike? A lawsuit? Court documents that spread player addresses and emails around the Internet? Did the players really think that between winning the Women's World Cup and the 2016 Summer Games in Rio that they would face all this?
Granted, anger over artificial turf and onerous travel accommodations was palpable during their World Cup-winning 2015 season. Alex Morgan, Abby Wambach, Sydney Leroux, Lauren Holiday, Becky Sauerbrunn, Christen Press and most all the other national team players openly addressed their desire to see certain changes to their working conditions and collective bargaining agreement. The canceled Victory Tour match in Hawaii over poor field conditions prompted Morgan to warn U.S. Soccer that the women would have to look out for their own safety, since no one else seemed to care.
Still, U.S. Soccer President Sunil Gulati admitted the federation did not do its due diligence at Aloha Stadium. And, given his relationship with Wambach and the unique force that is the U.S. women's team, there's little doubt that field conditions and travel issues would likely have been addressed in any new agreement between the union and U.S. Soccer. Likewise, contractual obligations by national team players to the National Professional Soccer League probably needed tweaking and clarification.
The question, then, is what was Nichols demanding from U.S. Soccer that was so big, or so threatening, that Nichols felt his best path to a new deal for the players was to use the threat of a strike in this Olympic year? Nichols said he presented U.S. Soccer with his players' proposal two months ago, but would not say what was in the package.
The question about how far apart the two sides really are has to be framed in this context: The 24 players under contract by U.S. Soccer make upwards of $300,000 in salary and bonuses during Olympic and World Cup years. They own their own individual marketing rights, giving them the ability to earn money off the field. The memorandum also gave the players maternity leave and daycare compensation. Likewise, unlike the men's national team where club obligations come first -- along with salaries -- the U.S. women's national team players are under guaranteed salaried contracts. It is difficult to make comparisons to the two different teams.
A day after U.S. Soccer filed suit against the union, Nichols said that the union and U.S. Soccer were still moving forward with contract talks. He said he was shocked that U.S. Soccer went to the courts, but that seems wrong. In addition to the U.S. women preparing to compete in the CONCACAF Olympic Qualifying Feb. 10-21 in Texas, U.S. Soccer is on the hook for a lot of money for a four-nation's #SheBelieves Cup that will bring France, Germany and England to the southeastern states in early March. The federation had to have assurances that the team would be able to fulfill obligations at that tournament, and the Olympics, should they qualify.  
In the end, there's no reason to worry about whether fair and equitable new deal between U.S. Soccer and the women's team players could be reached. But for the moment, the players are trying to cope with the tactics of their new leader, who said he was shocked that his threats led to legal action by the federation. U.S. Soccer took aim squarely at Nichols in its lawsuit:
While the players expressed outrage over sloppy document filings that led to the disclosure of their home addresses and personal emails -- a filing error that has since been addressed -- they are also hoping that Nichols, their new union representative, keeps his eyes on the bigger picture, too. Leverage is one thing, but the unique nature and stature of this U.S. women's soccer team needs to be treated with care -- by both sides.
---