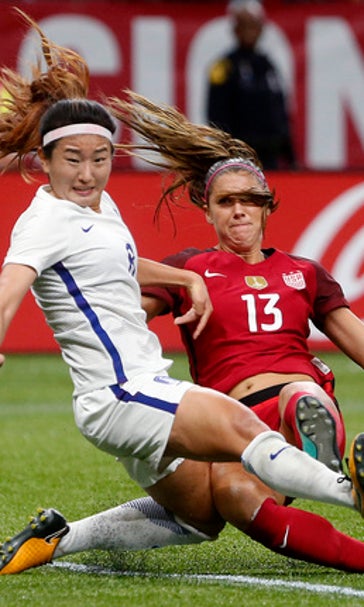 Morgan, Rapinoe lift US soccer past South Korea 3-1
October 20, 2017

NEW ORLEANS (AP) Alex Morgan and Julie Ertz prolonged their recent scoring binges for the United States, while Megan Rapinoe showcased her knack for exposing weaknesses in even the most technically sound defenses.
Morgan scored in a fourth straight game, Ertz scored for the fourth time in five games and the U.S. beat South Korea 3-1 on Thursday night.
Rapinoe added her 34th international goal on a penalty kick that she drew. She earned her 42nd assist on a corner kick that Ertz redirected with a diving header.
''That's what she does,'' U.S. coach Jill Ellis said about Rapinoe, who controlled the tempo of the friendly with ambitious, accurate passes from her position on the left wing. ''She's very comfortable on that left side and is a world-class server of the ball. She continues to want more from herself because that's just the type of player she is.''
The U.S. finished with an 11-1 advantage in shots on goal, primarily because of a slew of chances created by Rapinoe.
She drew her penalty kick in the 49th minute when she pounced on a loose ball about 12 yards in front of the goal and was tripped by Ji Sohyun. Rapinoe struck her goal hard and down the middle, seemingly sensing that goal keeper Kang Gaae would cheat toward one side.
''Can't tell you. It's a secret,'' Rapinoe said about her approach to the penalty kick.
Carli Lloyd returned from a nearly 10-week absence because of ankle injury, entering the game as a substitute in the 77th minute. Her introduction drew an enthusiastic response from nearly 10,000 spectators in the Superdome.
''I was not sure where I was going to be at in terms of recovery time,'' Lloyd said. ''It's really good to get back out there. I feel refreshed and energized and mentally and physically back to myself.''
South Korea coach Yoon Dukyeo said he hoped his players learned from having to defend Rapinoe.
''Obviously, she's a really top player who causes many problems for the opponent. So our defenders were really struggling to stop her from attacking,'' Yoon said.
Han Chaerin scored her first international goal in her South Korea debut to make it 2-1 just before the end of the first half, hitting a left-footed drive from about 25 yards that sailed beyond goal keeper Alyssa Naher's reach before dipping under the cross bar.
''She's very aggressive and fast and able to score,'' Yoon said. ''I really hope she will be able to do more for the national team.''
The U.S. improved to 10-3 in 2017 as it builds toward next year's qualifying for the 2019 FIFA World Cup in France.
Forward Mallory Pugh left the game late in the first half with a right hamstring injury. There was no immediate word on severity after she was helped off the field by trainers. She walked to the team bus on her own, but gingerly.
Midfielder Andi Sullivan started for the U.S. about 11 months after having reconstructive knee surgery. Her third-minute shot, set up by Rapinoe, narrowly missed the far post from about 18 yards. She was substituted out, as planned, at halftime.
South Korea began the game in a defensive posture and the U.S. maintained a decisive edge in possession, forcing Gaae to make several sprawling saves before breaking though on Ertz's goal in the 24th minute.
Ertz dove in front of two defenders to redirect Rapinoe's hard, low corner kick between the legs of Kang as the goal keeper tried to respond at the near post.
Morgan scored in the 40th minute, using her right foot to settle Kelley O'Hara's bouncing pass from the end line, then pivoting and whipping her left foot through the ball from point-blank range. The goal was the 28-year-old Morgan's 78th for the national squad.
''I don't know that I'm at the peak of my career, but I would say that I'm definitely in form and I feel really good with where I am right now,'' Morgan said.
Lloyd, the two-time FIFA World Player of the Year, missed a pair of U.S. exhibition wins against New Zealand last month because of an ankle sprain during a National Women's Soccer League match on Aug. 13.
Forward Tobin Heath (ankle injury) and defender Taylor Smith (shoulder) were not in the lineup. Both were hurt in the NWSL championship match, which the Portland Thorns FC won 1-0 over the North Carolina Courage last Saturday.
They are not expected to play in a second friendly scheduled between South Korea and the U.S. on Sunday in Cary, North Carolina.
---
---