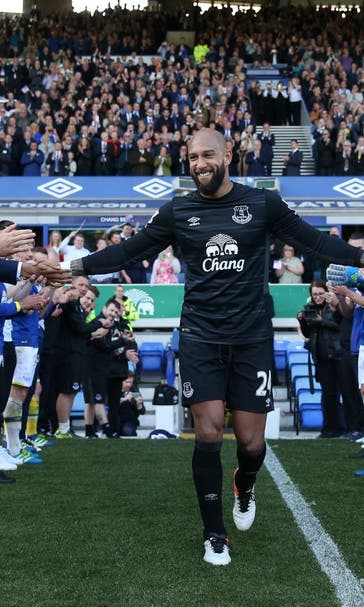 Howard says 'the sky's the limit' for Everton as he waves goodbye
May 16, 2016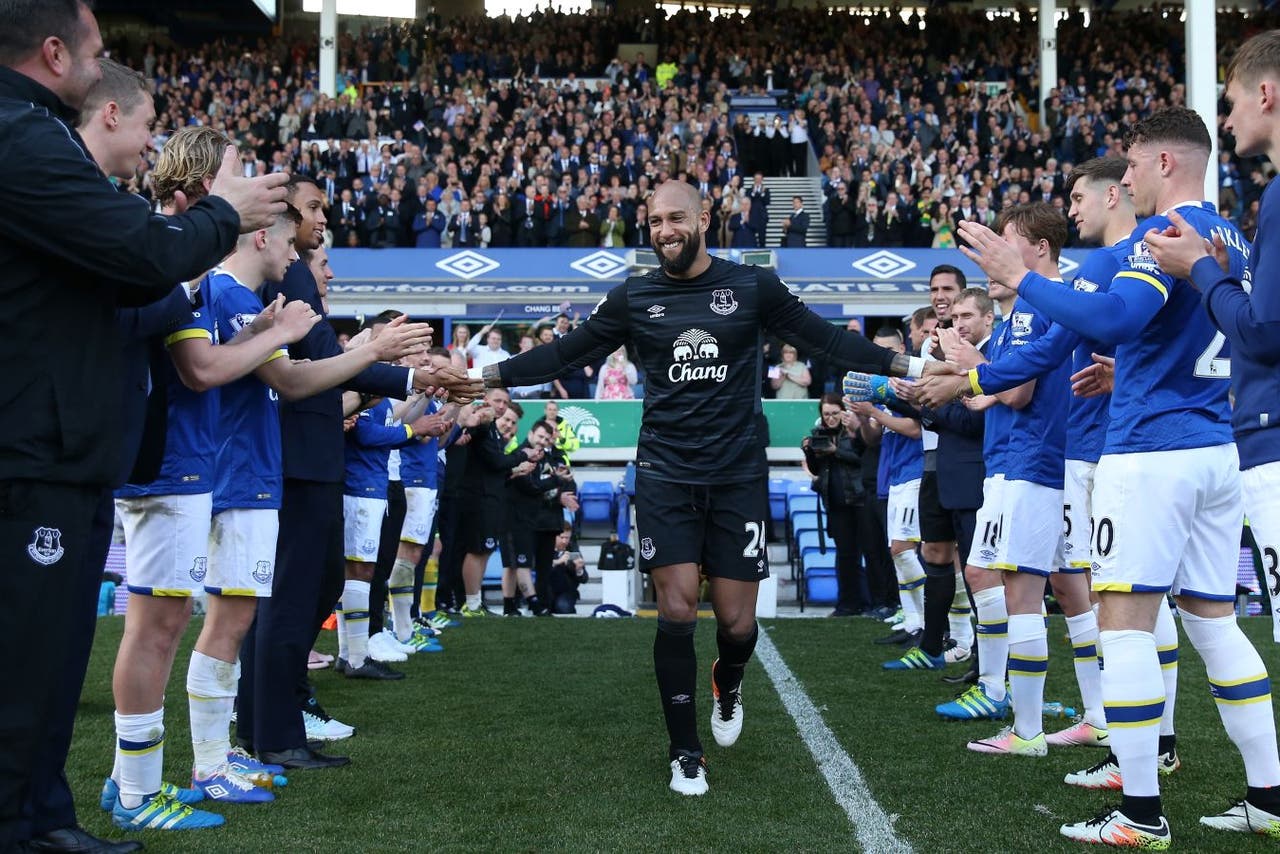 Tim Howard believes "the sky's the limit" for the Everton team he has left behind.
The American goalkeeper headed home on Monday after a decade at Goodison Park prior to joining Major League Soccer team Colorado Rapids.
Saturday's 3-0 win over Norwich was Howard's farewell game but also a glimpse of the future for Everton fans, with teenagers Kieran Dowell, Tom Davies and Jonjoe Kenny all playing the majority of the 90 minutes.
Everton are searching for a new manager to replace Roberto Martinez, who was sacked on Thursday after results failed to match the talent of the squad.
And, with the likes of Ross Barkley and John Stones now established for England as well as Everton, Howard believes the incoming boss is a lucky man.
"The guy who comes in and manages this team is sitting on a goldmine," he said.
"The future is bright. Those boys played well. I didn't have that kind of wherewithal or talent at their age so I was excited to see them play.
"With the passion in this city for this club and the talent that's on display, the sky's the limit for this team."
Howard's 414th and final Everton appearance was certainly not one of his busiest, with Matt Jarvis' 65th-minute shot the only time he was really called upon to make a save.
But a clean sheet was the perfect way to say goodbye, with Howard saying: "I'll always remember that one, it was special.
"It's been a tough week, it was tough seeing Roberto go. Any time a manager gets sacked, you have to look inward. We have to take a ton of responsibility on our shoulders.
"We came out, we responded. I thought we played well. There was an intent in our play and, in a difficult season for us, you could see in the fans' faces and hear it in their voices, they were excited about this team."
Howard received a standing ovation as he walked out and then took to the pitch again at the end of the match, through a guard of honor former by his team-mates, to address the crowd.
Asked to describe his emotions, the 37-year-old said: "My words would fail me because what I feel in my heart for all Evertonians is hard to describe. I'll miss their cheers, I'll miss their faces.
"All good things come to an end. I know that. I think I was always dreading the day I had to leave this place because I keep saying it's my home."
---
---