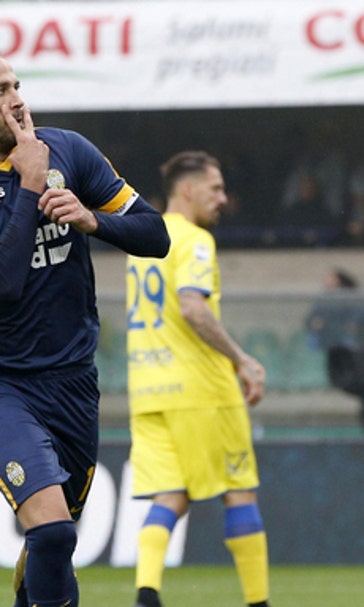 Bonucci's red card could end up costing Montella his job
October 22, 2017

MILAN (AP) Leonardo Bonucci's latest lapse in concentration may end up costing Vincenzo Montella his job at big-spending AC Milan.
Bonucci was sent off in the first half of Milan's 0-0 draw at home with Genoa on Sunday for elbowing a defender in the head as he jostled for position on a free kick.
Juventus also had a player - forward Mario Mandzukic - sent off early on but bounced back to win 6-2 at Udinese and close the gap on leader Napoli to three points. Lazio is level with third-place Juve on points after Ciro Immobile scored another double in a 3-0 win over Cagliari.
Milan lost its three previous Serie A matches and was also held 0-0 at home with AEK in the Europa League on Thursday. Last weekend, the Rossoneri were beaten 3-2 by Inter Milan in the city derby after Bonucci was beaten by Mauro Icardi for Inter's opener.
Milan's last league win came more than a month ago and it has dropped to 11th spot.
''Unfortunately, everything that could have happened has,'' Montella said. ''But I feel supported by the club. ... We deserved to win today, because we created chances even when we were a man down.''
Milan, which was bought by a Chinese-led consortium in April, spent more than 200 million euros (nearly $250 million) on new players in the offseason and Bonucci was the centerpiece of the overhaul.
The fee for Bonucci's surprise move from Juventus topped 40 million euros (nearly $50 million), and he signed a five-year contract worth up to 10 million euros (nearly $12 million) per season - making him the highest-paid player in Italy.
But Bonucci has been off form over the last month and now risks missing the game against Juventus next Sunday if he's given a two-match ban.
Bonucci's blow to Aleandro Rosi's head in the 23rd minute left the Genoa player on the ground for several minutes before the blood was cleaned up and he continued playing.
The referee did not initially show Bonucci a red card. The decision came with the help of the video assistant referee (VAR) - marking the first time a red card was handed out by the VAR in Italy.
''I don't think it was intentional foul play. He was positioning himself. Do you know how many goals I scored in situations like that?'' said Montella, whose goals as a player helped Roma to the 2001 title.
''The VAR needs to be remodeled,'' Montella added. ''If Bonucci hadn't injured his opponent I don't think he would have been sent off.''
---
KING KHEDIRA
Sami Khedira netted the first hat trick of his career as 10-man Juventus ran riot in Udine, ending its two-match winless streak in style.
Juve was looking to take advantage of Saturday's 0-0 draw between Napoli and Inter Milan, the top two sides in Serie A.
Khedira's first of the match and an own-goal from Samir put Juve in front after Udinese had taken a shock lead early on through Stipe Perica.
But it looked bleak for Juventus when Mandzukic was booked for an argument with Udinese's Ali Adnan and then turned around and appeared to swear at the referee. He was shown a second yellow card and sent off, leaving Juventus with 10 men for more than an hour.
Danilo leveled immediately after halftime but it was false hope for Udinese as Daniele Rugani restored Juve's lead shortly afterward. Two more goals from Khedira and another from Miralem Pjanic completed the rout.
---
IMMOBILE AT THE DOUBLE
Immobile strengthened his bid for a second top-scorer award in Serie A as he took his tally to 13 in nine league matches this season, three more than his closest challenger, Juventus forward Paulo Dybala.
The Italy forward won the prize in 2014, scoring 22 goals for Torino.
Immobile converted an early penalty and headed in a second goal on the stroke of halftime. It was his third brace in his last four league matches.
Bastos netted Lazio's third.
---
OTHER MATCHES
Aleksandar Kolarov followed up his midweek goal against Chelsea by scoring from a free kick in Roma's 1-0 win at Torino.
Stretching back to last season, it was Roma's 11th straight away win, matching the Serie A record.
Elsewhere, Roberto Inglese bolstered his case for a January move to Serie A leader Napoli with a brace in the Verona derby, helping Chievo to a 3-2 win.
Napoli, which has lost Arkadiusz Milik to a long-term injury, purchased Inglese's rights in August but left the striker on loan at Chievo.
Also, it was: Atalanta 1, Bologna 0; Benevento 0, Fiorentina 3; and Spal 0, Sassuolo 1.
Benevento became the first team in Serie A history to lose its first nine matches of the season.
---
Dampf reported from Rome.
---
More AP Serie A coverage: https://apnews.com/tag/SerieA
---
---