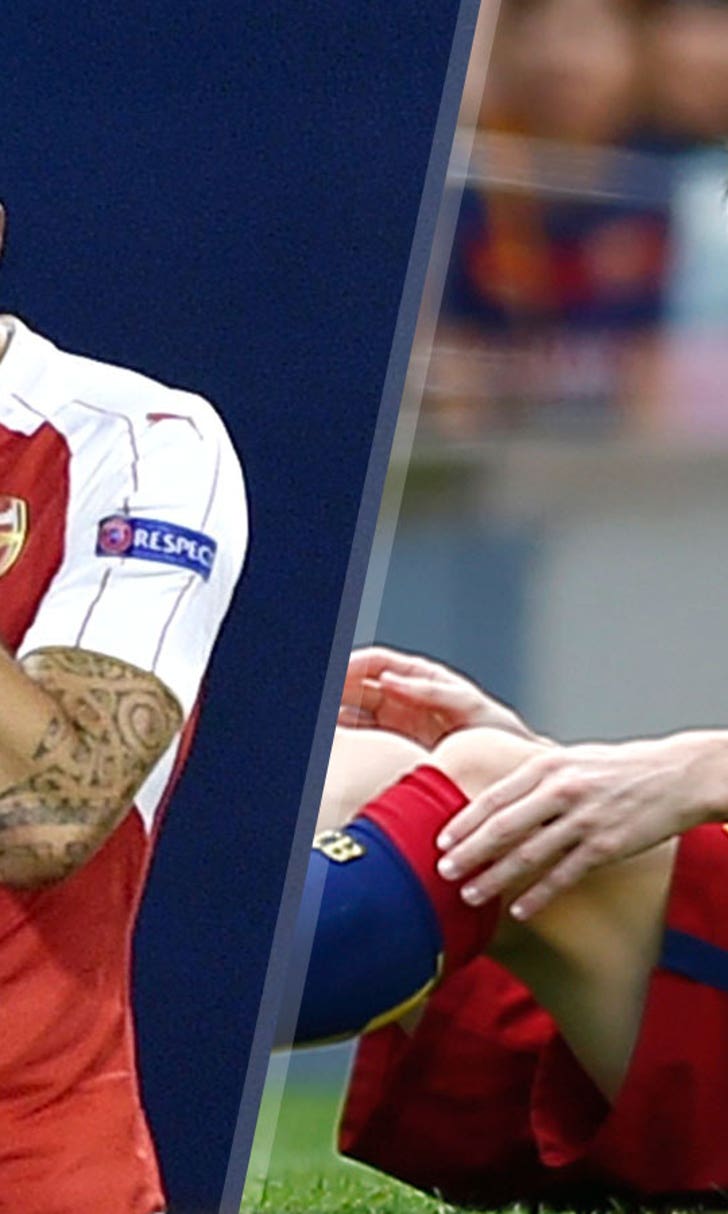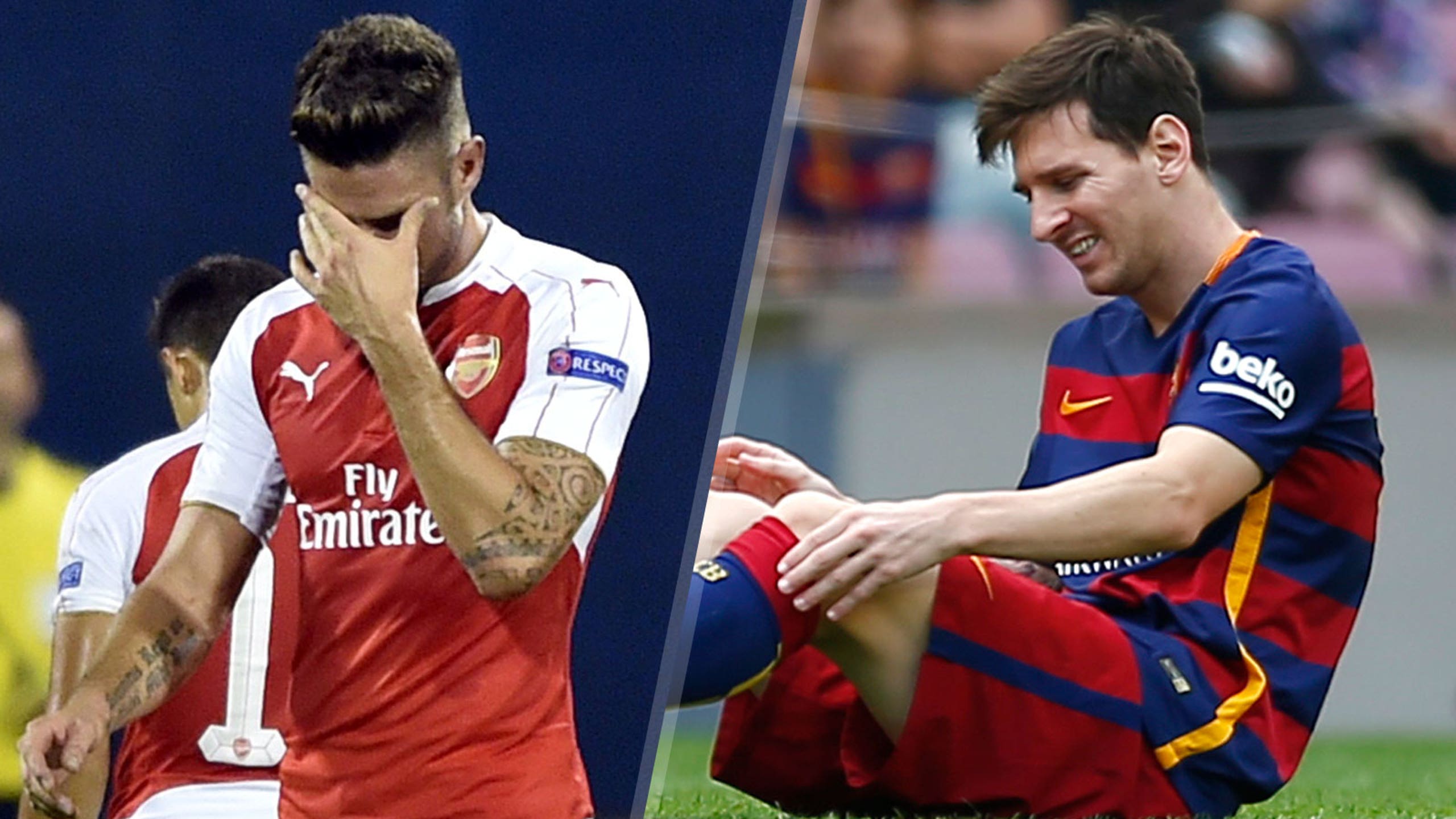 Barcelona, Arsenal searching for answers in Champions League clashes
BY Jamie Trecker • September 28, 2015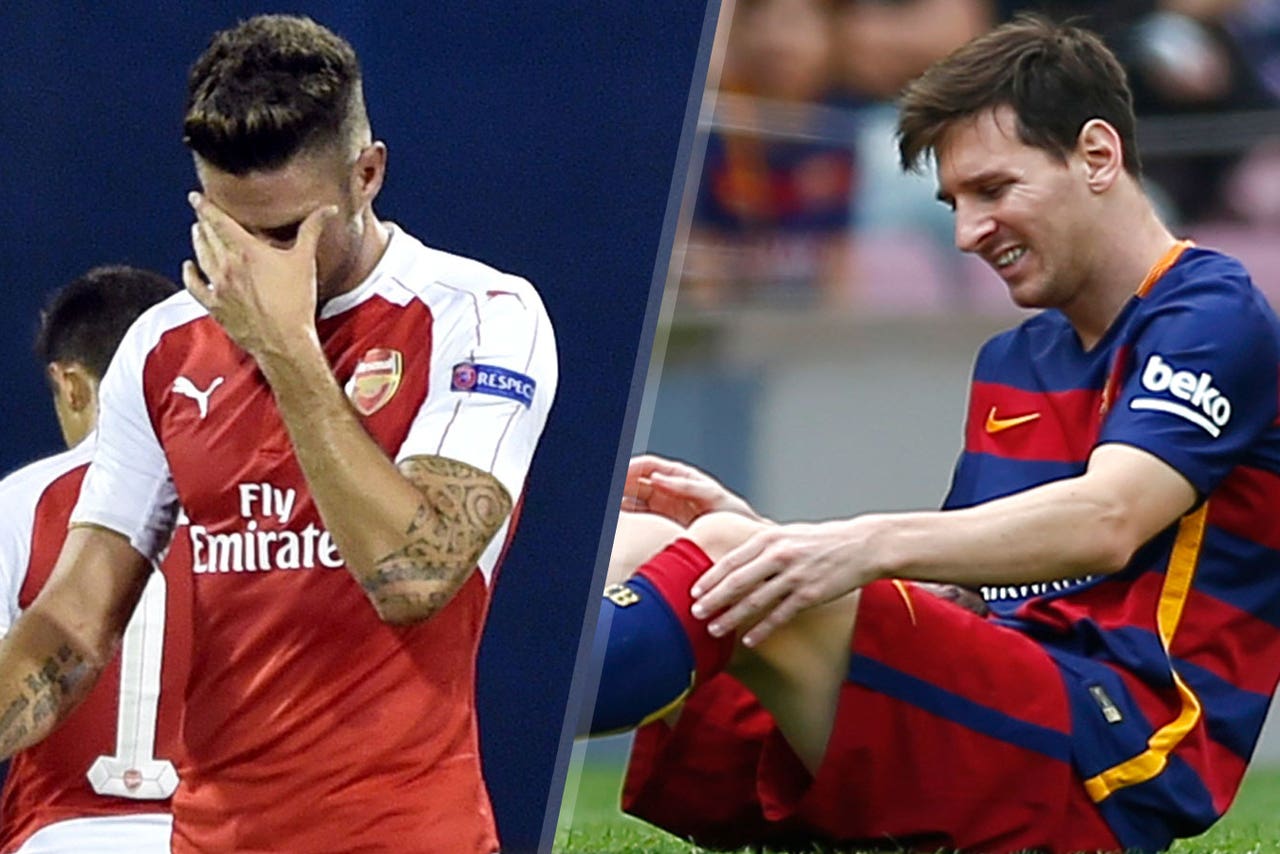 Barcelona begin life without Lionel Messi, while Arsenal search for their first win in Europe this season as Champions League play returns Tuesday afternoon across the FOX family of networks. Jose Mourinho's return to Porto and a tricky game for Valencia at Lyon also highlight a packed schedule that kicks off at 2 p.m. ET on FS1.
The key game is at Camp Nou, where Barcelona look to recover from a shock 1-1 draw at the hands of Roma last time out. They will have to do it without their talisman: Messi will miss at least eight weeks after tearing his MCL this weekend in a narrow win over Las Palmas. Messi was only on the field for three minutes when the injury occurred, and it has cast a pall over Barcelona's prep for their game Tuesday against a Bayer Leverkusen side that ripped BATE to shreds on Matchday 1.
"It's great news for our rival, but for us it's a test and we have to accept it and overcome it," Barcelona coach Luis Enrique said. "Injuries are the worst thing in football and they carry a special weight when it's Messi."
Barcelona, already struggling with numbers due to a transfer ban imposed on them, are desperately thin in the middle of the field. Javier Mascherano looks exhausted -- never a good sign this early in the year -- and with Rafinha also out with an ACL injury, that means Enrique only has two central attacking midfielders. One of them is the very capable Ivan Rakitic; the other is the badly aging Andres Iniesta.
The options up top are better, with Neymar arguably finally getting his chance to emerge from Messi's shadow; Luis Suarez is likely to have to step more into a passing role which denies the Catalans their deadliest poacher. There's a big drop-off as well after Suarez and Neymar: Sandro and Munir el Haddadi are very clearly not ready for prime-time. Jordi Alba may be deployed as a winger as a result; Enrique confirmed he and Claudio Bravo will start.
"Not having the best player in the world on the field sounds like an advantage for us," Leverkusen coach Roger Schmidt said of Messi's absence, "but we'll see if that really turns out to be so."
Leverkusen are not powerhouses, but they have some potency. Chicharito has two goals in five games for his new team and the fifth-placed Bundesliga side come in on the back of a strong 3-0 road win at Werder Bremen on the weekend. Hakan Calhanoglu bossed the team last time out against BATE, with the 21-year old displaying some smart passing and great awareness in his linkup with Chicharito and Kevin Kampl. Stefan Kiessling remains a threat, though he has been coming off the bench with the Mexican starlet's arrival.
Little margin for error for Arsenal
If things seem grim for Barcelona, spare a thought for Arsenal, who took a swan dive into the pavement last time out at Dinamo Zagreb. One of the first early upsets of this new competition, that game saw Olivier Giroud sent off in the first half for two stupid offenses, and the Gunners were unable to raise the level of their game. Poor defending and aimless passing were their downfall last matchday, and Arsene Wenger will have to get a complete performance out of his side at home against Olympiakos (2:30, FS2).
The Gunners have little margin for error in a group that is Bayern Munich's to lose. Beset by suspensions and injury problems, the ranks also look a bit thin for a side that have won just six of their last 12 home European games. Francis Coquelin is the biggest absence, with a lingering knee injury making him a doubt for the game; Mikel Arteta and Mathieu Flamini are also carrying muscle injuries, leaving a big gap in the back of the midfield for the Gunners to fill.
Wenger gambled a bit in Croatia, resting keeper Petr Cech and fielding a weakened lineup with one eye on the upcoming Chelsea game. That backfired spectacularly as Arsenal of course lost both matches, and it is a move Wenger says he will not repeat despite a looming Sunday game against Premier League leaders Manchester United.
Theo Walcott is assured of getting another run out up top off Alexis Sanchez, and the two should be enjoying high confidence. Alexis snapped his drought with an emphatic hat-trick this weekend in a 5-2 rout of Leicester.
Mourinho returns to Porto
Portugal beckons for Mourinho as he takes a limping Chelsea side home to the club where he made his name (FS2GO, 2:30). Mourinho won the Champions League with Porto in 2004, and while his Blues are struggling badly in the league, they looked very solid against an admittedly weak Maccabi side on Matchday 1.
After rating his team's performance in a 2-2 draw with Newcastle on the weekend as a "-1 out of ten" Mourinho is expected to shake up his team. Willian and Ramires, instrumental off the bench this weekend, are likely to get starts. It is hard to see how the badly out of form Cesc Fabregas and Branislav Ivanovic get call-ups at all. An X-factor is John Terry, who has been sat out already this year after showing he has lost more than a step or two. Eden Hazard probably has to play despite showing little this season to date.
A win here would give Chelsea a very fine perch in Group G, and they should by rights get it against a Porto club better known today for developing then selling talent. But, should Mourinho's old club spring a surprise, then the gloom in London is sure to deepen. It has been a bitter fall so far at Stamford Bridge.
The Associated Press contributed to this report.
---
---