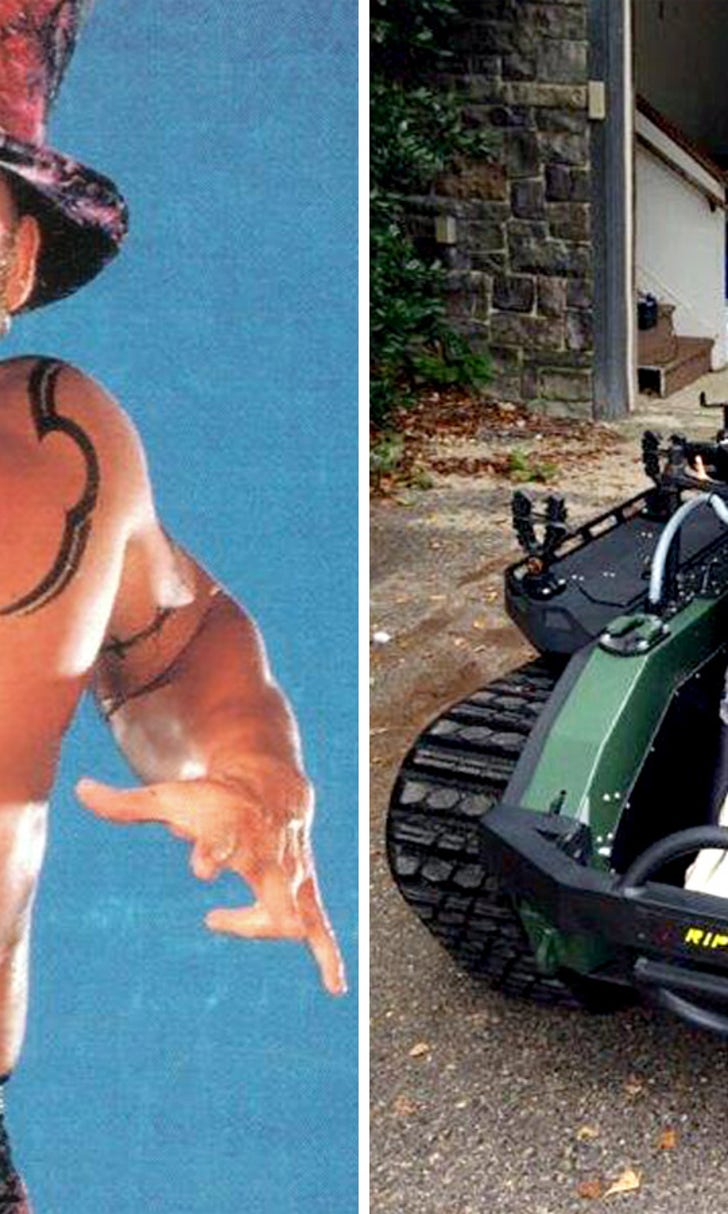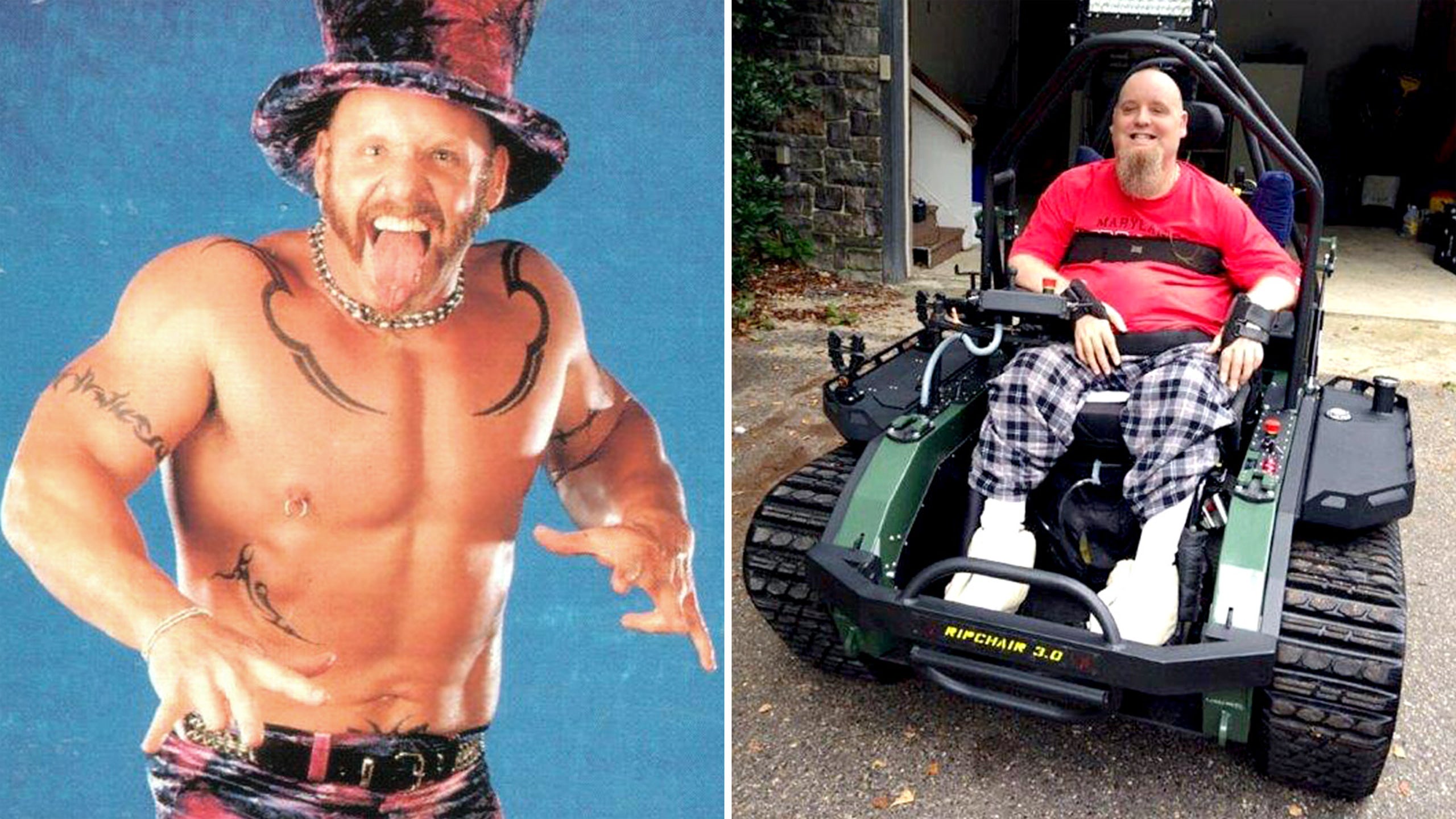 WWE's Darren Drozdov thrives 15 years after being paralyzed during match
BY Jim Ross • December 16, 2014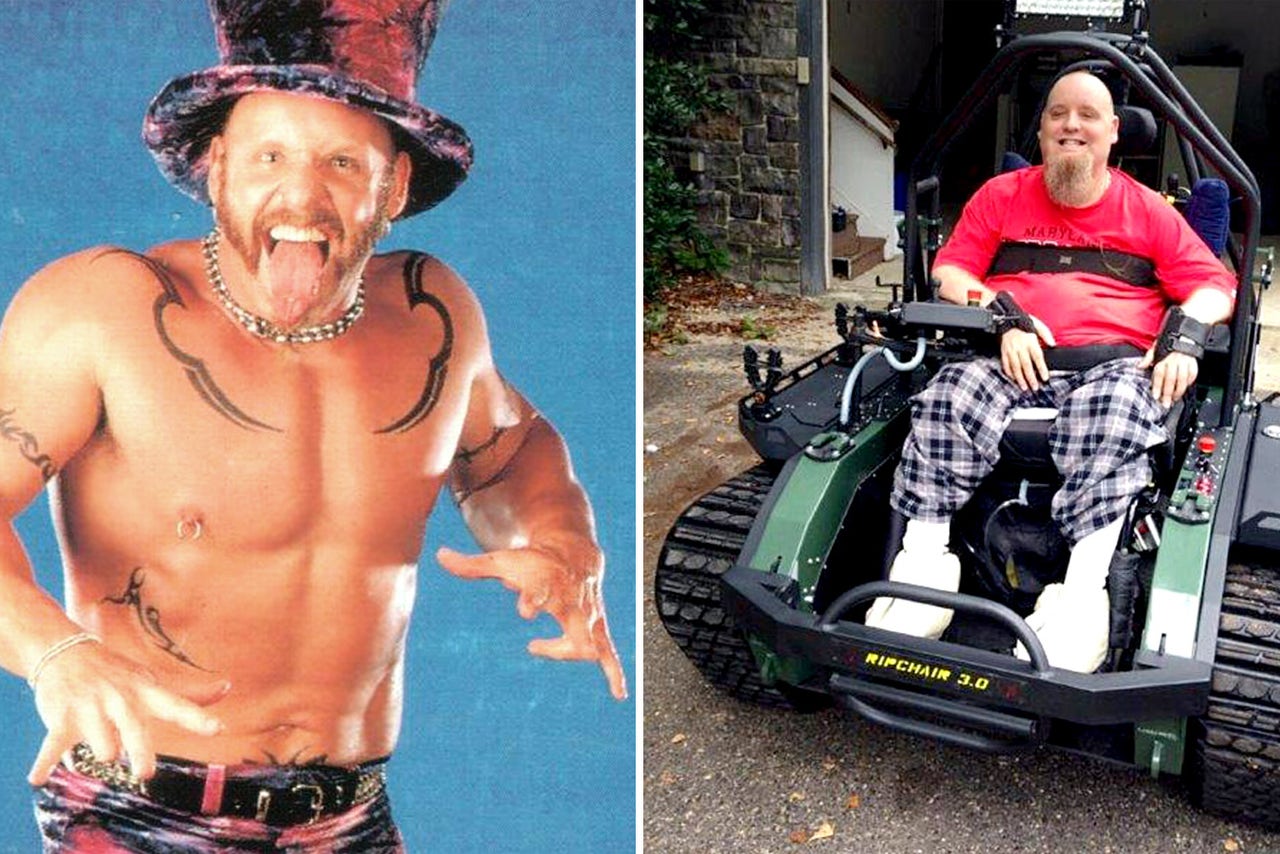 "No matter what puts you down, in my eyes and in my mind, there is always another day. Just because I'm paralyzed and stuck in a wheelchair, doesn't mean my life is over. I've learned to live again and my life is far from over." — Darren Drozdov
WWE Superstar Darren Drozdov was 30 years old in 1999. He was an outstanding, multiple-sport athlete, a former defensive tackle for the University of Maryland who had a short NFL career and went on to become one of WWE's brightest prospects.
On Oct. 5 of that year, at a WWE TV taping at Nassau Coliseum in Uniondale, N.Y, in a heartbeat, the 6-foot-3, 280-pounder became a quadriplegic with essentially no movement below the neck.
A basic pro wrestling maneuver called a power bomb delivered to Droz by veteran grappler D'Lo Brown went terribly wrong, and multiple people's lives were changed. Forever.
"I have no hard feelings toward D'Lo because sh*t happens and everyone who gets involved in athletics, including WWE, knows the risks that exist," Droz told me by phone from his New Jersey home recently. "It was an accident." 
I met Droz when we were recruiting him for WWE and I was EVP of the Talent Relations department. Droz had gained a degree of infamy after he vomited on the football prior to the center snapping the pigskin on "Monday Night Football."
The incident became a highlight-reel moment for the Denver Broncos nose tackle. It earned Droz the nickname "Puke," which caught the interest of WWE Chairman Vince McMahon. When we met with Droz in McMahon's office, the likable and charismatic athlete puked in the chairman's trash can — on camera, by the way — as a part of his audition.'
In high school, Darren Drozdov was a 6-foot-3, 240-pound option quarterback who by his own admission — and with a smile — "did not throw the ball much, but I did run over a lot of people." Droz also was an outstanding track and field athlete as he competed in the shot put, javelin, and discus, even earning a spot in the state track meet as a 110-meter high hurdler. Droz followed in the footsteps of his father, who was Maryland's last three-sport letterman.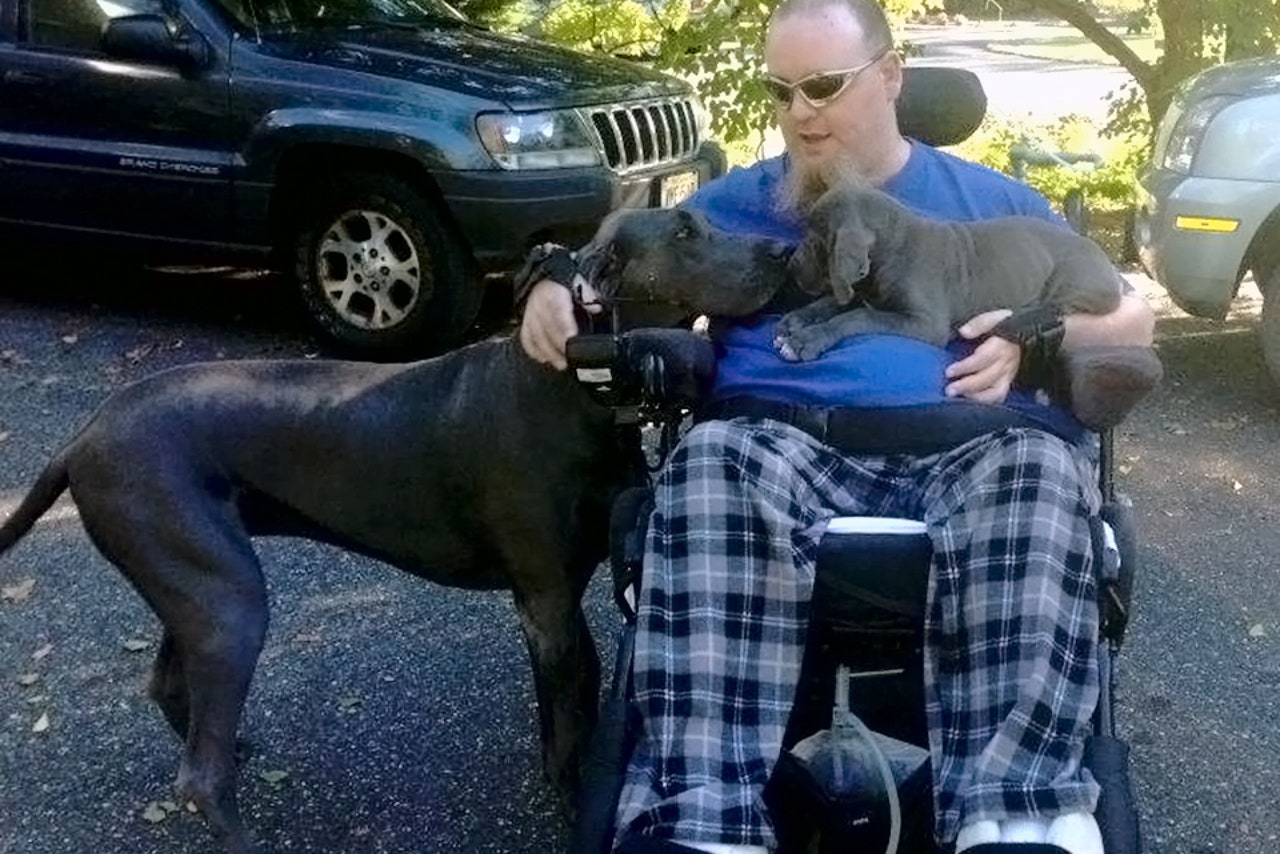 Darren Drozdov and his constant companions, Great Danes Skye and Bleu.

Today, the 45-year-old Droz lives near where he grew up in South Jersey, across the river from his father and mother along with his sister and her family. Droz has to have 24-hour, in-home care to help him function. Thanks to the efforts of WWE and others, Droz is able to have a degree of independence and many of his staff have become like extended family.
"The McMahons came through for me and I remember my Dad saying after the surgeries that 'Thank God that you worked for WWE,' " Droz said. "The WWE is still supportive." 
Droz is still a huge Maryland football fan and stays in touch with many of his former college teammates and friends who are regular callers and visitors.
One of the many who stays in contact with Droz is Kevin Plank, the CEO and Founder of Under Armour. Plank and Droz were suitemates in college and have maintained a great relationship.
Plank helped facilitate a rip chair, which is like a "tank with wheels," and allows Droz to put his wheelchair in the custom-made vehicle and move around in the woods so that he can resume his passion for deer hunting.
Droz recently harvested his first deer since the '99 accident, thanks to the assistance of friends, some amazing hunting technology and his rip chair.
"It was the first, true adrenaline rush that I've had in 15 years," he said. "I never thought that I would be able to rejoin my friends in the deer woods much less hunt, but thanks to technology and the help of a lot of people, I got my first deer, with a bow no less, and now I look forward to the gun season for deer. To be able to harvest my own food — and I love venison —made me feel amazing."
Droz's folks, who never missed a college football game that their son played, are frequent visitors to Casa Droz and Darren reciprocates, but he can't drive due to the many painful muscle spasms he has daily, which also cause migraine-like headaches.
He has to take dozens of meds several times a day along with having to lay flat for long periods. He's somewhat leery of all the medicines that he's taken and how that will affect him in the long term, but he believes it's necessary at this point in his life.
While speaking about his daily regimen and the dozens of pills he takes, Droz shared a somewhat humorous moment regarding those terrible headaches he gets with the muscle spasms.
"I was having a bad headache and my mom was there to give my staff a little break," he told me. "I said mom, 'Will you hand me that pipe?' The pipe contained a small amount of marijuana which, after a couple of puffs, makes the headaches disappear or at least become manageable.
"JR, did you ever smoke pot in front of your mom?" My answer was no. Droz said, "Well, let me tell you that it's a different experience and one that I had to get used to, but mom understands and knows it helps me deal with the spasm-induced headaches."
Droz credits his family and friends for creating a support system that has helped him deal with his paralysis amazingly well.
"For some reason, even as a kid, I always had a strong premonition that I would die young," he said. "I don't know why but I've had that feeling for as long as I can remember. I guess, in a way, when the accident occurred, that a large part of me did die, but over time my mindset on that has changed over the years. I had to start my life over after the accident and I've grown to realize that I'm still very much alive. I'm far from dead."
So whether its Droz's loving family, his longtime buddies like Hugh Brown and his parents who have sent him a postcard or letter every week for 15 years, Plank, guys like "Brew" or countless other pals, the former Maryland Terrapin, Denver Bronco, New York Jet, Philadelphia Eagle and WWE Superstar is the emotional leader of his own "team," which definitely is winning in the game of life.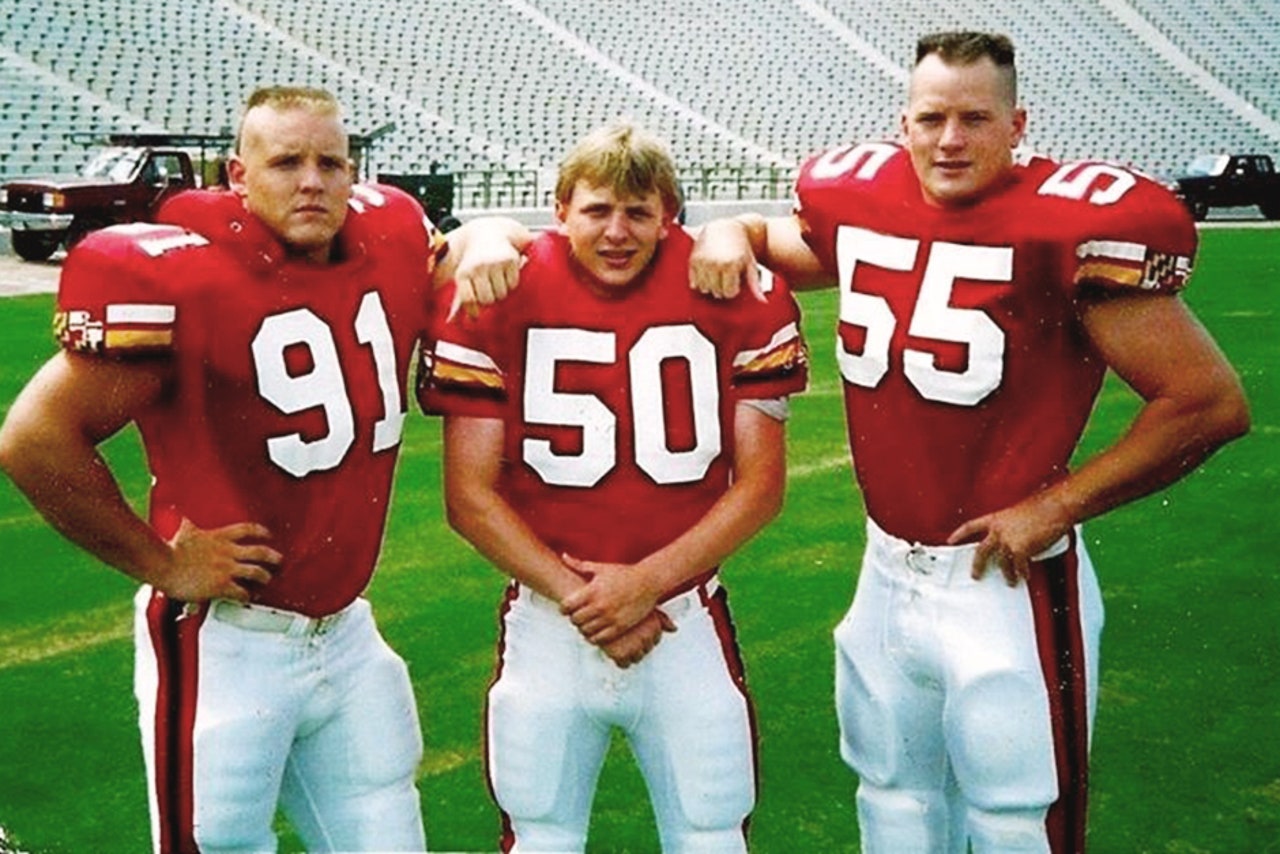 Hugh Brown (50) and Dave deBruin (55) were Terp teammates of Droz and help him to this day.

Droz's positive attitude will lift anyone's spirits. He's nothing short of a miracle. 
"My team is a Godsend and all I can do for them is to not give up and to battle just like I have all my life," he says. "I even try and motivate them and I hope that I do." 
(Check out Darren Drozdov on Facebook)                   
---
---