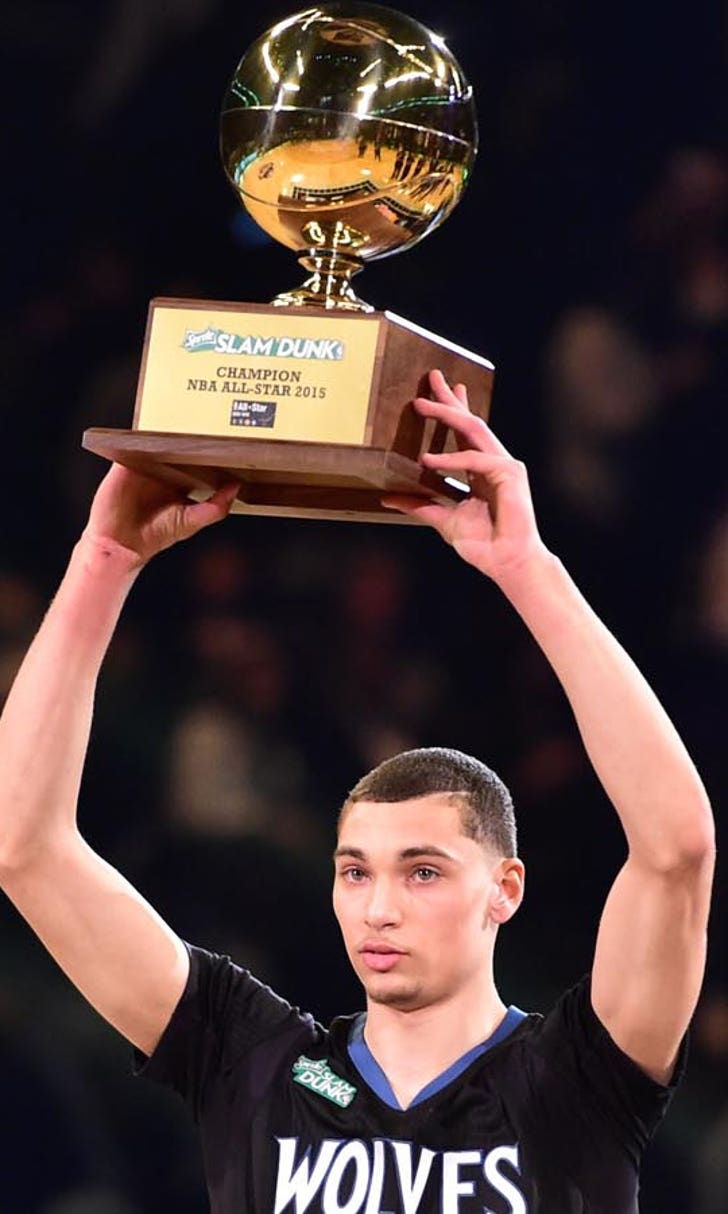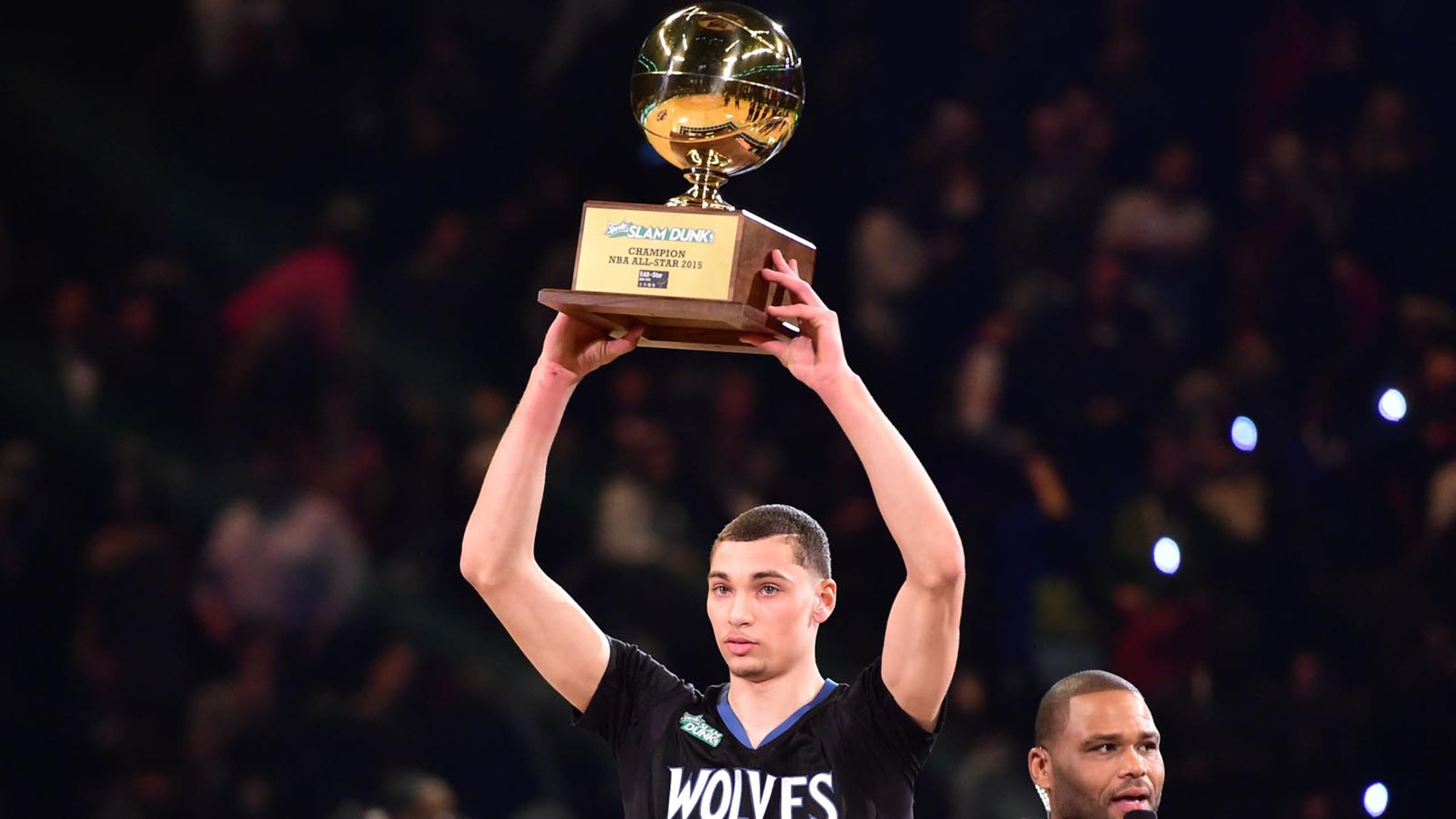 Wolves' Towns in NBA skills challenge, LaVine to defend dunk title
BY foxsports • February 4, 2016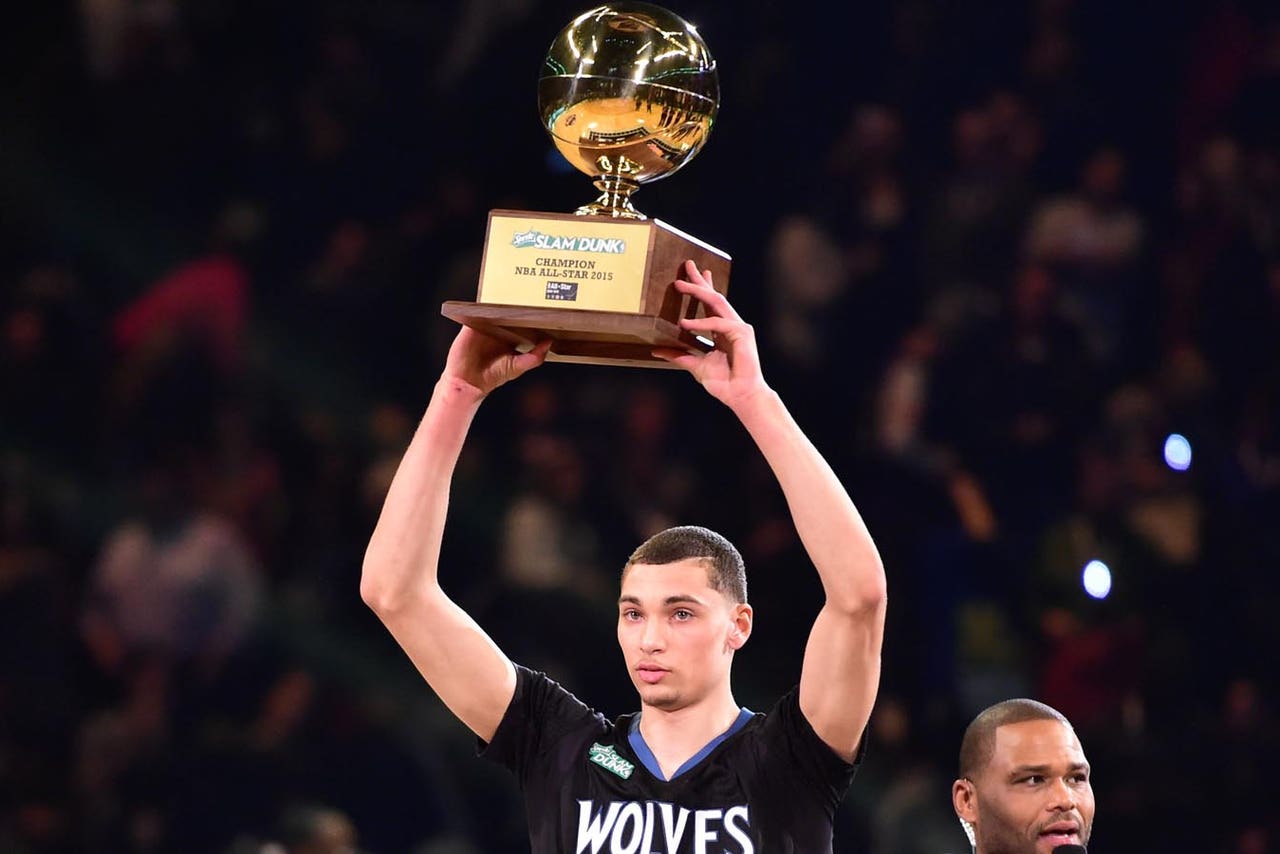 Minnesota Timberwolves guard Zach LaVine will return to defend his title and represent the Wolves in the 2016 Slam Dunk Contest the league. LaVine will dunk against Will Barton (Denver Nuggets), Andre Drummond (Detroit Pistons) and Aaron Gordon (Orlando Magic). LaVine is seeking to join Michael Jordan (1987-88), Jason Richardson (2002-03) and Nate Robinson (2009-10) as the only solo back-to-back winners of Verizon Slam Dunk.
"To have the chance to defend my title . . . is very exciting," LaVine said in a release. "I can't wait to go out there, put on a great show for the fans and have some fun."
In his second season, LaVine, the No. 13 overall selection in the 2014 NBA Draft, is averaging 12.8 points, 3.2 assists and 23.8 minutes in 51 games including 20.0 points, on 59.5 percent shooting, 2.3 rebounds and 3.7 assists over his last six games.
Timberwolves rookie center Karl-Anthony Towns was also named as one of the participants in the 2016 Skills Challenge that will take place Saturday night of All-Star Weekend. Towns is the first Minnesota player to participate in the NBA All-Star Skills Challenge.
Towns' competitors include DeMarcus Cousins of the Sacramento Kings, Anthony Davis of the New Orleans Pelicans and Draymond Green of the Golden State Warriors. Defending champion Patrick Beverley of the Houston Rockets and fellow guards Jordan Clarkson of the Los Angeles Lakers, CJ McCollum of the Portland Trail Blazers and All-Star Isaiah Thomas of the Boston Celtics complete the lineup for the three-round, obstacle-course competition that tests dribbling, passing, agility and three-point-shooting skills. A head-to-head, bracket-style tournament format will be used for the second consecutive year.
"I'm looking forward to competing in the Skills Challenge and seeing how I stack up against other players, especially other big men," Towns said. "Along with also competing in the Rising Stars Challenge with my teammates Zach LaVine and Andrew Wiggins, I am honored and excited to represent the Minnesota Timberwolves. It will be a fun weekend."
The Skills Challenge format calls for two players to compete simultaneously on an identical course with the fastest finisher reaching the next round. In the first round, the eight players are paired to participate in four head-to-head competitions. The four winners advance to the second round, where two more head-to-head showdowns determine the two finalists.
---
---