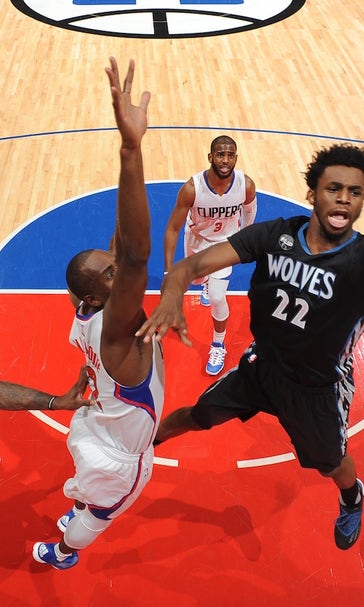 Wiggins scores 31 as Timberwolves top Clippers 108-102
BY foxsports • February 4, 2016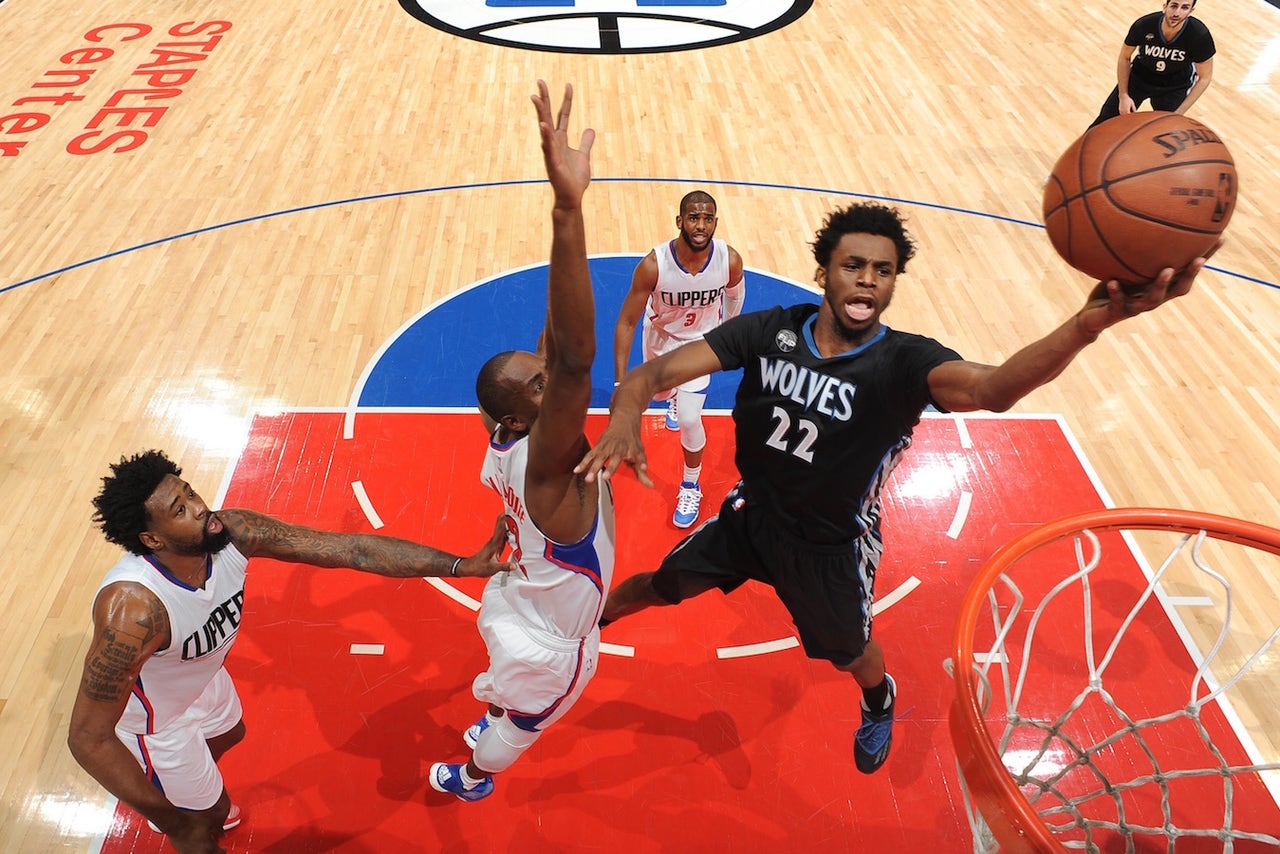 LOS ANGELES -- Stung by a four-point loss to the Lakers a night earlier and playing the second game of a back-to-back against a team they had lost to 14 straight times on the road, the Minnesota Timberwolves might have doubted themselves.
Instead, they came out sharp and never let up, beating the Los Angeles Clippers 108-102 on Wednesday night to snap skids of five games overall and 12 in a row away from home.
"It was a good feeling to get a very nice win against a good team," Timberwolves interim coach Sam Mitchell said.
Andrew Wiggins scored 21 of his 31 points in the first half and Zach LaVine added 17 off the bench for the Wolves. Scoreless in the first half, Karl-Anthony Towns finished with 17 points and 12 rebounds, and Gorgui Dieng had 12 points and 10 rebounds.
"We did a good job of making sure we kept the game in control," Towns said. "The coaching staff was amazing, everything from calling plays to calling timeouts when the game was going a little south. There were so many spectacular plays that made this win possible."
Chris Paul scored 22 points and Jamal Crawford added 21 off the bench for the Clippers. Their four-game winning streak ended and they fell to 15-4 without injured Blake Griffin. Their streak against the Wolves was the Clippers' longest active winning streak against any opponent.
"Our defense was terrible. We were a step slow," said DeAndre Jordan, who had 18 points and 15 rebounds. "We can't take teams lightly. In order to be a great team you've got to have focus no matter what's going on. Later on in the season these are the ones that haunt you."
The teams traded runs in the fourth, when the Wolves led by nine points before the Clippers briefly regained a one-point lead. Twice the Clippers tied the game in the final 2 minutes, but the Wolves scored to regain the lead.
With the Clippers trailing 102-100, Paul hit Ricky Rubio on the head and knocked him down while trying desperately for a foul, leading to a technical. Rubio hit the free throw and the Wolves scored four in a row for a 106-100 advantage to put the game out of reach.
"That was a timely tech," Paul said. "It was my fault. I apologized to the team. You can't get techs in the fourth quarter."
The Clippers closed within one early in the fourth before Minnesota went on an 8-0 run to extend its lead to 85-76. Dieng and Andre Miller each had a three-point play and Shabazz Muhammad added a pair of free throws.
Los Angeles answered with a 12-2 spurt, including six points by Crawford, for its first lead since early in the third, 88-87. Crawford made all 10 of his free throws in the game.
"We're gaining confidence every day," Wiggins said. "We may lose, but we're not getting beaten bad and we're not getting blown out. We may be down by 15 points sometimes, but we're fighting back and never giving up."
Minnesota ran off 14 straight points for its largest lead of the game, 69-59, in the third. Towns had 11 points in the period after missing his first six shots of the game.
The Clippers rallied by hitting four 3s as part of a 15-7 run to trail 76-74 heading into the fourth. They started the quarter with 1-of-12 shooting.
TIP-INS
Timberwolves: Minnesota improved to 1-2 against the Clippers this season. ... F Kevin Garnett missed his sixth straight game with a sore right knee. ... G Kevin Martin sat out his sixth in a row with a sore right wrist. ... C Nikola Pekovic was out for the second game in a row with a sore right foot.
Clippers: Jordan had three blocks to reach 1,000 for his career. ... G Austin Rivers was ejected after receiving back-to-back technicals in the second quarter. ... With still no word from the NBA on its investigation of Griffin for punching a team staff member, the forward remained away from the team. Coach Doc Rivers said Griffin won't be on the upcoming four-game trip because of his broken hand and a partially torn tendon he already had. Rivers wasn't sure whether assistant equipment manager Matias Testi would rejoin the team pending the outcome of the league's inquiry. ... Paul's young son, Chris Jr., presented his dad with his All-Star jersey before the game.
PAUL AND THE REF, PART II
Second-year referee Lauren Holtkamp called a technical on Paul. The two have a history dating back to last February, when she called a tech on him in a loss at Cleveland.
Paul was fined $25,000 by the league for his comments, in which he said, "This may not be for her."
This time, he said she gave him no explanation for her call.
"I was surprised," he said. "I guess it was a tech for what I said."
Asked what that was, Paul replied, "Nothing."
"They got my money already," he said.
Rivers said the explanation he heard was "overt clap."
UP NEXT
Timberwolves: Host Chicago on Saturday.
Clippers: At Orlando on Friday to start a four-game trip.  
---
---