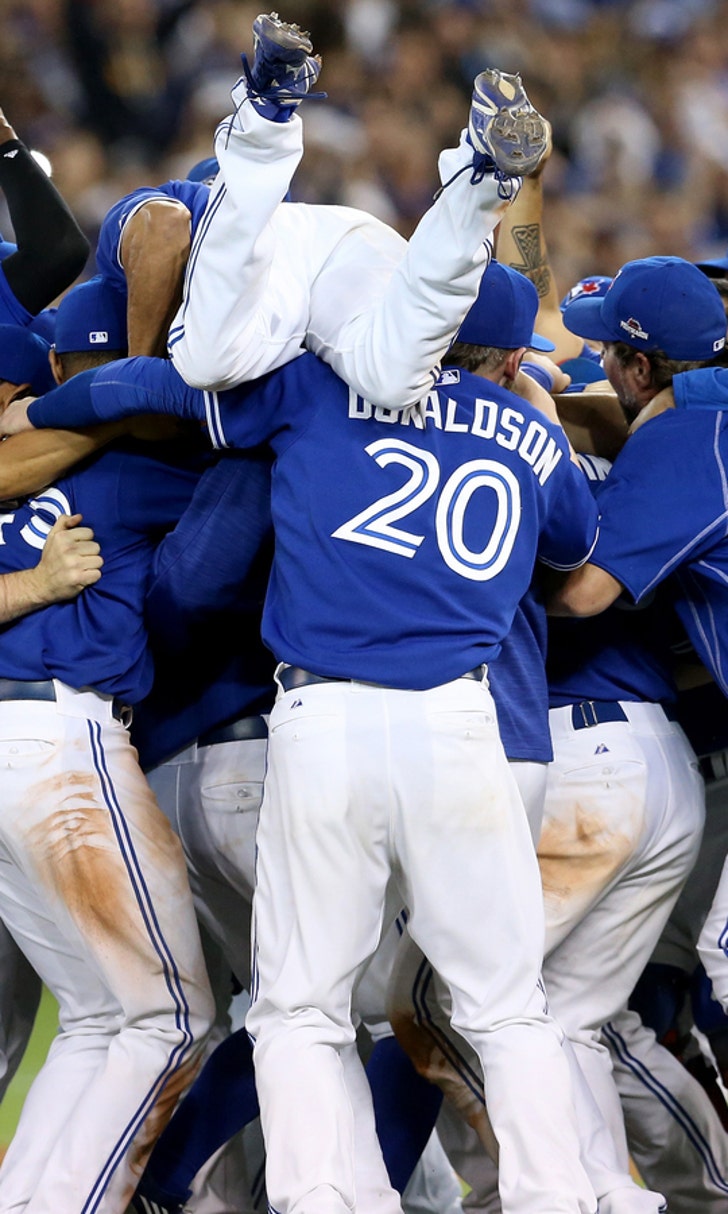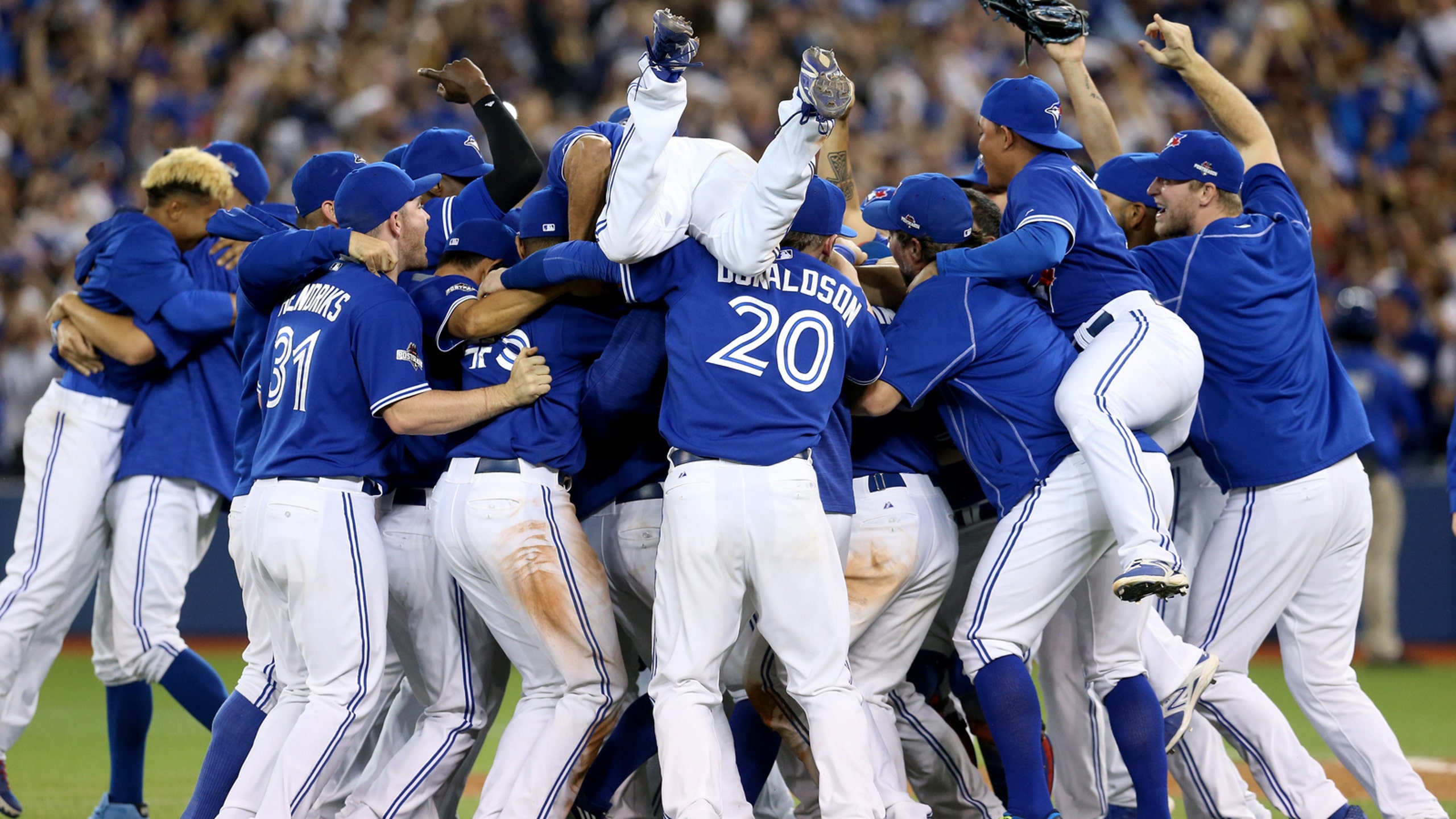 WhatIfSports ALCS Blue Jays vs. Royals prediction: Toronto captures World Series berth
BY Fox Sports • October 15, 2015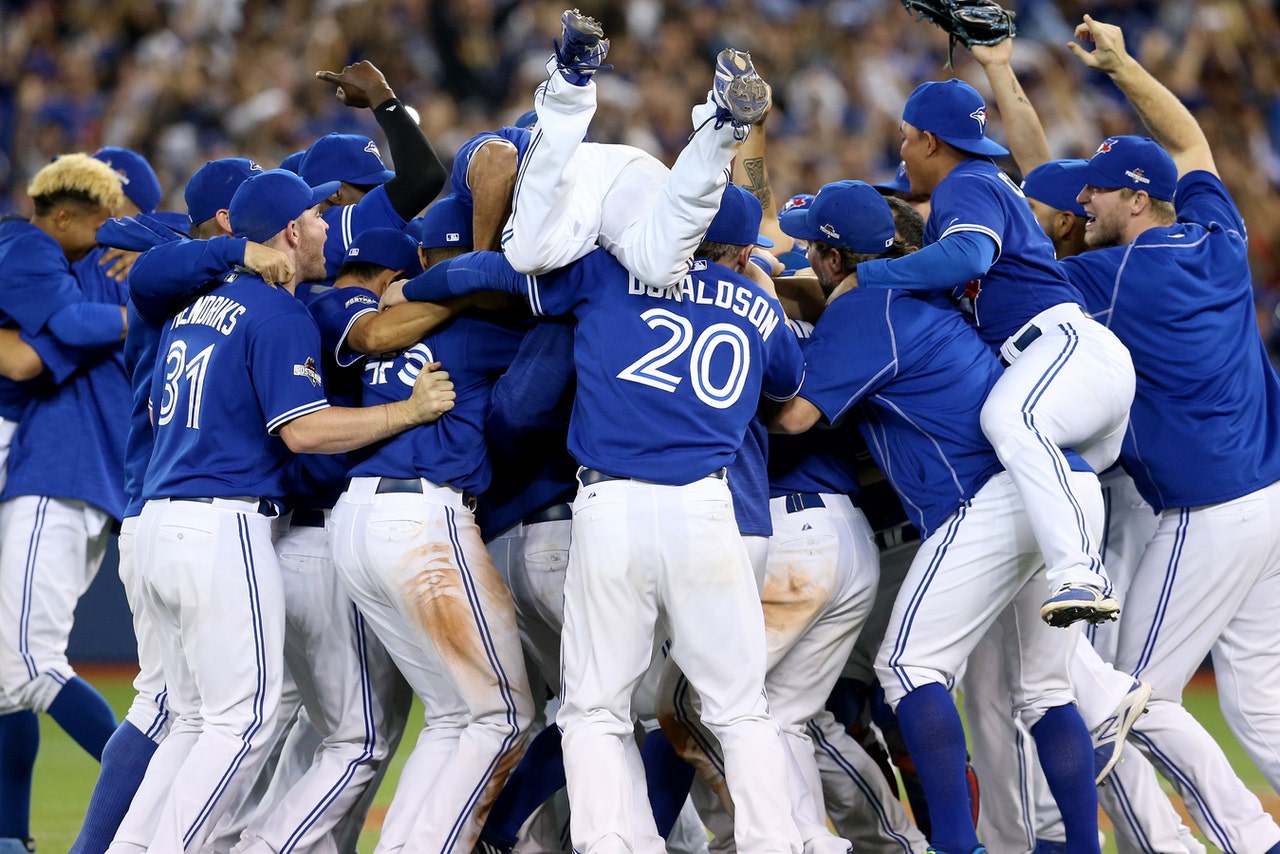 For the record, this preview is not being written under protest.
In fact, our predictions have been as smoking hot as a ball off the bat of Joey Bats. After both Toronto and Kansas City took their respective Game Fives, our simulation engine went to 5-0 -- though the Mets spoiled our perfect postseason predictions by beating the Dodgers in the NLDS. The computers were even specific enough to call the Royals in five and the Blue Jays in three (well, Toronto did win three in a row). Let's break down the ALCS before we reveal the results . . .
The ALCS will truly be a battle of a team packed with bats and the other with arms.
Toronto's lineup is unbelievably daunting. Having to retire Josh Donaldson (41 home runs), Jose Bautista (40 HR), Edwin Encarnacion (39 HR) and Troy Tulowitzki is a Herculean task. Even after dropping the first two games in a best-of-five series, the Blue Jays brought the lumber and would eventually take the final three contests.
Five runs seemed to be the "magic number" for Toronto. In Games 1 and 2 against Texas, the Blue Jays produced four runs or fewer.
The same can be said for the Royals. In their two postseason losses, Kansas City scored only two runs total. In its three victories, KC concocted at least five runs on offense.
As for the pitching, Kansas City ended the regular season with the third-best team ERA in the AL (3.73).
The Game 1 starter for KC, Edinson Volquez, led the Royals rotation with a 3.55 ERA in 200.1 innings of work. For Game 2, though Yordano Ventura concluded 2015 with a 4.08 ERA, he now has six straight starts of allowing three earned runs or fewer.
When Game 3 turns back to Toronto, Johnny Cueto will take the mound. Kansas City has now won three consecutive games in which Cueto started for them.
Kris Medlen is slated to pitch in Game 4. This season, Medlen is 5-0 with a 1.20 ERA in 30 innings of work on the road.
The Royals o ffense can also produce some pop. Kansas City equaled Toronto's home-run total in the postseason, eight homers. Kendrys Morales carried the load. His three home runs in the ALDS led the team. Salvador Perez added two of his own.
They will need to face Marco Estrada in Game 1. He has allowed three earned runs or fewer in five straight starts. David Price will take the mound in Game 2 for Toronto. On May 2, Price pitched a complete game and only allowed five hits against the Royals . . . as a member of the Detroit Tigers. However, he was still unable to overpower the lineup with punchouts. In 15.1 innings against the Royals this season, Kansas City only struck out four times against Price.
Marcus Stroman is scheduled to pitch in Game 3. At the Rogers Centre, Stroman was 2-0 with a 0.64 ERA in the regular season. In his two postseason starts, both at home, Stroman allowed three earned runs or fewer. After him, R.A. Dickey will start. He was 9-3 (3.11 ERA) in 17 home starts in 2015. In his lone start against the Royals this season, Dickey pitched seven innings of scoreless baseball and was able to strike out KC six times.
So which squad will advance to the World Series? We simulated the ALCS 501 times using our MLB simulation engine to generate a prediction:
The simulation predicts Toronto to reach its first World Series since 1993. The Blue Jays were victorious in 367 of 501 series simulations (73.3 percent). The most common outcome saw the Blue Jays advancing in six games, which occurred 25.0 percent of the time. Series that went seven games were almost evenly split between the Blue Jays and Royals. Toronto won in seven games a total of 66 times, while Kansas City captured the series in seven games 63 times.
Toronto averaged 7.9 home runs per series, compared to 5.4 for the Royals. The simulation's five most prolific home run hitters were all Blue Jays, including Encarnacion (1.44 home runs per series), Donaldson (1.38), Bautista (1.35), Justin Smoak (1.24) and Russell Martin (0.91).
Price topped all pitchers in wins, averaging 0.93 per series while posting a 3.23 ERA. Stroman was also excellent in his appearances, averaging 0.54 wins and a 3.04 ERA.
For more MLB playoff predictions, view our Cubs vs. Mets simulation.
---
---