Cameron Maybin
Cameron Maybin
What could Olivera's move to outfield mean for Braves?
Published
Nov. 4, 2015 1:34 p.m. ET

The crux of the Atlanta Braves' offseason is Hector Olivera.
There are pressing issues across the board for the rebuilding franchise — one that posted a 67-95 record with baseball's lowest-scoring offense and a historically young pitching staff suffering through growing pains — but the development of the 30-year-old semi-prospect is destined to become a tipping point in John Hart's tenure. The Braves gambled on Olivera at the trade deadline when the Dodgers offered to foot the bill for his signing bonus, at the price of promising young players Alex Wood and Jose Peraza, and made good on their long-standing fascination with the Cuban product.
Following an injury-riddled MLB debut season, expectations are high. Time is not on Atlanta's side in this deal, and if Olivera can not significantly improve upon his .253/.310/.405 slash line in 2015 and protect the likes of Freddie Freeman in the lineup, the Braves are going to need to spend significant money addressing the offense prior to 2017. The Braves have shown they are heavily invested in Olivera by having two coaches, Kevin Seitzer and Bo Porter, staying with him during his winter ball stint in Puerto Rico.
The first step in slotting Olivera into the everyday lineup is to make sure he can hold his own in the field, notably at third base, where he started 21 games last season and, at least originally, where the team envisioned him as the final answer to a position that has proven problematic in the post-Chipper era.
That may no longer be the case.
Following a week's worth of reports that Olivera would be splitting time between third and left field, ESPN's Buster Olney reported on Wednesday morning that the Brave's newcomer was working exclusively in left field, under Porter's guidance, during winter ball.
Olney made it clear that Olivera is no longer splitting time between the two positions, and though other reports have stated that third base is not entirely out of the question, for argument's sake let's work on the assumption that Atlanta has a new left fielder.
What could this transition mean for the Braves?
First, if Olivera is now an everyday outfielder, it says more about the franchise's confidence in his ability to handle third base, which has given him trouble ever since coming over in the Dodgers deal, than it does about his defensive ability in left. This is not necessarily a surprising move, though. A move to left field has long been rumored with Olivera, even dating back to his pre-signing days, as he's shown limited range and ability as a corner infielder. The goal was still for Olivera to man third base — that was priority No. 1 for sending to Braves coaches down for long-term stays in Puerto Rico.
The fact that the team has already shifted gears speaks volumes about the early winter ball progress reports.
Now, if Olivera hits, none of this will be a major issue — his primary value stems from his bat — but the team's quick trigger is noteworthy.
The move will also change how Atlanta approaches its outfield this offseason. The team featured one of the five worst outfields in baseball in 2015, and now it's paying more than $56 million to Olivera, Cameron Maybin, Nick Markakis, Nick Swisher and Michael Bourn ... without any definitive answers.
Markakis enjoyed a solid, singles-heavy season at the plate in Year 1 of his four-year deal, but he provides little power or speed and his defensive ability has gone downhill. Maybin was valuable in the first half of last season before tapering off down the stretch. Swisher and Bourn are the $29 million price tag for unloading Chris Johnson's contract to Cleveland.
Even before the Olivera move, there was a logjam at the corner outfield spots, and as highly rated prospect Mallex Smith pushes for time the transition could take away the team's flexibility in looking at the likes of Markakis or Maybin in left field. (On the other hand, this could give Smith more time to develop at Triple-A Gwinnett or make Maybin a viable offseason trade piece.)
Then there's the question of third base, which, barring an offseason trade or signing, could fall to Adonis Garcia. Olivera's fellow 30-something rookie led the team with 345 1/3 innings played at third base last season, posting a team-worst minus-3 defensive runs saved. He did, however, make up for it at the plate. Garcia flashed surprising power — he was one of four MLB players to hit double-digit homers in fewer than 200 plate appearances; this coming after hitting 21 shots total in nearly 1,200 plate appearances in the minors — and should have a legitimate chance to secure more playing time in 2016.
There was also the possibility that Garcia was the one that could move to the outfield. Maybe his and Olivera's roles have simply flipped.
The farm system likely will not provide much help here, either, as top third-base prospects Rio Ruiz and Austin Riley are not expected to make their MLB debuts until the team moves to SunTrust Park.
A full-time move to the outfield likely alters the Braves' free agency options as well. With left field being arguably the biggest problem area in last year's lineup, and with an extremely deep free-agent market at that position at a variety of price ranges (Alex Gordon, Justin Upton, Yoenis Cespedes, Colby Rasmus, Gerardo Parra, etc.), the Braves could have been active there. The third-base market — should they choose to go that route — is not nearly as impressive.
Majority of FA third basemen pretty underwhelming: David Freese, Casey McGehee, Juan Uribe, Gordon Beckham and Mike Aviles. #Braves

— Grant McAuley (@grantmcauley) November 4, 2015
Fourteen third basemen posted a 3.0 WAR or better last season, an approximate baseline of success that Olivera should be expected to match starting in 2016, and not a single one is an unrestricted free agent. Perhaps a 32-year-old David Freese (2.2 WAR, 110 weighted runs created) or the return of veteran Juan Uribe could help in the short term, but at what cost? The Braves already had plenty of money wrapped up in the outfield in 2016, but at least there were more options in that market.
This could all be much ado about nothing. If Olivera hits at a high level, providing some much-needed pop for baseball's least productive offense over the past two seasons, Fredi Gonzalez & Co. will find a spot for him.
Perhaps Olivera becomes a quality left fielder. Perhaps Garcia provides enough power to make up his defensive shortcomings at third. Perhaps the front office will explore trade options at the Winter Meetings. (John Coppolella is the GM. Go ahead and expect this to happen.) Still, if Olivera is incapable of manning the everyday third-base spot in 2016, the move likely alters Atlanta's offseason plans.
---
---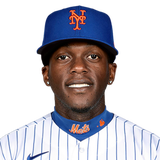 Get more from Cameron Maybin
Follow your favorites to get information about games, news and more
---