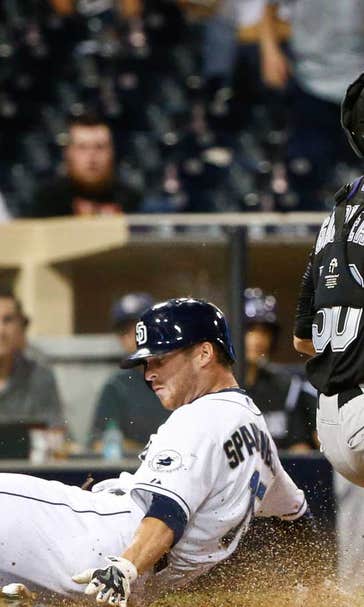 Wallace wins it in 9th for Padres, 2-1 over Rockies
September 9, 2015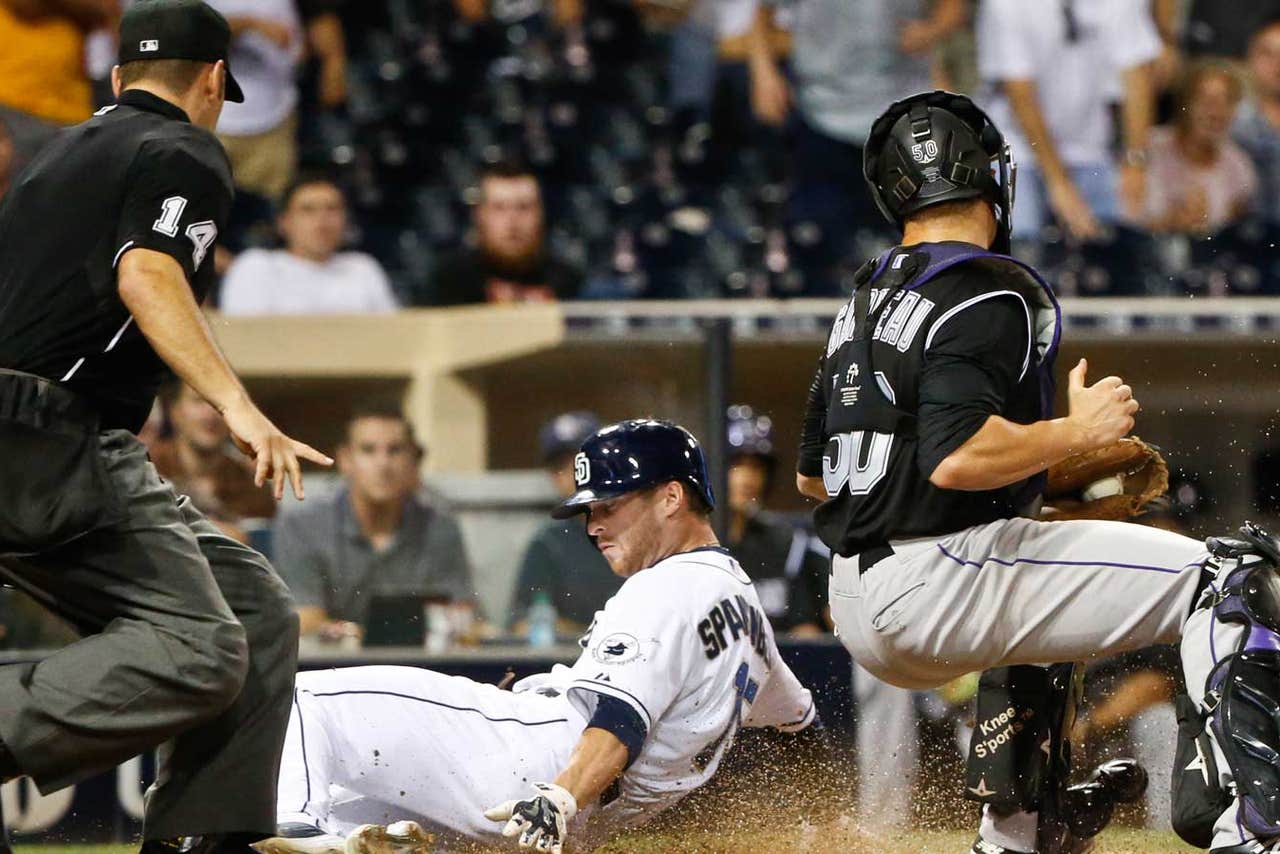 SAN DIEGO (AP) - Brett Wallace continues to come through in the pinch for the San Diego Padres.
Wallace's fielder's choice grounder drove in the winning run in the bottom of the ninth as the Padres beat the Colorado Rockies 2-1 on Tuesday night.
Corey Spangenberg doubled to lead off the ninth against Boone Logan (0-3) and advanced to third on a sacrifice bunt by pinch-hitter Clint Barmes.
Wallace, who had gone 11 for 22 as a pinch-hitter since Aug. 15, followed with a ground ball to shortstop Jose Reyes, who threw home but Spangenberg beat the throw.
"He knows how to hit," Padres manager Pat Murphy said. "I know this guy and I believe in him. I think he has found a role that he might do for many years to come."
The win snapped a four-game losing streak for the Padres.
"Logan, he's tough on lefties, he's one of the best," Rockies manager Walt Weiss said. "That's a tough assignment there for Wallace, credit Wallace. Sitting around all night and having to face Logan in that situation. I think he threw him a fastball right there and he hit it hard enough to get the job done."
Colorado's Nolan Arenado tied the game in the ninth with a two-out, solo home run to left off Craig Kimbrel (2-2). The blown save is Kimbrel's third of the year.
"I'm not shocked, Nolan is a great hitter," Murphy said. "Craig didn't put that pitch where he wanted to. Nolan kind of had that look in his eye when he came up to the plate. In my mind, Craig is one of the best closers in the game."
San Diego pitchers had retired 16 straight before Arenado's league-leading 37th home run.
"Big time," Weiss said. "He does it often on defensive side or with an at-bat. He is a big-time player."
Wil Myers broke a scoreless tie in the sixth with his sixth home run of the season, a solo shot into the second deck in left field. It was Myers' first home run since May 8 after he served two stints on the disabled list due to a wrist injury.
"It was nice," Myers said. "Honestly, I'm just glad to be back. It has been a long road, a tough road. I'm just glad to be here."
Colin Rea held Colorado scoreless for seven innings, the longest outing of his career, on two hits in his fifth major league start. He walked three and struck out four.
"It was just executing pitches when I needed to," Rea said. "I made some pitches at the right time. I didn't have my best stuff, but the defense was able to make plays, and we got some big hits, too."
Colorado starter Jon Gray shut out the Padres for five innings, allowing two hits while striking out six and walking two. Gray, a 2013 first-round draft pick, has yet to receive a decision in any of his seven starts since making his debut on Aug. 4.
"It went really well," Gray said. "The command could have been a little better. I walked too many people. But the secondary pitches were great and that helped out a lot. I had great defense behind me with them robbing them of some hits. That was awesome."
San Diego's Matt Kemp singled in the sixth and has reached base safely in a career-high 28 straight games.
TRAINER'S ROOM
Rockies: Arenado returned after leaving Monday's game with bruised ribs from diving into the stands to make a catch. ... OF Carlos Gonzalez and Reyes were in the lineup after getting Monday off. ... OF Corey Dickerson (ribs) was activated from the DL. ... C Nick Hundley (neck) is day-to-day.
Padres: Padres 1B Yonder Alonso (back) remains out of the lineup. ... RHP Shawn Kelley (forearm) started a throwing program Tuesday. ... RHP Joaquin Benoit (back) remains unavailable.
UP NEXT
Rockies: LHP Chris Rusin (5-7, 4.78) will try to continue his success after pitching his second complete game of the season his last time out against the Giants.
Padres: RHP James Shields (10-6) takes the mound for the Padres, looking to build on his last outing in which he gave up three runs over five innings and took the loss against the Dodgers.
---
---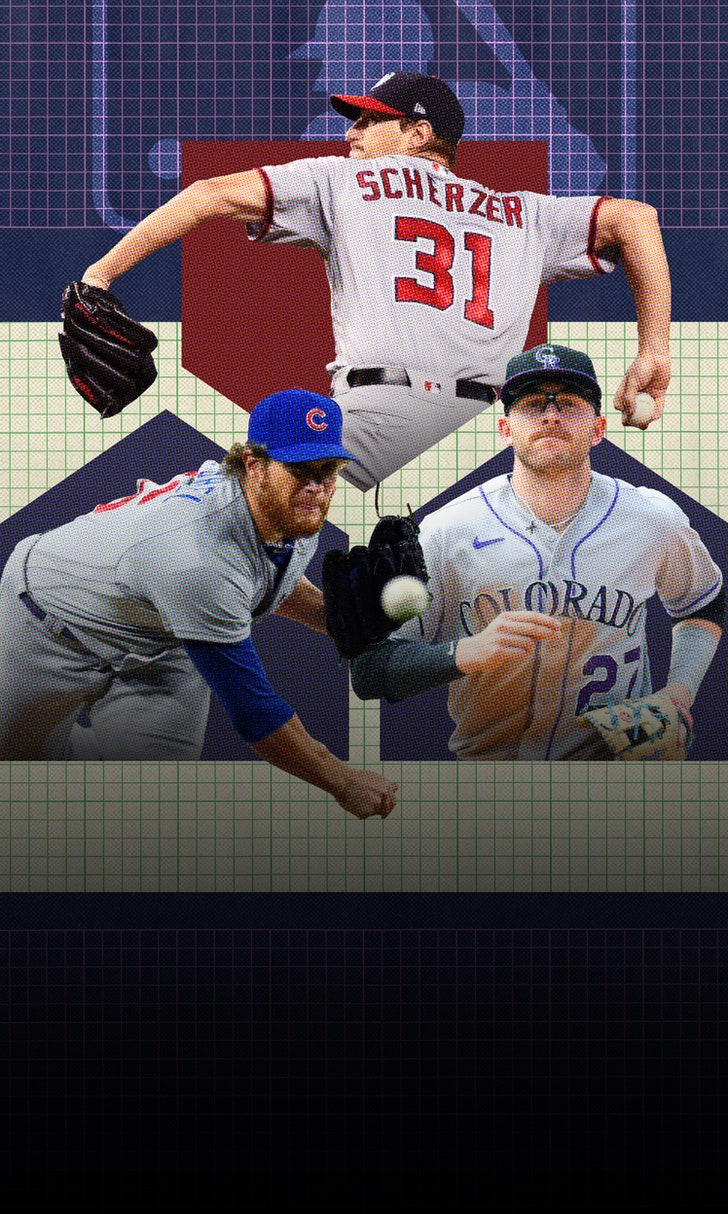 Who will stay, who will go? Predicting trade fate of stars such as Kimbrel, Scherzer, Story