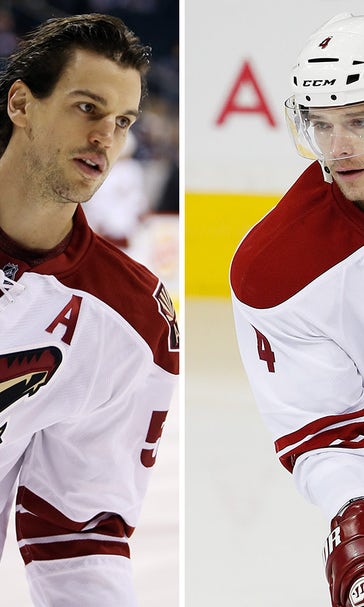 Vermette, Michalek cap flurry of Coyotes free-agent signings
July 2, 2015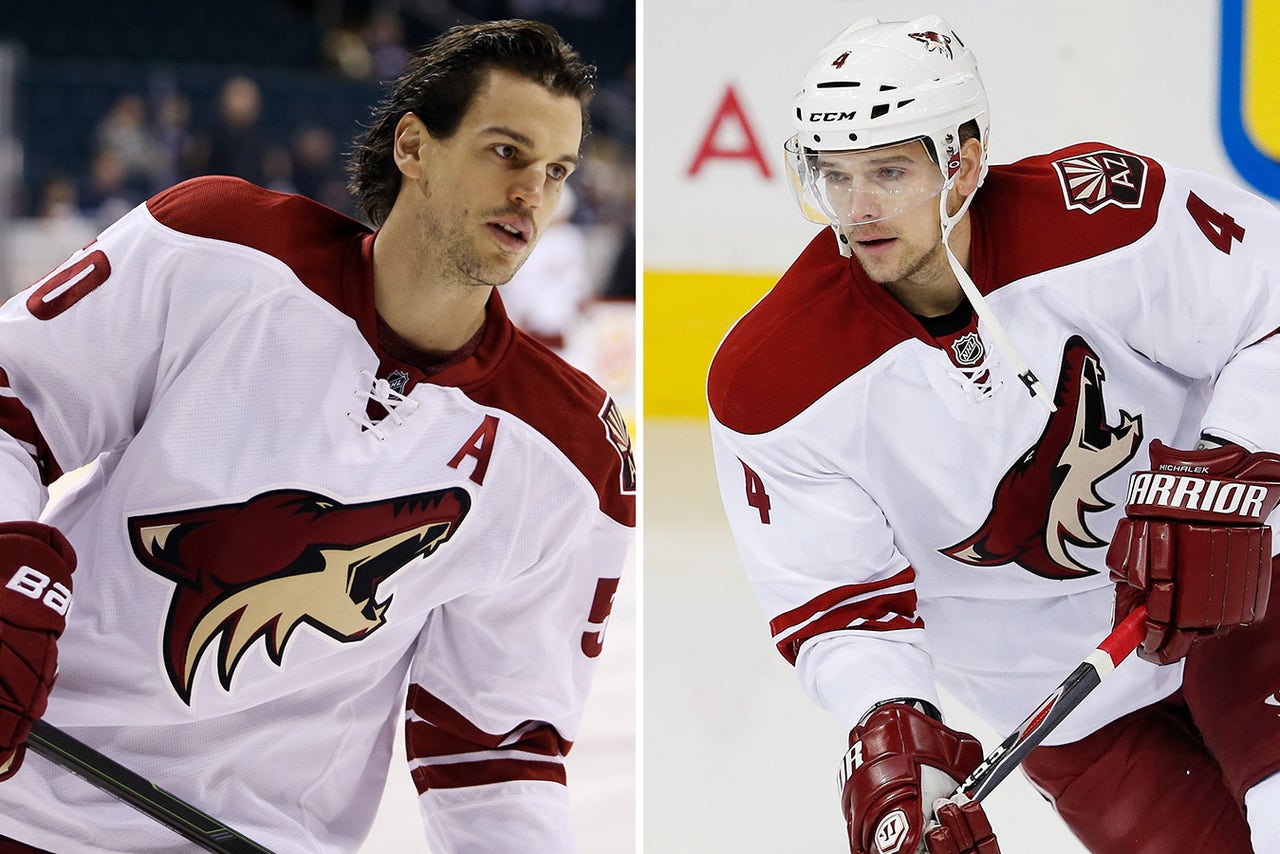 GLENDALE, Ariz. -- When Don Maloney walked into a 1:30 p.m. press conference at Gila River Arena on Wednesday, he thought he was done with what had already been a pretty good Day 1 of the NHL's free-agency period.
When he walked out, the day got much better. On his phone were voicemails from center Antoine Vermette's agent, Allan Walsh.  
"When I talked to Antoine's representative, all of the sudden the contract dollars and term made sense for us," Maloney said.
By 5 p.m. the Coyotes had reached an agreement on a two-year, $7.5 million deal with Vermette that capped a day of familiar returns. In a dizzying series of moves, the Coyotes also brought back defenseman Zbynek Michalek and added third-line center Brad Richardson, tough guy Steve Downie and backup goalie Anders Lindback to their recent acquisitions of former Coyote Boyd Gordon and defenseman Nicklas Grossmann.
"I think we're a lot better team today than we were yesterday," a pleased coach Dave Tippett. "Don did a very good job of signing players to reasonable contracts that still give us flexibility." 
That he did. Aside from Vermette, Michalek signed a two-year deal at an average annual value of $3.2 million; Richardson signed for three years at an average annual value of $2.083 million; Lindback signed for one year at $875,000; and Downie signed for one year at $1.75 million.
Despite all the signings, the Coyotes are still more than $1 million below the salary cap floor of $52.8 million as they eye new contracts for restricted free agents Mikkel Boedker, Klas Dahlbeck and Brandon Gormley.
Just as important, Maloney said the Coyotes still have the budget flexibility to pursue a right-handed defensive partner for Oliver Ekman-Larsson and more experience/scoring on the wing.
"It's not like we're capped out and we can all go home," Maloney said. "Our ownership is supportive and has increased the budget from last year. We do have some more available to us, but we have to continue to search for value. I would argue there was not a player we signed today that was overpriced."
Chief among those was Vermette, who was expected to enjoy a big payday in a weak free-agent class. While there is some indication that the market was not as kind as some players had expected, Vermette had other motivations for returning to the Valley.
When the Coyotes dealt him to Chicago at the trade deadline last season, Vermette kept his home here. His wife, Karen, just had the couple's second baby this month.
"I think about the family situation; it was important to me," said Vermette, who will be reuniting with good friend Shane Doan. "It's just an easy adjustment." 
The same can be said of Vermette's insertion into the lineup. While he played more of a defensive role in Chicago's run to its third Stanley Cup in the last six years, Vermette said he is comfortable jumping back into the No. 1 center spot.
"Certainly it's a different situation, I'm assuming, than in Chicago," said Vermette, who got a no-move clause in his contract as a likely concession for the length. "I'm probably going to see a different role or ice time, but it's something I experienced in the past with Phoenix." 
Having Vermette as the team's No. 1 center is not ideal, but first-round pick Dylan Strome isn't ready to grab that job on a full-time basis, and No. 1 centers are hard to find unless you draft them.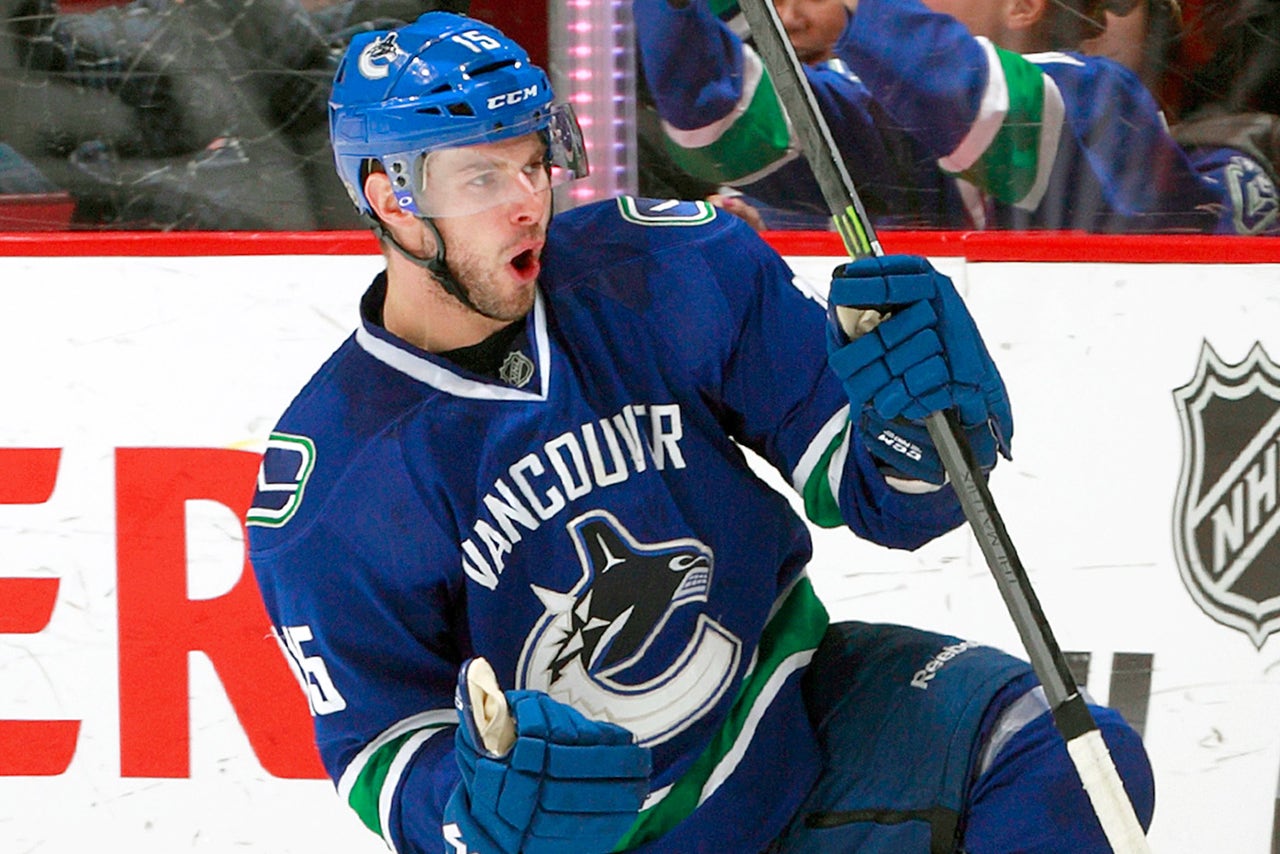 Brad Richardson brings some needed speed to the Coyotes' front line.
"When looking into the marketplace and realistically thinking what we could acquire to fill that one center position we had left, all of the players that were available to us, I would take Antoine Vermette ahead of those players," Maloney said.
"If you look on a pure playmaking scale, we're probably at the lower end. When it comes down to compete and showing up every night, I think this group is going to be more of what the Coyotes should be standing for and what we want to get back to."
The other moves Maloney made on Wednesday solidified the bottom six forward group, the bottom two defensive pairings and the goaltending situation.
Michalek returned to Arizona for the second time in his career. He left the Coyotes for Pittsburgh in free agency in 2010, returned in 2012 and departed in a trade deadline deal with St. Louis in March. 
"This team and organization and the whole city means so much to me," Michalek said. "That's where I began my NHL career and started to feel like a real influential player, and it's close to my heart and it means a lot to me. The team and the organization went through some tough times. I want to help and be part of the solution."
Chicago clearly got the return it wanted by winning a Stanley Cup with Vermette, but by renting out Vermette and Michalek for four months, the Coyotes also acquired defenseman Klas Dahleck, a first-round pick from Chicago that turned into forward Nicholas Merkley, center prospects Maxim Letunov and their two originals players back.
If the Coyotes are able to land the right-handed defenseman they want -- likely through a trade later this summer -- the shot-blocking Michalek would ideally man a spot on the team's third defensive pairing while also giving the team valuable penalty-killing minutes with Grossmann.   
In Richardson (6-0, 197), the Coyotes got a fast, two-way center who had eight goals and 21 points in 45 games for Vancouver. He was sidelined for two months with an ankle injury that required offseason surgery to repair a fracture. 
"He plays with really good speed and tempo," Maloney said. "That's one thing we were really concerned about last year; just the quickness of our overall team speed."
Maloney said newly hired assistant GM John Chayka influenced the signing through analytics-based evaluation. Richardson said he got positive reviews about Arizona from former Coyote and current Canuck Radim Vrbata. He also knows Gordon, who spends summers in Vancouver. 
Downie also has Arizona connections. He was linemates with forward Kyle Chipchura at the 2006 World Junior Championship in British Columbia. He played with Mike Smith in Tampa Bay and, as he put it, "everyone knows Shane Doan."
Downie will likely fill the role that B.J. Crombeen was supposed to fill and Paul Bisonnette filled before him. He could be a 13th forward but he could earn a more regular role. He showed some offensive ability (14 goals, 28 points) last season to go along with his penchant for mixing it up -- including a scrap with his new captain.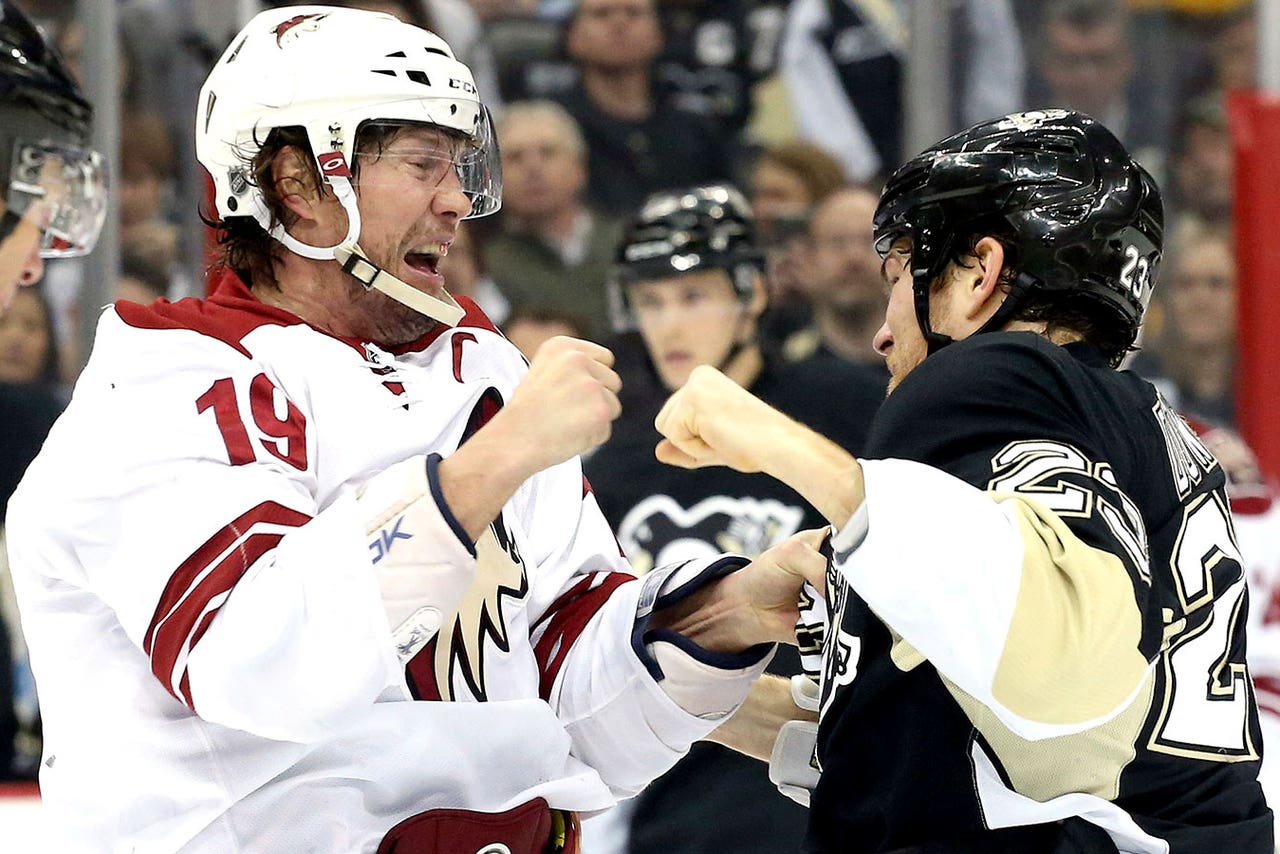 Among Steve Downie's many scrapes last year was one with his new team captain, Shane Doan.
"It's more a part of my game," Downie said. "Every team I've played on usually likes to protect each other out there. Saying that, I don't think you can do that with just one person. It's a team effort. I think (Arizona) has a couple players that will take care of stuff like that."
Maloney didn't shy away from acknowledging that Downie was brought to Arizona, in part, to protect the younger players the team expects to insert into the lineup next season, such as Max Domi and possibly Anthony Duclair.
In its other move of the day, Arizona signed Lindback (6-6) to back up Smith. Lindback played understudy to Pekka Rinne in Nashville for two seasons before bouncing between Tampa, Dallas and Buffalo the last three seasons.
"I do think Anders is just now starting to realize what he needs to do to play in the NHL," said Maloney, who expects Lindback to log about 20 games this season. "If we can get 60 to 65 out of Mike (Smith), that would be a really good thing. You've seen our schedule. We've got a lot of back-to-backs early on, which is not ideal." 
The Coyotes also signed defenseman Dakota Mermis to a three-year entry-level contract and forward Dustin Jeffrey to a one-year two-way contract.
The moves left the Coyotes with only a couple holes to fill. Maloney said he is still having some conversations with free-agent forwards but could add to that position through trades. The latter is the more likely route for adding a right-handed, puck-moving defenseman.
"We don't drop the puck until October," Maloney said. "I'm not in any rush."
Follow Craig Morgan on Twitter
---
---