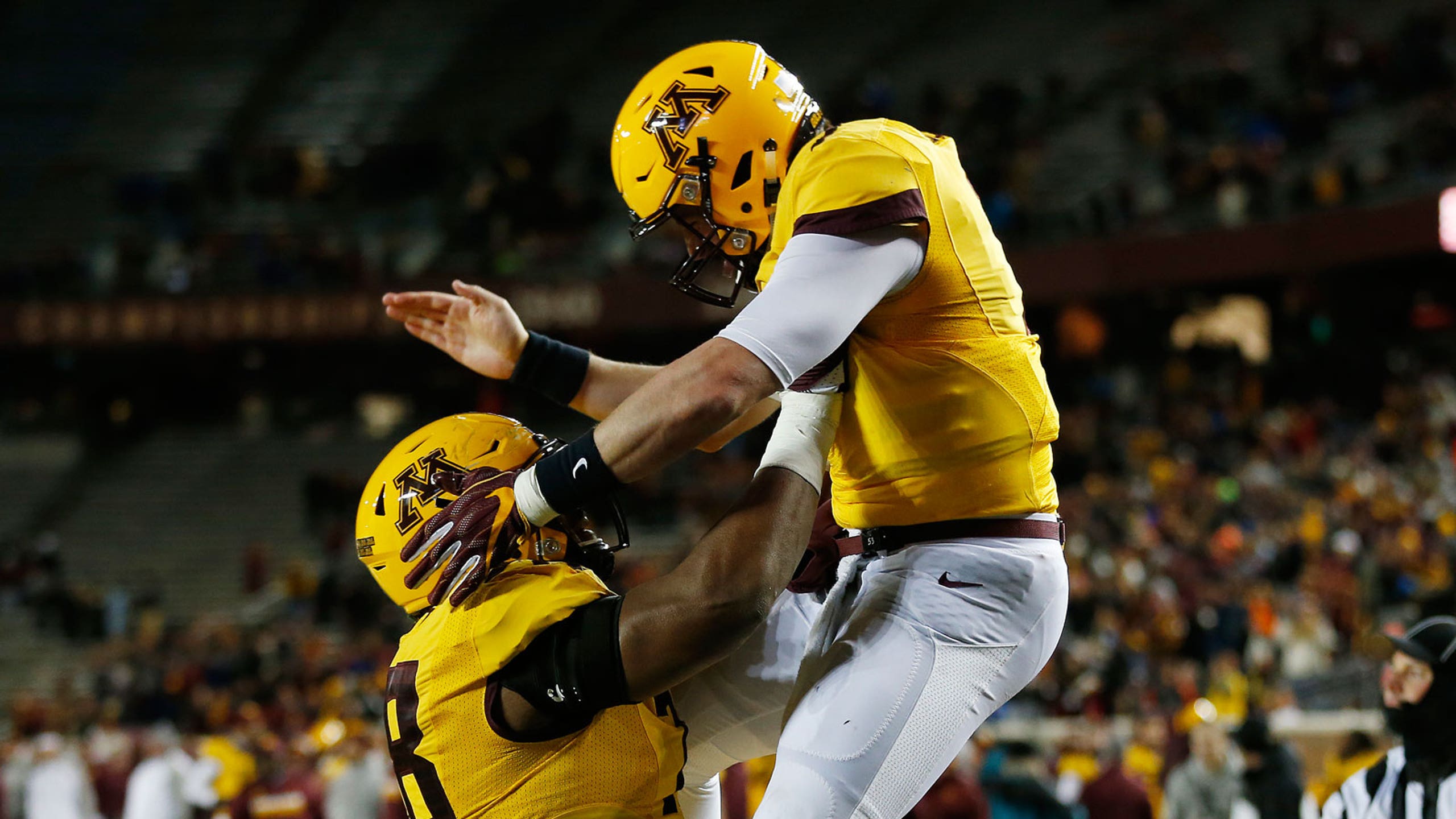 Upon further review: Minnesota vs. Northwestern
BY Dave Heller • November 20, 2016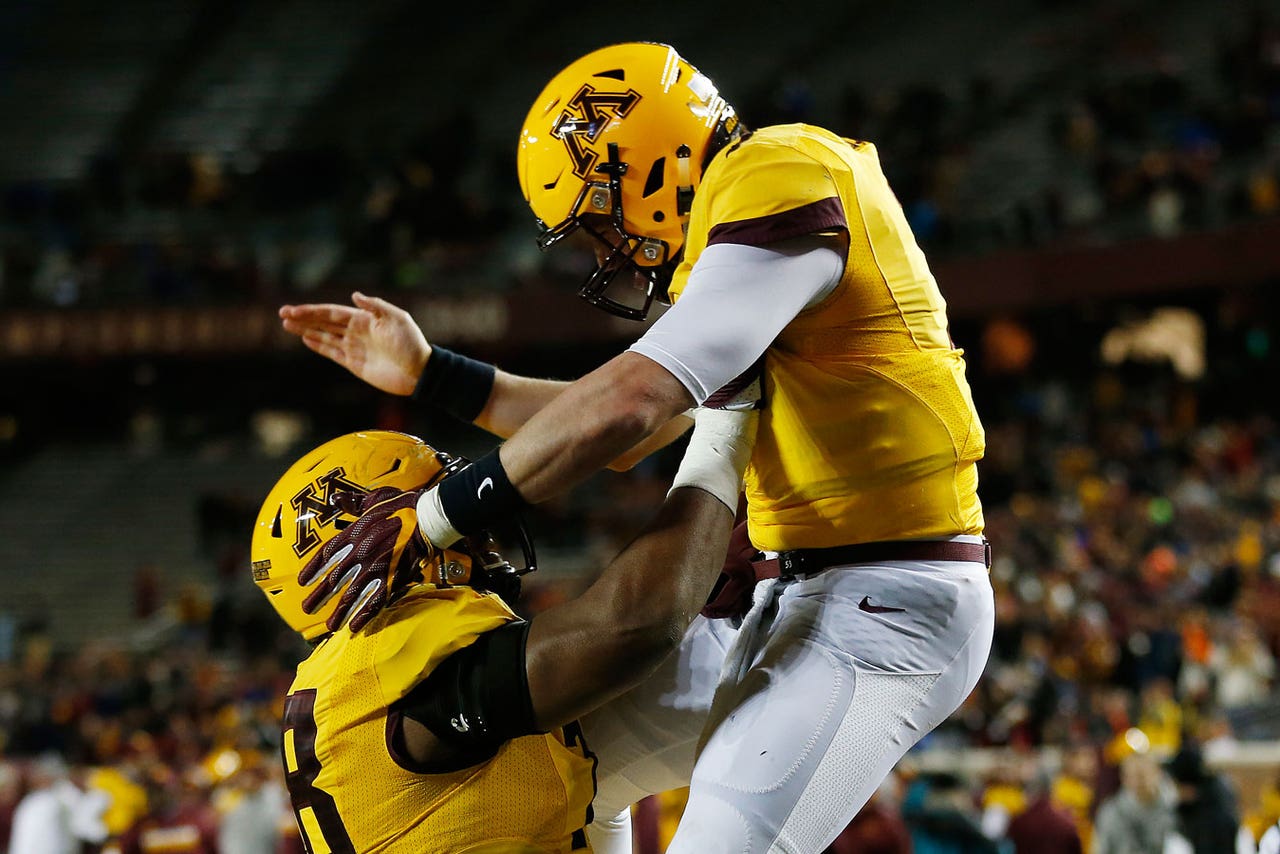 Seeing its Big Ten title game hopes dashed the previous week and a big rivalry next week, it would have been easy for Minnesota to lay down or be looking ahead.
But the Gophers -- especially the defense -- played with spirit and vigor as Minnesota knocked off Northwestern 29-12.
Here's a recap of Saturday's game:
CLASS LESSONS
-- Minnesota didn't have its best game rushing the ball, but it definitely won the battle on the ground. The Gophers rushed for 61 yards on the opening drive, resulting in Rodney Smith's 5-yard score.. Gophers head coach Tracy Claeys felt with Minnesota ahead it allowed it to limit Northwestern's Justin Jackson, who did finish with 90 yards but wasn't that big a factor. The Wildcats rushed for a net 63 yards for the game.
-- Perhaps Minnesota had a bit too much confidence in the run game. In the second quarter, the Gophers gave it to Smith on third-and-goal from the 1 and he got stuffed. In the third quarter, on third down Smith lost yards, forcing a field-goal attempt.
-- The Gophers got good pressure on quarterback Clayton Thorson, as evidenced by seven sacks. One of Minnesota's best plays was blitzing in the first quarter with linebacker Blake Cashman, who chased down Thorson from behind and stripping him of the football, with Steven Richardson, who had two sacks of his own, recovering. All that pressure got to Thorson's head. With Northwestern trying to make it a one-score game on a 2-ponit try in the fourth quarter, Thorson had an open receiver in the end zone but -- despite having a good pocket and no pressure -- threw quickly, overshooting his receiver with the ball sailing out high and harmlessly out of bounds.
-- Minnesota tacked on a late touchdown to make the game not seem as close as it was for much of the contest, but the Gophers could have -- and probably should have -- won by a much bigger margin. The Gophers' starting field position included at the 50, the Northwestern 48 and their own 49. The net results: 3 points. Minnesota went three-and-out in the other two possessions. The Gophers also blew a potential good starting point in the first quarter when a penalty after a short punt moved the ball back to the Minnesota 34. The ensuing possession ended in yet another three-and-out.
-- Claeys said Duke McGhee knows better than to use his helmet when tackling, yet McGhee was called for targeting in the third quarter -- the seventh targeting penalty on Minnesota this season and second on McGhee. As a result, the Gophers will be without the linebacker for the first half of next week's game.
-- Yes, Leidner can throw a touchdown pass. The senior had five TDs all season, but just one against an FBS team and his last was way back on Oct. 1. But in the fourth quarter, on a first-and-goal from the 9, Leidner hit his favorite target, Drew Wolitarsky, in the end zone to end a streak of 168 pass attempts without a TD. Finally.
DULY NOTED
-- Leidner's 62-yard pass to Rashad Still not only was a season long for the Gophers but also a career long for Leidner.
-- Smith has rushed for a touchdown in six straight games, tying Thomas Hafner for the third-longest streak in Minnesota history.
-- On Minnesota's final two plays of the game, the Gopher put in Leidner's brother at center. Mitch Leidner said "It's something we've dreamed about." It was a nice way for the senior quarterback to end his home career.
-- Cashman had a career-high 10 tackles along with two sacks, the last sack coming in garbage time at the end of the game.
WHAT IT MEANT
This was a solid win against a decent team with the defense playing like it has been expected all year. The win should boost the quality of bowl game for the Gophers, but it also keeps open the chance for Minnesota to win a share of the Big Ten West title (albeit not being able to play in the conference title game as the Gophers are eliminated from contention).
PLAYER OF THE GAME
With the way Minnesota's defense played, this has to go to someone who played on that side of the ball. You could easily make a case for Blake Cashman (10 tackles, 2 sacks, forced fumble), it was Jack Lynn who set the tone early for the Gophers. He finished with nine tackles -- eight of which he had in the first half -- and had 1.5 tackles for loss. Lynn also had perhaps the biggest play of the first half. Northwestern had fourth-and-1 from the Minnesota 16. The Wildcats tried a run with Justin Jackson but Minnesota blew up the play in the backfield, and it all started with Lynn coming through the line untouched, slowing down Jackson with Scott Ekpe cleaning up (although Lynn was kindly credited with a half tackle).
DON'T FORGET ABOUT ME
Through no fault of his own, Mitch Leidner was tasked as a potential first-round pick before the season started, making him an easy target for criticism. Now, throwing only one touchdown pass against FBS teams also opened him up as well. But against Northwestern, Leidner threw for 197 yards, including that long-awaited touchdown (and he could have had two, if Rashad Still could have made a grab in the end zone) and also rushed for another, his 32nd TD, tying him with Laurence Maroney for fourth on Minnesota's all-tine list.
THAT MOMENT
Minnesota had a 15-0 lead before Northwestern scored with 2:17 left in the third quarter. The Wildcats, elected to go for the 2-point conversion, despite the fact that kicking the point after would put them just one score behind (but needing a 2-pointer). Northwestern failed and thus were now two scores (9 points) behind. There's an argument to be made (as it was to me on Twitter) that you should go for 2 when down 9. Personally, I don't like chasing points, not to mention this was the third quarter. But even if you subscribe to this theory, Northwestern just needed the two scores, yet, after getting the ball back right at the Gophers 22 when Jalen Myrick fumbled the ensuing kickoff, the Wildcats went for it on fourth-and-1 from the 12 instead of attempting a 29-yard field goal. Just a complete puzzling series of events which could have cost Northwestern a chance of winning the game.
THIS NUMBER
7 -- number of sacks for Minnesota, the most for the Gophers since they had eight against Iowa on Nov. 8, 2000.
THEY SAID IT
"It definitely brought a lot of motivation. I was really low-recruited based on my height. I saw a guy come to my high school coach's office and just looked me up and down as if I was too short to play the game. It was really nice to play one of these types of games right in front of him because he doubted you." -- defensive tackle Steven Richardson, who is from Chicago.
"I was really excited. Like I said, I didn't want to do any of the TV interviews out there because it was just an unbelievable moment. Especially getting that last snap with my brother [Matt Leidner] out there. It's something we have always wanted to do together. I couldn't wait to get in that locker room and celebrate with the guys." -- senior quarterback Mitch Leidner on walking off the home field for the final time.
"It's been long overdue." -- wide receiver Drew Wolitarsky, on Leidner breaking a long TD pass drought, tongue firmly in cheek.
WHAT'S NEXT
Minnesota concludes its regular season by playing at longtime rival Wisconsin, which is 9-2 and looking to make the Big Ten championship game and, perhaps, the college football playoff.
Dave Heller is the author of the upcoming book Ken Williams: A Slugger in Ruth's Shadow as well as Facing Ted Williams Players From the Golden Age of Baseball Recall the Greatest Hitter Who Ever Lived and As Good As It Got: The 1944 St. Louis Browns
---
---