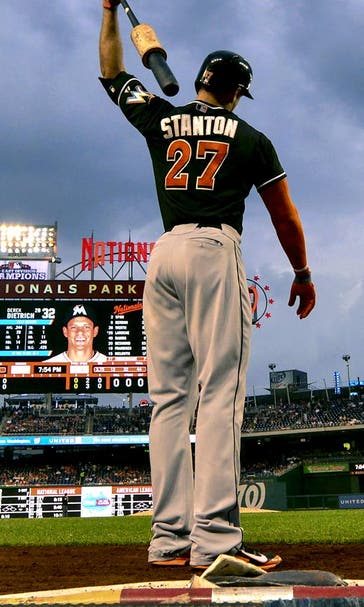 Uh, about that 'Free Giancarlo Stanton' column ... I take it all back
BY foxsports • November 17, 2014
The concept of a writer eating his words made a lot more sense back when print was the dominant form of media. Now what am I supposed to do, stick my head through a computer screen?
Some might suggest that is a good idea, considering the column I wrote about the Marlins on July 24, entitled, "Free Giancarlo Stanton."
"C'mon Marlins, get on with it already," I began.
"You are not signing Giancarlo Stanton long term. Repeat: You are not keeping Stanton. The only question, then, is when you trade him. And you know how this works, having done it oh, a few times before: The earlier you jump, the better the deal."
If I had to actually eat those words – and the rest of the column, which proceeded in like manner – I would need to get my stomach pumped and gall bladder removed.
Doctor!
"Jeffrey Loria is Jeffrey Loria," I wrote. "And what the Marlins do under Jeffrey Loria is trade away stars. It's either that or sign Stanton for $200 million, right? And Stanton still might not say yes to such an offer, knowing the Marlins probably would surround him with Triple-A talent."
Well, I can pat my tummy contentedly for one thing. Stanton might not have said yes to $200 million. But he sure said yes to $325 million. For 13 years. With a full no-trade clause. And an opt-out after year six.
Mea culpa! I take my harsh words back. I take them all back. I apologize to Loria, the Marlins' front office, all of the team's fans that I offended, and anyone else within 500 miles of Miami.
Who knew?
Who thought the Marlins actually would fulfill their pledge to lock up Stanton? Who thought Stanton actually would trust the team enough to accept such a deal?
Stanton, 25, wants to win, and the opt-out protects him, somewhat, from another Loria purge, the last of which occurred only two years ago. The Marlins, though, are currently on the right track. And while it's fair to ask if Loria will increase his payroll enough to build a competitive team around Stanton, the owner already is taking steps to make that happen.
The Marlins, as I reported last week, have initiated discussions on long-term extensions for three of their other top young players – right-hander Jose Fernandez, 22; shortstop Adeiny Hechavarria, 25; and left fielder Christian Yelich, 22.
A deal for Fernandez is highly unlikely; his agent, Scott Boras, generally prefers his clients to establish their values on the open market. Still, the Marlins control Fernandez for four more seasons, so it's not as if he's about to bolt.
Of course, contracts such as Stanton's – the longest and richest in baseball history – rarely prove good investments. Derek Jeter, who signed for 10 years at age 27, was an exception. The deals for A-Rod, Todd Helton, Albert Pujols, Troy Tulowitzki, Joey Votto, Joe Mauer, etc., all look worse with time.
Stanton is young, but far from a sure thing. Leg problems contributed to him missing a combined 85 games in 2012 and '13. He also suffered a facial laceration requiring stitches, multiple facial fractures and dental damage after getting hit by a pitch on Sept. 11, and missed the rest of the 2014 season.
The beaning obviously was a freak occurrence, but some in the industry question the logic of the Marlins making this commitment without first seeing Stanton back in the batter's box. Indeed, Loria is assuming nearly all of the deal's risk; the opt-out and no-trade clauses also work to Stanton's benefit. The worst-case scenario for Stanton is that Loria again will tear apart the team, but with the Marlins on the rise, that doesn't figure to happen anytime soon.
If anything, a more charitable view of Loria now merits consideration. The Marlins' blockbuster with the Blue Jays in Nov. 2012 was without question unseemly; the team dumped shortstop Jose Reyes and left-hander Mark Buehrle just one year after signing them as free agents and giving them verbal assurances that they would not be dealt. But from a baseball perspective, the trade was the equivalent of a Stanton grand slam.
Hechavarria is a gifted defender who showed offensive progress last season. Right-hander Henderson Alvarez was sixth in the National League with a 2.65 ERA. Outfielder Jake Marisnick became part of a package that helped the Marlins land righty Jarred Cosart. Top prospect Justin Nicolino had a 2.85 ERA at Double-A, and righty Anthony DeSclafani still could prove a long-term asset.
The deal not only made the Marlins better, but also created the flexibility for them to commit to Stanton and others going forward. Loria also restructured his front office, elevating Michael Hill to president of baseball operations and Dan Jennings to GM. And after going through four managers between 2010 and '12, the owner finally seems comfortable with Mike Redmond, who will be entering his third season.
Back in July, when the notion of signing Stanton seemed implausible, I wrote that a trade was the only logical course for the Marlins – and that it needed to happen ASAP.
"Any club that acquires Stanton will gain the inside track toward signing him long-term, the inside track that the Marlins currently possess and surely will burn. Stanton will be a free agent at 27. The dollar amount he will command is truly staggering. And if you think the Marlins can make this work, I've got a $639 million publicly financed ballpark in Miami that I'd like to sell ya . . ."
Doctor! Prepare to pump my stomach.
I'm eating every stinkin' word.
---
---