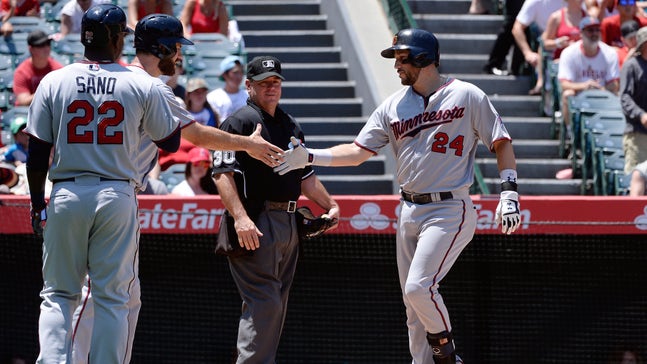 Twins roll to 14-5 win behind Plouffe's three-run homer
Published
Mar. 13, 2016 4:58 p.m. ET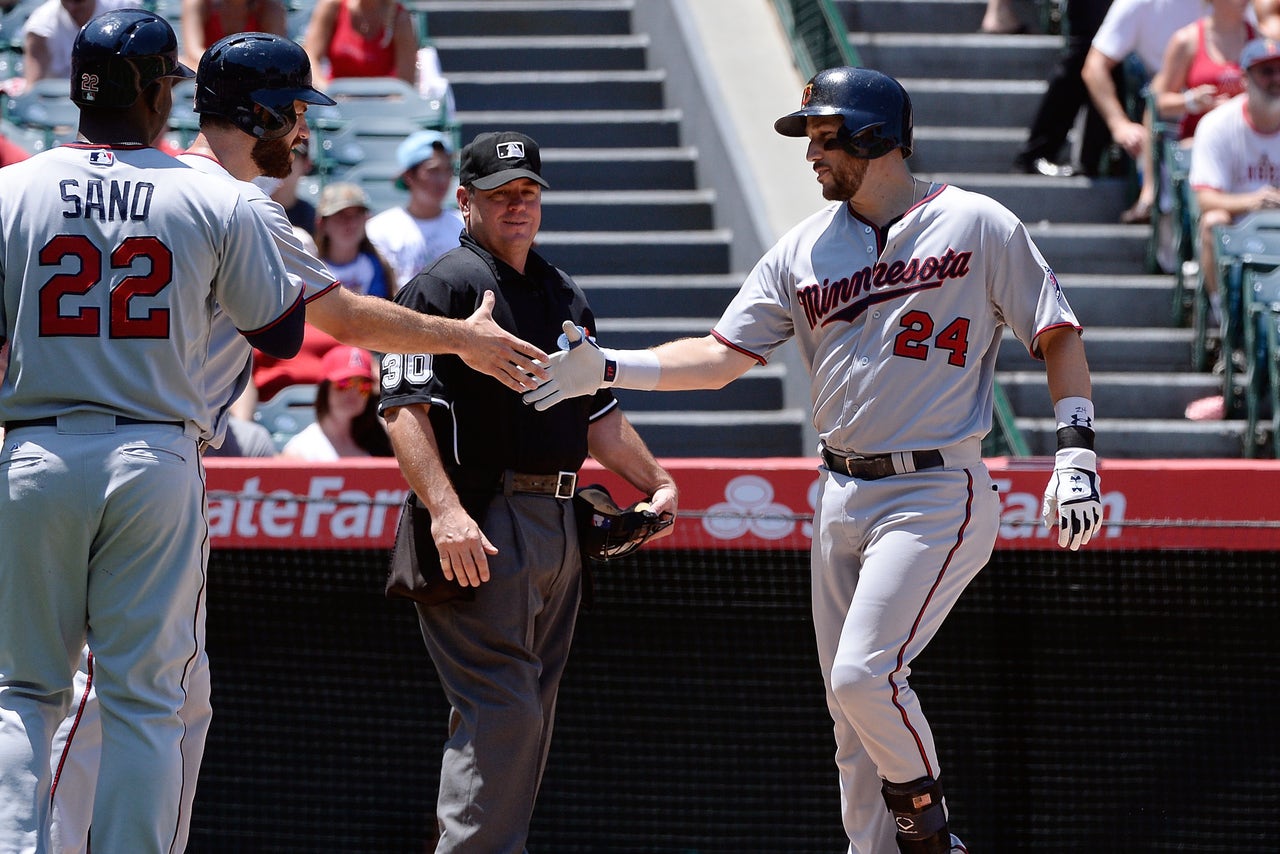 FORT MYERS, Fla. -- Trevor Plouffe hit a three-run homer in the second inning as the Minnesota Twins defeated the Baltimore Orioles 14-5 on Sunday.
Plouffe drove in four runs for Minnesota, which finished with 15 hits. Twins right-hander Ricky Nolasco went three innings and allowed three runs and four hits.
Pedro Alvarez made his spring debut with Baltimore on Sunday and hit an RBI double in the first inning.
Alvarez went 1 for 3 in his first game since he finalized a $5.75 million, one-year contract with Baltimore last week. He drove in Ryan Flaherty in the first and eventually came around to score on a sacrifice fly by Hyun Soo Kim.
"First and foremost, I'm just very excited and happy to be out there today, getting the opportunity to play," Alvarez said. "When you can do something like that, it kind of puts icing on the cake a little bit, on top of things. I'm glad to get a couple of ABs and a couple of reps out there today."
Manager Buck Showalter said Alvarez was solid.
"I know he was happy to get out there," he said. "Looked good."
Orioles right-hander Miguel Gonzalez was charged with six runs and seven hits in 1 2-3 innings. He struck out two and walked three.
"Miguel's not as crisp as he needs to be to be effective up here, and he knows that," Showalter said. "That's what spring training is about, and I have a lot of confidence that he'll pick it up as we go forward."
Twins right-hander Ricky Nolasco went three innings and allowed three runs and four hits.
"I thought he got better the longer it got," Twins manager Paul Molitor said. "He always is one of those guys, the effectiveness of his off-speed is kind of dictated by his fastball command and they got their share of good swings in the first inning. He started using that fastball I thought effectively and the velocity seemed to go up as the outing was elongated. So he kind of finished on a good note."
STARTING TIME
Orioles: Gonzalez made his third Grapefruit League start. He likely will be the Orioles' fifth starter.
"I was just off a little bit," Gonzalez said. "Flying open. I wasn't consistent down, ahead. That's important. Guys are being aggressive. I've just got to try not to do too much out there. I wouldn't change anything."
Twins: Nolasco struck out two and walked two.
"I feel good, arm feels good," Nolasco said. "Started rushing a little bit there with all those walks but for the most part thought I made some good pitches, got some ground balls, missed a few good pitches."
TRAINER'S ROOM
Orioles: Showalter had no definitive word on catcher Matt Wieters' right elbow soreness. Wieters left Saturday's game with Minnesota in the first inning. "The X-ray looked good," Showalter said. "I think what it is, we're going to try to let it, any problems that he may have felt at that time dissipate and wherever there's any soreness or stiffness, see where we are in a couple of days ... see what the next step is."
Twins: OF Danny Santana has a tender left wrist and will be held out until at least Wednesday. General manager Terry Ryan said Santana has been doing all activities except hitting.
MOVING DAY
The Orioles reassigned left-handers Cesar Cabral, Andy Oliver and Ashur Tolliver, catchers Jonah Heim and Chance Sisco, infielders Trey Mancini and Ozzie Martinez to minor league camp. Right-hander Andrew Triggs was claimed off waivers by Oakland.
The Twins reassigned infielders Heiker Meneses and Engelb Vielma, right-hander Jake Reed, outfielder/first baseman Reynaldo Rodriguez and catcher Alex Swim to minor league camp.
UP NEXT:
Orioles: Right-hander Yovani Gallardo makes his second start with the Orioles when they host Philadelphia on Monday. Right-hander Alec Asher gets the start for the Phillies.
Twins: Left-hander Tommy Milone will make his third Grapefruit League start on Monday when the Twins travel to Jupiter to face the Cardinals. Right-hander Mike Leake gets the start for St. Louis.
---
---