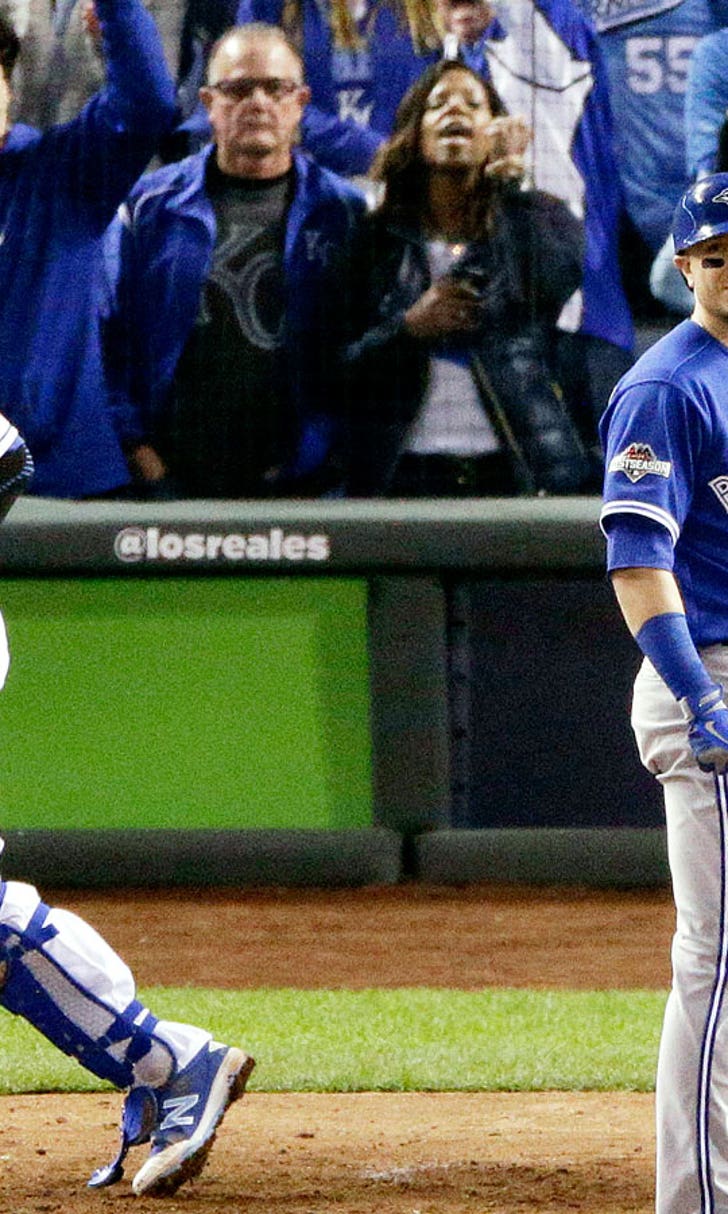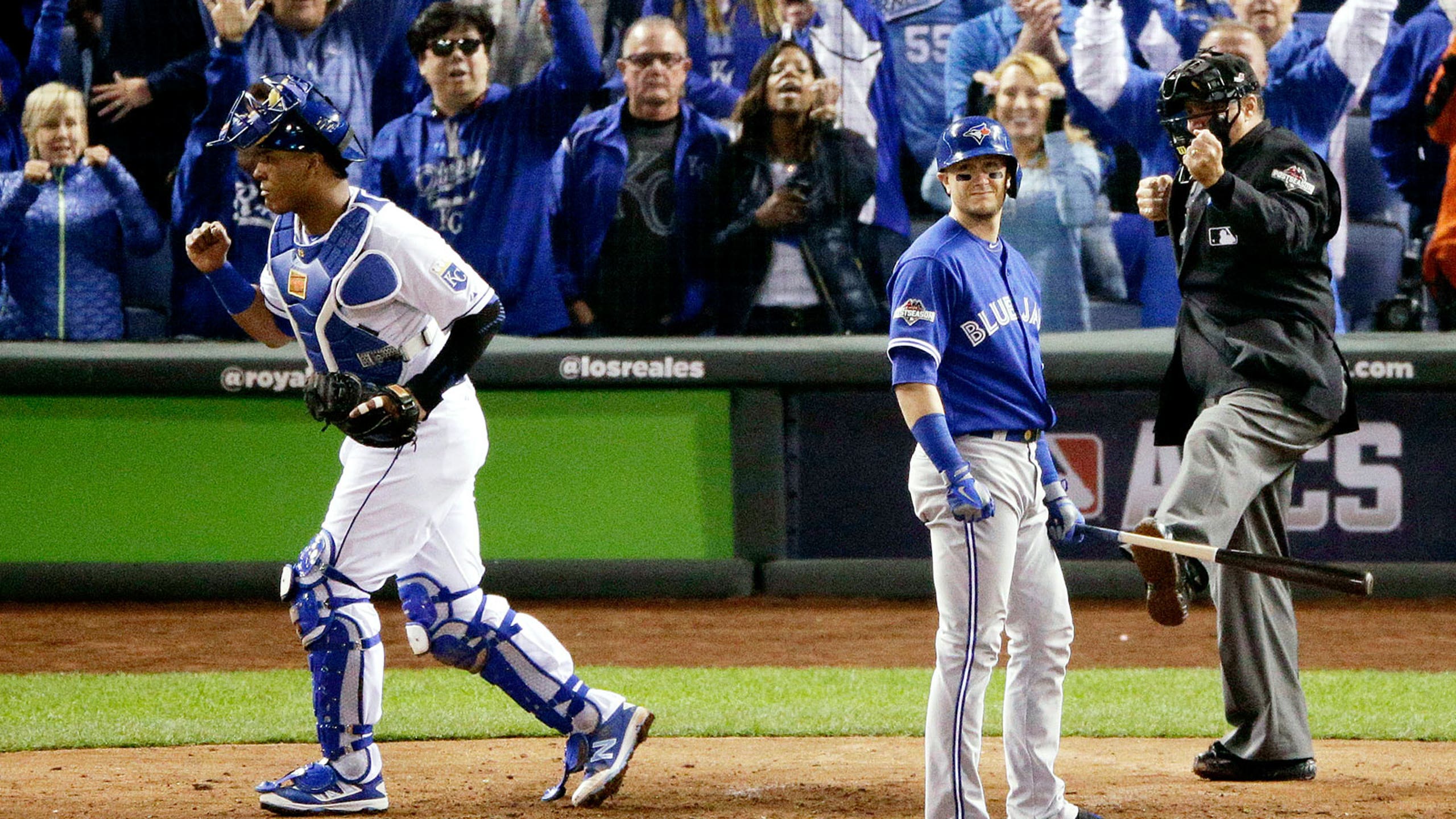 Toronto Blue Jays shortstop Troy Tulowitzki came up empty again in a key situation in Game 1 of the ALCS
BY foxsports • October 17, 2015
When the Blue Jays traded a passel of prospects to the Rockies for Troy Tulowitzki this summer, they might have expected two short-term benefits, and a long-term benefit. In the short term, Tulowitzki might propel the Jays to the playoffs and come up with some big hits in the playoffs. In the long term, Tulowitzki figures as the Jays'€™ everyday shortstop for a long, long time.
So far, the short-term benefits haven'€™t really been there.
Tulowitzki got off to a great start after joining the Jays, but he cooled off considerably and was a below-average hitter before missing a few weeks in September. Meanwhile, the Jays finished six games ahead of the second-place Yankees, and would undoubtedly have won the East no matter who'€™d been playing shortstop.
In the playoffs, he'€™s started all six of the Jays'€™ games and collected the grand total of two hits. In fairness, they were big hits, accounting for four of the five runs the Blue Jays scored in Game 3 against the Rangers, which wound up being a highly necessary victory.
Leaving out Game 3 against the Rangers, though? Tulowitzki'€™s hitless in 24 at-bats. And Tulowitzki's futility is best epitomized by the Blue Jays'€™ most important plate appearance in Friday night's Game 1 loss to the Royals.
Through five innings, Kansas City starter Edinson Volquez had given up just two hits and the Jays had gotten just one runner to second base.
In the sixth, though, Volquez threw a lot more changeups , working carefully against the heart of the Jays'€™ lineup. Josh Donaldson walked on a 3-2 pitch, and so did Jose Bautista. Volquez bounced back to strike out Edwin Encarnacion and retire Chris Colabello on a liner to left. But the pitches were piling up. When Tulowitzki stepped to the plate, Volquez had already thrown 30 pitches.
Third time through the order, Hall of Fame-caliber hitter, piled-up pitches ... is there a better recipe for a big hit? Yet, still Ned Yost stuck with his starter.
Volquez gave up on his changeup, and for that matter all the rest of his breaking pitches, too. Instead he simply challenged Tulowitzki with hard sinkers --€" very hard sinkers, some of the hardest he's thrown all year -- again and again. The first two were low and inside, and both were taken for balls. The third was up and probably just a bit outside, but umpire Tony Randazzo called it a strike.
It might have been the biggest pitch of the entire game.
Because with the count 2-1 rather than 3-0, Volquez could keep pitching to spots. But his fourth pitch was another ball, this one down and away.
Pitch No. 5 was up in the zone some, but right down Broadway. Tulo took it for Strike 2, running the count full. Pitch No. 6 was down and away, a borderline strike. It might have been Ball 4, but then again it might not have been; Tulo did swing at this one, and fouled it away.
Then came Pitch No. 7 --€" Volquez'€™s 37th of the inning, his 111th of the game -- another fastball up, in almost exactly the same spot as the fifth pitch, and Randazzo rung him up (at the 0:52 mark here) ...
Tulowitzki actually seemed surprised, but the pitch was well within the strike zone. Or maybe he was just frustrated, considering he'€™s now hit safely only five times since Sept. 11.
Of course, there were other big moments Friday night. But the final was 5-0, and there was just a moment or two when it seemed the Royals were actually in some danger of losing. One of those moments came when Yost placed an amazing amount of faith in his fading, presumably fatigued starting pitcher. And if a pitcher'€™s best friend is the double play, his second-best must be a batter watching not one, but two fastballs trace paths through the middle of the strike zone.
---
---