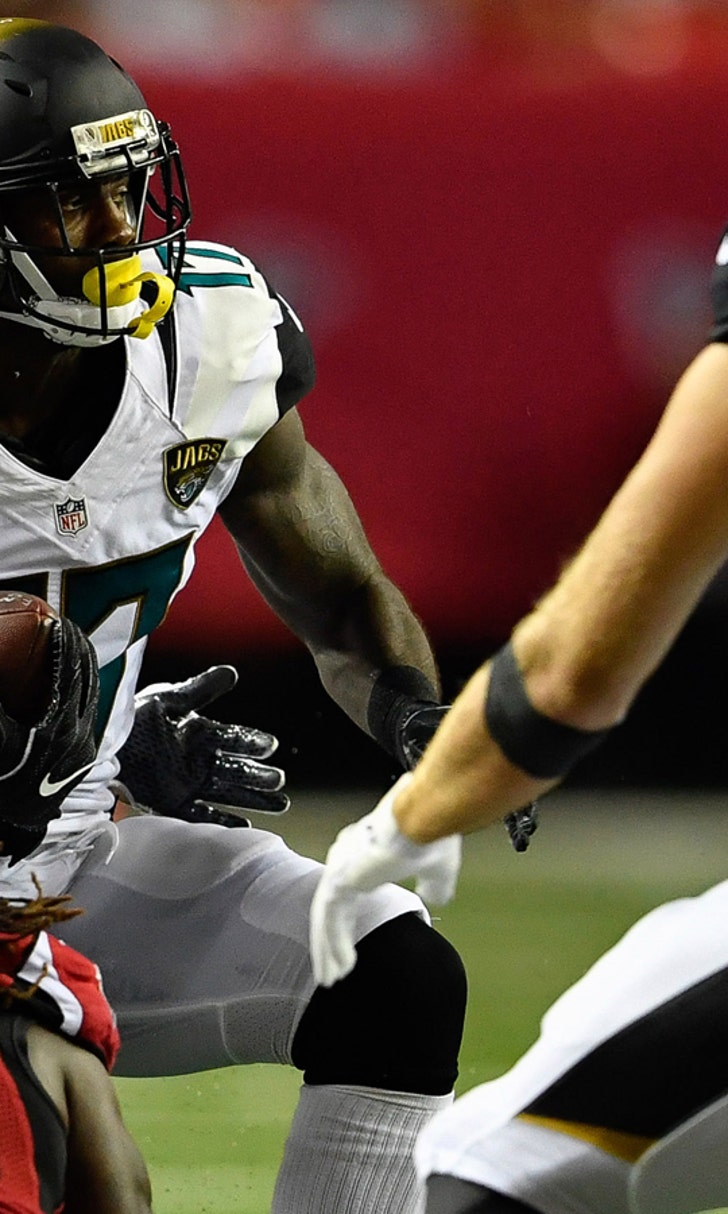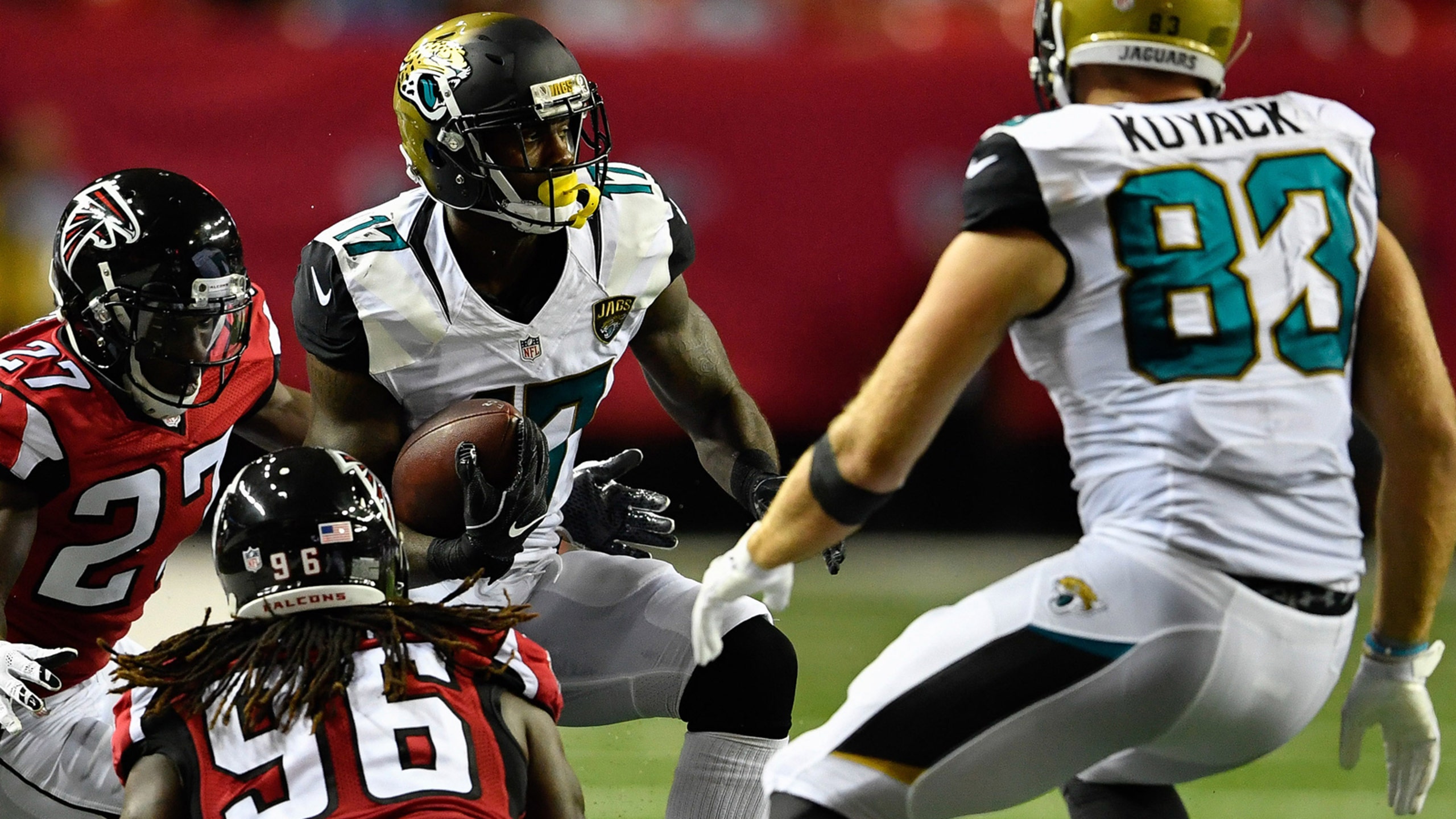 Third-stringer Brandon Allen tosses 2 TDs, Jaguars fall to Falcons
BY foxsports • September 1, 2016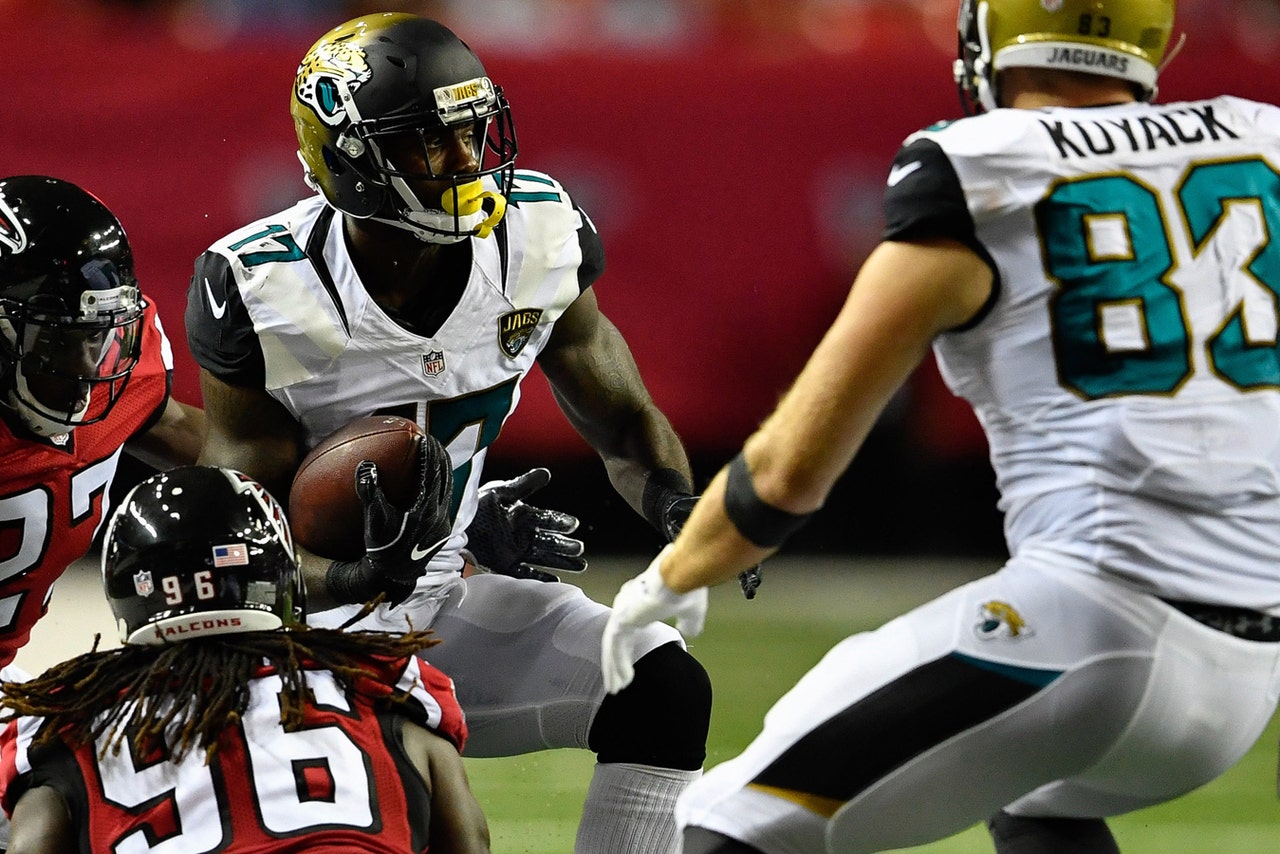 ATLANTA (AP) -- Dan Quinn believes his Atlanta Falcons go through everything together as a team, even in the fourth week of the preseason.
For Matt Ryan and Devonta Freeman, that meant playing one snap. For Terron Ward, it meant playing virtually the full game.
Ward ran for two touchdowns, boosting his chances for the third and possibly final roster spot at running back, and the Falcons beat the Jacksonville Jaguars 17-15 on Thursday night.
Ward missed the last two games with an ankle sprain but returned in time to show he can be the team's third running back, behind Devonta Freeman and Tevin Coleman. He ran for 62 yards on 22 carries.
With Freeman and top backup Tevin Coleman each limited to one carry, Ward had a busy day. The second-year back had an especially full workload after fullback Will Ratelle left with an ankle injury.
"It left me out there by myself, but as a running back sometimes you have to show you can shoulder the load, and I'll do it every time if I have to," Ward said.
Ward is competing with rookie Brandon Wilds, held out with a knee injury, to be the third running back.
Ryan handed off to Freeman on Atlanta's first play. Both jogged off the field after Freeman's 3-yard gain.
So why play only one snap?
"I think it's important that we go through everything together as a team, whether they play one play or for a guy like Terron's case, nearly the whole game," Quinn said. "That's what we stand for as a team."
Jacksonville coach Gus Bradley held out 28 players, including all starters except kicking specialists.
Each team featured its third-string quarterback. Rookie Brandon Allen completed 17 of 26 passes for 164 yards with two touchdowns and one interception for Jacksonville.
"He has been what we expected," said Jaguars general manager Dave Caldwell. "... He has gotten better every week and every day. We are excited to have him."
Jaguars wide receiver Shaq Evans, waived on Monday, was re-signed before the game after receiver Tony Washington was waived/injured with a hamstring injury.
Evans pounced on his new opportunity with a 25-yard touchdown catch from Allen in the first quarter. He had three catches for 54 yards.
"It's a tough time," Bradley said of the last-ditch chance to make an impression. "... You see guys like Shaq Evans coming back, we kind of bring them back, and to have a couple big plays is huge for him."
Matt Schaub, who played behind Ryan, completed his only attempt for 5 yards for Atlanta before Matt Simms played the remainder of the game. Simms completed 16 of 23 passes for 217 yards with no touchdowns and two interceptions -- each off the hands of rookie tight end Austin Hooper.
The Falcons finished the preseason with a 3-1. The Jaguars were 1-3.
POSITION BATTLES
Jaguars: Nick Marshall and Josh Johnson, competing for a spot as a Jaguars backup cornerback, each had an interception. Johnson fumbled a kickoff return in the closing seconds of the first half.
Falcons: It was a tough night for Hooper, the third-round pick from Stanford. Hooper, listed as the top backup to starter Jacob Tamme, is one of five tight ends on the roster. He could fall behind D.J. Tialavea on the depth chart. The other tight ends are Levine Toilolo and Joshua Perkins.
DEBUT FOR DASHON
Falcons veteran safety Dashon Goldson saw his first action and had a big hit near the Atlanta sideline.
"I said `welcome back' and I got a smile," Quinn said.
JULIO HEALING
Falcons wide receiver Julio Jones, held out with an ankle injury, participated in pregame warmups and should be "super close" to full clearance for Monday's practice, according to Quinn.
INJURY UPDATE
Jaguars: DT Michael Bennett left with a calf injury and did not return. RB Denard Robinson was cleared to return after being hit in an eye.
Falcons: Ratelle, re-signed on Wednesday, needed help leaving the field with an ankle injury following his 15-yard catch in the second quarter. ... S Robenson Therezie (hand) DT Joey Mbu (hand) were listed as questionable after leaving in the third quarter.
---
---