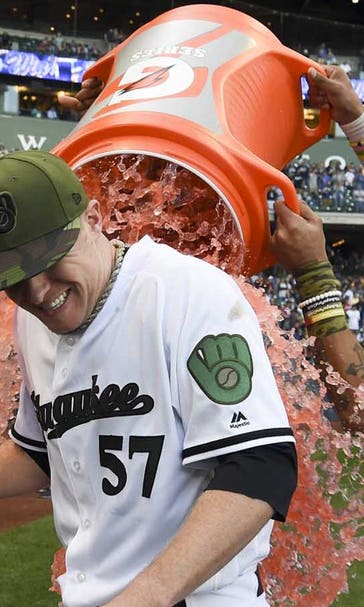 StaTuesday: History of Brewers near no-hitters
May 30, 2017

As any Milwaukee Brewers fan knows, there has been just one no-hitter in franchise history.

On April 15, 1987, Juan Nieves turned the trick against the Baltimore Orioles.

Others have come close to matching Nieves' feat, with Chase Anderson the latest. On Saturday, Anderson took a no-hitter into the eighth inning vs. Arizona before allowing a leadoff single to Nick Ahmed.

Instead of joining Nieves in Brewers historical immortality, Anderson became the 25th Milwaukee pitcher (and 30th overall) to allow just one hit while pitching seven or more innings.



























































































































































































































































































































| | | | | | | | |
| --- | --- | --- | --- | --- | --- | --- | --- |
| Pitcher | Date | Opp | Score | IP | R | BB | K |
| Skip Lockwood | 5-30-1972 | NYY | W, 3-1 | 9 | 1 | 6 | 4 |
| Skip Lockwood | 6-26-1972 | BAL | W, 3-0 | 8 | 0 | 4 | 6 |
| Bill Parsons | 4-13-1973 | BAL | W, 2-0 | 7.1 | 0 | 6 | 0 |
| Jim Colborn | 5-9-1973 | TEX | W, 5-1 | 9 | 1 | 3 | 3 |
| Gary Beare | 6-18-1977 | CAL | W, 4-2 | 7.2 | 2 | 8 | 3 |
| Jamie Cocanower | 5-19-1984 | CLE | W, 3-0 | 7 | 0 | 3 | 5 |
| Moose Haas | 7-24-1984 | NYY | W, 2-1 | 7.2 | 1 | 3 | 2 |
| Moose Haas | 6-29-1985 | NYY | W, 6-0 | 9 | 0 | 1 | 4 |
| Danny Darwin | 8-19-1985 | MIN | W, 4-1 | 9 | 1 | 0 | 8 |
| Teddy Higuera | 9-1-1987 | KC | W, 2-0 | 9 | 0 | 2 | 9 |
| Odell Jones | 5-28-1988 | CLE | W, 2-0 | 8.1 | 0 | 1 | 7 |
| Teddy Higuera | 6-15-1988 | SEA | W, 5-1 | 8 | 1 | 1 | 4 |
| Teddy Higuera | 9-4-1988 | DET | W, 6-1 | 7 | 0 | 2 | 6 |
| Kevin Brown | 10-2-1990 | TEX | W, 1-0 | 7 | 0 | 1 | 4 |
| Jamie Navarro | 7-17-1992 | CHW | W, 4-3 | 8 | 2 | 4 | 0 |
| Cal Eldred | 4-23-1993 | TEX | W, 3-0 | 8 | 0 | 1 | 10 |
| Sid Roberson | 7-18-1995 | OAK | W, 4-0 | 7 | 0 | 3 | 4 |
| Steve Sparks | 4-13-1996 | KC | L, 3-2 | 8 | 3 | 4 | 1 |
| Steve Woodard | 7-28-1997 | TOR | W, 1-0 | 7 | 1 | 2 | 3 |
| Bryce Florie | 8-20-1997 | TEX | W, 6-2 | 7 | 1 | 2 | 7 |
| Steve Woodard | 9-24-1998 | LAD | L, 4-1 | 7 | 1 | 2 | 3 |
| Jimmy Haynes | 4-20-2001 | SF | L, 3-1 | 7 | 2 | 3 | 3 |
| Wayne Franklin | 9-29-2002 | STL | L, 4-0 | 7 | 0 | 6 | 4 |
| Glendon Rusch | 4-8-2003 | PIT | W, 5-3 | 7 | 0 | 2 | 7 |
| Ben Sheets | 6-8-2004 | ANA | W, 1-0 | 9 | 0 | 0 | 5 |
| CC Sabathia | 8-31-2008 | PIT | W, 7-0 | 9 | 0 | 3 | 11 |
| Yovani Gallardo | 5-7-2011 | STL | W, 4-0 | 8 | 0 | 4 | 6 |
| Shaun Marcum | 9-4-2011 | HOU | W, 4-0 | 7 | 0 | 1 | 8 |
| Marco Estrada | 8-25-2013 | CIN | W, 3-1 | 7 | 0 | 2 | 9 |
| Chase Anderson | 5-27-2017 | ARI | W, 6-1 | 7 | 0 | 3 | 11 |


Of these 30 one-hit instances, here's the breakdown by inning when the one hit was allowed:

1st - 4

2nd - 1

3rd - 2

4th- 3

5th - 5

6th - 5

7th- 4

8th - 5

9th - 1

In Ben Sheets' outing, he allowed his lone hit in the seventh inning. While he pitched nine innings in that game, he didn't get a decision as the contest latest 17 innings (tied for sixth-longest in franchise history).



Anderson was the latest of five Brewers pitchers to lose a no-hitter in the eighth inning. Teddy Higuera had that happen to him twice.

In his Sept. 1, 1987 one-hitter, he allowed a triple to Kansas City's Ross Jones with two outs in the eighth. The next year, on June 15, Seattle's Steve Balboni led off the eighth with a homer to ruin Higuera's bid for a no-no.

Yovani Gallardo also lost his no-hitter to a leadoff batter in the eighth when St. Louis' Daniel Descalso singled. Jamie Navarro gave up a one-out eighth-inning triple to Chicago's Steve Sax.

Odell Jones hadn't pitched in the majors since 1986 and hadn't started a game since 1981 when he took the hill for Milwaukee on May 28, 1988. He only got the start because three other Brewers pitchers -- including Higuera -- were hurt. Jones actually was perfect into the eighth inning, but walked Mel Hall on a 3-2 pitch.  Jones opened the ninth by striking out pinch hitter Dave Clark, but Ron Washington, hitting for Jay Bell, singled to right field to spoil the no-hitter on Jones' 101st pitch. Dan Plesac would relieve Jones and finish off the shutout.

"I kind of looked up at the board tonight and thought, 'What in the world am I doing?'" Jones said after the game. "After the fifth or sixth inning I was really bearing down trying to get it.

"And then, they sent up a guy (Washington) I never could figure out how to get out. He's hit me well for a long time. I faced him many times in the minors last year. [note: Washington was 2 for 2 lifetime in the majors off Jones.]

"After the hit, it really hit me hard. I was totally exhausted. I was overextending myself. I had been too nervous to get tired."

Jones isn't the only Brewers pitcher to lose a no-hitter in the ninth inning. On Sept. 5, 1981, Jim Slaton had held Minnesota without a hit through eight innings but then was greeted in the ninth by a single off the bat of Sal Butera. Kent Hrbek also singled and Hosken Powell homered and Rollie Fingers had to finish up.

Heading back to the present day and Anderson, his 11 strikeouts against the Diamondbacks tied for the second-most among Brewers pitchers who have allowed one hit in seven or more innings, topped only by Steve Woodard's 12.

Anderson's Game Score of 83 is ninth-best among the one-hit pitchers, with Sabathia's memorable 2008 game leading the way at 93.

Dave Heller is the author of Ken Williams: A Slugger in Ruth's Shadow, Facing Ted Williams - Players From the Golden Age of Baseball Recall the Greatest Hitter Who Ever Lived and As Good As It Got: The 1944 St. Louis Browns




---
---