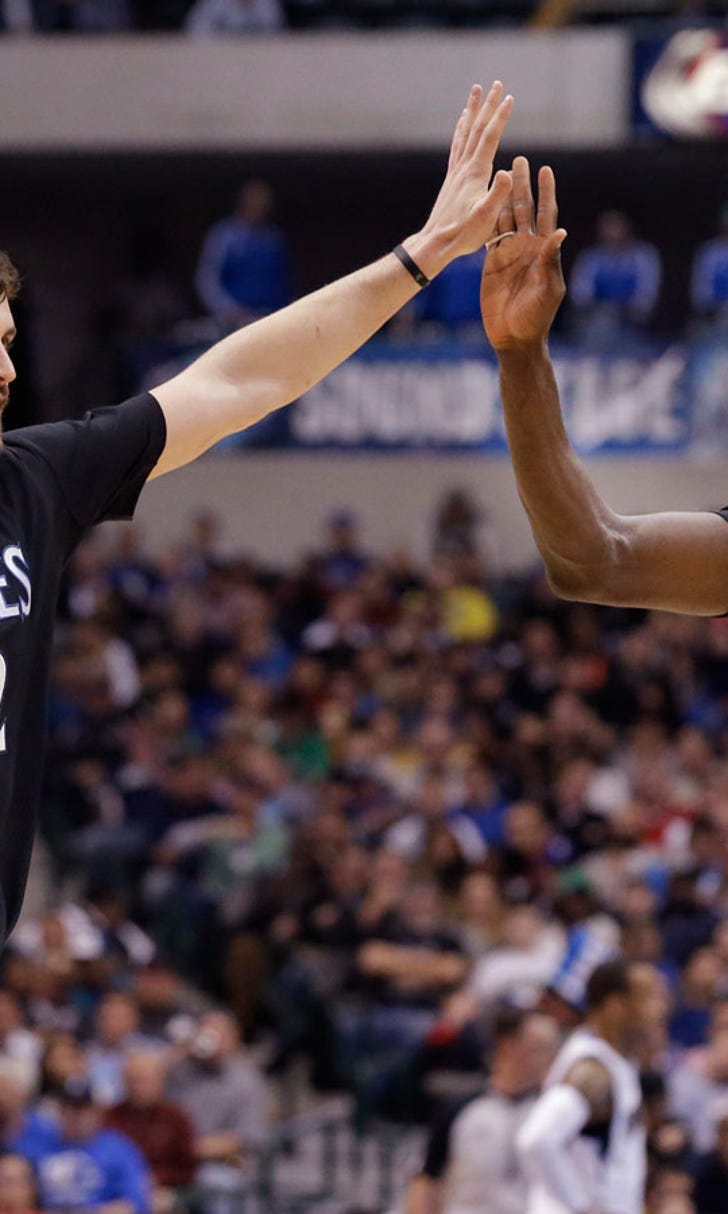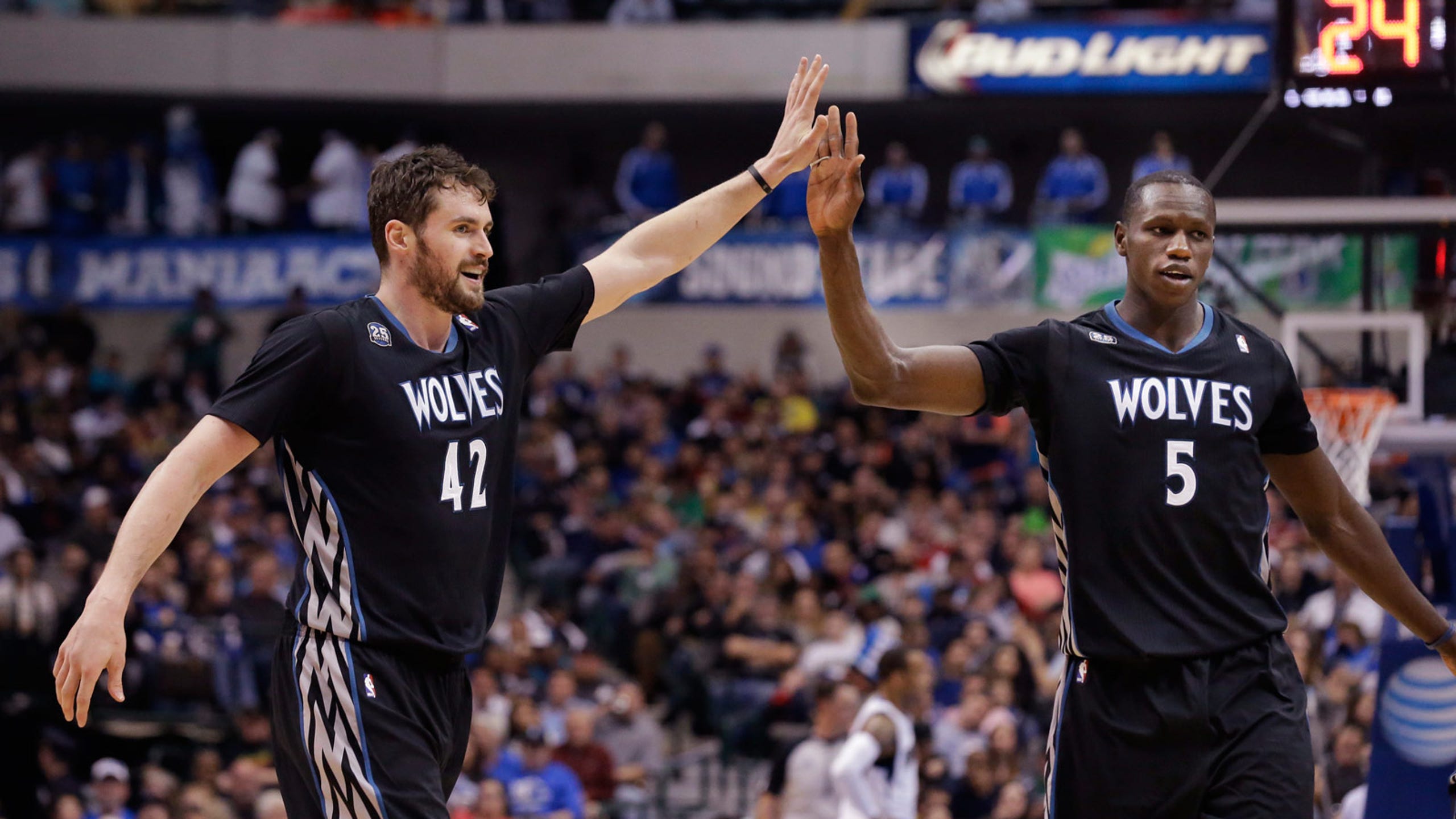 Stars come out for Wolves' wild win at Dallas
BY foxsports • March 20, 2014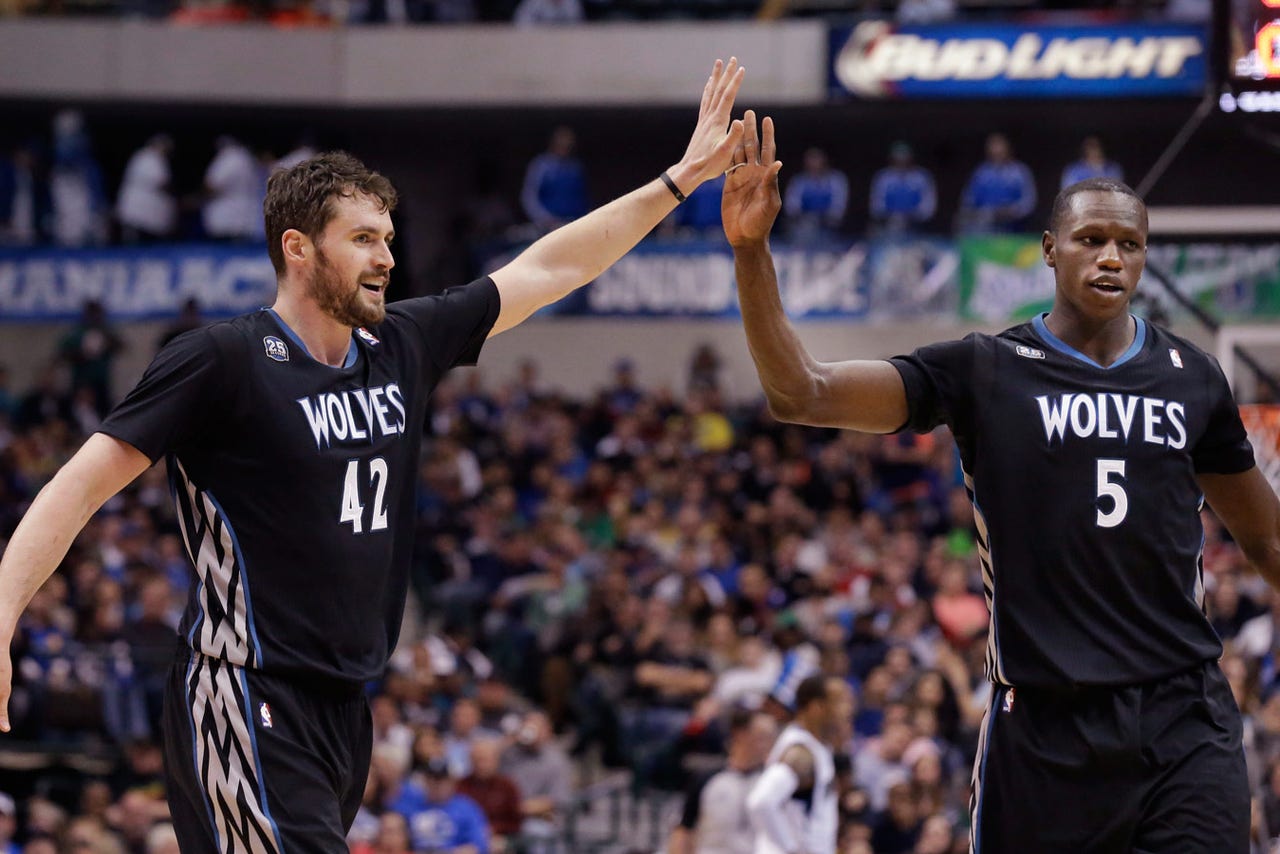 One of the Timberwolves' two top dogs should probably purchase the other a nice, tender ribeye while the team is in Texas.
Who buys is up to Kevin Love and Ricky Rubio.
In a career night featuring offensive brilliance rarely seen during his young career, Rubio served as Minnesota's nightlong hero. But when the Timberwolves needed a closer, they turned to their other franchise cornerstone with a scraggly beard.
The last of Love's game-high 35 points came on a hook in which he split two defenders and shot over two more, giving Minnesota its final tally in a 123-122 overtime victory Wednesday night at Dallas. Then, he put a hand in Dirk Nowitzki's face as the veteran stretch four -- to whom Love draws frequent comparisons -- attempted a buzzer-beating mid-range jumper at the other end.
Back iron. Victory to the visitors, who desperately needed it to retain any semblance of hope for the playoffs.
"Kevin hit a great shot at the end, but not only that, he got -- I don't know how many points he had," Rubio said.
The Spanish point guard and the West Coast power forward walked into the American Airlines Center and kept streaking Dallas -- the winner in five of its previous six games -- at bay. While the postseason remains a long shot, the Timberwolves (34-32) gained a little ground on one of the teams they're chasing in the Western Conference standings.
They moved to 5 1/2 games back of Dallas, the West's No. 8 playoff seed at the moment. Bad news is, they've only got 16 more contests left.
So nights like Wednesday in front of a sellout crowd of 20,100 may be the closest Minnesota gets to a playoff atmosphere this season.
"This was definitely the atmosphere for it," said Love, who made his game winner with 17.1 seconds to go. "There's a lot riding on these games, but we're just fighting to try and get every win that we can. This tonight was a fun game for us."
Love closed it out, making four of five free throws in the extra period before rounding out his 11-for-20 shooting night. The All-Star starter eclipsed 30 points for the 22nd time this season and added eight rebounds.
But it was Rubio who stole the show's first several acts.
His second triple-double this season and third of his career rendered him the first Timberwolves player since Terrell Brandon in 2011 to record 22 points, 15 assists and 10 rebounds in a game. Rubio added four steals and made 8 of 12 field goals, most of them on strong drives and finishes at the rim.
"Oh, he was terrific all night long," Adelman said before adding in a friendly barb. "I told him his triple-double doesn't count, though; it took him 49 minutes to do it."
That's technically inaccurate. Rubio's 10th and triple-double-clinching rebound came with 1:48 left in the fourth.
Rubio was especially instrumental in the first quarter and change, as Minnesota opened up a 22-point lead four minutes into the second. But a 24-5 Mavericks run allowed them to close within three and trail 66-59 at halftime thanks to Vince Carter's buzzer-beating 3-pointer.
Brandan Wright hit another last-second shot at the end of a back-and-forth third. That made it 94-87, and Monta Ellis (22 points) keyed a 16-3 final-frame run that gave Dallas (41-28) its first lead with 1 minute, 28 seconds remaining.
Timberwolves forward Robbie Hummel nearly put the game away in regulation from the left corner, but his long 3 with 2.8 seconds to go somehow popped out after seeming to rattle almost all the way through.
"I thought Robbie's shot was about 3/4 of the way down," Adelman said. "But it didn't go down, so then you've got to respond in the overtime."
Adelman's bunch did, and Rubio's sensational night and Love's point production eventually paid dividends.
Though Nowitzki scored a team-best 27 points, he needed 27 field-goal attempts to do it. And when the 35-year-old veteran was called upon to hit a clutch shot like he has so many times throughout his 16-year career, Love was there to alter it just enough.
Next comes a test Thursday at Houston, the latter half of Minnesota's Texas-set road back-to-back. The Timberwolves return home Sunday to host Phoenix.
Dieng doubles up again: Two starts for rookie center Gorgui Dieng. Two double-doubles.
In the primary lineup for the second straight game thanks to injuries to Nikola Pekovic and Ronny Turiaf, Dieng tallied 10 points on 5-for-5 shooting and 11 rebounds. Sunday against Sacramento, he notched 12 points and 11 boards.
It was learned shortly before that game Pekovic would be out for the foreseeable future. Shortly after, the Kings announced DeMarcus Cousins was also unavailable.
But playing against Samuel Dalembert Wednesday proved a little more taxing. Dieng picked up his fourth foul with 3:19 left in the third quarter and sat the entire fourth and overtime.
Follow Phil Ervin on Twitter
---