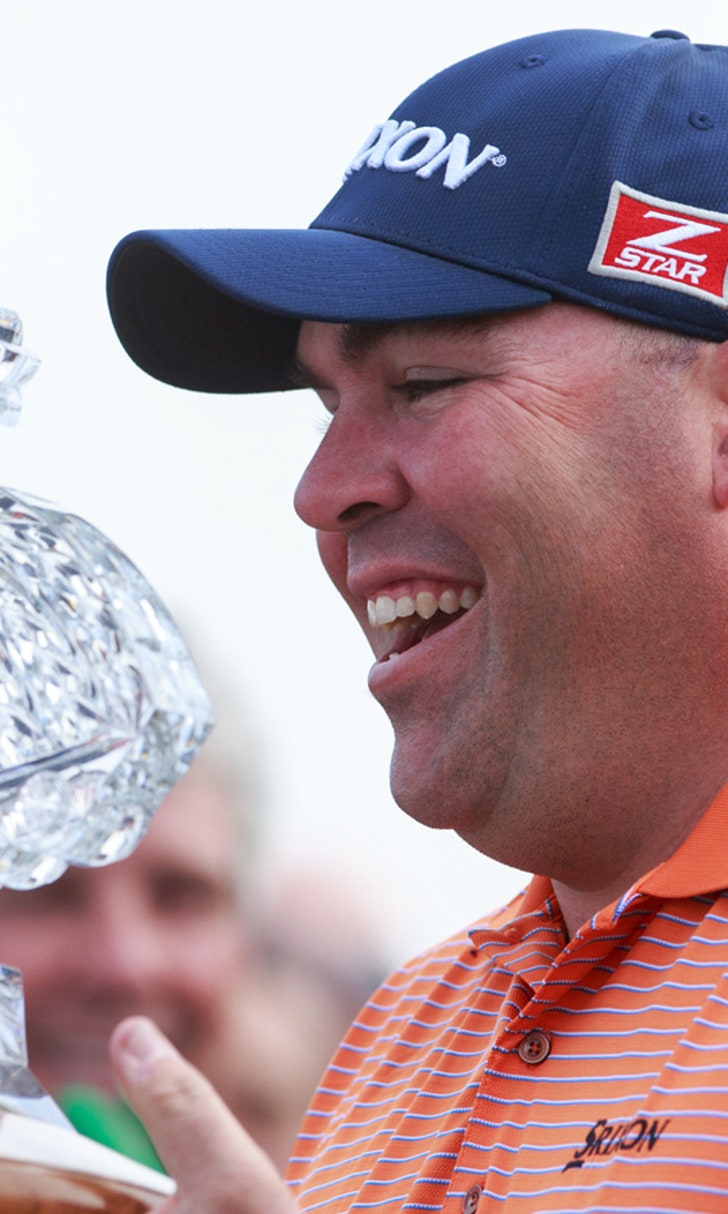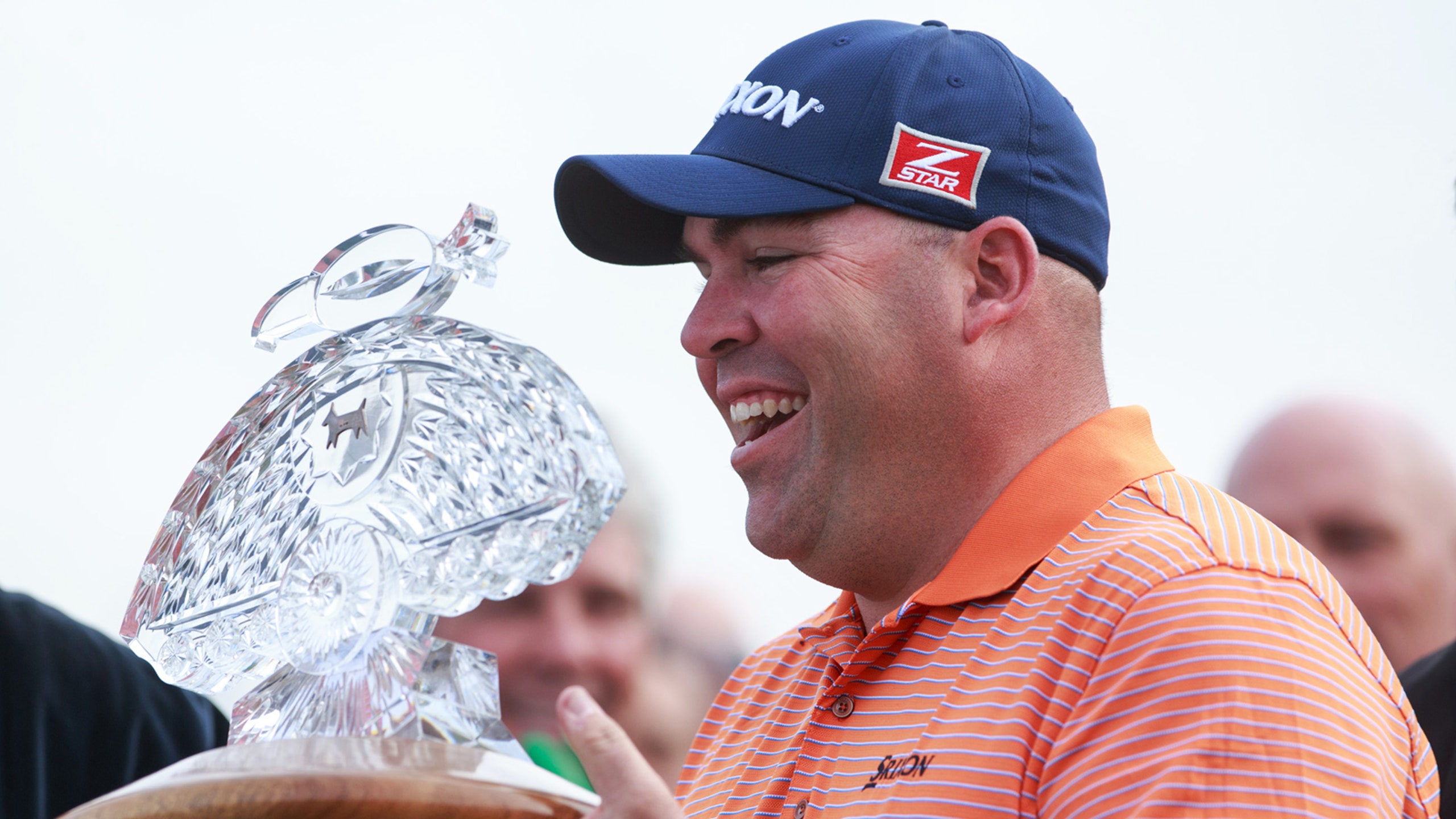 Stadler earns dramatic first win at Phoenix Open
BY foxsports • February 2, 2014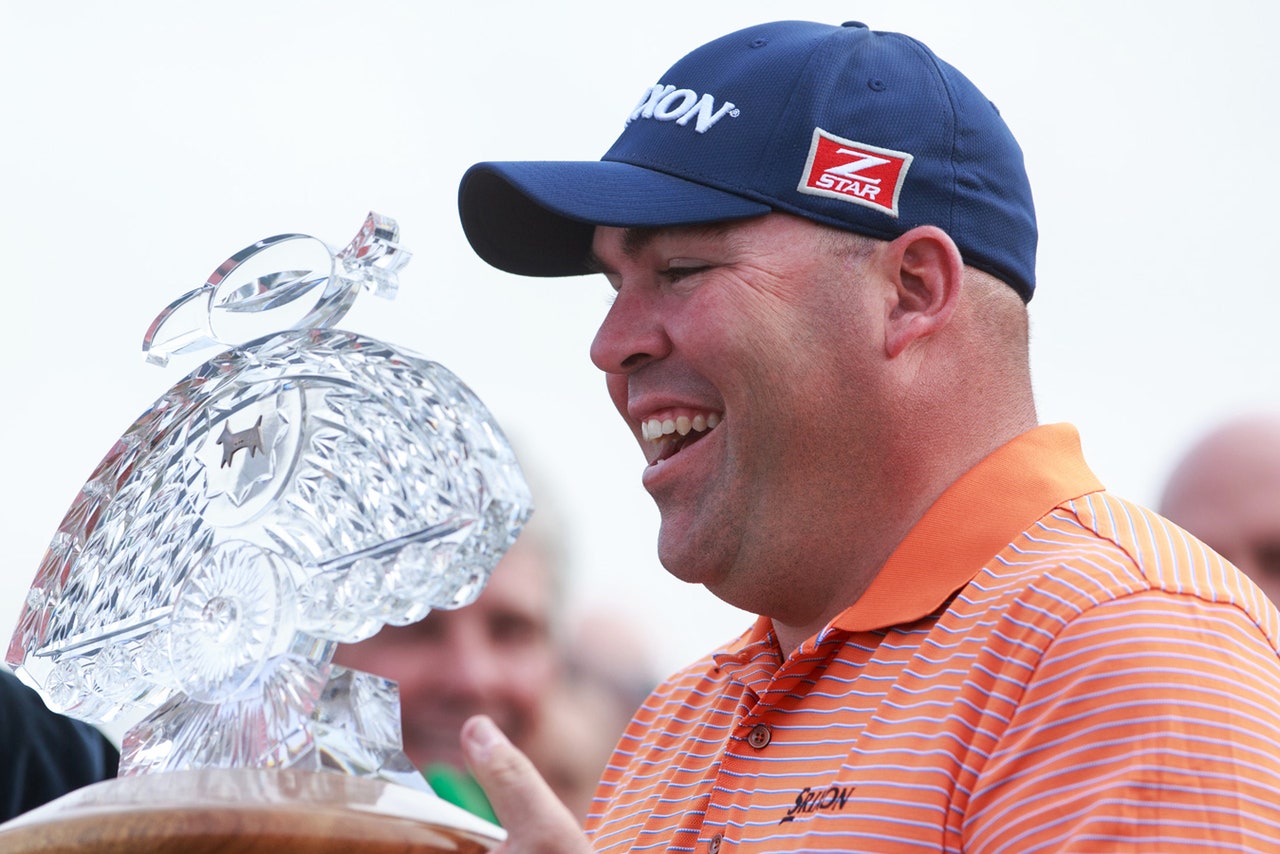 SCOTTSDALE, Ariz. -- For nine-plus years on the PGA Tour, Kevin Stadler had stepped onto the tee box for the first round of tournaments -- 238 in total -- across the country with hopes of walking off the 18th green Sunday feeling the thrill of victory. Each time he had come up short.
After Stadler missed a 10-foot putt for birdie Sunday on the 18th hole at TPC Scottsdale, it looked like he would fall short once again.
But, moments later, Bubba Watson one-upped him with a miss from 5 feet on a putt that would have forced a playoff. And with that, Stadler's long drought was over.
"It's been 295 million tournaments or whatever it is," Stadler joked afterward. "It's been a long time since I won anything."
After his 239th career event -- a few shy of his estimation -- Stadler finally knows the feeling of PGA Tour triumph, winning the Waste Management Phoenix Open with a final-round 3-under 68.
"It's a weird way to win a golf tournament," Stadler said. "I fully expected (Watson) to make that putt. I much would have rather made mine to win it, but nonetheless, it's pretty amazing."
Said Watson, making no excuses for his miss: "I take my hat off to him. He beat me."
Stadler, 33, had won tournaments on the European Tour, Asian Tour and PGA Tour of Australasia, but since he joined the PGA Tour in 2005, a victory had eluded him. He's now 12 short of his father, Craig Stadler, in career wins.
"The first one is so hard," Craig Stadler said by phone Sunday after watching his son win. "Once you get that first one, it makes it so much easier down the road."
Along with his first career win and a $1.1 million paycheck, Stadler won the chance to play in the same field as his father at the Masters, which Craig won in 1982, in April. Craig Stadler, 60, said it will be his last Masters, and it is believed by the PGA Tour it would be the first time a father and son have played in the event in the same year.
"He probably would have liked it better if I'd gotten there five years ago so he could call it quits then," Stadler said. "He's been kind of telling me for a couple years I need to hurry up and get there before he calls it quits."
If all that weren't enough, the career first for Stadler was even more special by virtue of its proximity to his home. Stadler, a Reno native, lives "one stoplight" away from TPC Scottsdale.
Stadler, playing in his sixth Phoenix Open, admitted he got a little nervous as he and Watson traded leads on the back nine. Stadler missed putts of 4, 7, 3 and 10 feet on the back nine, putting himself on edge that the short putts might cost him.
"But I miss short putts all the time, so it's kind of a normal feeling for me," Stadler said, laughing. "The one on 14 where I came in real close for birdie and missed it I was a little surprised by. I felt good standing over it, and I felt good getting ready to putt. Three feet and I didn't hit the hole.
"At that point, I was kind of starting to question it a little bit."
One of those short putts came on 15, where both Stadler and Watson hit into the water but managed to save par. It was that kind of shootout play that defined the pair's day, though Watson led most of it before they entered the final two holes tied at 15-under.
Watson lost his slim lead on the 16th hole, missing a 6-foot putt to finish with his second of three bogeys on the day. From there, Watson and Stadler remained tied until Watson's missed putt on 18.
Watson admitted to losing focus as he waited to tee off throughout the back nine, and he acknowledged that an even-par 71 and his missed opportunities at birdies on the back nine cost him what would have been his first win since the 2012 Masters.
"I just left shots out there," Watson said. "I've just got to learn from this and learn how to somehow get my focus back when I'm waiting."
Until Watson and Stadler both carded birdies on the 17th hole, Graham DeLaet sat in a tie for the lead at 15-under as he watched from the clubhouse. DeLaet was also looking for his first PGA Tour win but instead collected his fourth second-place finish, tying with Watson.
As Watson stood over his 5-foot putt that would've forced a playoff, Stadler wasn't even thinking about a win. What was he thinking?
"How long the playoff was going to take and how long until I can watch the (Super Bowl)," Stadler said.
Stadler, a Broncos fan, pumped his fist and hugged his caddie after Watson's putt missed just to the left of the hole, finally a winner on the PGA Tour and the 11th player to notch his first win at the Phoenix Open.
The win was a long time coming for Stadler but in the end was not all that surprising to him. He had finished in the top 25 in three of his last four events, had 22 top-10 finishes in his career and had three top-three finishes. The breakthrough seemed an inevitability.
And Stadler felt this could be the week, though he conceded that he was fortunate to pull this one out given the way he played the back nine Sunday.
"I have been playing great all week (and) last week in practice," Stadler said. "I was feeling super comfortable. ... If you would have told me I could shoot 1 over par on the back nine and win, I would not have believed you."
Believe it: At long last, Kevin Stadler is a PGA Tour winner.
Folllow Tyler Lockman on Twitter
---