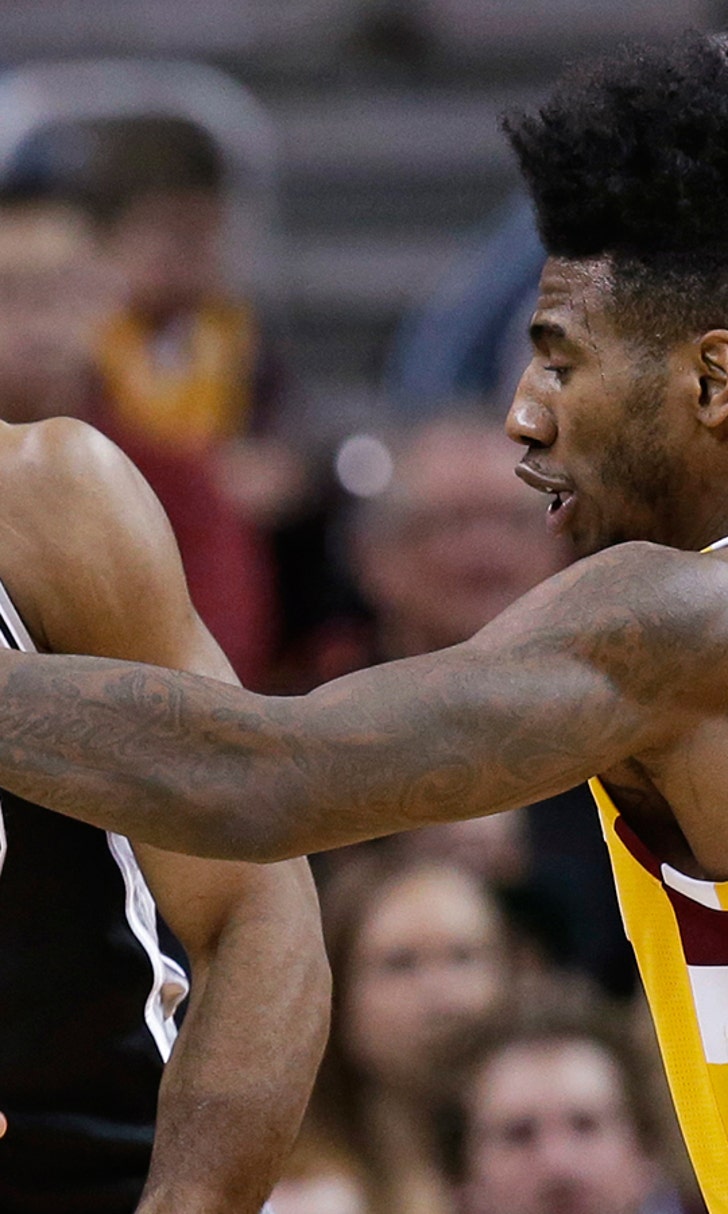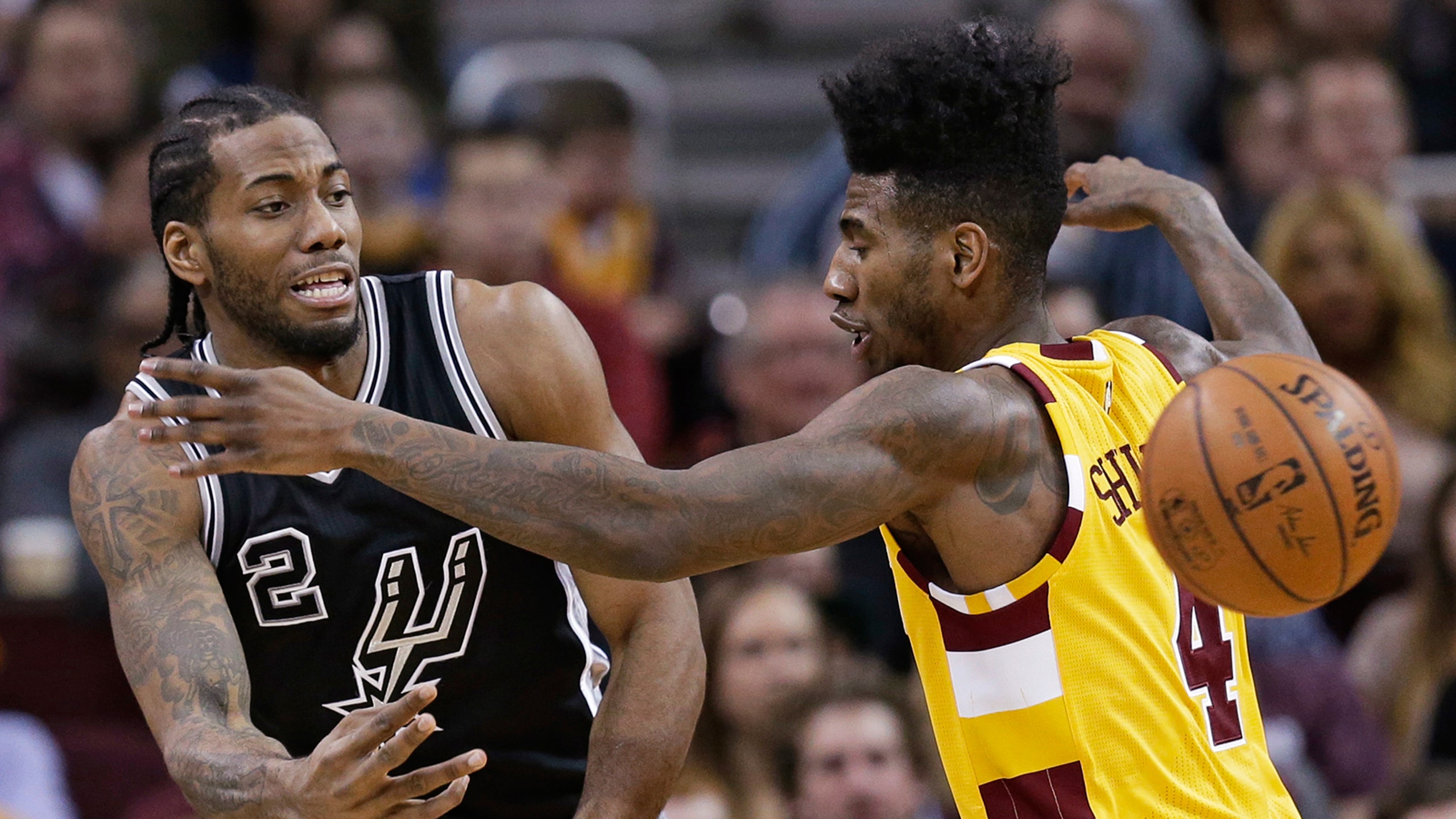 Spurs defense struggles in road loss to Cavaliers
BY foxsports • January 30, 2016
CLEVELAND (AP) -- LeBron James scored 29 points and Kevin Love and Kyrie Irving added 21 apiece as the Cleveland Cavaliers finally took down one of the NBA's elite teams, beating the San Antonio Spurs 117-103 on Saturday night.
The Cavs won their fourth straight under coach Tyronn Lue, who was promoted after David Blatt was fired on Jan. 22. Cleveland came in 0-5 against San Antonio, Golden State and Chicago, three top-tier teams who figure to contend with them for a title this season.
Lue has the Cavs playing at a faster pace and the Spurs, who were again without center Tim Duncan, couldn't keep up with them. Duncan missed his third straight game with a sore right knee.
Kawhi Leonard scored 24 and LaMarcus Aldridge 15 for the Spurs, who lost for just the second time in 16 games. They lost to the Warriors on Monday.
Cleveland's 117 points were the second-most given up this season by San Antonio, which came in allowing a league-best 90.6 points per game. The Cavs had more than that after three quarters.
Irving (10) and Matthew Dellavedova (8) scored Cleveland's first 18 points in the fourth quarter. James scored the next three when he was fouled while going to the basket by San Antonio's Patty Mills, who was flicked aside like a gnat by the four-time MVP on his way to a layup and three-point play.
Down by 17 points at the half, the Spurs scored the first eight of the third quarter, a spurt that prompted an oh-no-here-they-come vibe through Cleveland's loud crowd, which was in playoff form.
But the Cavs responded with a flurry that showcased their offensive depth. Love and Dellavedova hit 3-pointers and James powered inside for several baskets, helping Cleveland push its lead to 88-69 late in the third. James scored 16 in the quarter.
James, too, made one of his signature defensive plays by chasing down Spurs guard Manu Ginobili on a breakaway and blocking his shot at the rim.
Love scored 18 points in the first half, when the Cavs opened a 17-point lead and gave the Spurs their glimpse of their new, fast-paced offense.
Without Duncan and with Aldridge on the bench after picking up three quick fouls in the first quarter, the Cavs had nothing to stop them inside and were able to do what they pleased.
Locker-room attendants inadvertently put out the wrong shorts for James, who came out in the first quarter wearing different ones than his teammates. They had on gold bottoms with wine and white stripes up the sides. His were plain.
Everything else about the Cavs was perfectly in order.
Cleveland scored 37 points in the first quarter, which ended with J.R. Smith dropping a contested jumper from just inside the 3-point line.
This is what Lue wants -- a team looking to push the tempo and attack the basket whenever possible.
"It makes it more fun to play," he said before the game.
TIP-INS
Spurs: San Antonio entered the night with a 12-game lead in the Southwest Division, the club's largest since 2004. ... Leonard, who will make his first All-Star game appearance next month, joined Michael Jordan and Hakeem Olajuwon as the only players in league history to be named an All-Star, Finals MVP and Defensive Player of the Year. ... David West, signed in the offseason to provide frontcourt depth, started for Duncan and scored 8.
Cavaliers: Dellavedova finished with 15 points. ... Cleveland improved to 19-3 at home, best in the Eastern Conference. ... James played in his 662nd game for Cleveland, moving him past the late John "Hot Rod Williams" and into fourth place on the team's career list. ... Browns owners Jimmy and Dee Haslam and Indians manager Terry Francona were among those in attendance.
NEXT UP
Spurs: Host Orlando on Monday.
Cavaliers: Visit Indiana on Monday.
---
---