Soup's Sports Grill a hit for ex-MLB pitcher Suppan
BY foxsports • October 21, 2014
If you park behind Soup's Sports Grill on Ventura Boulevard and walk through the back entrance, one of the first things you'll see on the left wall is a collection of Jeff Suppan's baseball team photos from his West Hills Little League career.
That's by design.
The 39-year-old Suppan, the 2006 NLCS MVP who helped the St. Louis Cardinals win the World Series that same season, wants young baseball players who dine there to know he got his start in Little League, too.
"I went to West Hills, same place you did," Suppan tells children. "I had to work hard to get better. I want to show the kids that yeah, you were a major leaguer, but you were a kid first. It's the same game."
Suppan said Little Leaguers often come to the restaurant, which he and his wife, Dana, own. He'll chat with them and tell them that if they're good, he'll come back to chat baseball and sign autographs over ice cream.
The former Crespi High star chats with folks, often dropping by each table. He and his wife opened the restaurant in 2007. It's not only a happening spot to watch baseball, but also hockey and NFL.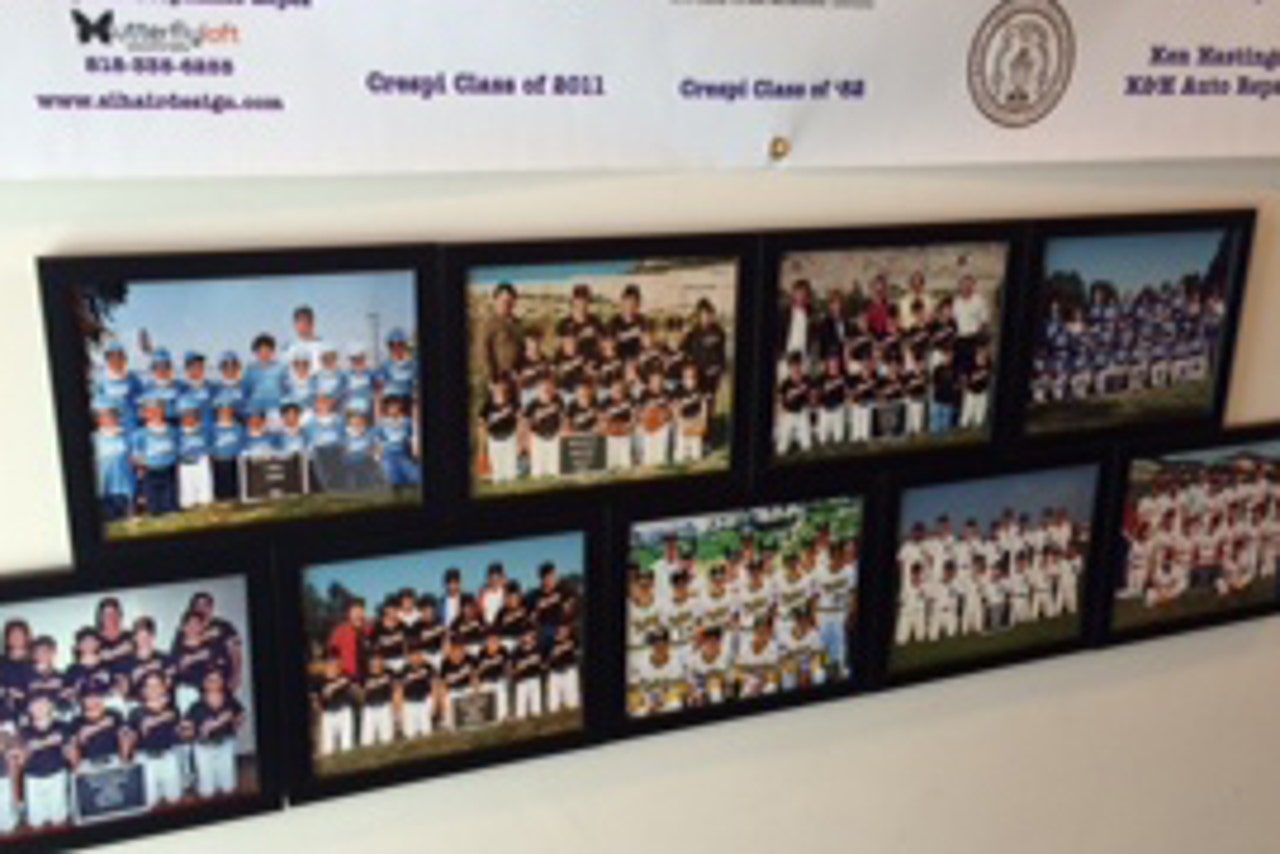 Suppan likes to have his Little League photos near the door so all the kids who come in know exactly where the former Major Leaguer got his start. 
"My wife (Dana) and I, we enjoy people. We enjoying talking to people and spending time with them," Suppan said over coffee in a recent interview in the restaurant's lookalike dugout section. "That's why we wanted to open the restaurant. Obviously, it's a business and you have to make smart business decisions. We enjoy people. This is where I grew up, and we wanted to bring this kind of place to the valley."
Suppan grew up in West Hills and now lives in Calabasas with his wife and two children. They often eat at Soup's, too. Suppan officially retired on Jan. 2, the same day as his birthday and anniversary of his mom Kathy Suppan's passing. He retired on that day to honor her. He said she kept score for every game of his career.
The restaurant is a family affair. His father, Larry, a former Sous chef, makes all the desserts, like the Boston cream pie and cheesecake. His brother, Dan, helped with plenty of business advice. Jeff Suppan has always loved being around restaurants, especially those where his father and brother worked.
"I always enjoyed, when I was a kid, my dad being a Sous chef in a French restaurant," Suppan said. "I used to go in and wash dishes as a freshman and sophomore in high school. I just really enjoyed it. It's a weird thing to say, but I enjoyed it."
Suppan played for seven MLB teams, including the Kansas City Royals for four years, from 1998-2002. When the Royals and Cardinals squared off for the NLCS title this season, Suppan was constantly asked by customers who he wanted to win.
"I root for the restaurant," Suppan told them. "I root for Soup's Sports Grill."
Since Suppan spent four of his 17 years in Kansas City, he knows how much this unbelievable postseason run -- in which the Royals haven't lost a playoff game -- has meant to the city. He also works for the Royals. He works with pitchers in spring training and then again for about one month in the summer.
"I'm pulling for the Royals. I work for them now. I was there four years," Suppan said last week. "I played there in 2011 when I couldn't find a job anywhere. I played the whole year in Triple-A. We won the PCL (Pacific Coast League) Championship there. All those guys in the big leagues now, I played with them in 2011. Hopefully, I had a positive influence on them being a veteran. That's what veterans are supposed to do, pass things down. I wish the best for them."
Guys like Mike Moustakas, who played at Chatsworth High.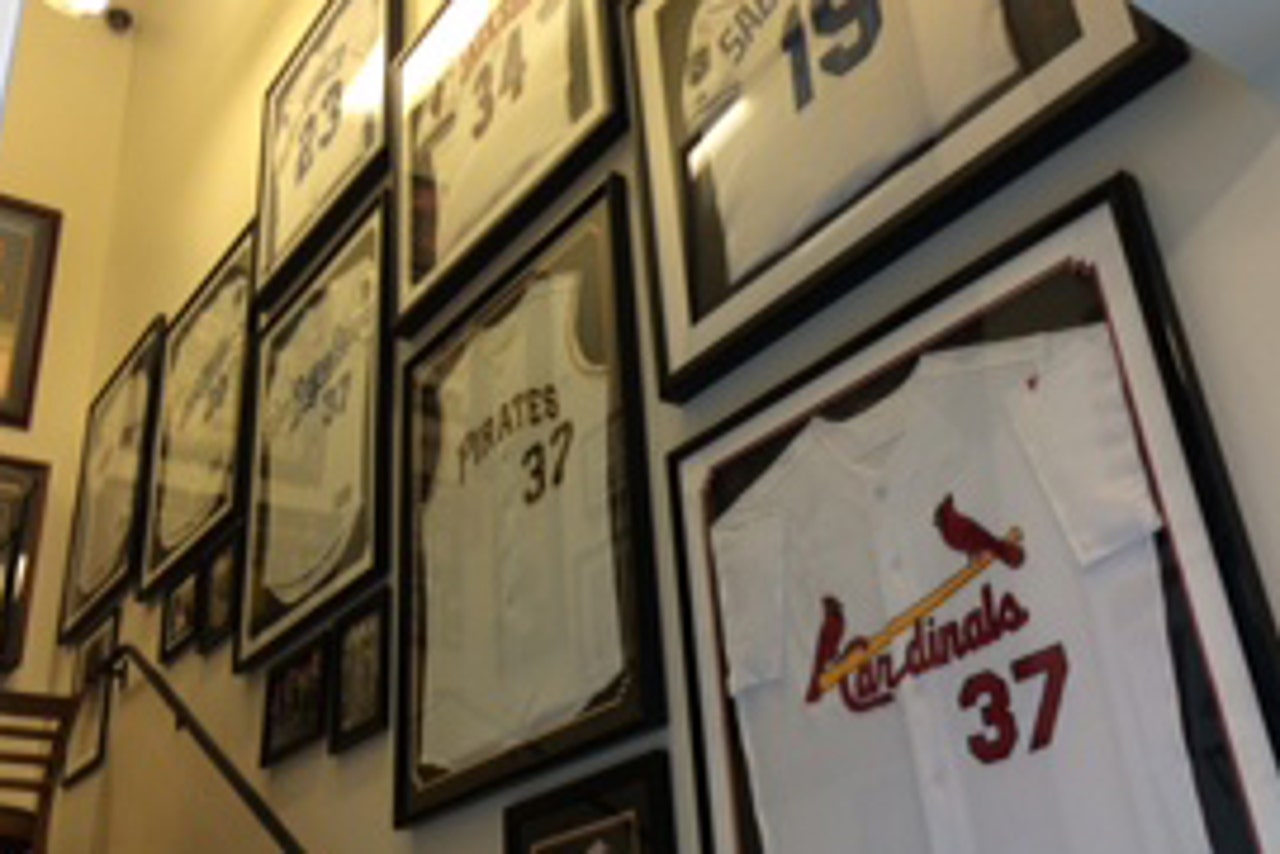 When the Royals and Cardinals squared off for the NLCS title this season, Suppan was constantly asked by customers who he wanted to win.
"I root for the restaurant," Suppan told them. "I root for Soup's Sports Grill."
Suppan also is in his second year as the head coach for the freshman baseball team at Crespi, where he also played. Soup's Grill is a popular hangout for Crespi alumni and parents on Friday's nights after football games.
"I love it. Crespi is a great school," Suppan said. "It's a great community. It teaches young boys to become men. Some of my best friends went to Crespi. We like getting together, helping each other out, reminiscing. It's a neat thing."
Folks can order a cheesesteak sandwich, which Suppan said is their No. 1 seller, tacos and burgers and such.  
Most restaurants close their doors by the end of their first year. Soup's has found a good formula for success -- good service and food. And a visit from Suppan doesn't hurt.
"We tell our staff, food and service is No. 1, period," Suppan said. "You can have a beer anywhere you want. You can watch the game on TV anywhere you want. I believe people want good food and service."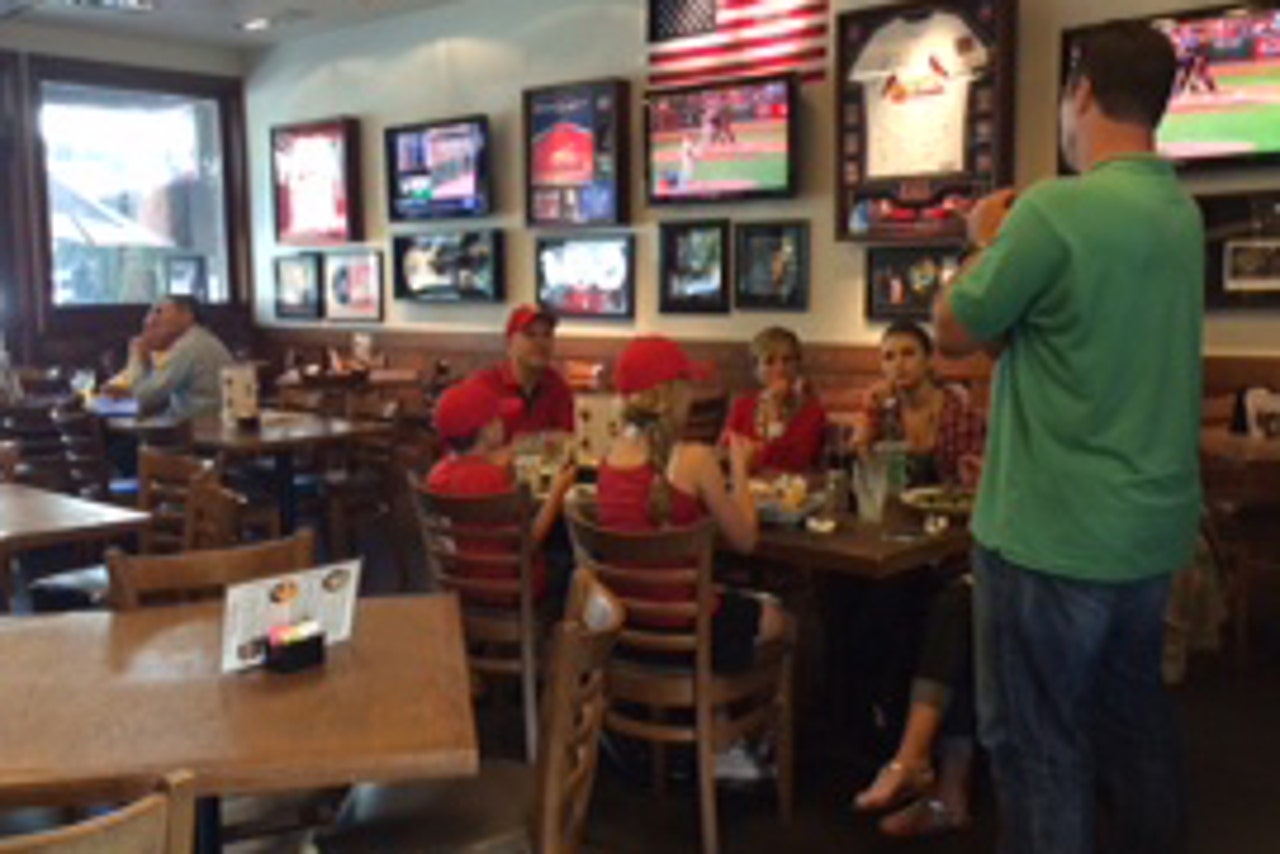 One of the great thing about Soup's is when Soup himself stops by for a visit!
There is plenty of memorabilia to check out in addition to all the TVs, from Suppan's Cardinals gear to signed jerseys from Luc Robitaille and Wayne Gretzky to his replica 2006 World Series ring -- the real one he wears on special occasions -- to his growing local players who were in the majors. Randy Wolf signed a Dodgers jersey for him. Fox Sports West broadcaster Mark Gubicza's jersey is on that wall. Gubicza -- who was on the Royals'1985 World Series championship team, lives in Chatsworth.
There's a signed guitar from Tom Petty as well, since Suppan is a big fan.
And then those West Hills Little League photos, where it all started. 
---
---